Baked Coconut Shrimp with Aloe Dipping Sauce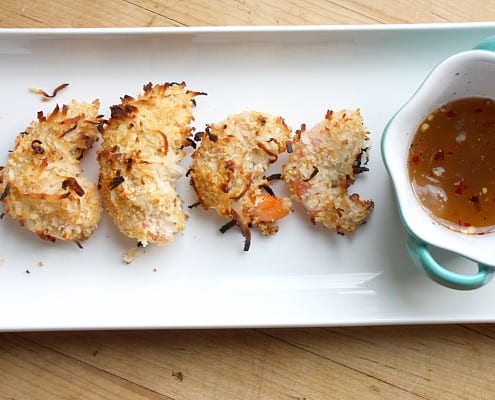 Abby Himes serves up a delicious baked coconut shrimp with aloe dipping sauce.
By Abby Himes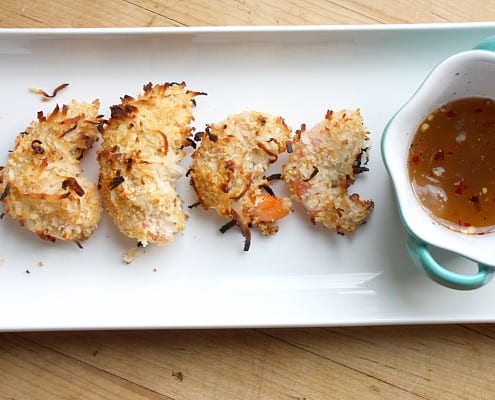 Let's just get right to the elephant in the room.  Aloe.  Yes, the stuff you put on a sunburn you can eat and drink. Last week I saw huge Aloe leaves for sale in the produce section of our local grocery store.  What?!  I picked one up for about $2.50 and headed home to google.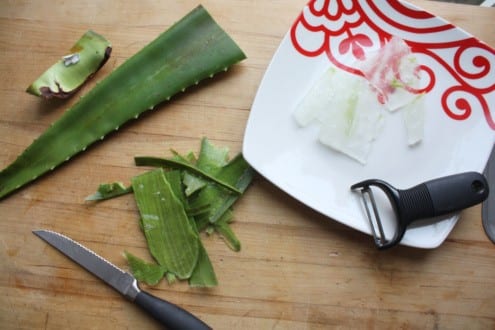 See Also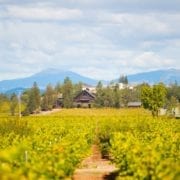 Aloe has two parts; the outside dark green skin which is inedible (be sure to peel completely) and the clear gel inside which can be added to smoothies or cooked.  The aloe gel is incredibly slimy, think raw egg whites meets Slimer from Ghostbusters.  It is bitter but has a light, grassy taste to it.  I decided to cook it down so that it released the juice and took on a watery consistency in place of the slime.  With a little sugar and lime juice it became the perfect dipping sauce for these crunchy, sweet, bites of shrimp.
Baked Coconut Shrimp with Aloe Dipping Sauce
Recipe Type:
Appetiser, Main
Ingredients
Coconut Shrimp:
½ pound 21-25 count Shrimp, cleaned and peeled
¾ cup Coconut flour
2 teaspoons Garlic powder
Dash of Cayenne pepper
1 egg, beaten
1-2 Tablespoons of Water
¾ cup sweetened Shredded Coconut
½ cup Panko breadcrumbs
salt and pepper to taste
cooking spray
parchment paper
Aloe Dipping Sauce:
¼ - ½ cup Aloe, peeled and cubed
¼ teaspoon salt
½ teaspoon pepper
4 Tablespoons Sugar
½ teaspoon Red Pepper Flake
1 Whole Lime, juiced
Instructions
For the Aloe Dipping Sauce:
Cut a portion off the leaf and peel the dark green skin off completely - it's bitter, and not edible. As mentioned before, aloe is super slimey! Think raw egg whites meets Slimer from Ghostbusters. Cut the peeled section into cubes.
In a small sauce pan add the aloe, salt and pepper and cook over medium-high heat. As it cooks the aloe will start to release it's juice, this is what will make the sauce. Add the red pepper flake, lime juice and sugar. Stir well. Continue cooking until the aloe juice is more watery than slimey and the sugar has completely dissolved.
Strain the liquid to remove the chunks of aloe (or just pick them out) but keep the hot pepper flakes in if you want to. Pour into serving dish and get dunking!
* I tried this with honey as well, and it was awful. Sugar is just the way to go.
** Use immediately after cutting and discard any leftovers. It's a one time deal with Aloe.
For the Baked Coconut Shrimp:
(Preheat your oven to 450 degrees F.)
The ugly task of peeling and deveining shrimpies. Ugh. I went ahead of took the tails off too, but you can absolutely leave them on. Peel the shells off and then take a small sharp knife and run it down the back of the shrimp where you can see a dark line. Under running water scrape out that icky stuff and you're done.
In a bowl whisk the egg and water together and set aside. In another bowl, mix the coconut flour, garlic powder, cayenne, salt and pepper. In yet another bowl mix together the shredded coconut and panko breadcrumbs. Line up in the order of flour, egg, coconut/breadcrumbs.
Line a baking sheet with parchment paper and spray evenly with non-stick spray.
Coat the shrimp with the flour mixture, then dunk it in the egg bath and finally thickly coat the shrimp with the panko/coconut mixture. Lay it on the baking sheet evenly spaced from the others. Repeat until you are done with all the shrimpies.
Bake for 5-7 minutes, keep your eye on them they will cook fast!
Notes
(Shrimp Recipe adapted from A Cozy Kitchen) (Referenced how to cook aloe from No Recipes)
Abby Himes
Abby can be found cruising her local farmer's market and co-op looking for fresh, new, flavors and sustainable options. She sees food as an adventure, and is always excited to try something new. Abby is also the creator and voice behind the food blog, Seaweed & Sassafras.