Baked Chorizo and Sweet Potato Hash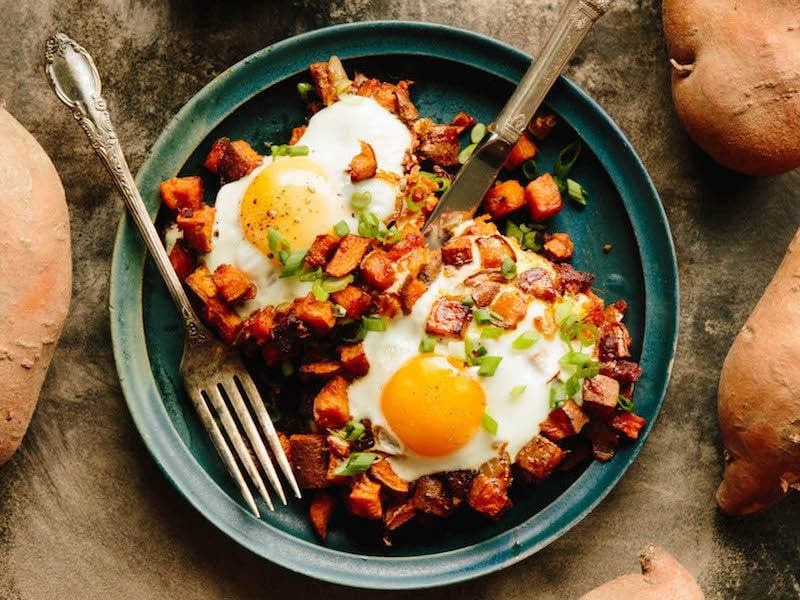 Sponsored Post: It's the perfect time of the year to remember to be a little sweeter. Whether it's dropping off dinner for a neighbor or bringing in a treat for your coworkers, let's be sweet more often. We've partnered with the North Carolina SweetPotato Commission to bring you some sweet inspiration.
Perfect for breakfast, brunch or dinner, this sweet potato hash is especially easy because this time, it is made in the oven, so you don't have to stand at the stove, stirring a pan of hash. Enjoy this hearty meal with chorizo and topped with a fried egg and hot sauce.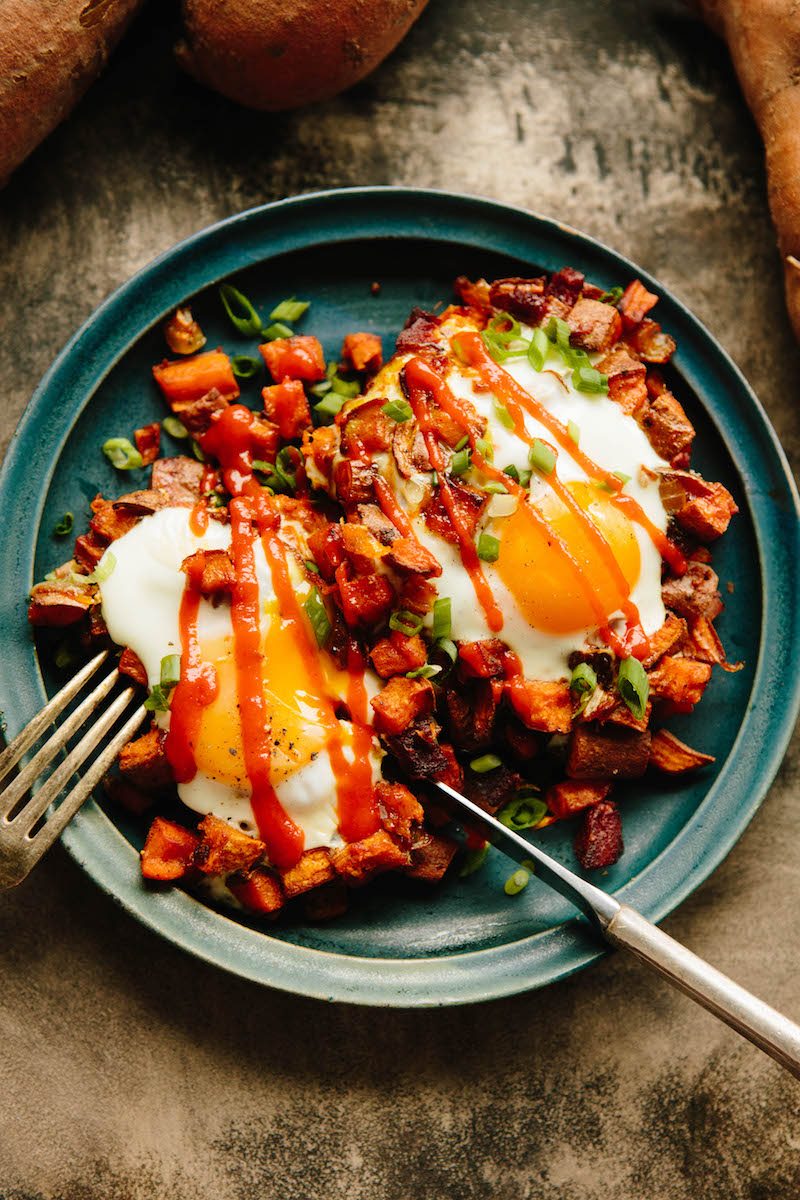 I love me a sweet potato. They can do everything a regular potato can do, but more (hello sweet potato PIE). They're incredibly nutritious, with loads of fiber, antioxidants, manganese, and vitamins A + C. Not to mention, despite their name and sweet flavor, these babies are naturally low in calories and low on the glycemic index. Could sweet potatoes be the perfect food? The possibility is real.
This recipe was inspired by one of the oldest, most popular, and personal favorites on the blog – my Sweet Potato and Bacon Hash with Crispy Fried Eggs. This time around I swapped out the bacon for Spanish chorizo, which has an irresistibly smoky, tangy, and meaty flavor. But more importantly, I updated the cooking method to make it way, way easier.
Rather than sautéing everything on the stovetop, this time it's all going into the oven instead. One sheet pan means less clean-up, and baking means more idle time, so this one is a win-win-win. The chorizo and sweet potatoes get tossed with a diced onion and a little bit of olive oil, salt, pepper, and smoked paprika, then they go straight into the oven. Rather than having to babysit the stove, you can sip your coffee and read the paper, or better yet, make a batch of bloody maries and invite over a few of your favorite friends.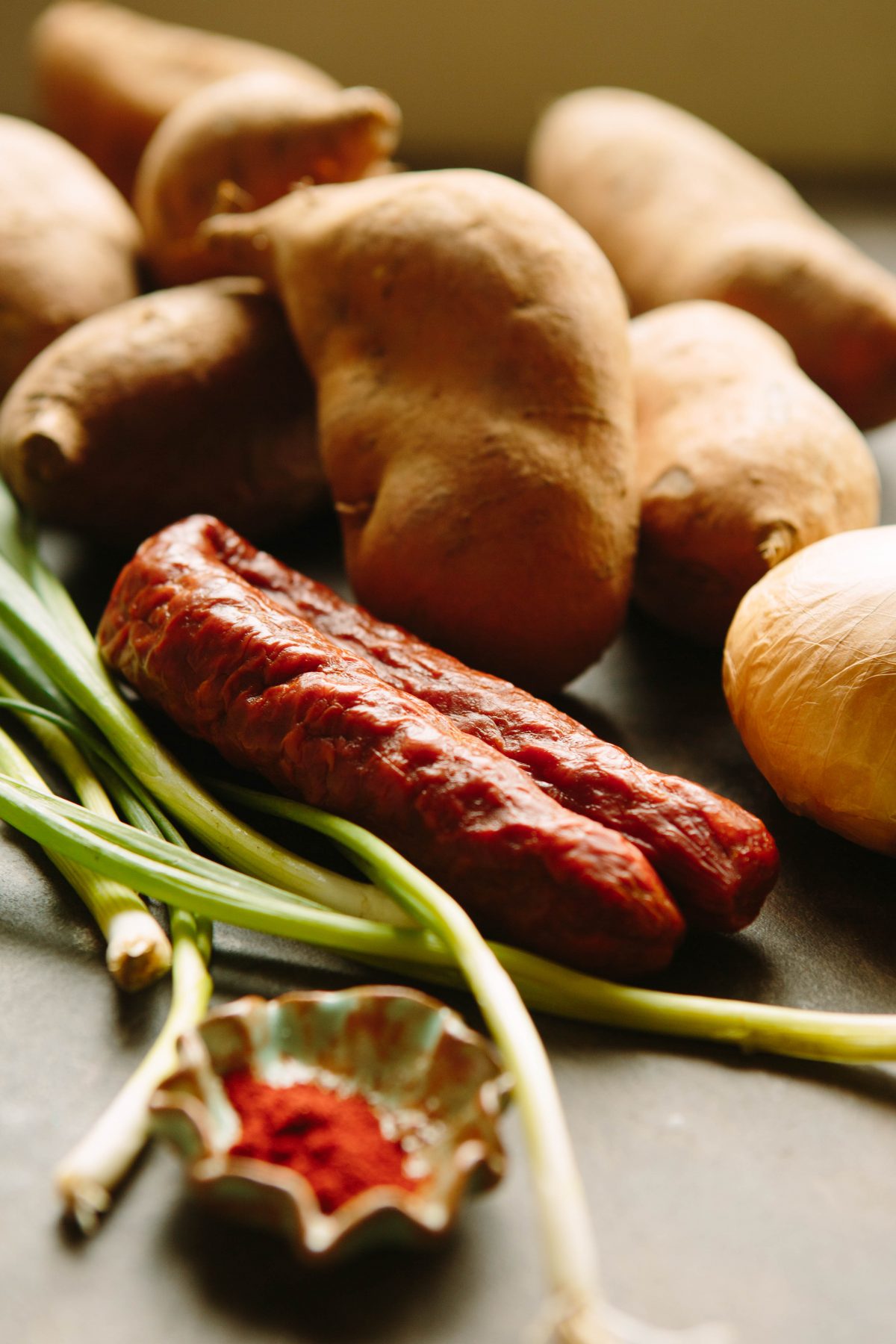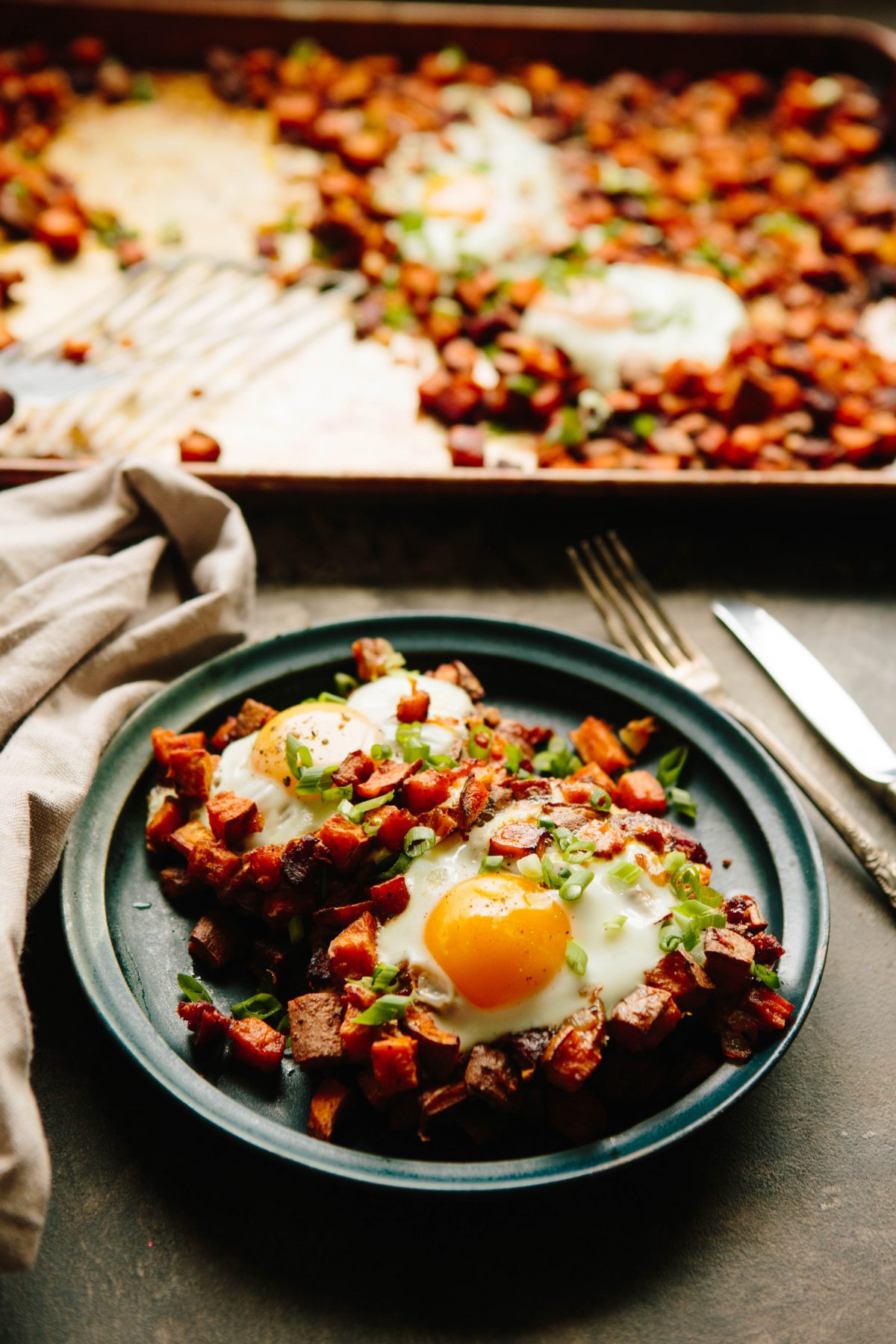 The North Carolina Sweet Potato Commission is encouraging you to Be Sweet More Often, and to help facilitate that they're hosting a GIVEAWAY! One lucky reader will win a sweet Vitamix blender – and if you've never used one of those bad boys before, you are in for a treat. But wait, there's more! They're going to give you another Vitamix blender to gift to a friend. How sweet is that? See below for details on how to enter and GOOD LUCK!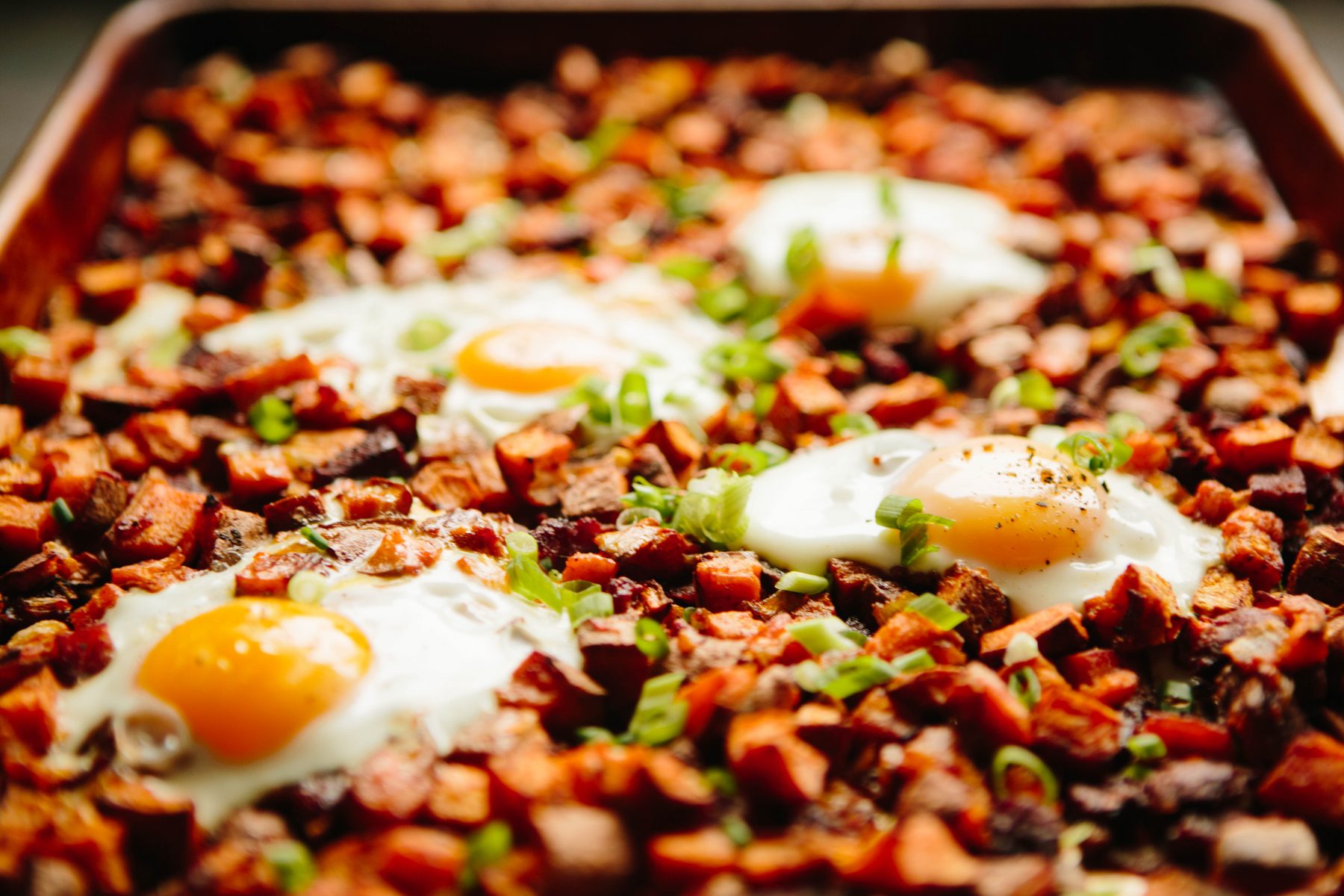 Once the sweet potatoes are browned and crisp, we'll crack a couple eggs on top, then it's back to the oven for just a few more minutes. The whites spread around the sweet potatoes, getting crackly and lacy, while the yolks set to a perfect runny consistency. Sprinkle with some chopped scallions and the deed is done, although a generous squirt of sriracha certainly doesn't hurt (and is highly recommended).
There's no need for toast with this recipe, making it delightfully gluten free. It's fabulous as an indulgent brunch, but it's actually pretty healthy too (and Paleo friendly!). This recipe serves two, but can easily be scaled up to serve more. Now here's the catch – you have to head over to the North Carolina Sweet Potato Comission's website to get the recipe.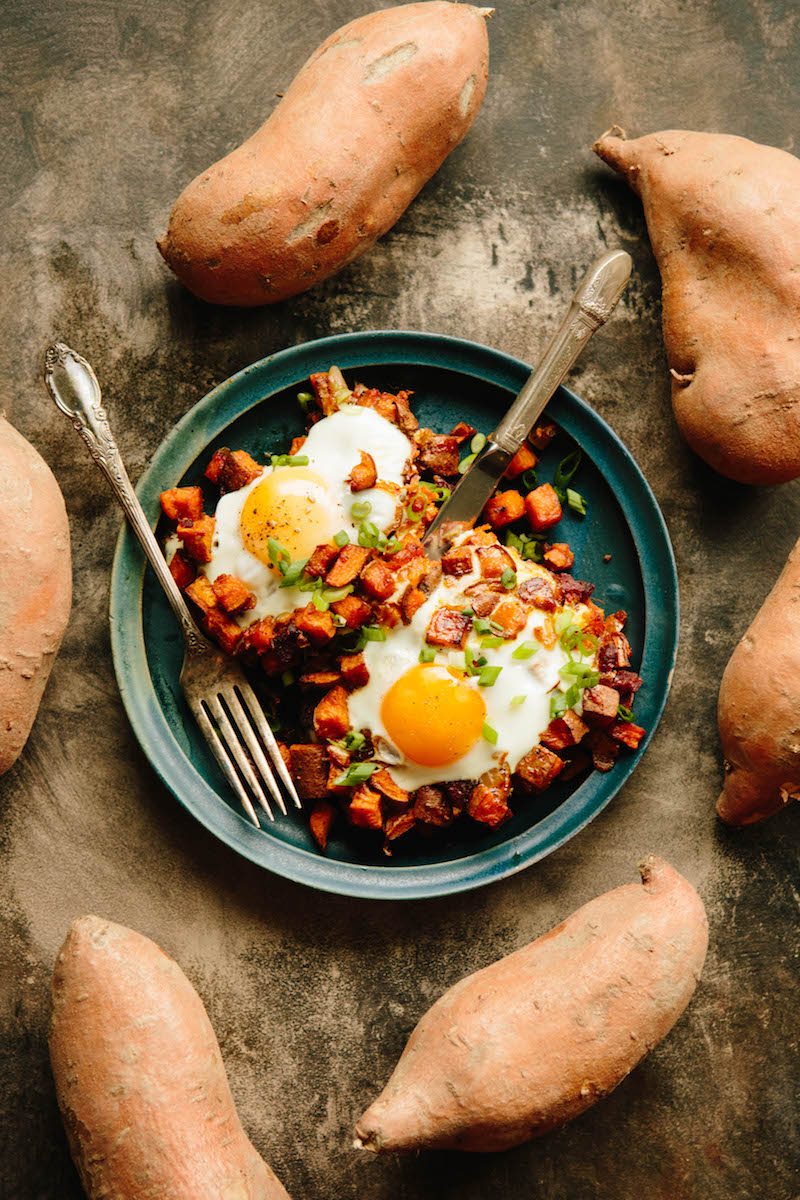 November 13th is World Kindness Day, and the best way I know how to show kindness to others is through food. I think it's a great place to start for anyone.
For even more sweet holiday inspiration, check out this video.