The flavors of carrot cake meet French toast is in this baked version that can be prepped the night before and baked for a delicious morning brunch.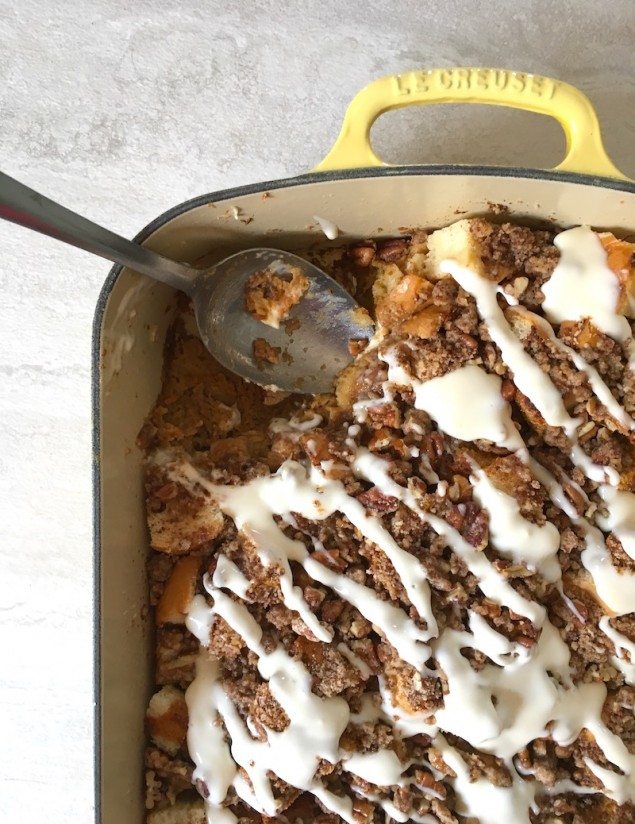 We're thinking this is perfect for a Mother's Day brunch. Anyone else? The night before, soak your bread, mix your crumble together and prepare your icing. Then all you have to do in the morning is top with your buttery crumble, baked, drizzle with the cream cheese icing and devour. Sounds like a plan!
Be sure to check out that pan in the video. It's gorgeous, right? It's Le Creuset's roasting pan and it's perfect for sweet and savory roasting or baking. Plus, that soleil yellow hue is ideal for these months ahead. Or in the dark winter months, it adds a pop of color to your table.
Baked Carrot Cake French Toast
Ingredients
French Toast
8 oz of cream cheese, room temperature
¼ cup powdered sugar
1 loaf of French bread or Challah, preferably stale, cut into 1 inch cubes
8 eggs
1½ cups whole milk (or heavy cream for added richness)
1 cup carrot juice
2 cups shredded carrots
½ cup brown sugar
1 teaspoon cinnamon
Crumble
1 stick of butter
½ cup brown sugar
1½ cups flour
pinch of salt
½ teaspoon cinnamon
½ walnuts
Icing
8 oz cream cheese
½ cup powdered sugar
1 Tablespoon lemon juice
water
Instructions
With a mixer, combine cream cheese and powdered sugar. Set aside.
Whisk together eggs, milk, carrot juice, shredded carrots, brown sugar, and cinnamon. Set aside.
Butter a baking dish.
Place half of the cubed bread in a baking dish. Top with dollops of sweetened cream cheese. Feel free to leave in dollops or spread over bread with a spatula.
Top with second half of cubed bread.
Pour egg and milk mixture over bread, cover and allow to soak overnight or for 8 hours.
Crumble
By hand or with a food processor, combine all ingredients until crumbly in texture.
Icing
Combine all ingredeints in a bowl and use water or more powdered sugar to adjust consistency. If sorting overnight, lay a damp paper towel on its surface and cover the container.
Baking
Remove pan from fridge and preheat oven to 350F.
Top pan with crumble.
Bake for 30-40 minutes.
Remove from over and top with cream cheese glaze.