Warm, melting baked Brie topped with homemade cranberry sauce is a match made in heaven.
By Alisha Randell

This is such an easy but delightful dessert…Or breakfast even. I actually am insane over Baked Brie and I have served them loaded with sautéed mushrooms or fresh garden herbs, but never fruit?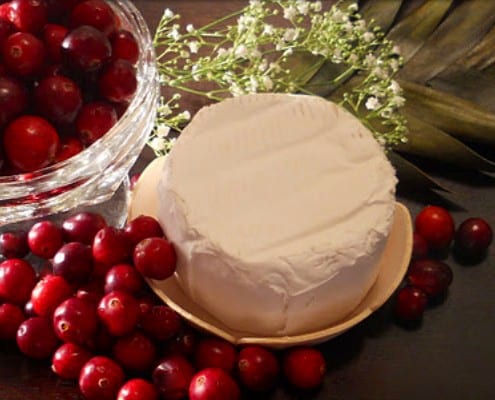 Well it all started with an innocent shopping trip. I was just minding my own business trying to hurry past the cheese case…when there they were, these perfectly adorable mini wheels of baby Brie. I instantly thought of my fresh cranberries I already had waiting at home, then thoughts of baked Brie filled my mind. I can't help it, really I was born this way. And if you have never made your own cranberry sauce, you really must and it is so easy.
Baked Brie Croissants with Cranberry Sauce
Baked Brie Croissants with Fresh Cranberry Sauce
Ingredients
For the cranberry sauce:
4 oz (120 ml) black cherry juice, or other juice
4 oz (120 ml) cup water
8 oz (230 g) raw sugar
12 ounces (340 g) fresh whole cranberries
A dash of nutmeg and cinnamon, ground
Small sauce pan
For the Brie:
4 mini brie wheels
2 sheets prepared puff pastry, thawed
A sprinkle of brown sugar
A small pat of butter for each, melted
Lined baking sheet
Instructions
For the cranberry sauce: Place juice, water and sugar in your sauce pan. Cook on medium/high heat until sugar has completely melted. Add additional spices, stir until incorporated.
Add cranberries and reduce the heat just a bit, stir occasionally. Continue to cook for about 10 minutes or so, until cranberries split and sauce begins to thicken just a bit. Place in a bowl and refrigerate until completely cool and thickened.
For baked brie croissants: Prepare your puff pastry dough as instructed by the label. With a sharp knife, remove just the very top rind of each wheel of brie. Cover each brie top with chilled cranberry sauce.
Working on a piece of parchment paper, lay out one section of your puff pastry dough. Place brie wheel rind side down on dough section. Fold dough up sides until just reaching the edge with a slight overlap. Place additional dough section over the top and lightly press to bottom edge. Place on lined baking sheet then cover tops with a bit of melted butter
and a sprinkle of brown sugar.
Bake in a 350 F (176 C)degree oven for about 20 minutes, or until just golden and flaky.
Notes
This works beautifully with leftover cranberry sauce, or use your favorite preserves.