Sometimes, literally, life is like a box of chocolate. Or at least, making brownies is.
By Nancy Lopez-McHugh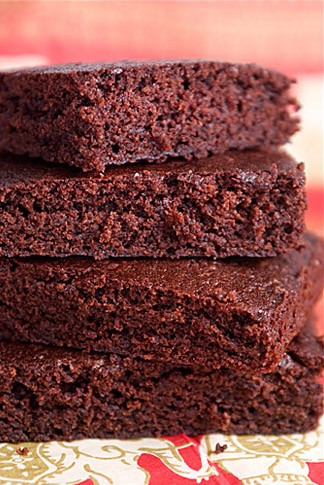 These brownies are soft, moist, addictive, chocolate heaven awesomeness. For years I've tried to make the perfect brownies, trying countless recipes from various sources because let's face it the boxed kind just don't cut it. I tried all sorts of recipes to no avail. Once I even tried a recipe made with Baileys cream. I thought it would be delicious, but it was gross and disgusting. I had to throw out the entire batch and I really hate throwing out food.
You know how on every episode of House he gets that epiphany look on his face? That was the look I had when I finally realized I should go to the source. The source being Hershey. My dad is an avid and very talented baker that will put many professional bakers to shame. He makes the best Mexican breads and Polish Kolachky among many other great treats. He always had Hershey cocoa and Hershey products in the house. I remember seeing a brownie recipe on the back of a box or package. I haven't found Hershey products in Prague but the internet came to the rescue again. I've been using this recipe for the past year and every time it yields delicious results. Soft, moist and to a chocoholic almost orgasmic. The anticipation is high, the smell in the air can be torturous and I can never wait for them to cool off before taking my first bite. Pure heaven!
I follow the recipe as it's stated but only make some changes like I've added 1 tsp. of instant coffee for a different taste. I don't often include the nuts for a more pure chocolate taste. The recipe also has a creamy brownie frosting recipe but again depending on my mood I will or will not make.

Recipe adapted from Hershey's , http://www.hersheys.com/recipes/5008/Best%20Brownies.aspx
Author:
Nancy Lopez-McHugh
Recipe Type:
Dessert, Baking
Ingredients
½ cup (1 stick ) butter or margarine, melted
1 cup sugar
1 teaspoon vanilla extract
2 eggs
½ cup all-purpose flour
⅓ cup HERSHEY'S Cocoa (Substitute with natural unsweetened Cocoa powder)
¼ teaspoon baking powder
¼ teaspoon salt
Instructions
Heat oven to 350°F or 175 C. Grease 9-inch square baking pan.
Stir together butter, sugar and vanilla in bowl. Add eggs; beat well with spoon. Stir together flour, cocoa, baking powder and salt; gradually add to egg mixture, beating until well blended. Stir in nuts, if desired. Spread batter evenly in prepared pan.
Bake 20 to 25 minutes or until brownies begin to pull away from sides of pan. Cool completely in pan on wire rack. Cut into squares. About 16 brownies.
These heavenly brownies
are ones that must be shared with friends. Though it's hard to hand over the box of freshly baked brownies and watch it disappear as you watch your friend carry it off down the sidewalk. You wipe the tears and hurry back home to bake yourself another batch. Don't worry you can do an extra hour of yoga this week to burn off all the oh so worthy extra calories. Brownies for breakfast, oh yes that's the breakfast of champions. This has been the confessions of a brownie addict and her chocolate vice.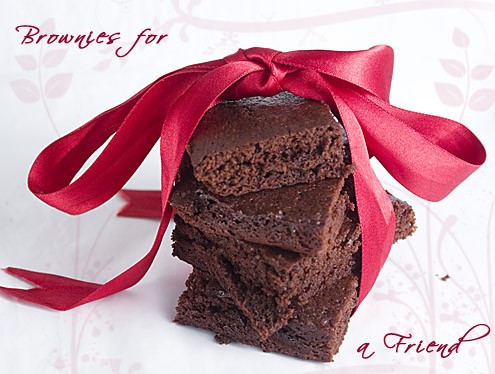 Nancy Lopez-McHugh
Nancy Lopez-McHugh is a food blogger, photographer and published author. Most recently she has published "Yummy Pics: A Food Blogger's Guide To Better Photos".