A soft clafoutis with sweet potato and apple has all the flavors of your favorite autumn pies in one. Full of spices, it is the perfect addition to your morning coffee.
By Kathleen Siegle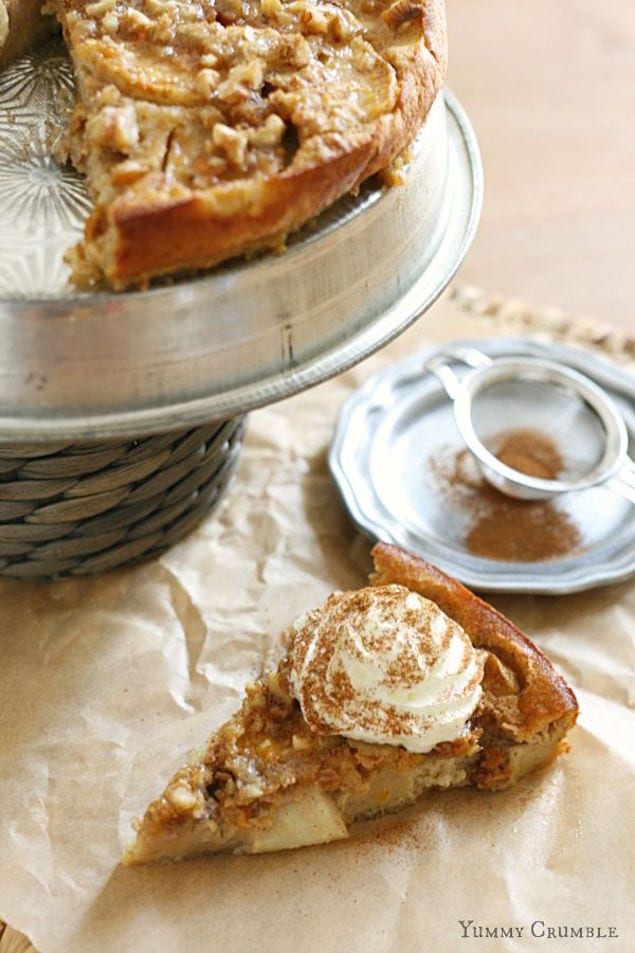 Prior to moving to Dubai, I never heard of a clafoutis before. Its a beautiful and delicate French pastry with a flan-like batter. It's typically baked with plumbs or cherries, but the batter is so basic you can use any fruit or combinations of flavors you like. I love desserts that can be a blank canvas! Since fall is here, I went with sweet potatoes and cinnamon apples to create the most perfect apple and sweet potato clafoutis.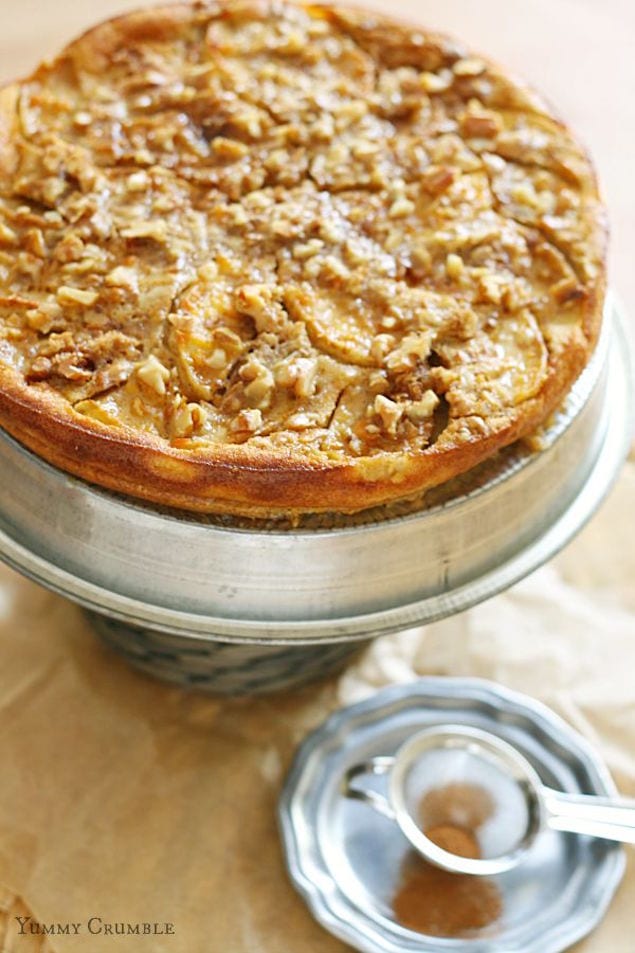 For another great fall dessert, try this Upside Down Caramel Apple Spice CakeS.
Autumn Clafoutis with Sweet Potato and Apple
A soft clafoutis with sweet potato and apple has all the flavors of autumn pies in one. Full of spices, it is the perfect addition to your morning coffee.
Recipe Type:
Dessert, Baking
Ingredients
3 large eggs
½ cup granulated sugar
2 tablespoons melted butter
1 cup half and half
¼ cup sweet potato puree
3 tablespoons all-purpose flour
½ tsp cinnamon
¼ tsp nutmeg
¾ teaspoon salt
1 apple peeled and sliced into ¼ inch wedges
¼ cup chopped nuts
Instructions
Preheat your oven to 325 F and spray a 9 inch round cake pan with baking spray.
In a large bowl, whisk together the eggs, sugar, butter, half and half, and sweet potato puree until smooth.
Add the flour, cinnamon, nutmeg, and salt and whisk again until smooth.
Place the batter in the fridge for at least 30 minutes.
Take the apple slices and fan them into a pretty patter on the bottom of the baking dish. Lightly sprinkle with cinnamon and sugar.
Carefully and slowly pour the batter around the apples and sprinkle with the chopped nuts.
Bake for 35-40 minutes until golden and puffed up.
Sever hot or room temperature with whipped cream.
Kathleen Siegle
I'm Kathleen and this is where I explore my sweet tooth and share it with you. I'm not gonna lie. Sweets make my heart flutter. Gooey chocolate chip cookies. Cupcakes with mile high frosting. I won't even turn down fruit cake! Other things that make my heart flutter are my two beautiful children and of course my lovely husband. We've been married for almost 10 years and I can honestly say he's my best friend. I love all things vintage, pretty, and retro and could spend hours lost in an antique shop. My newest venture is collecting vintage cookbooks. Are the recipes really as disgusting as the unappetizing photography? I remember using my mother's "Cooky Book" by Betty Crocker circa 1963 when I was a wee one. I decorated those sugar cookie cut outs in a way only a mother could love. The memories of helping her bake in the kitchen will stay with me forever. I remember the smells, the love I felt, and of course the eating! So now I'm passing this hobby down to my little ones. A few things about me: I'm a super geek. I love Star Wars, Battle Star Galactica and all things Disney and Harry Potter. I Love Lucy is on at my house. At all times. Or at least in my little head. I listen to Christmas tunes all day every day from August to January. I have moved an average of 2.5 times per year in the last 10. We're fancified carnies! I was in beauty pageants all through elementary school. I grow up on the street that Punky Brewster lived on. We were pals. I sometimes listen to 1920's jazz while I shower. I'm a weirdo. I'm a full time massage therapist for Walt Disney World. And…I always cry when I laugh.