A perfect vegetable dish for colder months, these freekeh stuffed peppers are packed with flavor, nutrition, and topped with a crispy egg.
By Tami Ganeles Weiser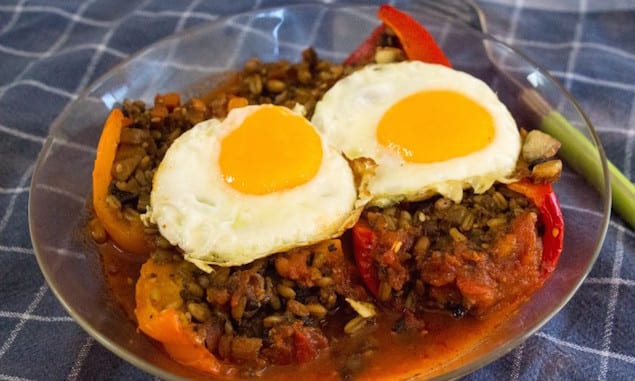 Freekeh, an ancient Egyptian grain, is a powerhouse of flavor and nutrition. Stuffing it, Sephardic style, into fresh seasonal vegetables is a great way to showcase it. It's a great vegetable-forward entree for the fall. Served without the eggs, it is vegan as well.

Freekeh-Stuffed Peppers with Fried Eggs
A perfect vegetable dish for colder months, these freekeh stuffed peppers are packed with flavor, nutrition, and topped with a crispy egg.
Author:
Tami Ganeles Weiser
Ingredients
1 cup freekeh (see Kitchen Tips)
3½ cups low-sodium vegetable stock, divided
2 tablespoons coriander seeds
1 tablespoon cumin seeds
2 teaspoons nigella seeds
2 tablespoons olive oil
1 large onion, peeled and cut in small dice
5½ ounces (about 6 large) white mushrooms, stemmed and sliced
1 stalk celery, cut in small dice
2 carrots, peeled and diced
2 parsnips (about 3½ ounces), peeled and cut in small dice
3 cloves garlic, peeled, minced, any green center removed
½ cup full-bodied red wine
½ cup raisins
1½ teaspoons kosher salt
1 teaspoon ground sumac
1 teaspoon fresh thyme leaves
¾ cup pine nuts
¼ cup toasted sesame seeds
¼ teaspoon grated nutmeg
6 red, yellow, and/or orange bell peppers, tops sliced off with stems intact, seeds and ribs removed
1 cup tomato sauce, Rao's preferred
1 tablespoon olive oil
6 large eggs
Instructions
Position rack in the lower third of the oven and preheat it to 375°F.
Cook the freekeh according to the package instructions for 45 to 50 minutes, using 1½ cups of stock in lieu of the water. Check the freekeh halfway through cooking and add additional stock if necessary. Set aside.
Spray a 4-quart casserole dish with nonstick vegetable oil spray and set aside.
Heat a cast-iron skillet or other heavy-bottomed skillet over high heat, add the coriander, cumin, and nigella seeds and toast, stirring, for 30 to 45 seconds, or until very fragrant. Transfer to a spice grinder or immaculately clean coffee grinder and grind the toasted seeds finely. Set aside. Return the pan to the heat, add the pine nuts and toast, stirring, for about 1 minute, until they become light golden in color. Transfer to a small container and set aside.
Place the same pan back over high heat, add the olive oil, and heat until it shimmers. Add the onion and cook, stirring, for 3 to 5 minutes, until translucent.
Add the mushrooms, salt and cook, stirring, for 1 minute longer.
Add the celery, carrots, and parsnips, and continue to cook for 3 to 4 minutes, until soft. Add the garlic and cook for about 1 minute, until just fragrant. Add the wine and cook for about 2 minutes, until slightly reduced in volume. Add the raisins, thyme, ground spices, the sumac, pine nuts, toasted sesame seeds, and nutmeg, and stir. Add the cooked freekeh and stir until well combined. Add ¼ cup vegetable stock if the mixture seems too dry. Set aside to cool slightly.
Add the tomato sauce to the bottom of the casserole dish. Stuff the peppers with the freekeh mixture, gently pressing the mixture into them until they are filled to the tops. Flatten out the mixture with the back of a spoon. Do not overfill. Place the stuffed peppers into the prepared casserole dish, leaning them against each other as necessary so they stand up. Place the tops back on the stuffed peppers. You can use balled-up foil to fill any areas to help them stand. Cover the casserole with foil and cook for 30 minutes. Uncover the casserole dish and add the remaining vegetable stock.
Bake for another 30 to 40 minutes, or until the peppers' walls are fully cooked and very soft.
Ten minutes before the peppers come out of the oven, heat the oil in a frying pan set over medium-high heat until it shimmers. Crack an egg into a separate cup or small bowl, being careful to keep the yolk whole. Slide it carefully into the pan; repeat with remaining eggs, working in batches if necessary to insure that you don't crowd the pan. Cook for 3 to 5 minutes until the yolks are set and the whites are crispy. Remove the pan from the heat.
Divide the stuffed peppers between six plates and top each with an egg. You can also serve the peppers without the eggs, with tahini sauce. The peppers can be made up to one day in advance and reheated.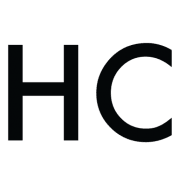 Tami Ganeles Weiser
I am Tami Weiser—food writer, food anthropologist, and culinary professional. Join me in finding a genuine expression of your heritage through food, incorporating who you were, who you are and who you want to be. At theweiserkitchen.com I offer original, globally-inspired, seasonal, kosher-style recipes, culture and history made relevant and a dollop of kitchen wisdom to take you and your cooking from good to great.