Joana Mendes with a perfect spring recipe that can be served as a light meal in itself or as an inspiring side dish.
Text And Photo By Joana Mendes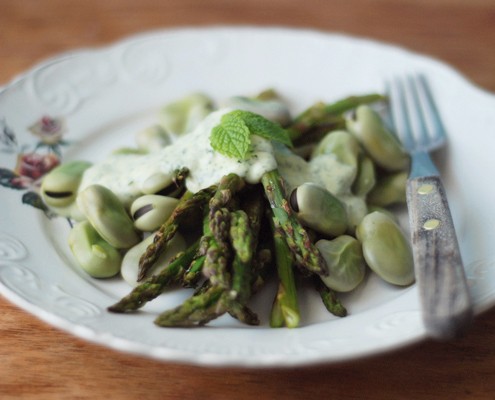 Aspargus is one of the vegetables I'm particularly fond of. Thanks to their short season, the chances are that, these days, you'll find me in the kitchen preparing and eating them abundantly. Anyway, I must confess: I never really gone far with aspargus. That being said, most of the time I stick to only one method of cooking them, which is grilling. Aspargus quickly grilled until just barely cooked, and seasoned with a little salt and a drizzle of olive oil is, in my humble opinion, one of the best ways to pay tribute to the natural flavor of this short season vegetable.
On a recent trip to a local market, I brought home some good looking fava beans – another favorite of mine – and have decided to combine them with some grilled aspargus for a light, quick, and spring tasting salad. The creamy, yet light, mint dressing complements the salad perfectly, adding not only freshness but also a slight tang. However, this is a pretty adaptable side dish, and it could certainly be improved in order to make a more substancial meal: strips of pan-fried tofu could be added in, as well as some cooked brown rice, for extra protein and fiber, respectively. I'd love to hear what are you favorite ways of cooking aspargus, so feel free to shout out your ideas in the comments.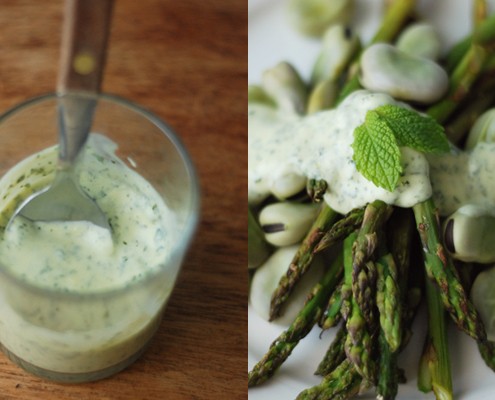 Aspargus & Fava Bean Salad with Mint Dressing
A great side dish, or a light meal in itself
Ingredients
170 grams (1 cup) young fresh fava beans – podded, but still with their outer skins on (see notes)
145 grams (1 bunch) fresh green aspargus spears, trimmed
salt to taste
for the dressing:
8 to 10 grams (1 big handful) mint, finely chopped, plus extra, for serving
4 tablespoons olive oil
2 tablepsoons lemon juice
1 small garlic clove, peeled and minced
4 tablespoons natural unsweetened soy yoghurt
pinch of salt
Instructions
Bring a large saucepan with salted water to a boil. Add the fava beans and cook them for 8 to 10 minutes, or until tender. Drain the beans and wash them under cold running water, to stop cooking. Drain again and set aside.
In the meantime, heat a grilling pan over high heat and add the aspargus. Season with a little salt and cook them for 3 to 4 minutes, or until just slightly charred.
To make the dressing, mix the lemon juice, minced garlic, soy yoghurt and a pinch of salt in a bowl. Add the oil gradually, whisking well to incorporate, followed by the chopped mint.
To serve, place the aspargus and fava beans in a plate and drizzle some of the dressing over it. Garnish with a few mint leaves or chopped mint, if desired.
Notes
In salads, I like to eat fava beans with their outer, second skins on. Above, I give you the instructions for cooking them that way, but you prefer them totally shelled, do, alternatively, the following: boil the fava beans for 1 minute, drain, quickly wash them under cold running water, drain again, and pop them out of their thin, greyish skin. Then, return the beans to a saucepan filled with salted boiling water and cook, over a medium simmer, for additional 5 to 6 minutes, or until tender.
Joana Mendes
Based in Porto, Portugal, Joana Mendes is the cook, photographer and editor of the Veggies On The Counter food blog. She loves seasonal and natural produce, and her focus as a cook and writer is on whole foods and vegan cuisine.