A lovely asparagus pesto breakfast tart – perfect for that lazy Easter brunch.
By Jackie Dodd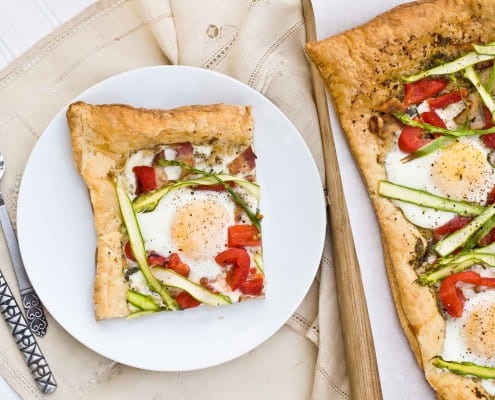 As plans are being laid to host, or attend, a gathering this Easter Sunday Morning, more and more people are searching the digital globe for an easy, tasty and fun brunch menu. Sure a nice quiche or a fruit platter will get the job done. And have you ever attended a Spring Brunch that didn't include a casserole or Jello dish? But for a new take on a classic egg dish, try a tart with a puff pastry crust. Y
Breakfast Tarts are on the rise in popularity these days, due in no so small part to how easy they are to assemble while chatting over a Mimosa. And with an average cooking time at half that of your standard quiche, its easy to make one in a hurry if your food supply runs low.
See Also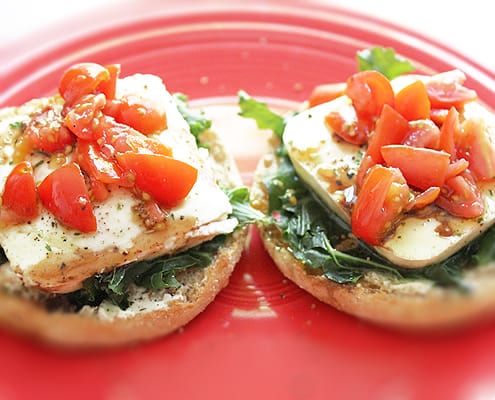 Print
Asparagus Pesto Breakfast Tart
A lovely asparagus pesto breakfast tart. Perfect for any brunch.
Author:

Jackie Dodd

Yield:

1

tart

1

x
Asparagus Pesto Breakfast Tart

1

sheet puff pastry, thawed

3

strips of bacon

2

tbs butter

2 tsp

pesto

1

roasted red pepper, chopped (jarred is fine)

3

asparagus spears

6

eggs

1/2 tsp

pepper

1/2 cup

parmesan cheese

4

basil leaves, chopped
Instructions
Preheat oven to 350.
Place the puff pastry on a sheet of parchment paper and roll with a rolling pin in each direction a few times to make the pastry thinner, wider, and longer. Slightly roll the edges inward to form a small crust.
Transfer the puff pastry, and the parchment paper to a baking sheet. poke several dozen holes in the puff pastry to avoid large air pockets from forming.
In a microwave safe bowl, add the butter and pesto. Microwave for 20 seconds, stir and repeat until melted. Brush all over the pastry with a pastry brush.
Bake at 350 for 12-15 minutes or until a light golden brown.
Allow to cool a bit.
While the pastry is baking, cook the bacon in a skillet until mostly cooked, but not crispy. Chop into pieces.
Place the asparagus flat on a cutting board, hold the stem tight with one hand, and with the other, shave the asparagus with a vegetable peeler into thin ribbons.
Top the puff pastry with chopped bacon, asparagus ribbons and chopped red pepper.
Separate the eggs and yolks into two bowl.
Add the pepper to the bowl with the whites and stir until blended. Pour the whites evenly over the tart, avoiding the edges, sprinkle with parmesan cheese.
Bake at 350 for an additional 10-12 minutes, or until the egg whites have set. Remove the tart from oven and add the 6 egg yolks evenly across the tart, top with chopped basil. Return to oven and allow to cook until yolks have warmed, but are still runny, about 5 minutes.
Cut the tart into six squares, with one yolk on each square. Serve immediately.
Notes
*If you don't want the yolks runny, you can add them the same times as the whites and bake until eggs have cooked to your desired temperature.
Jackie Dodd
Jackie Dodd is a California based food blogger who's passion for local ingredients began during her years growing up on farm in Eastern Washington surrounded by apple orchards and peach trees. She is now happy to focus on California produce, and has a passion for baking. Along with her websites, www.domesticfits.com and www.thebeeroness.com, she also writes a column for the Glendale Examiner.