This post is part of "The Art of Cheese", a partnership between Honest Cooking and Castello Cheese.
An easy holiday appetizer perfect for entertaining, you can even make the puff pastry bites with a make-ahead and freeze option.
By Chris Cockren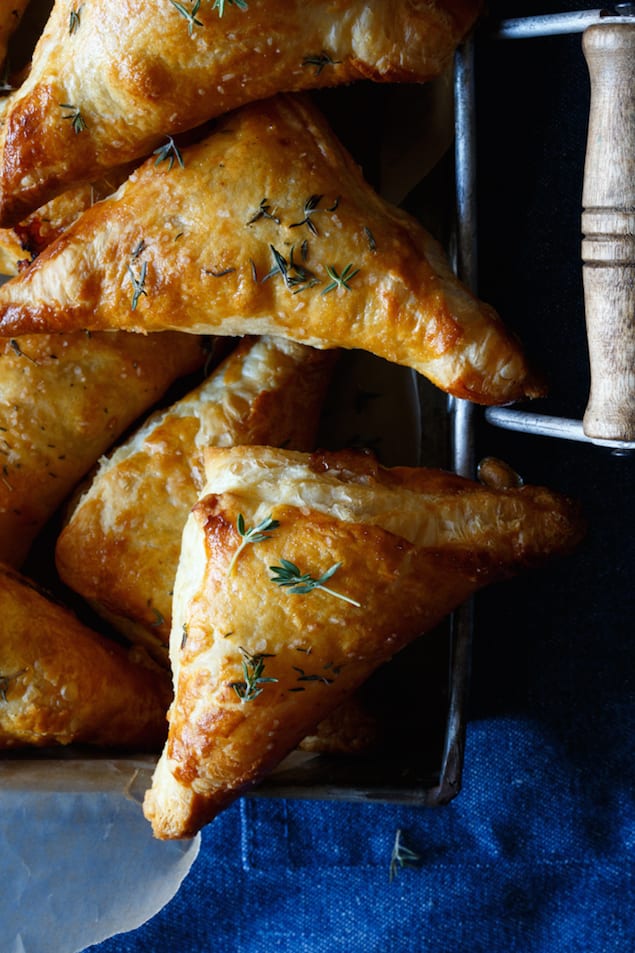 Guys, I literally cannot believe this is my first time making anything with puff pastry!! Where has this been all my life? And more importantly, why have I been living under the biggest rock of all time?!
Puff pastry totally rocks my socks. I'm finding myself day dreaming about what else I can stuff in between those dreamy layers of buttery flaky goodness.
It's no fuss.
It's amazingly easy.
And it tastes. so. good.
The periods in between each word was supposed to create drama and suspense. Did it work?
And let's talk about the filling, shall we? Castello Aged Havarti. Delicious… buttery with a slight crunch. The pear chutney is out of this world good… like serve-it-straight-up-with-some-crackers-and-call-it-a-day kind of good. And then some thyme, toasted walnuts, and honey? That's a huge flavor party right there.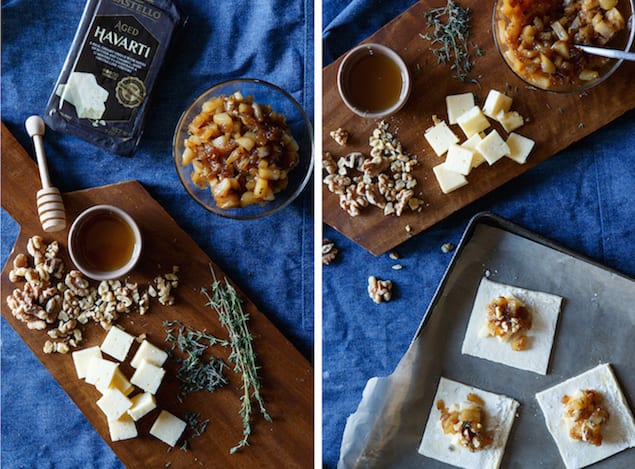 These Havarti, Pear, and Walnut Puff Pastry Bites can be assembled ahead of time and frozen! I know. #easyentertaininghack
Just whip up a batch (or two) when you have a bit of time free, pop them in the freezer, and BOOM. Instant appetizer at your next party.

The Art of Cheese — Havarti, Pear, and Walnut Puff Triangles
An easy holiday appetizer perfect for entertaining, you can even make the puff pastry bites with a make-ahead and freeze option.
Recipe Type:
Baking, Appetizer
Ingredients
2 sheets ready-to-bake puff pastry sheets
Pear Chutney (recipe below)
1 (7-ounce) package Castello Aged Havarti Cheese, sliced into bite-sized pieces*
½ cup walnuts, toasted and chopped**
2 tablespoons fresh thyme, chopped
Honey
1 egg
1 tablespoon water
for the Pear Chutney
1 teaspoon olive oil
1 shallot, finely chopped
2 pears, ripe but still firm, ¼" dice
1 teaspoon fresh thyme, finely chopped
3 tablespoons apple cider vinegar
2 tablespoons brown sugar
Kosher salt
Instructions
Defrost puff pastry according to package directions. Preheat oven to 425°F.
Roll out puff pastry sheets and cut each sheet into 9 squares (18 squares total between the two sheets). Place squares on a piece of wax paper or parchement paper (this will prevent sticking).
Place a piece of havarti cheese, a spoonful of pear chutney, a few chopped walnuts, a very light sprinkle of fresh thyme, and a drizzle of honey in the center of each puff pastry square. Although it's tempting, don't overfill or else it will be very difficult to seal edges.
In a small bowl, whisk together egg and water to create an egg wash. Brush egg wash around the perimeter of each pastry square and carefully fold dough over filling to create triangles, pinching edges closed to create a good seal.***
Generously brush the top of each puff pastry bite with egg wash and sprinkle with Kosher salt and chopped fresh thyme. Place on a parchment paper lined baking sheet.
Bake for 15-20 minutes, until the puff pastry is golden brown. Devour immediately.
for the Pear Chutney
Heat olive oil in a small skillet over medium heat. Add shallot, season with Kosher salt, and cook, stirring occasionally, until softened, about 2-3 minutes. Stir in pear, thyme, apple cider vinegar, and brown sugar. Season with Kosher salt and cook until pears are tender, stirring occasionally, about 5-10 minutes. If pears are not tender and mixture is too dry (starting to stick to pan), add a little water and continue to cook until pears are tender.
Notes
*You most likely won't need the entire package.
**To toast whole walnuts, place in a single layer on a baking sheet and cook in a 375°F oven until fragrant and lightly browned, about 7-9 minutes. Keep a constant eye on them as they can burn easily.
***You can freeze the assembled uncooked pastry bites in a single layer on a baking sheet at this point. Once frozen, place in a ziploc bag and they will keep for a couple of months. When ready to bake, apply egg wash and season with Kosher salt and fresh thyme. Puff pastry bites may be baked frozen or you can thaw first in refrigerator. If baking from frozen, it will just require a little longer in oven.

Chris Cockren
Chris is a New York based food blogger that loves bringing friends and family together through food. On his blog, Shared Appetite, Chris chronicles his culinary adventures of eating his way in and around NYC, as well as cooking and entertaining at home.