This post is part of "The Art of Cheese", a partnership between Honest Cooking and Castello Cheese.
Fondue is a revamped with garlic, fresh basil and sun dried tomatoes. The luscious Havarti cheese dip is scooped up by garlic and herb croutons and apples.
By Valerie Harrison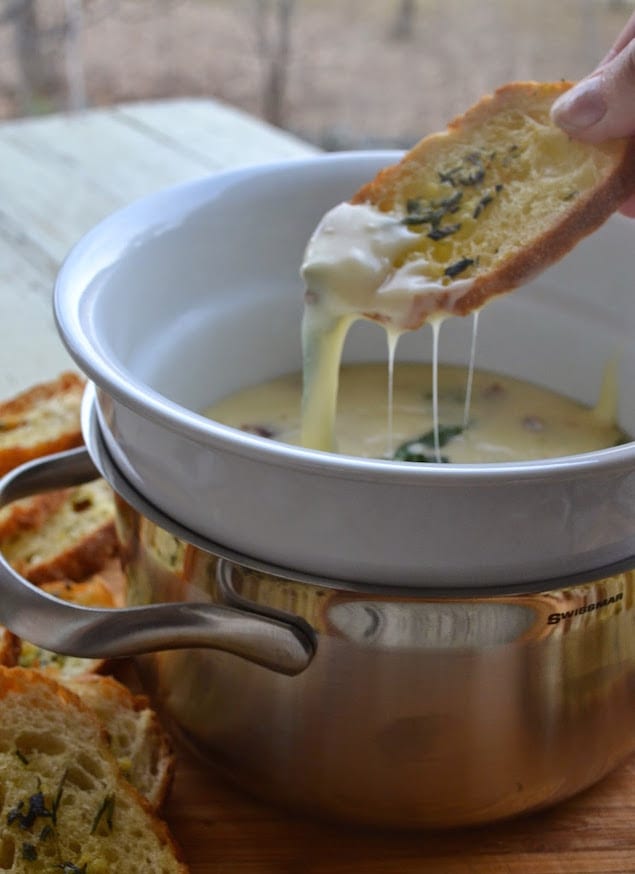 Retro foods like macaroni and cheese, tuna casserole, chicken pot pie and crepes Suzette have made a much needed come back in recent years. Dishes that last saw the light of day when comfort foods ruled the roost have been reinvented with new twists and flavour profiles. If you thought prawn cocktails had vanished into the netherworld along with shoulder pads and Bananarama chart hits, think again.
Retro foods are having a moment in culinary circles, as gourmands and trend-setters delve into the past to breathe fresh life into timeworn classics. Handed down from generation to generation on stained recipe cards and in tattered notebooks, comforting retro foods are staples for anyone wanting a hearty meal and a little taste of home. Decadent foods can and will always be a part of our future but you can still be magnetically drawn to the table by recreating tasty, heart healthy versions of these retro foods such as a heartwarming cheese fondue.
I was sent a shipment of Castello® Aged Havarti. My first inclination was try it in its simplest form to determine its characteristics. On the tongue it was discovered this milky white cheese has a nutty flavour with a hint of saltiness. It was a perfect pairing for a dab of Blackberry Fennel Jam and some crisp fall apples. Next I tried crisp homemade flatbreads warm from the oven, sprinkled with a generous amount of aged havarti and drizzled with honey. Pure heaven.
This creamy tasting cheese has a rich buttery aroma. Castello® Aged Havarti cheese is based on an authentic Danish recipe for this classic cheese dating back to 1952. They follow traditional cheese making methods and age the cheese over a 12 month period. During the yearlong maturation, a crumbly and yet creamy texture forms, as well as a rich, buttery flavour with underlying tangy notes. Castello® has a tradition of creating innovative new cheeses, dozens of varieties, intriguing flavours and unusual shapes – all that tell their own unique story.
I knew all along that a nutty cheese fondue would be in my future as soon as my cheese arrived. This fondue is a revamp of one of my family favourites with the addition of garlic, fresh basil and sun dried tomatoes. Understanding the melting properties, flavours and textures of different cheeses can help you select the cheese that's just right in recreating your own rewarding version of this dish. It is important to choose a cheese that melts well such as this Aged Havarti from Castello®. All this luscious cheese is scooped up by garlic and herb-flavoured oven-crisped croutons and crisp seasonal apples.
Print
The Art of Cheese — Aged Havarti Fondue with a Twist
Fondue is a revamped with garlic, fresh basil and sun dried tomatoes. The luscious Havarti cheese is scooped up by garlic and herb croutons and apples.
Author:

Valerie Harrison

Yield:

4

servings

1

x
Category:

Appetizer
Fondue:
3

–

1/2

cups (1 lb/

450 g

) Castello Aged Havarti, grated

1/2 cup

grated Parmesan

2

cloves garlic

1 cup

white wine

¼ cup

cornstarch, enough to coat the cheese

1

–

2

sun-dried tomatoes, finely diced

2 tablespoons

fresh basil, julienned
Kosher or sea salt and cracked black pepper to taste
Grated nutmeg to taste
Shot of Tabasco

2 tablespoons

Kirsch or Sherry

2

–

3

crisp seasonal apples, sliced
Crostini:
½

baguette

¼

stick butter

½ teaspoon

garlic, crushed
Fresh herbs of choice (basil, oregano, sage, rosemary)
Instructions
To Make Fondue:
Smash the garlic cloves and rub inside of heavy saucepan; then discard the garlic.
Put saucepan on the stovetop over medium heat and add the white wine, scraping with a wooden spoon to dissolve the garlic residue. Toss the grated cheese in a small bowl with cornstarch, add the cheese mixture to the saucepan a little at a time unit melted; stir to prevent scorching. When melted, add the sun-dried tomato, basil, Kirsch or Sherry, nutmeg and Tabasco. Adjust seasoning to taste and serve with crostini and sliced apples for dipping. Remember, if you drop a piece of bread or apple into the fondue you have to kiss the person next to you.
To Make Crostini:
Slice baguette into ¼-inch slices. Melt butter, granulated garlic and herbs, then brush or drizzle on the bread slices. Bake at 350°F for approximately 10-15 minutes, turning over once, until golden brown.

Valerie Harrison
Valerie is the author of More Than Burnt Toast living in British Columbia, Canada. Join Valerie as she explores the worlds cuisine using local and sustainable ingredients found in the Pacific Northwest. Every day we should be inspired and excited about what we are eating even if it just means making use of a wonderful find at our local farmers market.