The Art of Cheese — Aged Havarti Crostini with Cider Caramelized Onions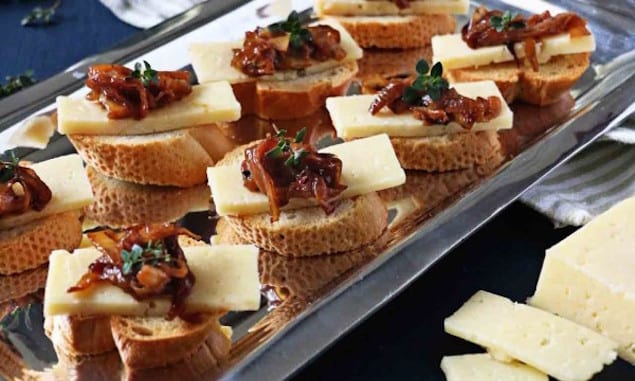 This post is part of "The Art of Cheese", a partnership between Honest Cooking and Castello Cheese.
A toasted baguette cradles creamy Aged Havarti with a delightful contrast of sweet apple cider caramelized onions and a kiss of thyme. This simple appetizer with lots of flavor is perfect for any night of the year, especially the holidays.
By Meredith Steele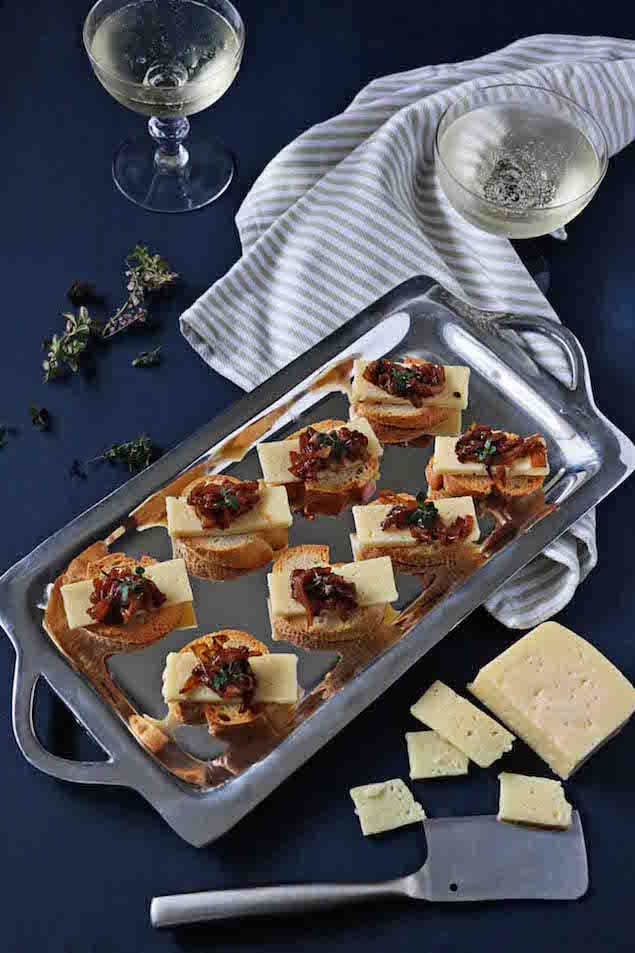 The holidays are here, and for us that means constant entertaining. Having an array of supplies to throw together for appetizers this time of year is a must and I find cheese is always a good option to stockpile. From cheddar to triple creams, cheese is a bite most people adore.
This year, I was delighted to add Castello's Aged Havarti to our rotation. Castello Aged Havarti combines the rich buttery aroma and taste of a creamy havarti with a slightly crunchy texture. It's this texture that makes this particular cheese so inviting. At first bite, this mild cheese bursts with a fabulous flavor and then grabs you with it's smooth texture with bits of salty crunch — just like a well aged cheese should.
Because I want to keep this wonderful texture, I've decided not to cook with it but to incorporate it in a recipe to highlight this Havarti's natural fabulousness. A golden toasted baguette cradles delicious creamy Havarti with a delightful contrast of sweet apple cider caramelized onions with a kiss of thyme. This simple appetizer with lots of flavor is perfect for any night of the year, especially the holidays.
Wine pairings
(whites) Champagne or Riesling (reds) Pinot noir or Rioja
Beer Pairings
Saison, Double IPA, Milk Stout

The Art of Cheese — Aged Havarti Crostini with Cider Caramelized Onions
A golden toasted baguette cradles delicious creamy Havarti with a delightful contrast of sweet apple cider caramelized onions with a kiss of thyme.
Ingredients
2 tablespoons butter, unsalted
2 yellow onions, peeled and thinly sliced
½ cup apple cider
1 tablespoon fresh thyme leaves, plus extra for garnish
Pinch sea salt
Pinch fresh ground black pepper
5 ounces Castello Aged Havarti, thinly sliced
1 baguete, sliced
Instructions
In a sauté pan, melt butter over medium-low heat. Once the butter just begins to brown, add onions. Sauté, stirring frequently, until the onions are golden brown; about 20 minutes. Add apple cider to deglaze the pan, stir. Add thyme and simmer until the cider has reduced completely, about 5 minutes. Season with salt.
Preheat oven to 400°F. Arrange baguette slices on a baking sheet and toast in the oven until lightly golden, about 8 minutes.
Arrange the crostinis by placing havarti on top of the toasted baguette slices. Top the cheese with a small spoonful of the caramelized onions. Garnish with a thyme leaf. Serve.

Meredith Steele
Meredith Steele is a recipe developer, food writer, food photographer, and the author of InSockMonkeySlippers.com, a recognized family food blog celebrating fresh and natural foods. A former graphic designer specializing in print media, Meredith left the advertising world after her daughter was born prematurely to care for her. Wanting to give her family the best, she turned to her love of cooking and created a blog to share lighthearted stories about life and recipes derived from her passion for food. Using this passion and her marketing and design skills from the advertising world, she launched MBS Recipe Development and became a full-time freelance recipe developer with the combined skills of styling and photography. When not writing for her own blog, she can be found writing for Jamie Oliver as an author on JamieOliver.com.