Apple and Strawberry Crumble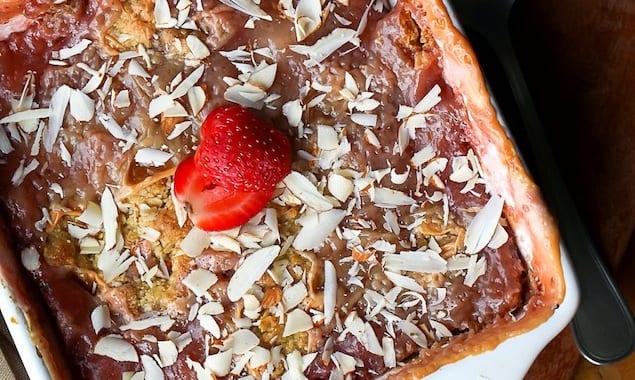 This crumble is absolutely divine. The combination of the sweet apples with the tart strawberries and lemon is just heavenly. Topped with an almond crumble, you can't go wrong.
By Nandita Nataraj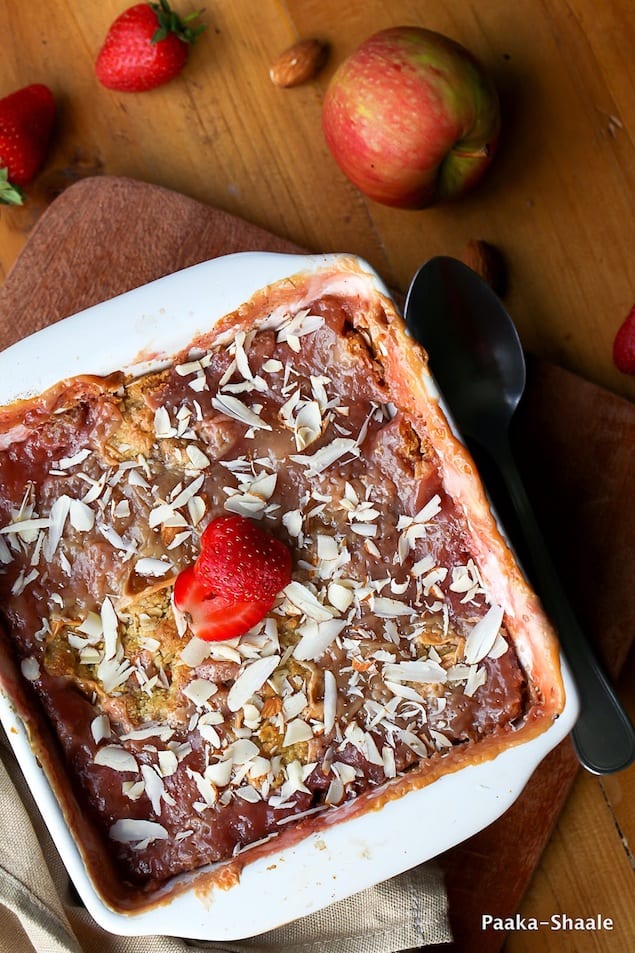 This crumble is absolutely divine. The combination of the sweet apples with the tart strawberries is just heavenly. The hint of lemon mellows the sweetness, and the cinnamon adds a warm flavor. Now coming to the almond topping, all I can say is that, it just increases the flavor of the dessert by many folds. It gives a nutty and biscuit-like texture to the dessert.
Traditionally, condensed milk is not used in making crumble. But this twist adds a delicious caramel flavor, that goes extremely well with apples and strawberries. Yes. It does make the dessert look unattractive and messy. But taste wise, it was so delicious, that the dessert disappeared in 30min flat. That's how good it was.
Apple and Strawberry Crumble
This crumble is absolutely divine. The combination of sweet apples with tart strawberries is heavenly. Topped with an almond crumble, you can't go wrong.
Ingredients
Apples- 3, peeled, cored and cubed
Strawberries- 200gms, washed hulls and quartered.
Juice of ½ a lemon
Cinnamon powder- ½tsp+1/2tsp
Condensed milk- 200gms
Cold Butter- 5tbsp+1tbsp
Almond meal- ½ cup
Old fashioned oats- 2tbsp
All purpose flour- ¼ cup
Icing sugar- 1tbsp
Slivered almonds for garnish- 1tbsp (optional)
Instructions
Mix the Cubed apples, strawberries and lemon juice an oven proof dish and mix all to combine.
Mix together 1tbsp of butter with the condensed milk in a non stick pan and heat the mixture on a low flame for two to three mins. Remove from heat and stir in half a teaspoon of cinnamon powder and allow the mixture to cool completely.
Pour the condensed milk mixture over the apples and strawberry mixture and spread it evenly.
In a bowl, mix the almond meal, oats, all purpose flour, sugar and the other half tea spoon of cinnamon powder and mix well.
Nandita Nataraj
Nandita was born, bred and spread in India, but right now lives in Tanzania where her quest for simple and exotic pleasures of food led to the creation of the blog Paaka-Shaale. She believes that food is not just a means to feed a body. But it is also meant to appeal the mind and satiate the soul.