The cake is not a dessert cake, its more like a breakfast cake or something perfect for an afternoon cup of tea.
By Johanna Kindvall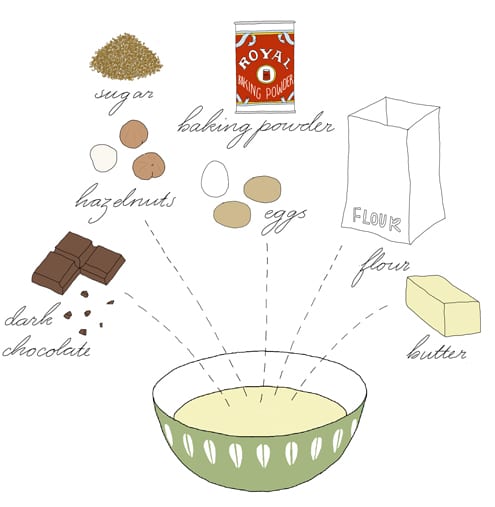 At the beginning of the summer I spotted a cake on twitter that I just couldn't resist. It was a Chocolate & Hazelnut Cake by Ana Vega. The cake is not a dessert cake, its more like a breakfast cake or something perfect for an afternoon cup of tea. From Ana I later learned that the cake was a remake of her Plum cake corriente y moliente (plum cake with dried fruits). Sounds amazing, doesn't it?. Ana runs the cake & dessert blog Biscayenne (all in Spanish) where she share recipes and stories from her tiny kitchen in Bilbao. She also has an online vintage shop with pretty cutlery, porcelain and other kitchenware.
I have now baked this cake several times and just a few weeks ago I added some black cherries to the cake. It made it very moist and delicious. The cherries worked really well with the dark chocolate. I can also imagine adding some banana but in the end its absolutely fine just as it is.
I have only made a few changes to the recipe: Instead of regular sugar I used brown sugar. I also reduced the sugar as I wanted a less sweet cake, which Ana also suggest when using fruit in the cake.
Print
Ana's Hazelnut Cake with Dark Chocolate
Wonderful cake with hazelnuts & chocolate by Ana Vega, Bilbao. The cake is a perfect treat for either breakfast, brunch or afternoon tea.
180g

(

7/8 Cup

) brown sugar

3

eggs

250g

(

1 2/3 cup

) flour

1 teaspoon

baking powder

125g

(a little more than

4 oz

) butter

150g

(

1 cup

) hazelnuts

60g

(70%) (about

2 oz

) dark chocolate
Instructions
Melt the butter in a saucepan.
Mill the hazelnuts finely in a food processor or nut grinder. (If you don't have either just chop it finely).
Chop the chocolate into small pieces.
Beat eggs and sugar together before adding flour and baking powder. Blend well together to avoid any floury lumps in the batter.
Pour in the melted butter and stir together before adding the milled hazelnuts and the chocolate.
Grease a loaf tin or similar mold and pour the batter into it.
Bake the cake for 15 minutes 355°F (180°C). Lower the heat to 320°F (160°C) and continue baking until the top has a brown crisp crust and a toothpick comes out dry (about 40-45 minutes).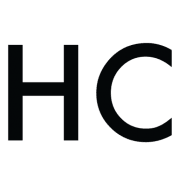 Johanna Kindvall
Johanna Kindvall is freelance designer who works with illustrations, graphics and architecture. She loves to cook, eat and draw; a combination she have been sharing on her cooking blog, Kokblog since 2005. Her recipes are more about what you can do, less about how you make them. Johanna is a Swede based in New York City. During the summer she works from her little cottage in the very south of Sweden just an hour from the Danish capital of Copenhagen.