An Assorted Nutri-Crostini Party for Breakfast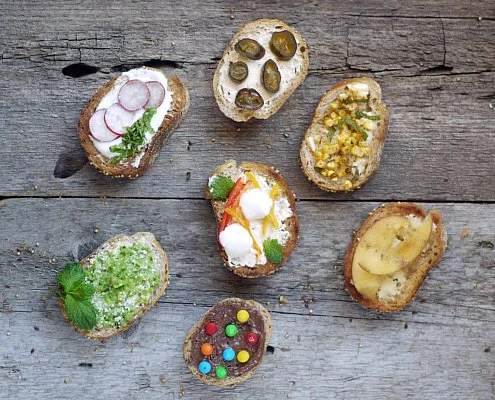 If you want to keep the kids happy and interested in breakfast, why not throw a crostini party next weekend?
By Sonia Mangla
Here's my secret to a Happy Mom and Happy Kid recipe. Every weekend I run out of ideas as to, what to cook for the breakfast ? The menu should be steady on two grounds. First, it should be fast to cook and clean. Second, yet the table should be full of healthy and inviting food. Though our staple weekend breakfast/brunch is of paranthas (stuffed indian flatbread), this time I thought of taking a break from our traditional menu and had made assortment of topped Crostini. In no time, my b'fast table was full of wonderful and Nutritious varieties to nibble.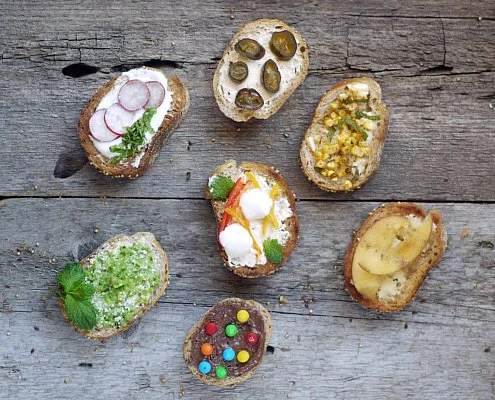 An Assorted Nutri-Crostini Party for Sunday Breakfast
Recipe Type:
Appetizer, Breakfast
Ingredients
1 baguette, sliced ¼ inch thick
½ cup olive oil
Choice of - Nutella, Butter, Cream Cheese, Hidden Valley Ranch, Ricotta Cheese, Reddish, thinly slices sweet peppers, peaches - sliced, corn kernels, chopped mint / cilantro
Freshly ground black pepper - A Pinch
Salt to taste.
Instructions
Preheat oven to 350 degrees.
Arrange slices on two large baking sheets; brush both sides with oil, and season with salt and pepper.
Bake until golden, 15 to 20 minutes, rotating sheets halfway through.
Let cool on baking sheets.
Use your Toppings creatively to combine these combos.
Hazelnut Spread and M n M's
Red Reddish & Yogurt Spread
Roasted Peppers & Hidden Valley Ranch
Mashed Pea & Parmesan Salsa
Fresh Corn & Cilantro Ribbons
Peach, Ricotta Cheese & Maple Syrup
Jalapeño & Cream Cheese
Hope you give these combos a shot, enjoy your creativity !
Sonia Mangla
Sonia Mangla is a passionate Food Blogger & Photographer. She creates Fusion of Indian flavors and loves cooking for her guests. Her work is featured on some popular sites like FoodGawker,Tastespotting, Tasteologie & Foodbuzz.