Mitch Weinstein travels from NYC to San Francisco and falls in love with a frozen pizza.
By Mitch Weinstein
Ahhhh, the pleasures of San Francisco and the Bay Area. And boy, what I wouldn't give to be in San Francisco today  (or yesterday, or tomorrow, or next week)…because while the temperature has been hovering above 100° here in NYC, in San Francisco it's pushing a perfect 6 – 0. Sweater weather, to be sure. That old saying, oft attributed to Sam Clemens, comes to mind; something along the lines of "the coldest winter I ever spent was a summer in San Francisco."  But I digress.
Last month, Significant Eater and I spent a week in San Francisco, and had some pretty amazing meals. And on our last full day in the city by the bay, we indulged in two meals, neither of which I'd ever think of having when we're home; that'd be  a restaurant brunch and a dinner of frozen pizza. How'd that happen, you ask?
Our day started off nicely at Bar Tartine, in San Francisco's Mission district.  Nothing too fancy – it was brunch, after all.  Nothing, that is, except high quality ingredients, expertly prepared.  For instance, we started off with a salad of little gems and smoked trout topped with crispy salmon skin – which was just as delicious as it sounds and looks…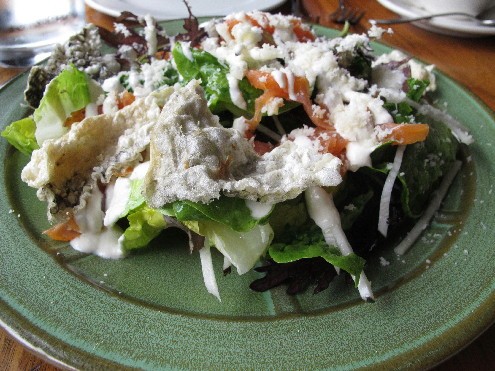 Then I had baked eggs sprinkled with "dry vella Jack cheese," while Sig Eater opted for a brisket tartine with a smoked onion marmalade and horseradish mayo; both were served with delicious roasted baby potatoes. Bar Tartine would be my go to brunch place if I lived in San Francisco.  And if I normally ate brunch.  But even though I don't do either of the above, I can highly recommend Bar Tartine…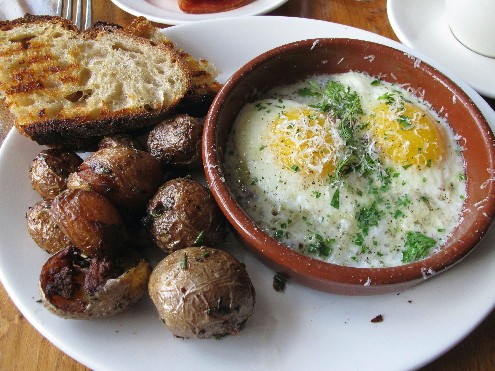 Later that day, we headed up to Mill Valley, to hang with a couple of ex-New Yorkers who made the move west 10 years ago.  Now they have kids in the house and chickens in the backyard. Seriously.  But since chicken wasn't on the menu for dinner that night (and neither were eggs), and since no one really wanted to cook, we decided to get some take-out pizza; not just any take-out, mind you  – instead, this was take-out frozen pizza that was to be finished cooking at home.
Both Pizzeria Picco (and Picco Restaurant) are Larkspur (Marin County) mainstays, and have been for a few years. People love the restaurant, and pizza aficionados love the pizzeria.  But frozen pizza? That is a whole other story, and I've never had one that was any good; they're usually cardboard-y and just pretty darn awful. Trooper that I am, I was willing to give it a try – so we cranked the oven up to 500° F  to preheat and off we went to pick up a few pies.
Pizzeria Picco has four of their classic pies and one or two of their specialized pies available daily. They're practically fully cooked, I think, and then flash frozen and shrink-wrapped so this is what you end up taking home…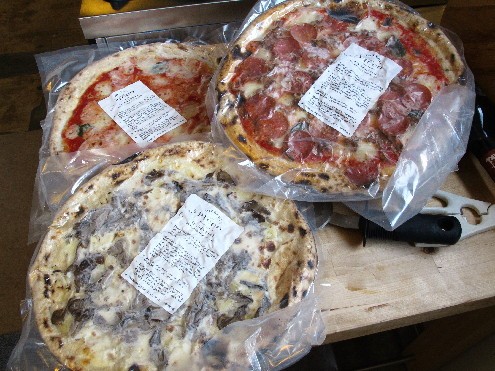 After a few minutes in that hot, hot oven (on a stone or pizza pan), an amazing pie emerges…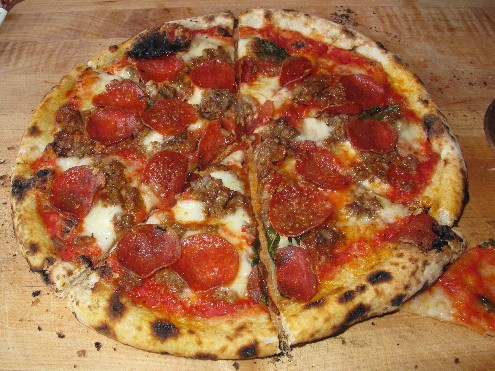 Now that's a thing of beauty, isn't it?  At least as good as any pie we've had lately; actually, better than most.  A few of these in your freezer, and excellent pizza is yours at a moment's (well, at least after the oven is hot) notice.  Of course, I could never cook one of these in our NYC apartment, at least, not during the summer, when the oven sits unused because it's just too darn hot. But, if we lived in San Francisco or Marin, it would be a whole other story.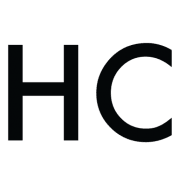 Mitch Weinstein
Mitch Weinstein is an avid seeker of good food, culinary school grad and writer of the blog Tasty Travails. When not cooking at home, he is on the hunt for that next delicious restaurant meal, great market or maybe even a cocktail. He regularly contributes to the food and drink forums on mouthfulsfood.com, eGullet.org, Chowhound.com and others.