Whether you have a long weekend coming up or just want to explore somewhere new, Louisville, Kentucky radiates both small town charm and big city energy. Of course there's plenty of bourbon and horse racing to go around, but there is much more to consider when heading to the Derby City.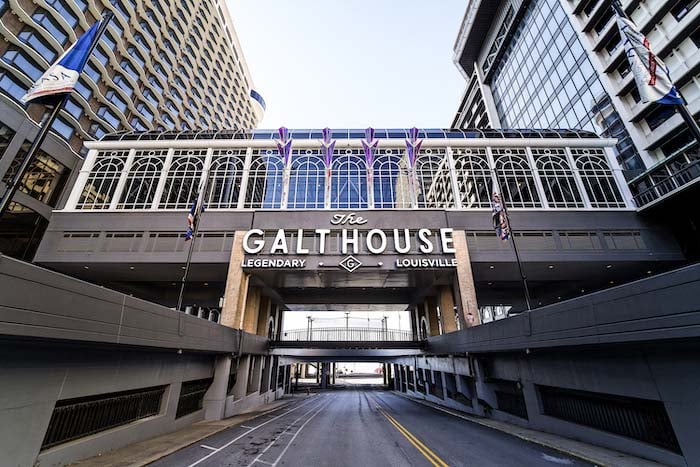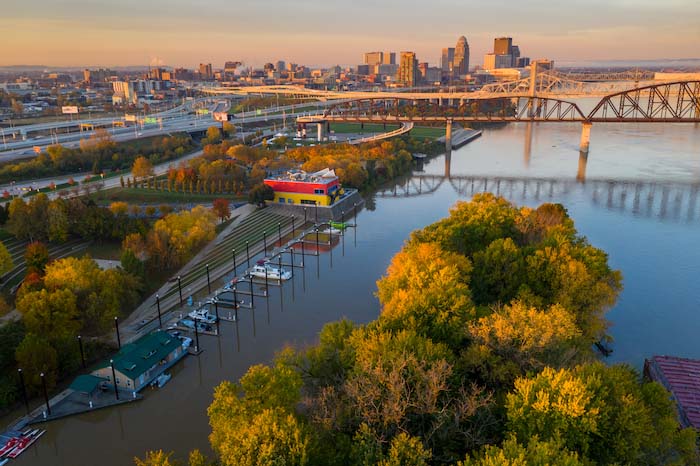 The legendary Galt House sits firmly atop the ever-growing list of Louisville accommodations. It's the only hotel boasting Ohio River waterfront rooms. Besides delightful views, Galt House recently completed an $80 million renovation. With 1,239 remodeled rooms and five brand new dining concepts, "where to eat" won't be an issue. Once you're settled in, get outside and explore. Here are the best Louisville haunts for a quick weekend getaway.
Louisville Slugger Museum
Baseball enthusiasts are in for a treat with the Louisville Slugger Museum. You'll find an exceptional guided tour and learn firsthand how their bats are made. Look forward to many "oooh" and "aaah" moments when you realize these bats will soon be in the hands of America's most famous major leaguers. Even if you're not a baseball fan, the tour is filled with fun-filled moments like watching artisans carving and painting a variety of bats. If you're looking to score some bonus points with that baseball-obsessed loved one, you can order them a personalized Louisville Slugger bat.
Muhammad Ali Center
Enjoy an uplifting experience at the Muhammad Ali Center. Prepare yourself for a tearful 15 minute video highlighting his determined journey to become the World Heavyweight Champion. He became an icon in the anti-war movement when he was stripped of that title for refusing to fight in Vietnam. Ali held firm to his values, and eventually a court restored his title. Then through sheer tenacity, he fought his way back to once again becoming The World Champion. After the video, walk through the interactive exhibit. Give shadow boxing a try, take in his spiritual message of peace within a dome projection, and immerse yourself in Ali's life. You'll learn about his six core principles: confidence, conviction, dedication, respect, giving, and spirituality. After absorbing all of his wins and losses, you can't help walking out the door standing a little taller.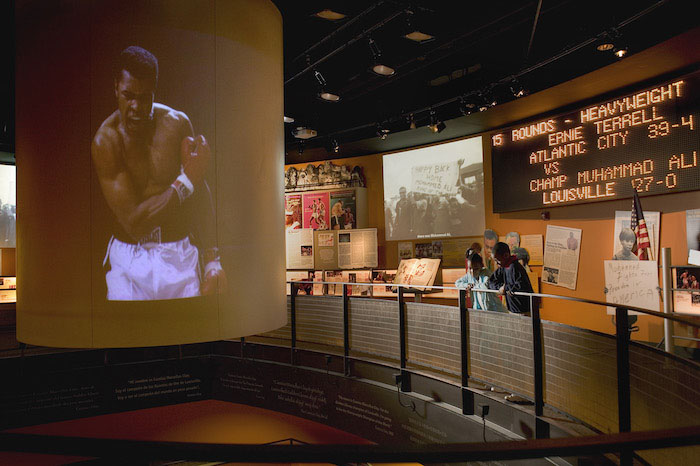 Evan Williams Bourbon Experience
You can't go to Louisville without sampling a healthy share of bourbon. There's no shortage of distilleries around, including the famed Bourbon Trail, but you might only have time for one. If that's the case, check out the Evan Williams Bourbon Experience — at the first distillery on the banks of the Ohio River. Built in the late 1700's, you'll witness how Evan Williams operated in the 18th century. Witness the same type of legendary bourbon pot stills used to make bourbon in those days and of course, end with a wonderful tasting of Evan Williams bourbons. If you weren't a fan before, this flight will certainly convince you otherwise.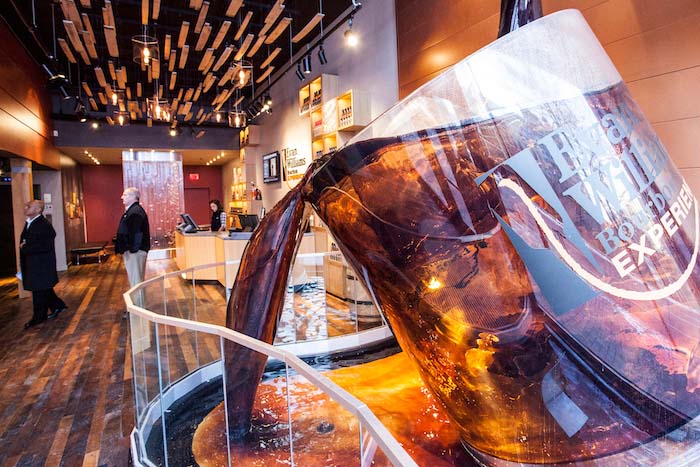 Keeneland
Like bourbon, horse racing is an integral part of Louisville's history. Depending on when you book your visit, you'll either end up in Keeneland or Churchill Downs, where the Derby takes place. Keeneland in Lexington may be the better choice, as it's open year round. Order a private driver, who may or may not serve you mint julips as you make your way through bucolic horse country. Remember—no jeans allowed, so bring that floppy hat and flowery dress or suit and tie, because horse racing is a civilized sport.
When you need a break from exploring, Louisville has a myriad of great restaurants for every taste.
Sunergos
For coffee lovers, Sunergos is the place to go. Their mission statement is: "Sunergos is a company born out of a thorough appreciation of great coffee, creative reflection, and simple community." There's no fuss when you walk in, just friendly baristas that pour you an exceptional espresso to help start your day. Enjoy rotating pastries, and try something new like the orange creamsicle cappuccino.
Biscuit Belly
For a friendly-fast casual experience, head to Biscuit Belly. Be prepared for a great carb overload. It's biscuits galore at this establishment, and choices abound. They've got biscuit sandwiches, biscuits and gravy, and even biscuit-style French toast with berry jam, whip, berries, and maple syrup. For those with a healthy appetite, I dare you to order the "Belly Buster" with buttermilk fried chicken, sausage, bacon, brisket, cheddar, mushroom gravy, and an over-easy egg. You may die of a heart attack, but you'll die happy.
Swizzle
If you're in the mood to dress up for a more elevated evening in Louisville, try Swizzle on the 25th floor of Galt House. It's a swanky restaurant, so you'll need to make a reservation. Look forward to prime steaks, sustainable seafood, and of course incredible bourbon cocktails. The revolving floors and panoramic views of the Ohio River ensure there's not a bad seat in the house. For dinner and a show, make sure to order the 1910 Old Fashioned. It's an homage to the Old Forester distillery fire in 1910, and it's served in a small box with wafting smoke that surrounds you.
Doc Crow's
Around the corner from Galt House is Whiskey Row, a long stretch of bars and restaurants, with a plethora of bourbon. Head over to Doc's Bourbon Room, which features more than 2,000 bourbons and whiskeys you won't find anywhere else—it's the widest selection of whiskey and bourbons in Kentucky. As you walk towards the bathroom, you'll be stunned by all the bottles that Doc has collected over the years. Overwhelmed by your choices? Go for a Kentucky Coffee with bourbon, cream, and sugar to keep you caffeinated with a nice buzz, as you move on to your next tasting.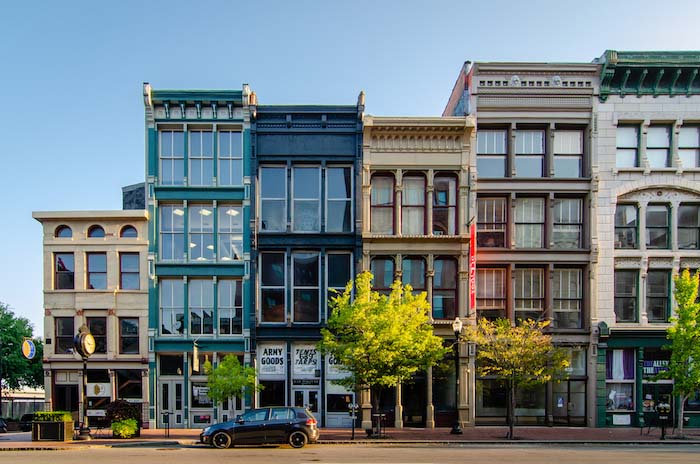 Thunder Over Louisville
If you're looking at the calendar wondering when to book your Louisville trip, consider April. Besides the Derby proper, Louisville hosts its yearly Thunder Over Louisville, which serves as the Derby's kickoff event. Next year it will celebrate the 76th anniversary of the United States Air Force, and the show is packed with a line-up of both military and civilian aircraft. Enjoy a firework and drone show that'll beat any 4th of July celebration.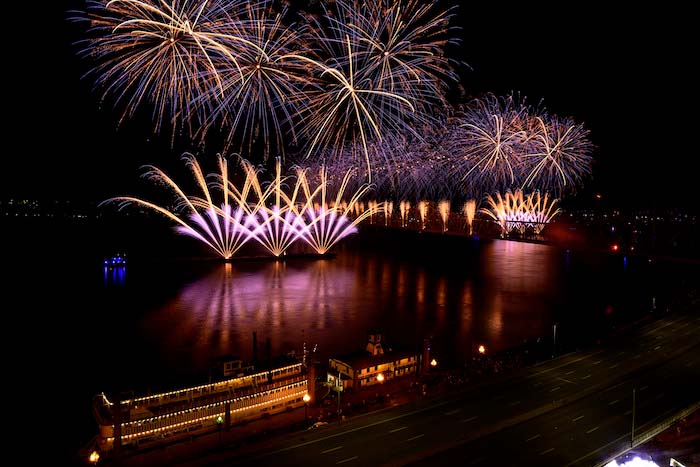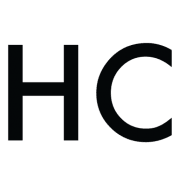 Keyla Vasconcellos
Keyla Vasconcellos is a passionate, freelance writer regarding all things food, lifestyle, and travel. She is usually searching the streets of Los Angeles for the next great bite, or she is shooting food photography for restaurant clients, or daydreaming about her next travel destination.