Paired with some rice or rotis or breads along with a Indian pickle or salad, this is a delicious, healthy and hearty meal.
By Dossana Amit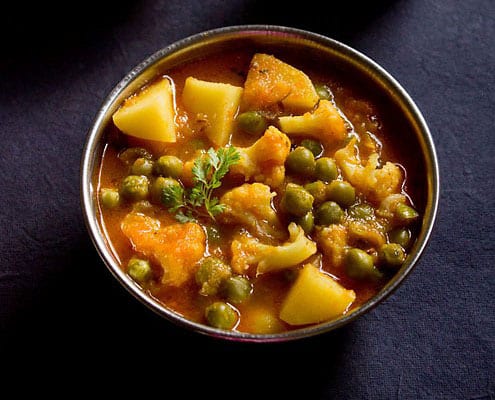 Aloo Gobi Matar is a classic North Indian curry that is a favorite of many.
The lovely combo of potatoes (aloo), cauliflower (gobi) and green peas (matar) in an onion-tomato based curry spiced the Indian way is truly a delight to have with naan or rotis.
Here i present the recipe the way I make it a home with a slight variation which, in my opinion, makes it much better. You can also have the aloo gobi matar curry with steamed rice.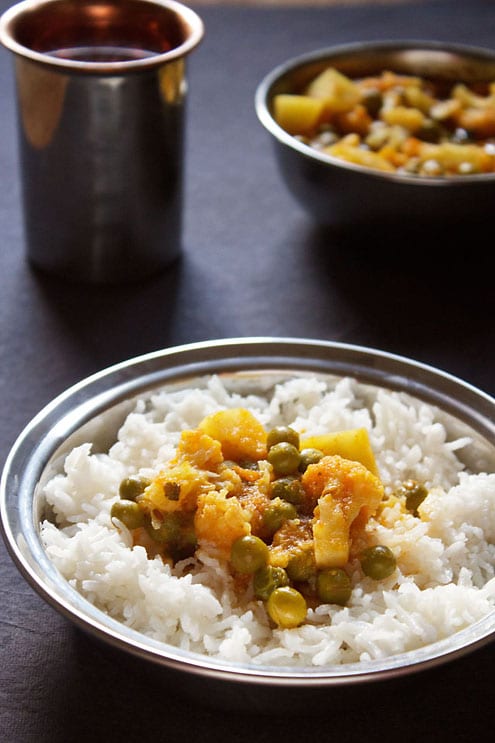 So when there is less time and you crave for a comforting Indian meal, then this it. Paired with some rice or rotis or breads along with a Indian pickle or salad, you have a healthy & hearty meal in the comforts of your home.
Ingredients
for the curry:
2 cup cauliflower florets
2 cups peeled & chopped potatoes
1 or 1.5 cups fresh or frozen peas
2 small bay leaves or 1 large bay leaf
1 or 2 green chilies, slit
½ tsp cumin seeds
¼ cup chopped onion
½ tsp turmeric powder
½ tsp red chili powder
½ tsp turmeric powder
1 tsp coriander powder
1 tsp kasuri methi/dry fenugreek leaves, crushed (optional)
2 tbsp oil
few coriander leaves for garnishing
salt as required
for the masala paste:
½ cup chopped onion
3 medium size tomatoes, chopped
½ inch ginger
3-4 garlic
Instructions
Firstly, rinse and chop all the veggies.
Keep the cauliflower florets in salted water for 15-20 minutes.
Then drain the florets and keep aside.
Blend the onion, tomatoes, ginger and garlic to a smooth paste.
No need to add water while blending as the tomato juices help in the blending process.
Heat oil in a pan.
Fry the cumin first with the bay leaves.
Add the chopped onions and fry till light brown.
Add the ground onion-tomato paste
Stir and then add all the spice powders, one by one.
Fry the masala till the oil starts to leave the sides.
The oil should start leaving the masala.
This technique is also called as bhunao in hindi as is a must to get that right taste and flavor in the recipe.
Keep on stirring so that the masala does not stick to the pan.
This might take around 7-9 minutes.
Now add the cauliflower florets, potatoes and peas.
Add 3 cups water and stir the curry.
Finally add the slit green chilies and salt.
Let the whole curry come to a boil.
Then cover with a lid and let the curry simmer till the veggies are cooked.
Finally add crushed kasuri methi leaves
Garnish with coriander leaves and serve hot with some naan, rotis or steamed rice.
The curry can also be served with bread.
Notes
You can also cook the curry in a pressure cooker. For cooking in a pressure cooker add 2 or 2.5 cups water instead of 3 cups water. Kasuri Methi or dry fenugreek leaves adds a lot of flavor to the dish. If you can manage to get it, then very good. However if not, then the dish will lack the aroma of the dry fenugreek leaves, but nevertheless still taste good.
Dassana Amit
Dassana never intended to start a food blog. She never ever thought about blogging in her wildest of dreams. Her only passion in her life was meditation. As she went deeper in meditation, she realized that her inborn gift of cooking delicious & healthy food needs some creative expression. So she started her blog " Veg Recipes of India " as an outcome of creative flowing energy. Now she has also combined her another gift i.e photography with cooking. When not blogging & food photographing - she works as a web developer and seo expert.