PARTNER POST: Discover how delicious dairy-free sweet and savory cooking can be with DREAM Ultimate Almond.
Based on the classic candy bar, enjoy a layered almond joy pudding parfait made with almond milk instead of diary for extra nuttiness.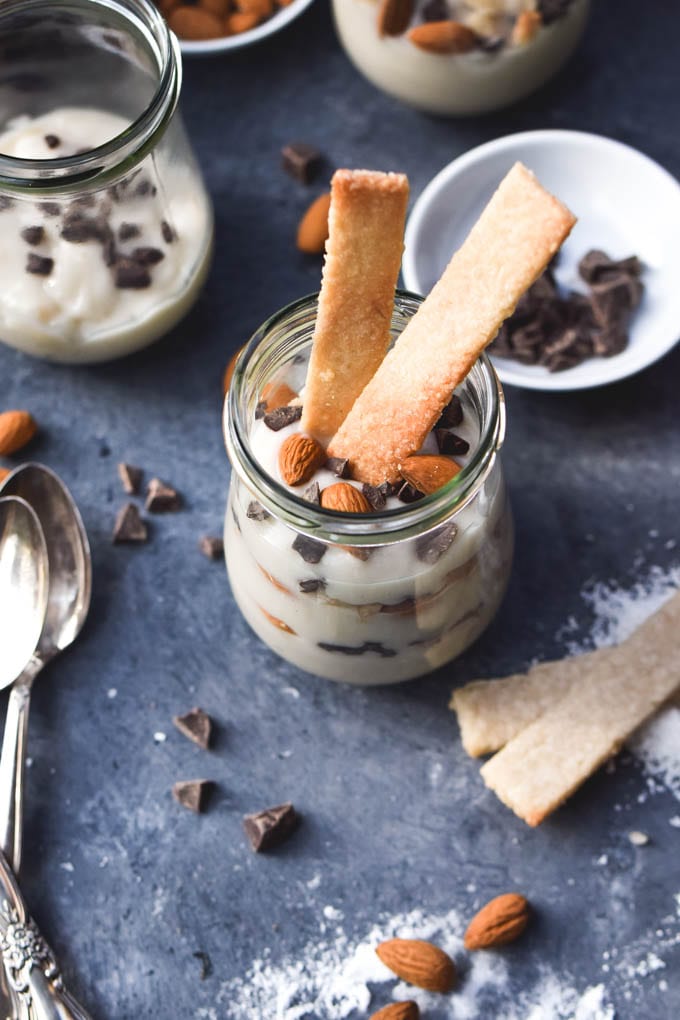 Can I spend just a second to discuss how much I love food that's layered in pretty little jars and glasses?
It's just way more fun. Something about a bunch of yummy ingredients with contrasting flavors and textures coming together in one dish is way more exciting than if you were to eat each thing separately.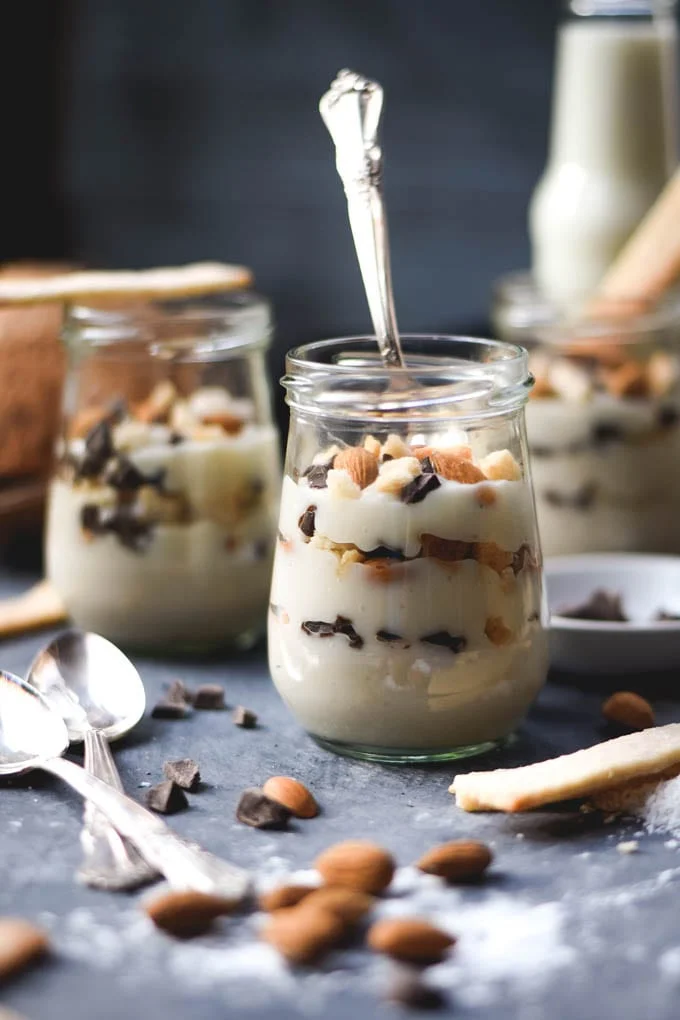 All right, so this recipe was inspired (obviously) by the classic candy bar, which ironically I didn't start to like until I got older. In fact, I remember every year when my siblings and I opened trade in the very distinguished annual event known to kids everywhere (The Halloween Candy Exchange Market), the poor almond joys had a value of next to zilch because we all hated them. They'd go to Mom as payment for acting as judge in our bartering disputes, such as whether smarties were worth as much as bottle caps.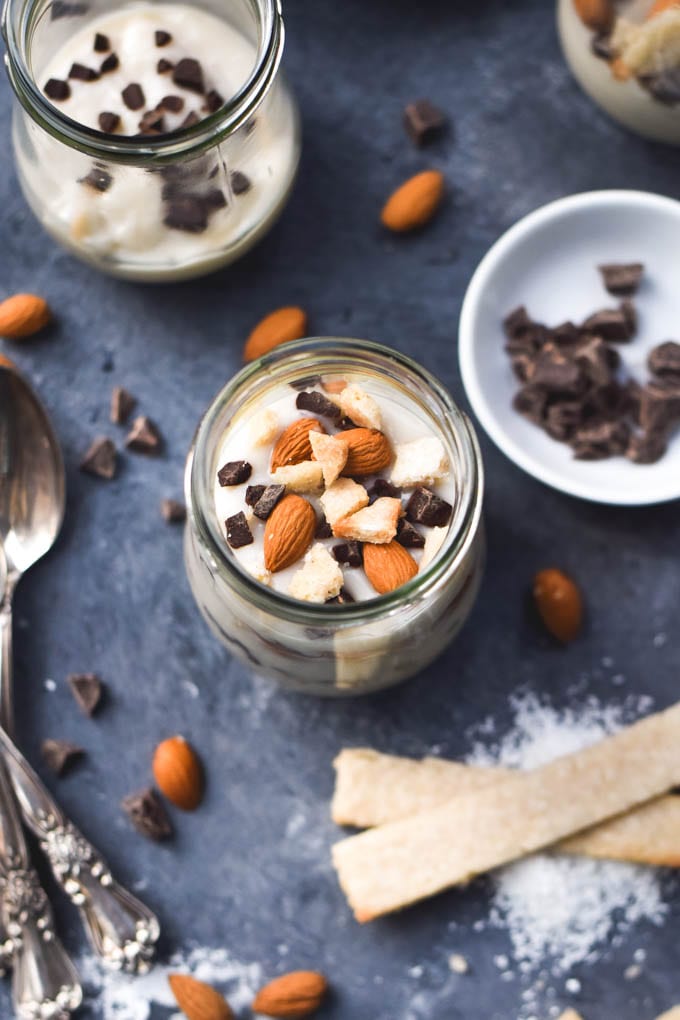 Anyway, these parfaits are fairly simple to make and what's even better is that they are completely dairy free and vegan. I'm not gonna lie, these are kind of everything! The coconut cookie sticks are simple and have the perfect sugary crisp that helps them keep texture even when they are softened in the pudding. I used a brand of unsweetened dried coconut that is extra fine but I think larger shreds will work as well. Then you add a sprinkle of crunchy almonds and chocolate chunks along with your cookie crumbles for layers of sweet, sweet happiness. As for the pudding itself, it's so creamy and silky smooth that I promise you won't know it doesn't have dairy. Plus the almond beverage gives it a subtle nuttiness that is divine. Actually, that's part of the reason I'm sharing these parfaits today, to tell you about this new product that I love!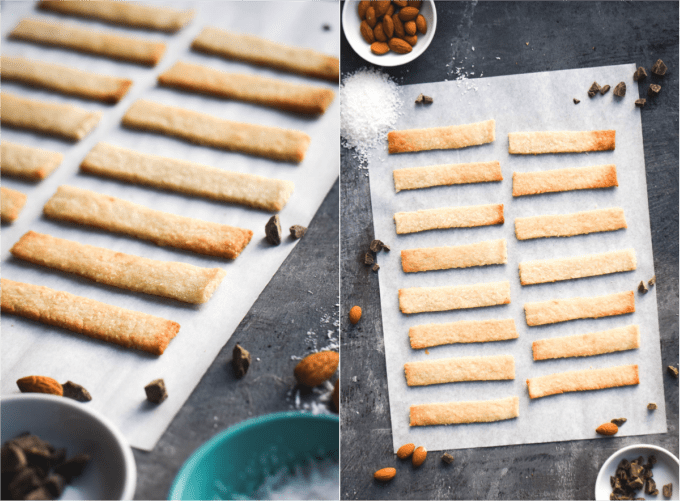 DREAM Ultimate Almond is extra rich and has way more flavor than your typical almond milk so if you've previously tried other almond milks and sworn them off for being bland than you should at least give it a try.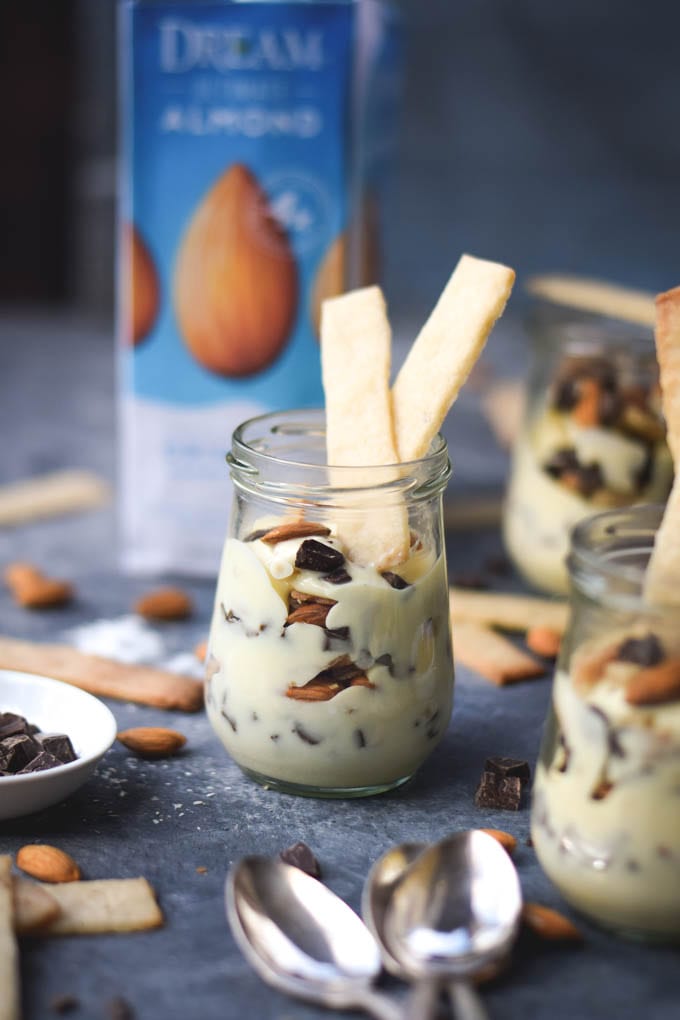 The new DREAM Ultimate Almond beverage can be found now at Whole Foods and soon at your local Sprouts. Click here for a coupon.
For more inspiration, check out this turmeric smoothie bowl:
Print
Author:

Tori Cooper

Prep Time:

30 minutes

Cook Time:

40 minutes

Total Time:

1 hour 10 minutes

Yield:

6

to

8

servings

1

x
Category:

Dessert
Vegan Pudding:
1 cup

full-fat coconut milk

3 1/2 cups

almond milk

1 1/4 cups

sugar

6 tablespoons

cornstarch

1/4 teaspoon

salt

2 teaspoons

vanilla extract
Coconut Sable Cookie Dippers:
1 cup

sugar

1/4 cup

coconut oil (melted)

1/4 cup

almond milk

1/2 teaspoon

salt

2 teaspoons

vanilla extract

1 1/2 cups

flour

1/2 cup

unsweetened dried coconut shreds

1 cup

semi-sweet dark chocolate chunks or chips

2/3 cup

raw almonds
Instructions
Vegan Pudding:
Whisk all ingredients, except vanilla extract, in a medium saucepan until completely smooth. Place over medium heat and bring to a gentle boil. Stir for 6 to 8 minutes or until it's thick enough to coat the back of a spoon. Remove from heat and cool for about 20 minutes, then pour through a fine mesh strainer into an airtight container and place in fridge for at least 2 hours until completely cooled. (You can whisk in some water if it gets too thick once cooled.)
Coconut Sable Cookie Dippers:
Preheat oven to 350 degrees F (180 C) and line 1 or 2 baking trays with parchment. Combine sugar, salt, and coconut oil in the bowl of a stand mixer and beat until combined. Add the milk and vanilla and mix until creamed. Mix in flour and coconut shreds just until the dough comes together.
Divide the dough in half and roll out each half on a lightly floured surface. Cut into 1/2 x 4 inch sticks (or any desired shape) and place them about 1/4 an inch apart on prepared tray. Place in oven and bake cookies for 8 to 10 minutes just until they are slightly browning on edges. Remove and cool for at least 5 minutes before serving.
Assemble:
Once your pudding and cookies have cooled, layer desired jars or bowls with pudding, broken cookie pieces, chocolate, and almonds. If making ahead you can store parfaits in fridge until ready to serve. Use the extra cookies for dipping into pudding!
Tori Cooper
Tori is a food blogger with a passion for what she does. She shares all her recipes, photography, and bits about her life living in Patagnia Chile on her blog, Gringalicious.