Crusted in coconut and fried until golden, this French toast is a riff on an Almond Joy. Serve with a delicious chocolate sauce for true brunch joy.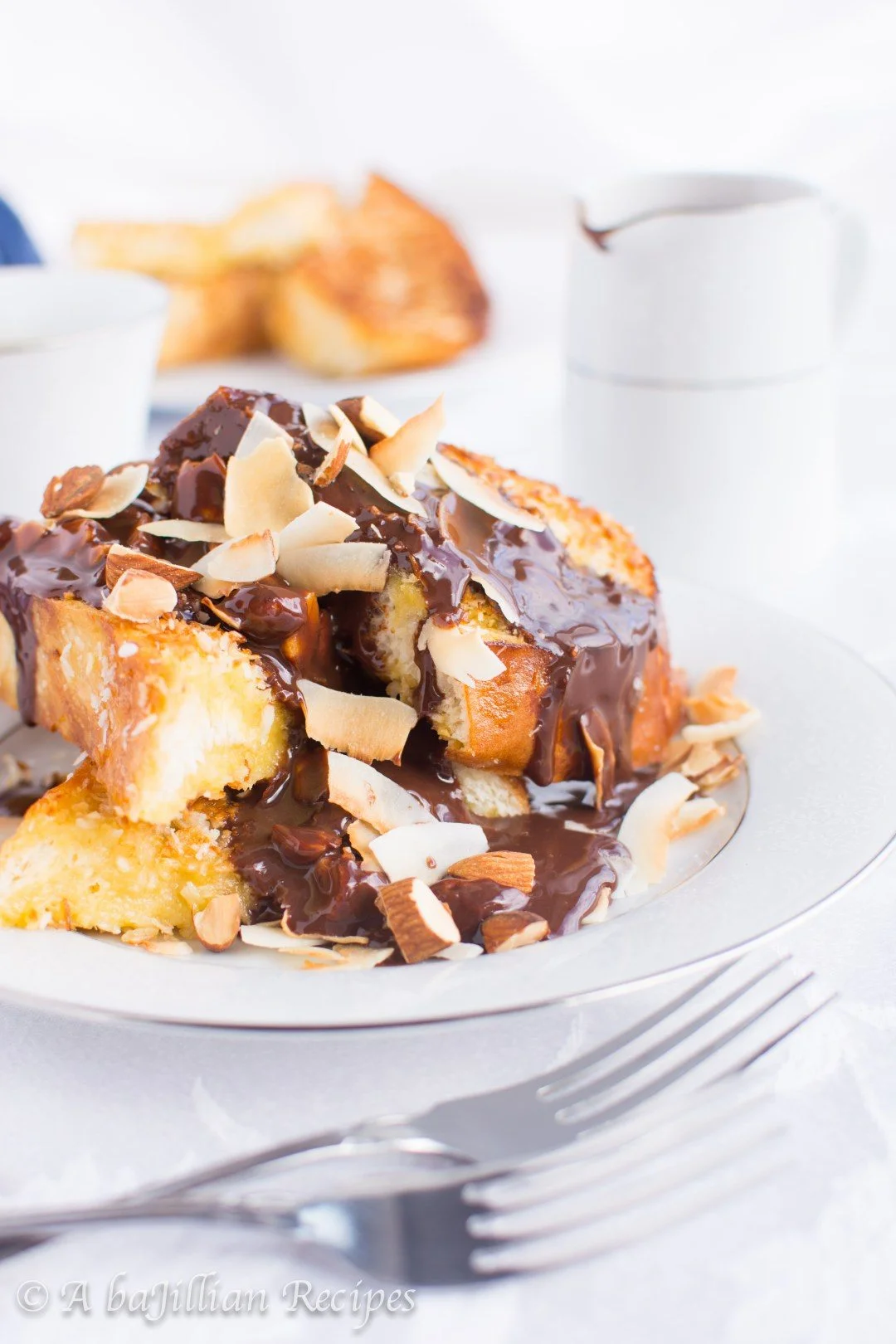 As far as candy bars go, Mounds and Almond Joy were never really at the top of my list as a kid. However, as I got older and my obsession for coconut blossomed, I developed a love for these little black sheeps of the candy bar family. Of the two, I'd have to say that Almond Joys were definitely my favorite. I preferred the sweetness of the milk chocolate over Mound's dark chocolate, and the little almonds on top just added that extra oomph.
So as inspiration took hold of my beautiful little (not that little) brain, I decided it was time for yet another one of my over-the-top rich bressserts, AKA breakfast + dessert. This week's post is ALL about that classic Almond Joy goodness!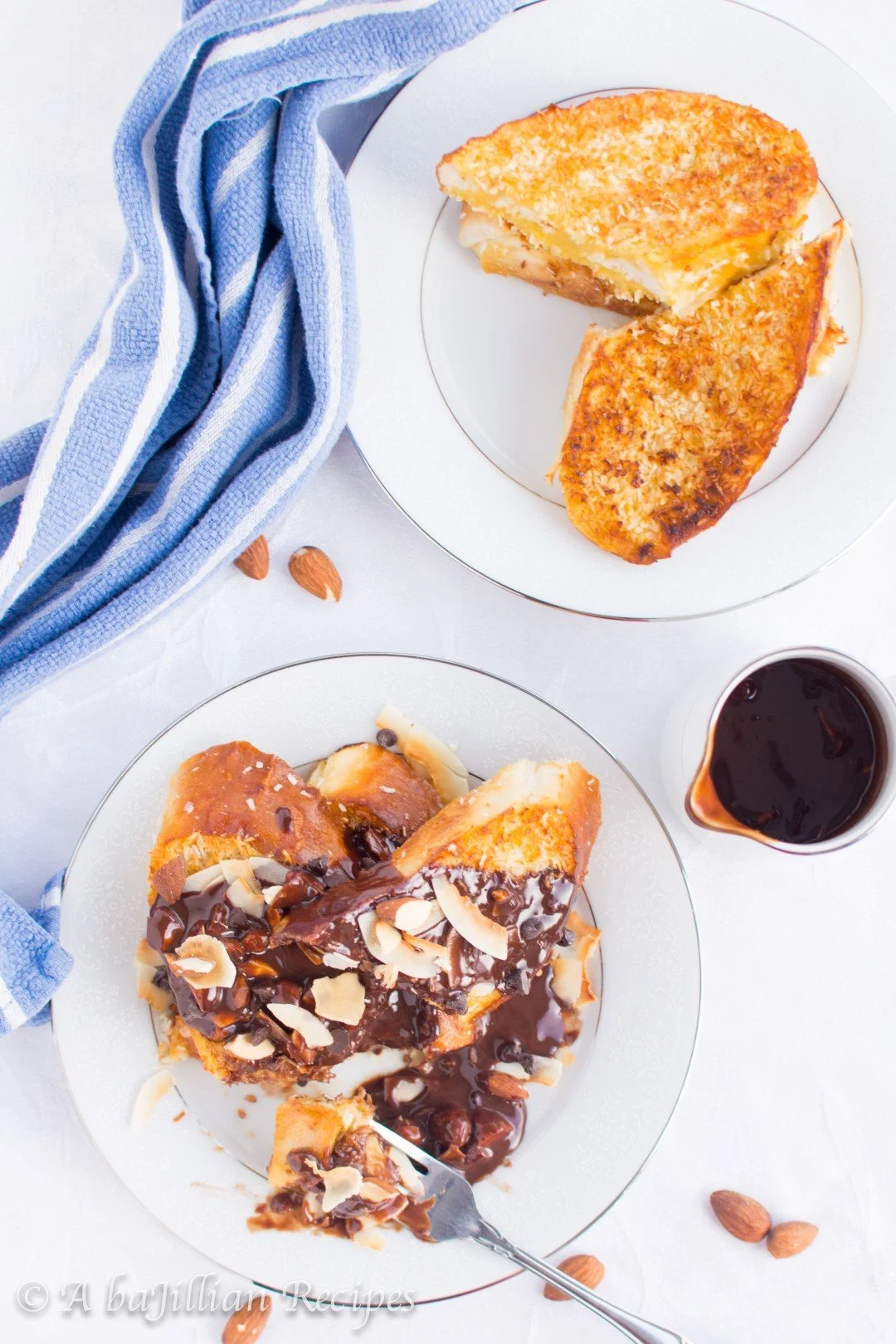 It's definitely been a hot minute since I've put out a breakfast recipe, so this french toast has been a long time comin'! It has every wonderfully delicious element that the Almond Joy is known for–sweet and flavorful coconut, rich, luxurious chocolate, and crunchy nutty almonds in every bite. Absolute perfection on a plate right here.
For the bread, I ended up using a tiger loaf/bread which was located directly next to the french bread in my grocery store bakery. It's very similar to french bread, but the crust seems to be little thinner and less chewy, making it perfect for this french toast. Originally, I was looking at challah breads, but ain't nobody got SIX dollars for a loaf of bread!
You'll be fine with most any white bread you find in your local bakery/grocery store. Just don't use super crusty, rustic breads, or the pre-sliced white sandwich bread located next to the peanut butter. Go for something heartier that you can cut into thick slices, like french bread and brioche. Or, if you're absolutely swimming in dolla bills, go right ahead and splurge on that challah!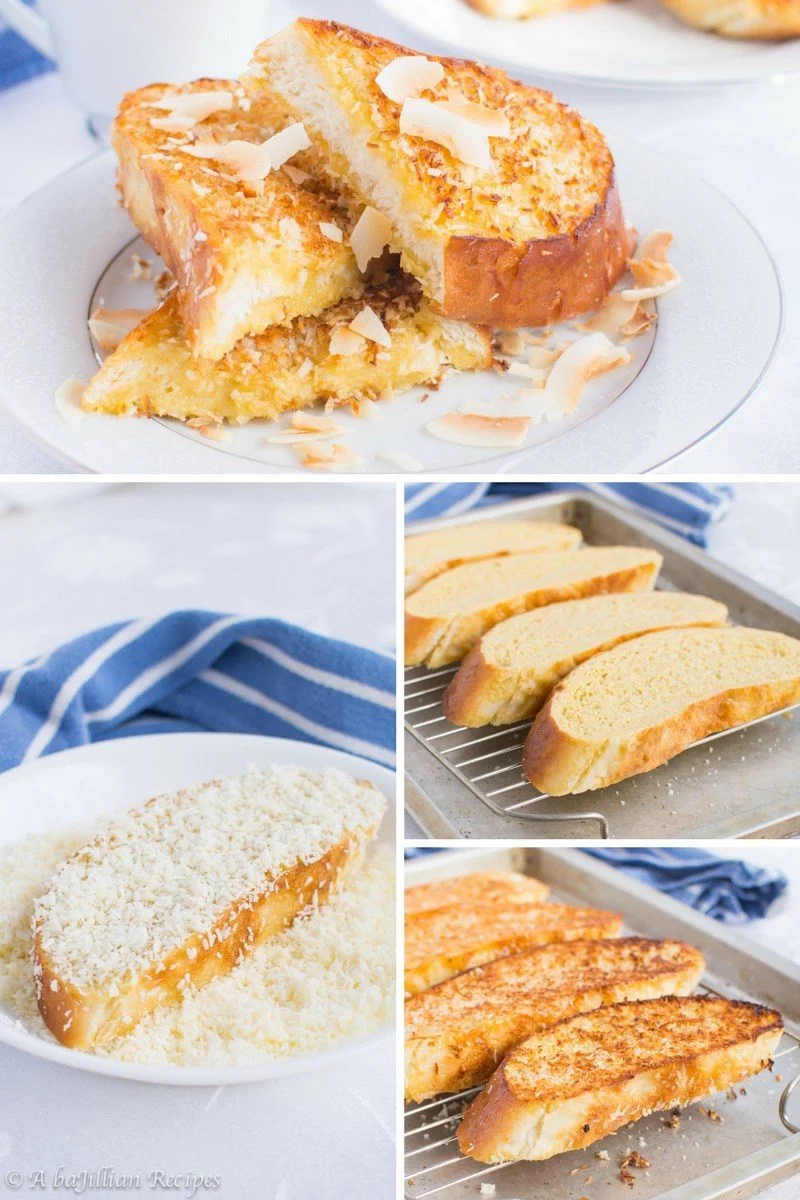 To stray away from the typical french toast batters all over the Internet, I decided to change things up a bit. Instead of using granulated sugar, I used brown sugar for a subtle maple sweetness. I also added a couple of tablespoons of all-pupose flour since I read that it prevents french toast from getting too soggy.
To eliminate that eggy, sulfuric taste that some french toast fall victim to, I left out the egg whites and used only the yolks. Along with the vanilla, I added my favorite not-so-secret ingredient–almond extract. A little goes a long way, and it's surprising how just a dash of it can really make a difference in the overall flavor!
As for the toasty coconut exterior, I am absolutely obsessed with how crisp and flavorful the coconut coating was. I started with a finer shred of unsweetened coconut, tossed it with a little sugar and some melted butter, then coated the soaked french toast with it. To me, coconut hasn't truly reached it's full potential until it's been toasted. Luckily, with this recipe you don't have to toast the coconut beforehand because the skillet will do all of that for you. The coconut not only lends that toasty sweetness, but it also provides a nice, delicately crisp crust.
While this french toast would be all fine and dandy just the way it is, it wouldn't be a true baJillian original if we didn't add that extra element of decadence and overwhelming sweetness to it. Furthermore, an Almond Joy is just another macaroon without it's rich chocolate coating and crunchy almonds. That's why a liberal drizzle of chocolate-covered almond sauce was absolutely detrimental to finish off this wonder.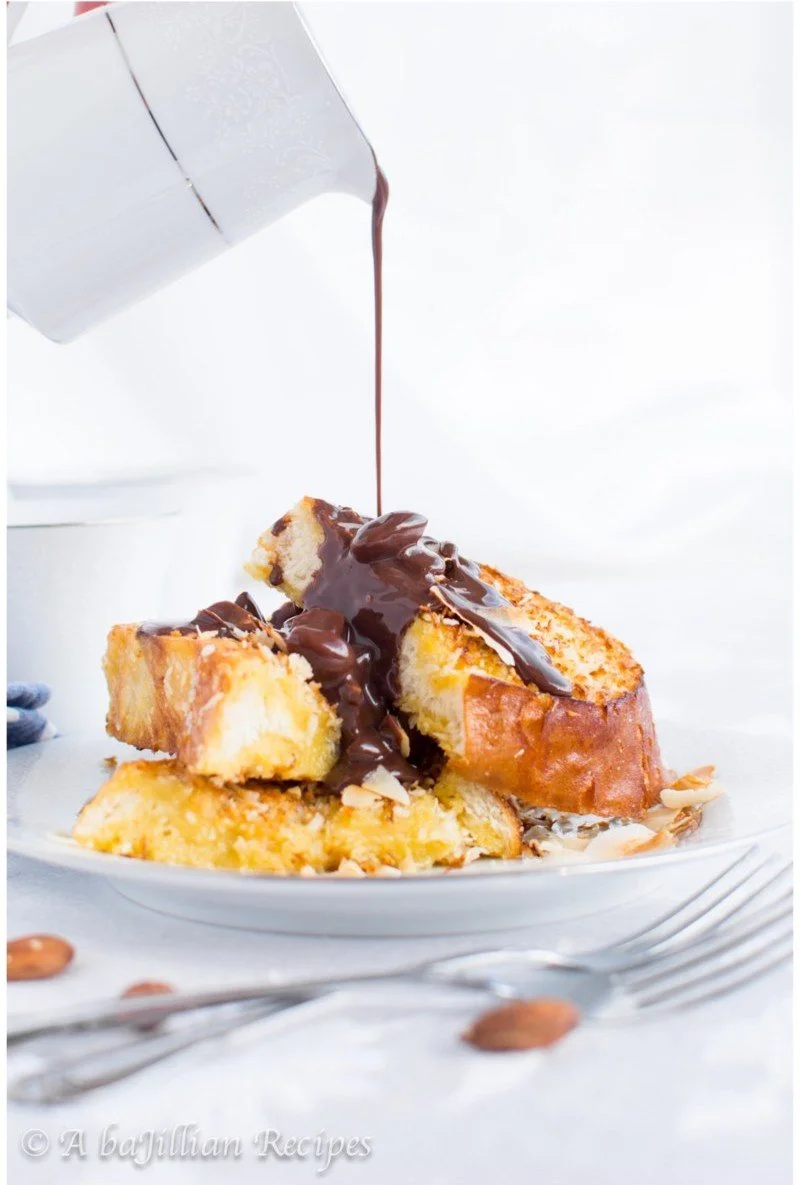 Click here for the chocolate almond sauce recipe.
Print
Almond Joy: Coconut and Chocolate French Toast
Crusted in coconut and fried until golden, this French toast is a riff on an Almond Joy. Serve with a delicious chocolate sauce for true brunch joy.
Author:

Jillian Hatsumi

Yield:

3

servings

1

x
Category:

Breakfast
Chocolate-Covered Almond Sauce:
Click the link above for the recipe.
Coconut Coating:
1 cup

finely shredded unsweetened coconut*

2 Tablespoons

granulated sugar

2 Tablespoons

butter (melted)
French Toast:
6

slices bread (such as french, sliced 1-inch thick, preferably day-old)

3

large egg yolks

2 Tablespoons

brown sugar

2 Tablespoons

all-purpose flour

1/4 teaspoon

salt

1

and 1/2 teaspoons vanilla

1/4 teaspoon

almond extract

1 cup

milk
Vegetable oil (for cooking**)
Instructions
Make the Sauce: Click the link above for the recipe.
Make the Coating: In a shallow dish, use a fork to toss the coconut and sugar together. Add the melted butter and continue to stir until all the coconut is moistened.
Make the French Toast: Preheat the oven to 300ºF and adjust an oven rack to the middle position. Place a wire rack onto a rimmed baking sheet.
In a shallow dish, whisk together the egg yolks, brown sugar, flour, salt, vanilla, and almond extract until smooth. Gradually stir in the milk until well blended.
Using your hands, soak the bread in the milk mixture until saturated but not falling apart, about 10 seconds per side. Pick up the bread slice and allow excess mixture to drip off. Transfer onto another baking sheet; repeat with the remaining slices.
Place soaked bread slice into the coconut coating. Use fingers to gently press coating onto the bread, flip over, and repeat with the other side. Place coated bread slice back onto baking sheet; repeat with the other slices.
In a skillet, heat 1 Tablespoon of oil over medium heat. Once hot enough, transfer two slices to the skillet and cook until golden brown, 2 to 3 minutes per side. Transfer to the baking sheet with the wire rack, wipe the skillet with a paper towel, and repeat cooking with the remaining slices, adding 1 Tablespoon more oil for each batch. Place baking sheet of french toast in the preheated oven for 5-7 minutes to finish off cooking.
Serve french toast warm with chocolate-almond sauce.
Notes
*You can find finely shredded unsweetened coconut in the health/organic foods section of most grocery stores or in the bulk section.
**I used vegetable oil since butter tends to burn quicker.
Jillian Hatsumi
I'm Jillian, the writer, baker, chef, recipe creator, and amateur (very amateur) photographer of A baJillian Recipes. Though I'm not a classically trained chef, I like to think I know my way around a kitchen pretty well. Aside from baking, cooking, and EATING, I also enjoy acting, couponing (I LOVE saving money!!), running, working out, photography, and playing with my little fluffernutter, Olivia. She's a dog, if you're wondering...