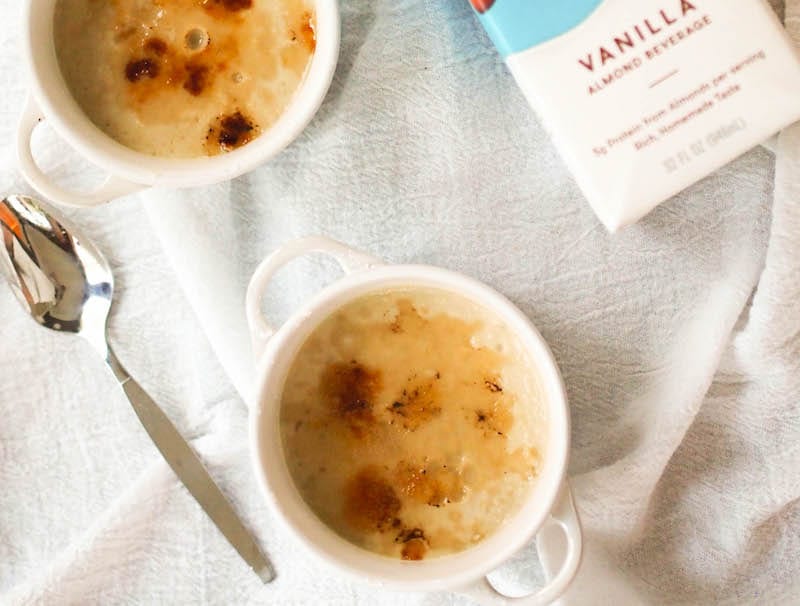 PARTNER POST: Discover how delicious dairy-free sweet and savory cooking can be with DREAM Ultimate Almond.
Whip up a creamy dreamy Crème Brûlée made dairy free with Dream Ultimate Almond.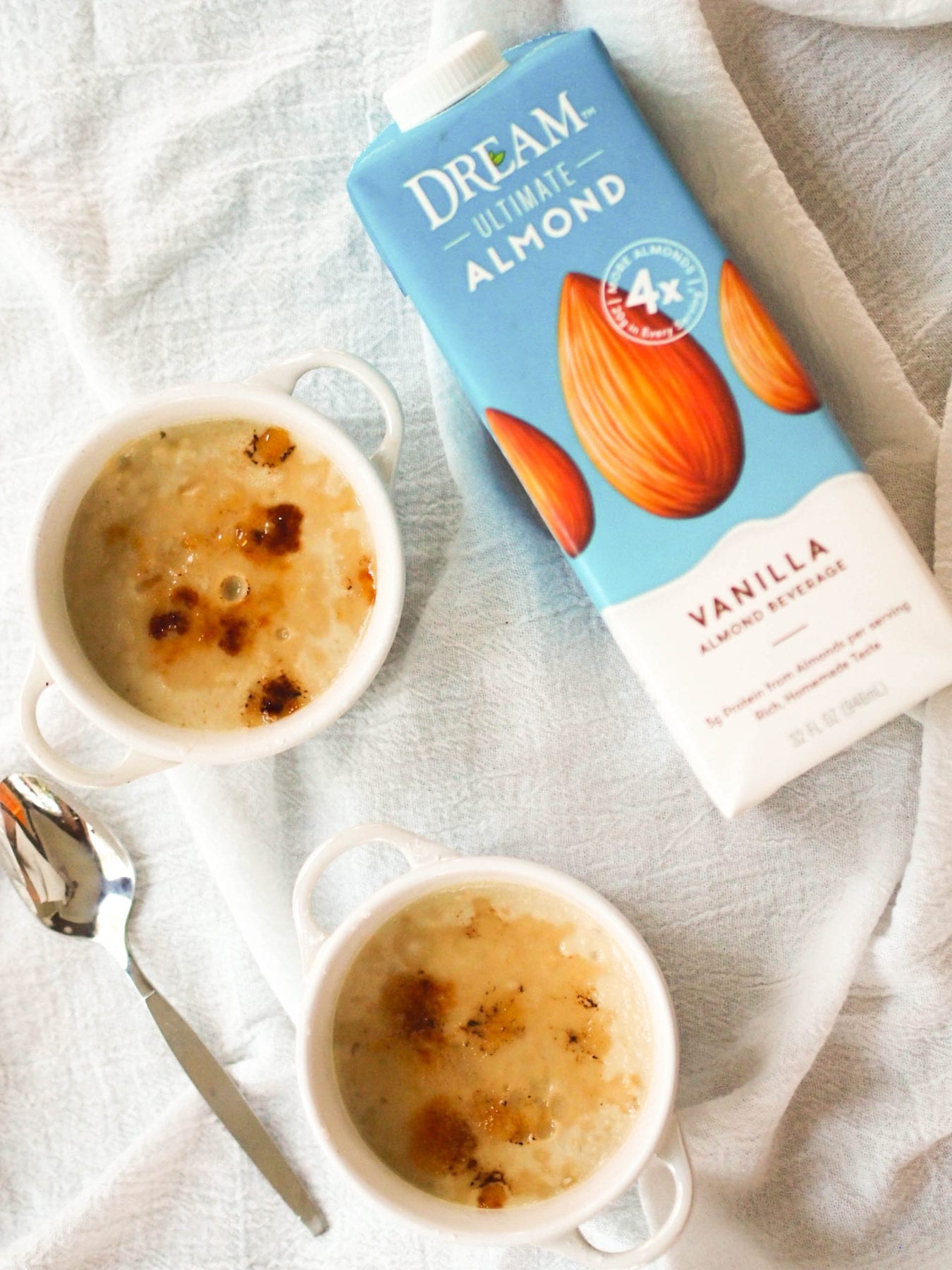 Friends and clients frequently ask me about my thoughts on dairy and the various plant based milks that are available. Personally, I'm a big almond milk fan. It's neutral flavor and milky consistency makes it suitable not just for drinking, but for recipes from sweet to savory. And obviously smoothies too.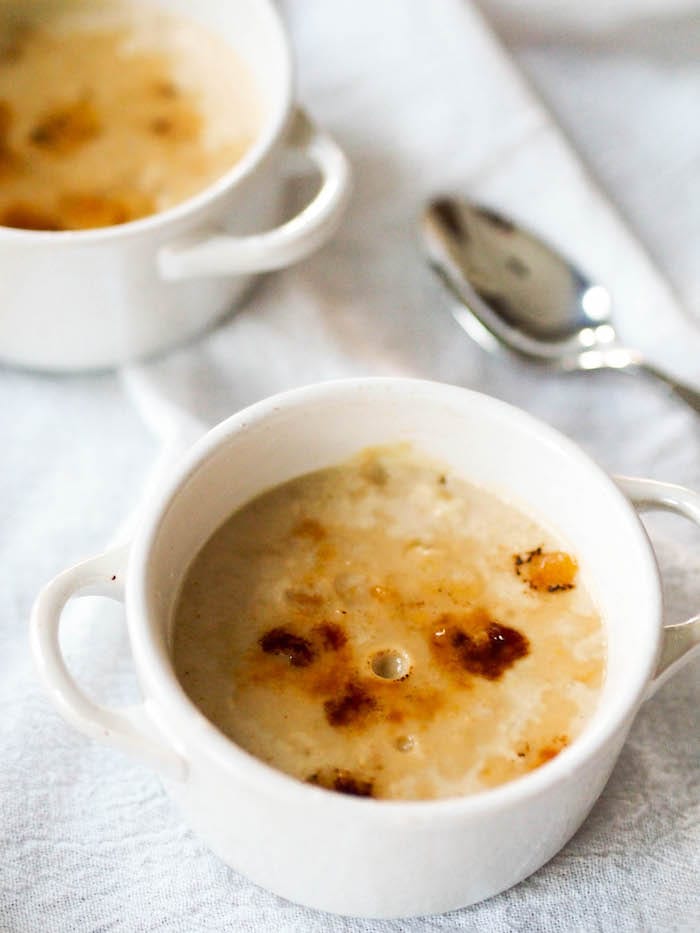 Of course, almonds are super nutritious as well, packed with biotin, vitamin e, magnesium and healthy fats. But in almond milk, you get very little nut, which is cool, because almond milk is designed to be a milk substitute, which is mostly water too.
But if you've ever made homemade almond milk or tried the fancy schmancy almond milk they sell at juice bars, then you know more almonds = more delicious. It's thick and creamy and satiating – the perfect little grab and go snack! However, it also means way more expensive and way more time consuming. While I love to whip up homemade nut milk on occasion, we use it on a daily basis and I'd like to accomplish more things in my day than standing over a bowl with cheesecloth straining almonds.
So I was pretty excited to discover and collaborate with Dream Ultimate Almond, made with 20 grams of California almonds (four times more!) per serving for an extra rich and creamy taste. That means more protein, more fiber, more filling fats and more tasty almond nutrition in each sip. Each serving is a good source of biotin, vitamin E, magnesium and riboflavin.
The new DREAM Ultimate Almond beverage can be found now at Whole Foods and soon at your local Sprouts. Click here for a coupon.
For more inspiration, check out this easy ice cream, no dairy or churning needed!
Rachael Hartley
Ingredients
Crust:
½

cup

plus 2 tablespoons almond meal

3

tablespoons

coconut oil

1

tablespoon

sugar
Filling:
3

egg yolks

2

tablespoons

honey

1½

cup

Ultimate Almond Vanilla Almond Milk

6

teaspoons

raw sugar
Instructions
In a small bowl, mix together almond meal, coconut oil and sugar. Divide between four ramekins, pressing into the bottom to make a crust. Place in the refrigerator and chill for 20 minutes.

Preheat oven to 375 degrees. Place ramekins in the oven and bake 20 minutes until crisp and golden. Set aside until ready to use.

In a medium bowl, whisk together yolks and honey. In a small saucepan, heat almond milk on medium heat until just below boiling. Slowly pour in egg yolk mixture, whisking constantly. Continue to cook, just below boiling, stirring constantly and scraping the bottom to prevent sticking. Do not let it boil or the mixture will curdle. When thickened, after about 5-7 minutes, turn off heat. Pour mixture between four ramekins. Cover, place in the refrigerator and chill overnight (or at least a couple hours).

When ready to eat, sprinkle each ramekin with 1½ teaspoons raw sugar. Using a kitchen torch, carefully melt and burn the sugar until it forms a crisp crust. Cool and let chill another hour before serving.
Rachael Hartley
Hi there! I'm Rachael Hartley, a dietitian, food blogger, whole food lover and avocado enthusiast. My mission is to help you rediscover the joy of eating. I believe living a healthy, fulfilled life should be fun, simple and most of all, delicious!