Need an easy coffee cake for a brunch gathering? This almond-cherry coffee cake with a beautiful glaze should be your go-to.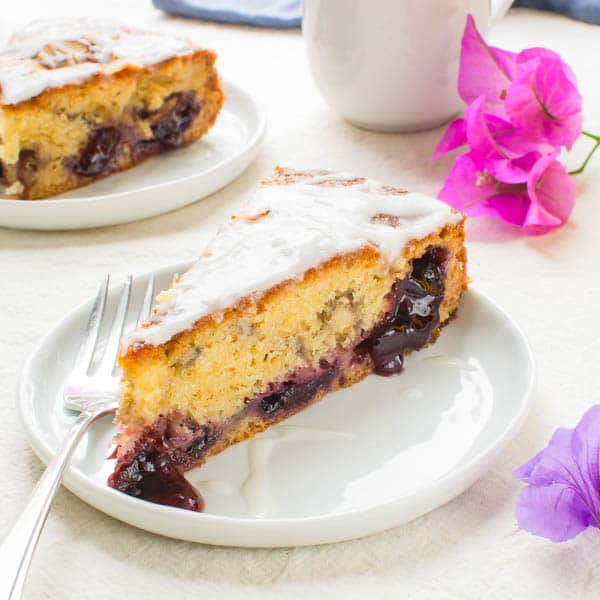 Whether it's for a special occasion or just because, homemade coffee cake brings out the kid in all of us. Coffee cake is — after all, CAKE. But some genius — at some point, put the word "coffee" in front of "cake" and suddenly it was okay to eat dessert for breakfast. This is sound rationale. I like it. And you're gonna love this Glazed Cherry Almond Coffee Cake.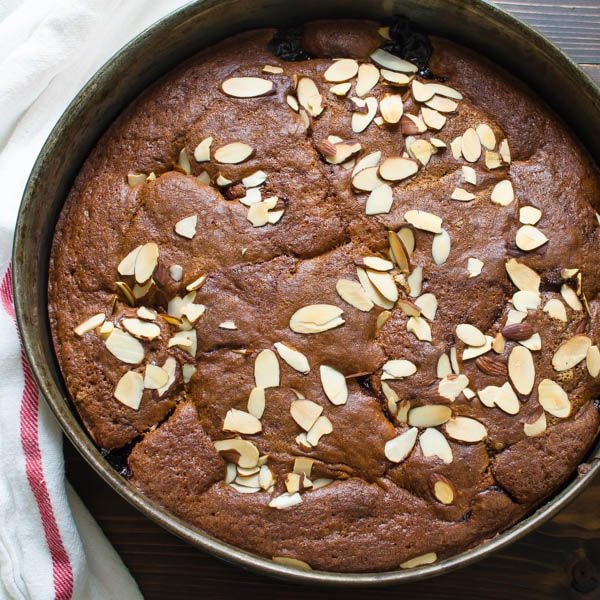 Get ready to swoon over the combination of cherries and almonds in this moist coffee cake recipe. Vanilla and almond extract in the batter give the cake that distinctive almond flavor without going overboard. Instead, it's a light, but distinctive back note, not full on almond coffee cake.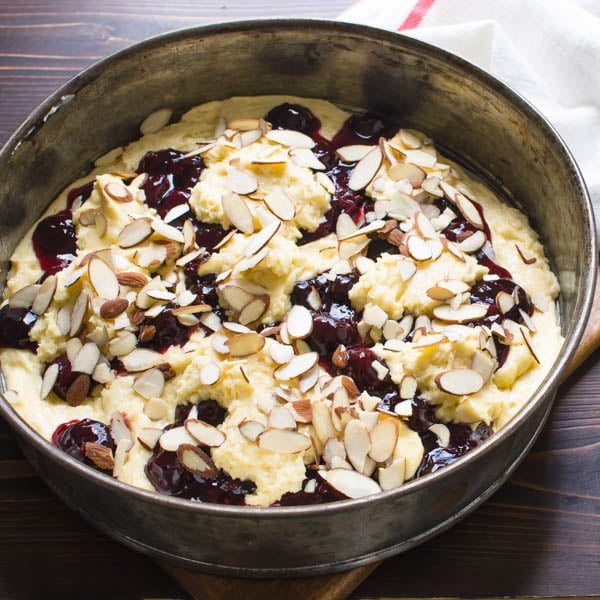 I'm sure you've tried those jam filled "cherry coffee cakes" in the bakery area of your grocery store — but this confection is different. There's no jam. The filling in this sweet cake is made from real fruit. Cherries… and not that canned cherry pie filling (is it me, or does that stuff have a weird "tinny" flavor?) If you can get fresh cherries, use them, but if it's not cherry season the dark, sweet cherries in the freezer section will do the trick. A little sugar, cornstarch and water added to the fruit make something akin to cherry pie filling, but without the weird aftertaste. Cool the compote a bit before assembling the coffee cake.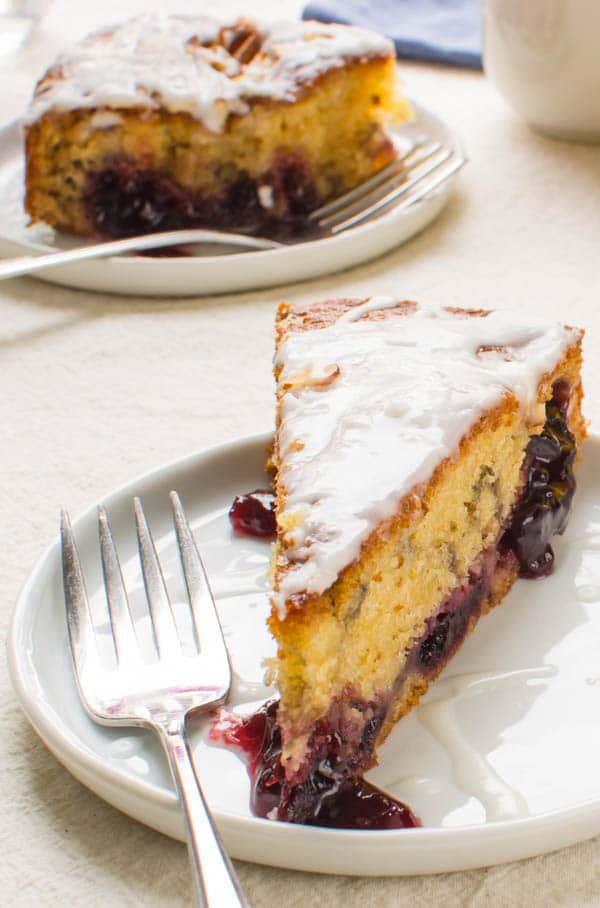 This dessert is made with a simple batter enriched with greek yogurt and it's sublime… thick and spreadable (almost like frosting).
See Also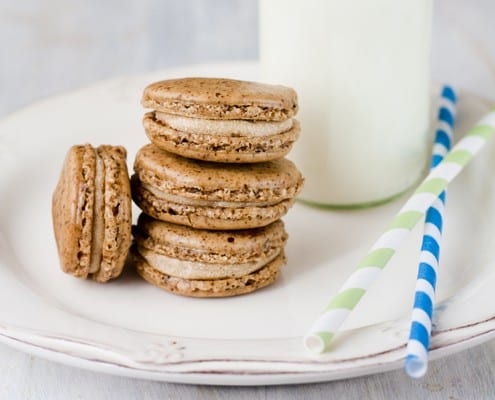 You'll want to let the cake rest (and cool) before removing the collar on the springform pan. I love this method of cooking because there's no flipping and hoping (praying) that the cake will release from the pan. Just unhinge the ring and slip it off — easy peasy.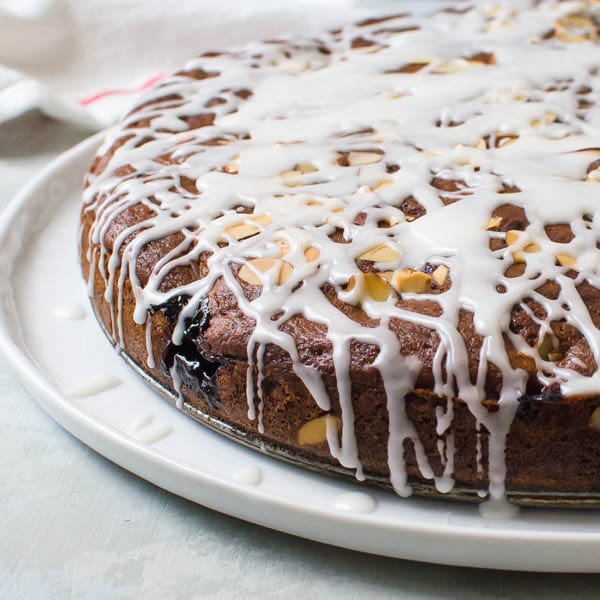 Click here for the glaze recipe.
Print

Almond-Cherry Coffee Cake
---
For The Cherry Compote:
1

12 ounce bag frozen sweet cherries (pitted thawed)

1/4 cup

sugar

1 tablespoon

lemon juice

1/4 cup

+

1 tablespoon

water

1 1/2 teaspoons

cornstarch
For The Coffeecake:
2 cups

all purpose flour

1 teaspoon

baking powder

1 teaspoon

baking soda

1/2 teaspoon

salt

1/2 cup

unsalted butter at room temperature

1 cup

sugar

2

large eggs

3/4 teaspoon

almond extract

3/4 teaspoon

vanilla extract

2/3 cup

whole milk greek yogurt

1/3 cup

milk
For Glaze:
Click the link above for the recipe.
---
Instructions
In a large saucepan combine the cherries, sugar, lemon juice and 1/4 cup water and bring to a boil.
In a small bowl combine the remaining 1 tablespoon water and cornstarch. Mix together to form a slurry.
Add the slurry to the cherry mixture and boil for one minute, until thickened. Set aside.
Preheat the oven to 350°. Spray a 10″ springform pan with vegetable spray. Cut a round of parchment paper to fit the bottom of the pan and lay it inside the pan. Set aside.
In a medium bowl, whisk together the flour, baking powder, baking soda and salt. Set aside.
In a large bowl beat the butter and sugar until light and fluffy. Add the eggs one at a time and beat after each addition until smooth. Mix in the almond and vanilla extract. Add half the flour mixture to the butter, mixing just until blended. Add half of the greek yogurt and mix to blend. Mix in the remaining flour and beat until just combined and then add the remaining greek yogurt and milk and mix until dry ingredients are combined with wet. Batter will be thick.
Spread 2/3 of the batter evenly in the bottom of the springform pan. Drop cherries by the spoonful over the surface of the batter. Spoon remaining batter in dollops over the cherries.
Bake for 1 hour or until cake is browned and set through. Cool to room temperature on a wire rack.
For The Glaze:
Click the link above for the recipe.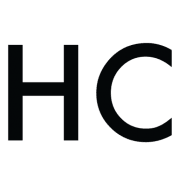 Lisa Lotts
Lisa is a South Florida based food blogger who derives inspiration from a diverse family food-background, which includes southern comfort foods, traditional French and Caribbean cuisine. On her blog, Garlic and Zest, she explores fresh, innovative flavors and the inexorable link between food and family. Her approachable fare tastes like home.