Ajvar is the classic – and utterly delicious – red pepper relish from the Balkans.
By Tamara Novacoviç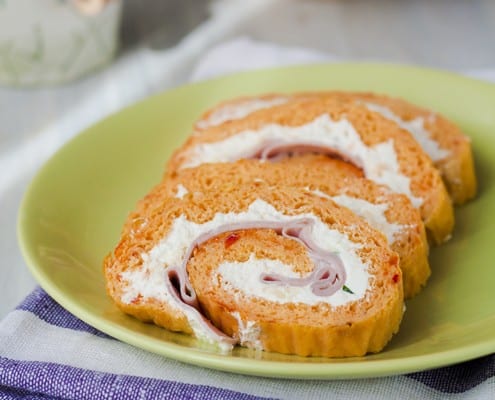 Various rolls have always been associated with religious, mythological and gastronomic preservation. That is probably why so many rolls, both sweet and savory, have always been a traditional part of food in Croatia and this part of Europe.
When we say "roll" or "roulade", I guess the first association is sweet cinnamon rolls and such, as well as sponge roulade filled with chocolate or whipped cream and fruit. However, there are interesting savory rolls, both delicious and decorative, that can be the best appetizer. Such is this roll. And what about this pepper relish?
Pepper relish in Croatia is called ajvar. It's originally made of roasted (today sometimes cooked) red peppers. The so-called rog peppers are most often used – they're horn-shaped with thick flesh. Usually some eggplants are added, as well as garlic, sometimes chili. Ajvar became popular throughout former Yugoslavia after World War II. Depending on added chili, it can be sweet, piquant or very hot. It is usually consumed as bread spread, salad or a side dish.
Ajvar is traditionally made in mid-autumn and preserved in jars. The preparation is not that simple, as it takes long time and manual labor (stirring, peeling of the roasted peppers and eggplants). Once the roasted vegetables are peeled, they're usually ground in a mill and then stewed for several hours in huge pots. Salt is also added, as well as sunflower oil in order to enhance further preservation (and sometimes a bit of vinegar). Hot ajvar is poured into hot sterilized glass jars and sealed.
I wanted to explain the notion of ajvar because it is used in this roll. Only 3 tbsp of it give it a nice orange color. You can play with natural colors and add cooked chopped spinach for green color, or poppy seed for dotted effect. These are all vivacious and natural, spring colors.
See Also
If you don't have ajvar available, use any other similar pepper relish / spread.
Ajvar - Red Pepper Relish - Roll
This roll is the perfect spring appetiser.
Ingredients
For the sponge
6 eggs
6 tbsp all purpose flour
6 tbsp milk
0.45 oz (13 g) baking powder
3 tbsp ajvar (or some other pepper spread)
1 tsp salt
For the filling
8.8 oz (250 g) cottage cheese
6.3 oz (180 g) sour cream
3.5 oz (100 g) thinly sliced ham
grated cheese
fresh parsley or chives
salt
pepper
Instructions
Make the sponge: separate whites from yolks. Beat whites with a pinch of salt until stiff peaks form. Add yolks to it, then milk and ajvar. In the end, add sifted flour with baking powder.
Preheat oven to 356 F (180 C).
Lightly grease baking sheet dimensions 87.5 inch x 100 inch (35 x 40 cm) and cover with parchment paper.
Spread the sponge batter evenly onto it. Bake for 15-20 minutes (test with skewer). While hot, roll it together with parchment paper, beginning from the longer side. Let stand until it cools completely.
In the meantime, make the filling: combine cottage cheese with sour cream. Add salt, pepper and fresh chopped parsley and / or chives.
Spread rolled sponge and put the filling over it surface, evenly. Sprinkle with grated cheese and place thin ham slices over the surface. Roll it back in and let cool in the fridge.
Slice before serving and serve cold.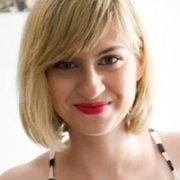 Tamara Novakoviç
Tamara Novakovic is a passionate self-taught cook, food blogger, freelance food writer and photographer behind bite-my-cake.blogspot.com. Her life journey has led her through Faculty of Humanities in Zagreb, Croatia to discovering passion for making cakes. She is currently a weekly food columnist for Croatian newspaper V magazine and food magazine Repete.