Adelaide Restaurant at Hotel Vilòn in Rome: What Luxury Means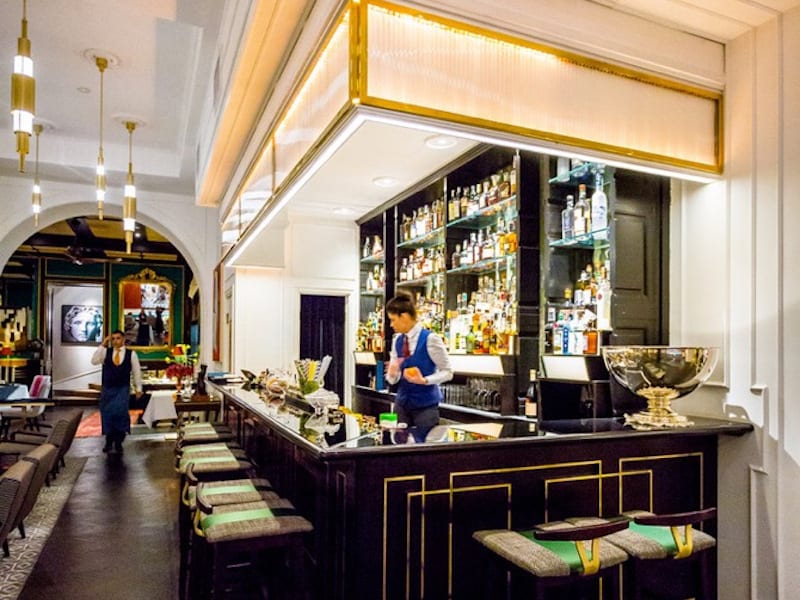 Hotel Vilòn is a charming 5-star luxury hotel which is a member of the Small Luxury Hotel of the World. And tucked at the end of the ground floor of the hotel is Adelaide Restaurant, a very charming novelty of the Roman gastronomy.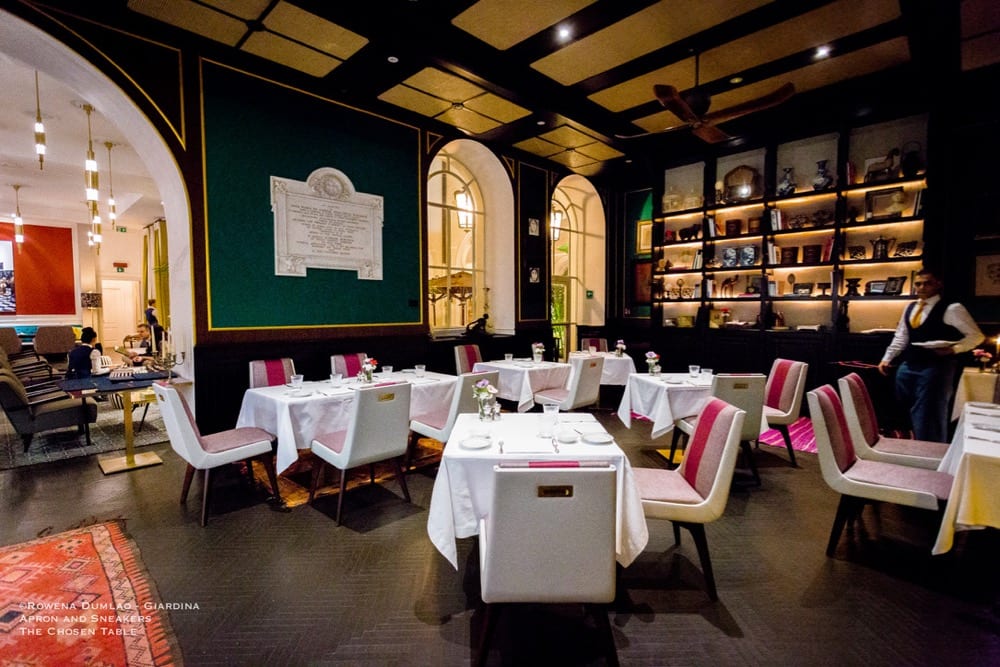 Walking inside a discrete door of Hotel Vilòn along a quiet cobblestone alley in the heart of Rome, a different kind of luxury greets you. Hotel Vilòn is a charming 5-star luxury hotel which is a member of the Small Luxury Hotel of the World. Director Giorgia Tozzi makes sure that the emotion in staying at the hotel is totally enthralling, where guests feel good in the enchanting atmosphere. It is inside Palazza Borghese after all, a historical 16th century palace belonging to the noble Borghese family. Referred to as the house annexed to the palace that the princes rented from the beginning of the 17th century which was then entrusted to the French nuns, Daughters of the Cross, to be converted into the First School for Poor Girls by Princess Adelaide.
Hotel Vilòn is a charming 5-star luxury hotel which is a member of the Small Luxury Hotel of the World.
At Hotel Vilòn, the mood is the aristocratic Rome, with a vaguely cinematic flavor, a noble residence made of sophisticated and eclectic details harmoniously put together by cinematographer Paolo Bonfini. The creative inspiration overlaps different styles of vibrant palettes, marbles, custom-designed furniture and series of large photographs of Massimo Listri. Architect and designer Giampiero Panepinto has created spaces to which he instilled touches of whimsical creativity, of colors and patterns, mixing up references to the decadent 17th century and contemporary period.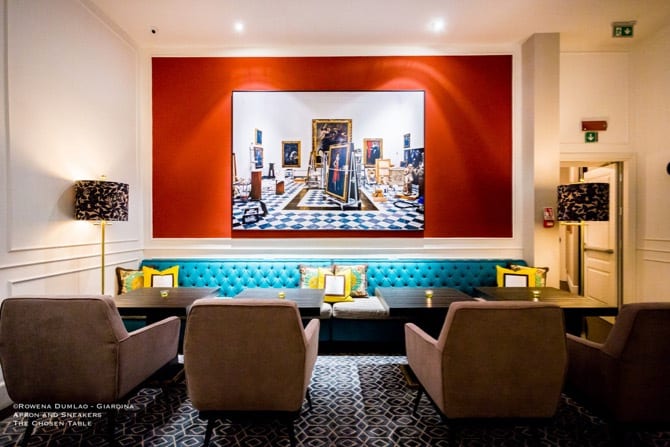 Adelaide Restaurant
The luxurious details of Hotel Vilòn capture the eyes of every guest but Adelaide Restaurant gives another resplendent aspect of the hotel. Tucked at the end of the ground floor of the hotel is Adelaide Restaurant, a very charming novelty of the Roman gastronomy. From very sumptuous breakfasts until exquisite dinners, the kitchen directed by Executive Chef Gabriele Muro creates classic dishes to revisited ones.
Breakfast is the first moment of paradise in Adelaide's gourmet hospitality which is not only open to the guests of the hotel but also to the non-guests who wish to take part in the sumptuous breakfast of Hotel Vilòn served on bounteous buffet tables full of colors, aromas and flavors.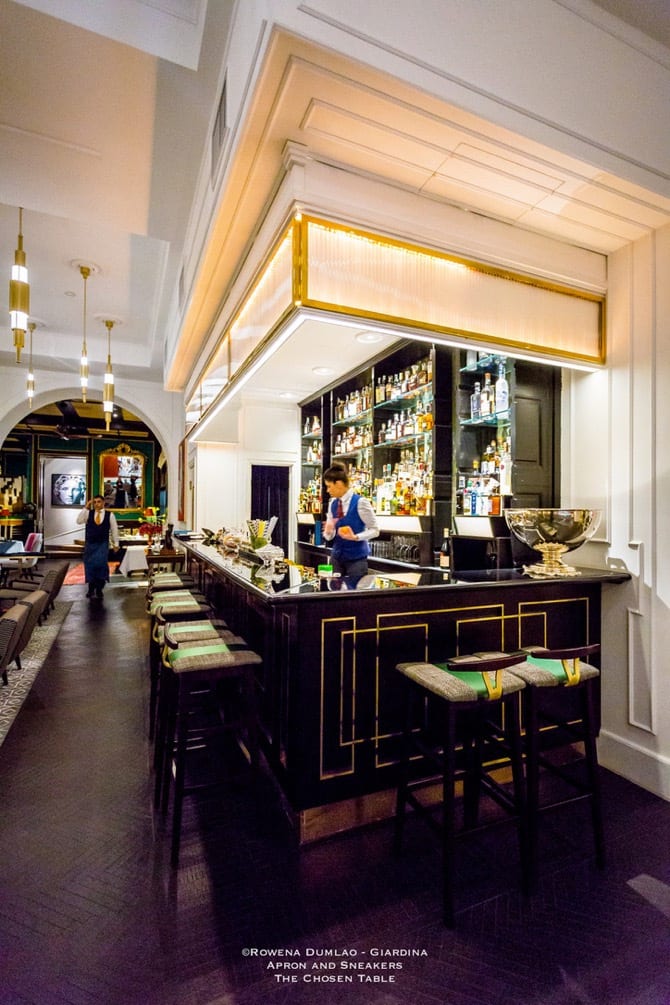 Gabriele Muro was born in the island of Procida, off the coast of Naples. A momentous circumstance was his transition at the school of Pietro Leeman, Joia Alta Cucina Naturale at a very young age. He had significant experiences at the kitchens of Michelin-starred restaurants like El Racò d'en Freixa in Spain, Domaine de Châteauvieux in Switzerland, as well as Achilli Enoteca al Parlamento in Rome. Having a strong culinary position, he was also taught at the culinary school of Gambero Rosso Academy.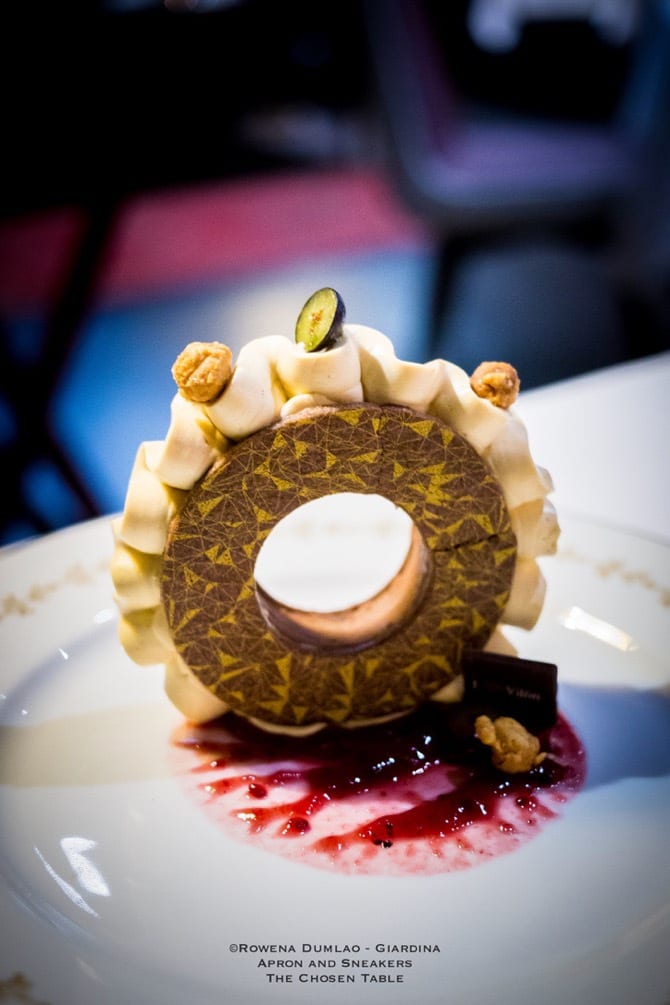 Gabriele takes on a cheerful approach to his cooking wherein traditional family cooking still plays a role.
His dishes have referrals to the cuisine of monzù, the culinary union of French and Neapolitan cooking that offers iconic dishes like the sartù, ragù, gâteau and crocchè. The menu of Adelaide offers dishes with contemporary flavors that are artfully entwined with the familiar Italian tastes like the Ajo, Ojo e Baccalà (spaghetti, garlic, oil and cod flakes) at €20, or the Porgi L'altra Guanciale (tender braised veal cheek, hazelnut and celeriac) at €25. Worth mentioning is his Ziti alla Genovese (a traditional Neapolitan pasta dish with slow-cooked meat and onions) if it is available in the menu.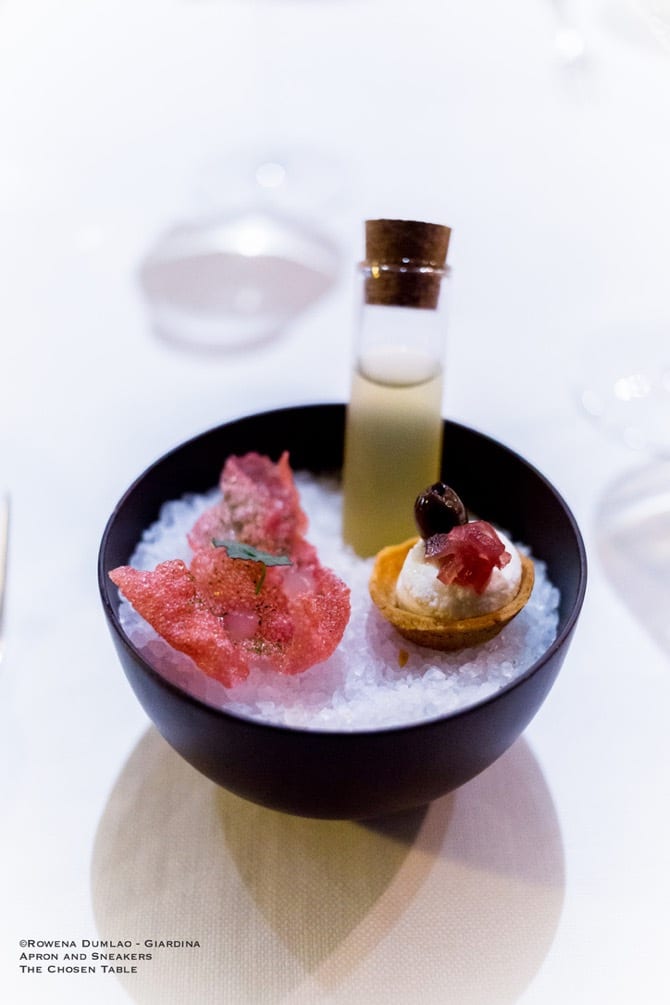 A meal at Adelaide is not complete without arriving to the fantastic desserts of Pastry Chef Andrea De Benedetto.
Mont Vilòn (wild berries meringue, vanilla mousse and chestnut nest) at €14 is perhaps the most representative dessert in the menu. There is also the Non Sbirciare (chocolate biscuit, spiced pear, hazelnut parfait, meringue and hazelnut praline) at €14.
The wine menu has over 80 entries from various Italian wine regions as well as an interesting selection of champagne. The seasonal menu that's based on the availability of the ingredients in the right reason, has proposals for appetizers between €17 to €22, first courses of pasta and risotto between €20 to €22, main courses of meat and fish between €24 to €29, desserts at €14 and a platter of of a selection of Italian cheese at €20. There is also a tasting menu of 5 courses at €75.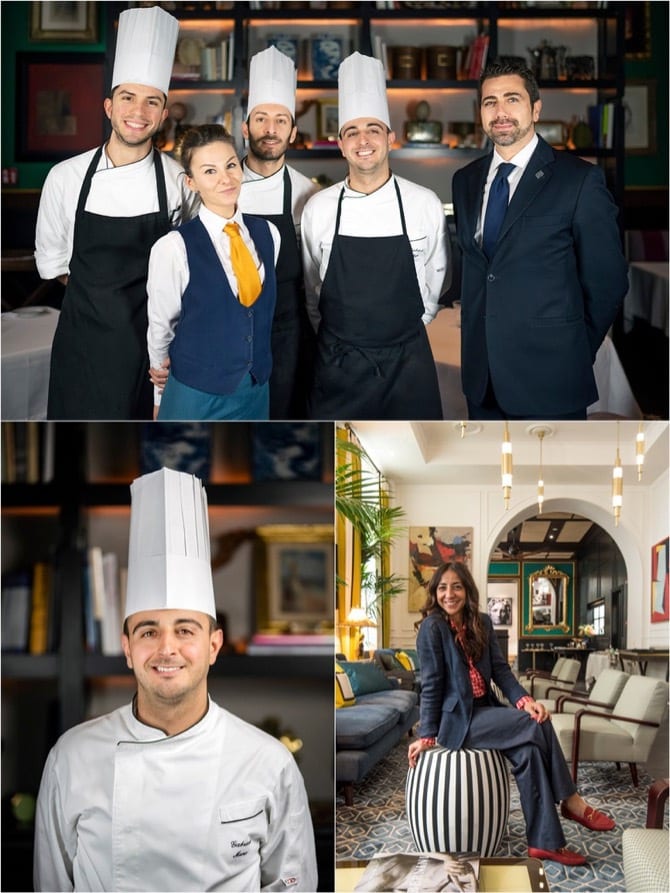 Adelaide in Salotto
This is the best place to idle around while having an aperitif, taking an afternoon tea or light bites. The atmosphere is glamorous like the rest of the hotel but very relaxed and comfortable. A beautiful oak and brass counter is manned by Barlady Magdalena Rodriguez who takes her charm and inspiration from her native Costa Rica. Her mixology leans towards tropical atmospheres beginning with the flavored waters that she prepares daily with different ingredients as well as syrups and decorations making great use of spices, aromatic herbs and flowers.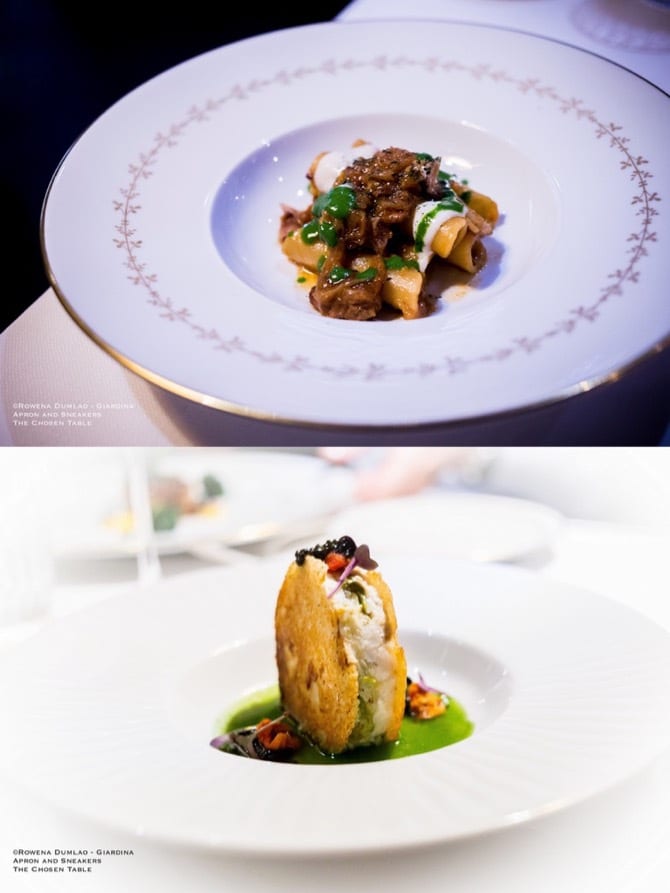 In the cocktail menu are 18 proposals of classics, as well as re-proposed forgotten classics like the Hemingway Daiquiri, Bamboo Martini, Noble Blood, the Ottobrata Romana, 100 Years of Negroni, and so much more that fit everyone's tastes.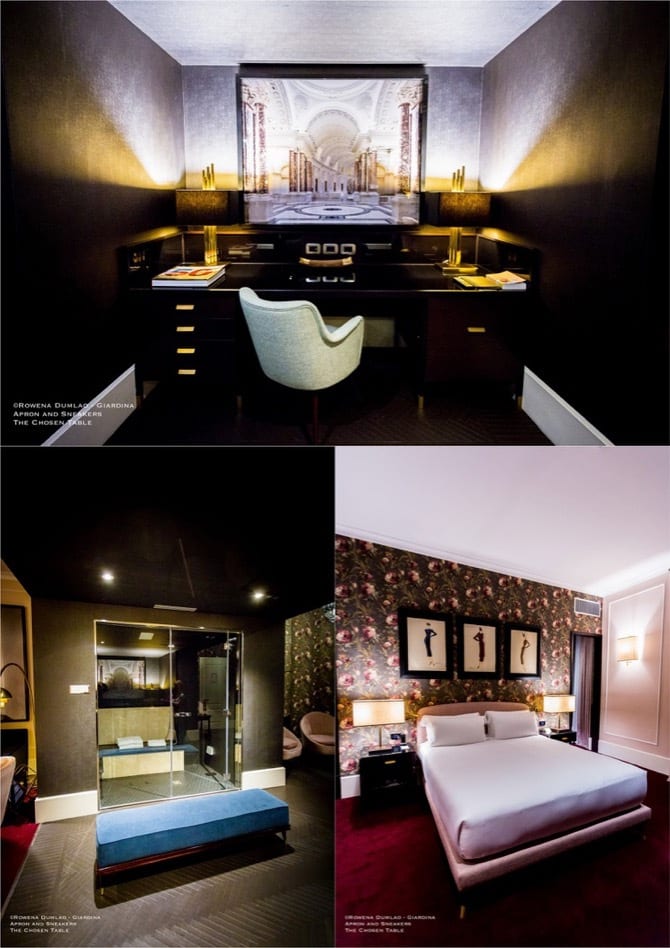 Rooms and Suites
Located in a wing of the imposing Palazzo Borghese, an aristocratic building that's considered one of the four wonders of Romes for its beautiful architecture. Eighteen rooms in all including three suites, all with distinctive decors and motifs and equally stylish, accommodate the guests who like to have luxury hand in hand with comfort, conviviality and elegance. While the suites enjoy the space and grandeur, the entry-level rooms enjoy plenty of refinement and comfort that Hotel Vilòn hospitality can give.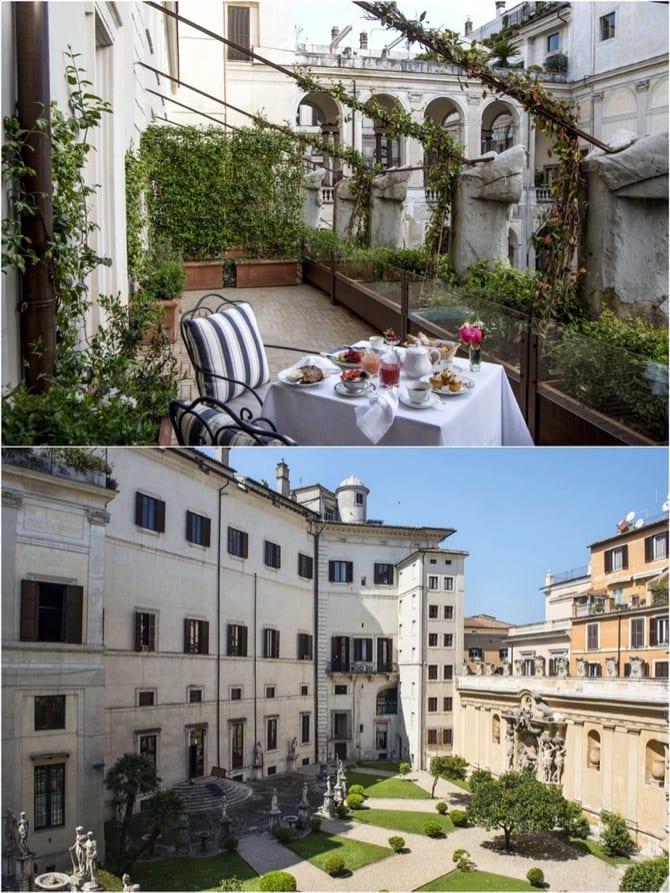 The three signature suites are delightful with both of them, Melangolo and Borghese enjoying views of the Palazzo Borghese garden from their private terraces.
The third suite, Vilòn Suite doesn't offer a view like the other two but what it has is a private Turkish bath inside the spacious room. It can also connect to the adjacent Vilòn Charming Room to create another bedroom for families. There are also three Charming Terrace rooms, all with private terraces facing the Palazzo Borghese garden.
Hotel Vilòn
Via dell'Arancio, 69
00186 Rome, Italy
Tel: +39 06 878187
Email: info@hotelvilon.com
Website: http://www.hotelvilon.com/en/
Facebook: https://www.facebook.com/hotelvilon/
Rowena Dumlao Giardina
Rowena Dumlao - Giardina is the author and photographer of Apron and Sneakers and The Chosen Table. Besides her blog, she's also a recipe developer and a travel writer for other food and travel sites.