During summer Indian stores are loaded with Aamrakhand, strained yogurt mixed with mango pulp, sweetened with honey or sugar, flavored with cardamom and saffron.
By Kankana Saxena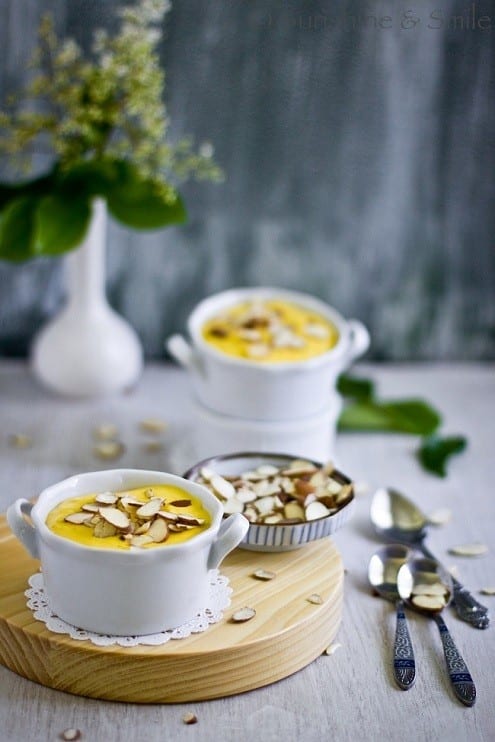 Come Summer and Indian markets get flooded with mangoes, spreading their sweet smell in every corner, every home and there is absolutely no way that one can stay away from it. From supermarkets to tiny local shops, all are overloaded with different varieties of mangoes making sure no one gets bored with just one kind.
During summer Indian stores also gets loaded with Aamrakhand  which is basically strained yogurt mixed with mango pulp, sweetened with honey or sugar, flavored with cardamom and saffron. Pretty simple, except you need to have some patience for the yogurt to strain out all the water and make it thick and smooth. Almost like cream cheese.
It would take about 6 hours minimum to strain the water from the yogurt. I let it hang overnight.
Aamrakhand – Mango Sweetened Yogurt
A creamy Indian sweet treat made with mangoes and hung yogurt. Easy to make and perfect for the season!
Ingredients
1-1/2 pound plain yogurt
2 ripe mangoes (preferably alfonso mangoes or any yellow kind)
½ cup honey
½ cup condensed milk
pinch of saffron threads
1 teaspoon cardamom powder
slivered almond for garnish
Instructions
Start by making hung yogurt
You would need muslin cloth/cheesecloth or any white thin cloth that can filter the water.
Spread the cloth in a bowl big enough to hold the yogurt.
Pour the yogurt, tie the loose ends and let it hang for at least 8 hrs over the sink or any other place.
Once the hung yogurt is ready, make the mango puree.
Cutting mangoes can get messy but it will be worth the effort. Check out this [link|http://www.simplyrecipes.com/recipes/how_to_cut_a_mango/] to learn how to cut mangoes.
Drop the mango pulp in a blender and mix it to a smooth puree.
Add honey, condensed milk, saffron, cardamom and strained yogurt. Blend until it looks smooth and creamy.
Pour it in a ramekin or serving bowl, cover with clear-wrap and let it rest in the refrigerator for at least 2 to 3 hours.
Garnish with slivered almond and enjoy it cold.
Notes
Depending on the sweetness of the mangoes, you might need to change the quantity of honey.