Homemade buttery Naan stuffed with fresh fenugreek leaves and potatoes.
By Kankana Saxena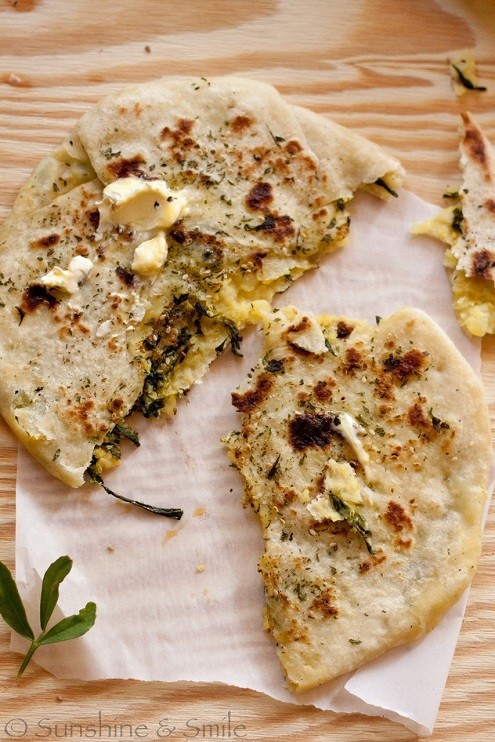 Naan as we all know is a famous Indian flat bread made in a tandoor oven. It's not easy to build a tandoor oven at home but it's not tough to make a nice soft buttery naan in your normal stove top or oven.
At the first attempt,naan may not come out perfect because it depends on what method you are using, like a stove top or oven. It also depends on the kind of stove top – a gas or an electric coil. Last but not the least, it also depends on the type of pan you are using to prepare the naans.
I have an electric stove top and it's not the best option for naan but I have no choice. Baking it in oven somehow makes it hard and chewy. Over the period, I also learned that cast iron pan is the best option to make naan; it adds a nice char to it.
See Also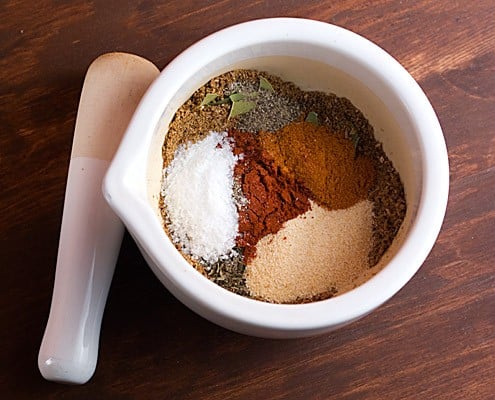 Coming to the stuffing I used, Aalu is Potato and Methi is Fenugreek. The combination of these two is my husband's favorite and so, I thought of using it as a stuffing. Fenugreek is used a lot in Indian cuisines – either fresh or dried or seeds. It has a very strong flavor and it is easily available in any Indian Market.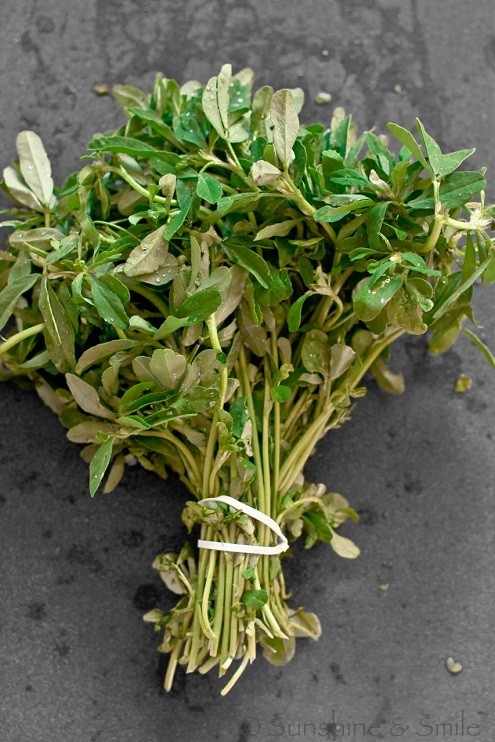 Buttery Naan stuffed with fresh fenugreek leaves and potatoes.
Ingredients
For the naan
3½ cup all-purpose flour
1 cup plain yogurt
4 tbs ghee/melted butter/oil
2 tbs water, for kneading
1 tsp salt
⅛ tsp baking soda
2½ tsp active dry yeast
½ cup warm water
1½ tsp sugar
For the stuffing
2 large or 3 medium potatoes, boiled and mashed
3 cups fresh fenugreek leaves
1 tsp asafoetida
1 tsp cumin powder
1 tsp chilly powder
1 tsp coriander powder
salt
oil
Few more ingredients
ghee or butter to rub on the Naan
½ cup sesame seeds
½ cup cilantro, very finely chopped
Instructions
For the stuffing
In a pan, heat 2 tbs oil and add asafoetida.
Then, add the mashed potatoes, spices (cumin, chilly and coriander) and mix them properly.
Add fenugreek leaves, season with some salt and cook for about 5 minutes in medium heat.
Once done, set it aside and let it cool completely before you stuff it in the naan.
For the naan dough
Put some warm water in a cup and add sugar and yeast. Cover and let it rest for about 10 minutes or until it's activated and forms a nice foam on top.
Mix the flour, baking soda, salt, ghee (or butter or oil), yogurt and the activated yeast in a bowl.
Start kneading and add the water. If required, add more water but make sure the dough is soft but not sticky.
Continue kneading for another 5 minutes until the dough is smooth and can be easily stretched.
Take another bowl and grease it with some oil. Place the dough in the bowl, rub little oil on top of the dough and cover it with a clear wrap.
Keep it in the oven with the lights on. This will keep the dough warm and helps in rising.
It will take about 3 hours for the dough to rise to double in size.
Take the dough out on a flat surface and knead for few more minutes.
Divide the dough in 7 equal parts, transfer it to a plate, cover it with a clear wrap and let it rest for another 40 minutes.
For the stuffed naan
Take one portion of the dough and keep the rest covered (it's important or else the dough will become dry).
Roll it out a little, place some of the stuffing inside, seal the sides and start rolling very gently.
Don't roll it too thin or too thick.
Sprinkle some sesame seeds and cilantro on top and give one last roll.
Turn it over and brush some water very lightly (do not brush water on both the sides).
Place the wet side down on the hot pan, cover it with a lid and bring the heat to medium. Since I use a electric stove top and it takes time to reduce the heat, I make sure that the heat is at medium all the time.
Once you see some portion of the naan puffing up, sprinkle little bit of oil on the top and flip the naan.
Stuffed Naan takes a little longer time to cook throughly. It took me about 4 minutes on each side at a medium heat.
Once done, transfer it to a plate and keep it covered until you are done with the rest of the naans.
Rub some butter on top and serve it hot.
Kankana Saxena
Kankana Saxena shares culinary journey, travel stories and passion for photography in her blog 'Playful Cooking'. Her cooking style is mostly nutritional with little bit of indulgence here and there. She believes in the mantra 'homemade is happiness'! She is a native of India but currently resides in Santa Clara, California with her husband.