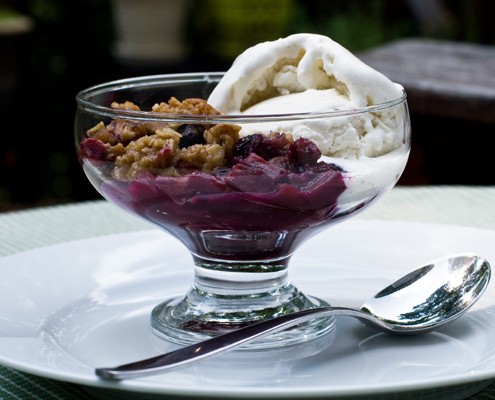 Pies are big in the south whether it is a classic double or single crusted pie, cobbler, or fruit crisp.  A fruit crisp is a like a pie, but much easier.  When time is an issue this is my "go to" dessert.  No pie dough to make, instead a quick mixture of butter, flour, sugar and spices is combined and sprinkled over the fruit.  I also add oats and nuts which are optional but I never leave them out.  I think the oats and nuts make the crisp topping by giving more depth of flavor and the all important crunch. Usually it bakes during dinner, so after dinner a delicious, warm fruit crisp awaits.  Break out the essential vanilla ice cream and enjoy.
Although I consider crisps a southern dessert, they are made though out the US.  The crisp is believed to be an offspring of the English crumble.  The ingredients are essentially the same but in different ratios.  Crumble seems to have a thinner layer of crispy topping whereas crisps seem to be chunkier.  Growing up, we usually had apple crisps in the winter and blackberry or peach cobblers in the summer.  I liked making cakes when I was younger and it wasn't until I had kids that I started making crisps with seasonal fruit.
Two fruits that I love combining in a cobbler or crisp is rhubarb and blueberries.  The recommended combination with rhubarb is strawberries or raspberries, which is good but my favorite combination is with blueberries. The contrast of the sweet and tart seems to have perfect flavor balance.
See Also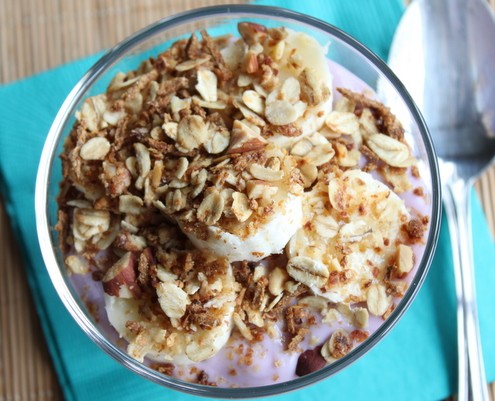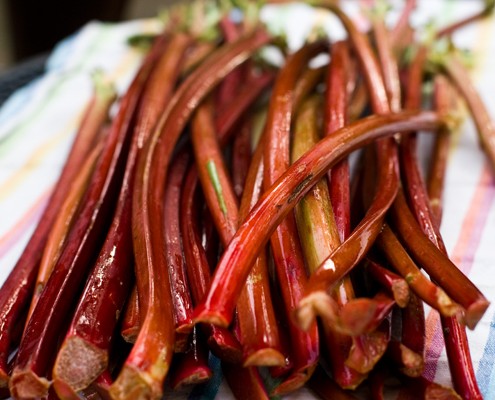 What is rhubarb? Rhubarb is a perennial vegetable that originated in China, eventually being grown in Britain and then the US.  Rhubarb was something I had only heard of until I moved to Pennsylvania. It likes a cooler climate to grow in and  shows up in the local markets in the Spring until early summer.  It is quite tart and requires a lot of sugar compared to other fruits.  I like tart and tangy, and rhubarb does not disappoint.
Print
Rhubarb and Blueberry Crisp
Fresh fruit desserts are worth the wait when they show up in the summer time. Fruit crisps are a southern classic along with the classic cobbler and traditional crusted pie.
Author:

Laura Davis

Prep Time:

15 mins

Cook Time:

35 mins

Total Time:

50 minutes

Yield:

8

1

x
Crisp topping:
3/4 cup

(

75 g

) all purpose unbleached flour

3/4 cup

(

150 g

) brown sugar

1/2 teaspoon

of salt

1/2 cup

or 1 stick (

115 g

) unsalted butter, softened

1 teaspoon

ground cinnamon

1/2 cup

(

40 g

) old fashioned oats

1/2 cup

(

60 g

) chopped pecans or walnuts
Fruit filling:
2 cups

(

244 g

) rhubarb, chopped in 1/2 to 3/4 inch pieces

1 1/2 cups

(

222 g

) fresh or frozen blueberries

1/2 cup

(

96 g

) white granulated sugar

1 tablespoon

of flour
Vanilla ice cream or your flavor of choice, optional.
Instructions
Topping:
Combine flour, sugar, salt, butter and cinnamon with a fork or you fingers until combined. Add the nuts and oats and combine. Set aside.
Fruit Filling
Place the rhubarb and sugar in the bottom of 1 1/2 to 2 quart baking dish. A souffle dish or a glass baking dish works well. 2 to 3 inch depth is preferable so as to allow optimal surface area for topping but not too shallow so the fruit dries out. Allow the rhubarb to sit coated with the sugar for up to a half and hour. Add the blueberries and the flour and mix. Sprinkle the topping over the fruit.
Bake at 375 degrees for 35 to 40 minutes in the center of the oven. When the topping is browned and the fruit is bubbling, it is done.
Serve warm with your favorite topping but vanilla ice cream is traditional.
Notes
In my opinion, vanilla ice cream is the only topping that is the perfect accompaniment to fruit pies, crisps and cobblers. Feel free to let your creativity run wild on what to top your pie with, but in my dish, vanilla rules.
Notes on Rhubarb: In my experience, rhubarb is best used early in the season. Older stalks can leave a chalky, dry after taste sometimes.
The leaves of the plants are poisonous and are usually removed before taken to the market, but if there are any left on then be sure to removed them.
Older stalks can have the tougher strings down the back of the stalk (like celery) removed for a more tender stalk, but is not necessary.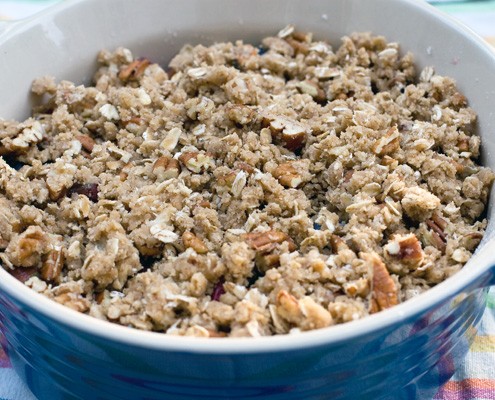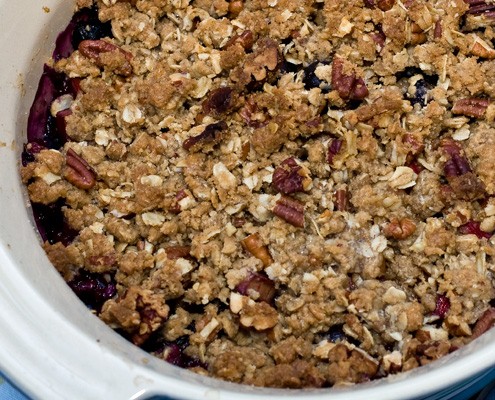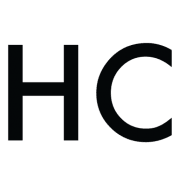 Laura Davis
Laura Davis is the author of the blog Sweet Savory Planet and has a life long culinary passion with southern roots originating in her home state of Alabama. She has a degree in nutrition from University of Texas at Austin.