A traditional British batter pudding, made sweet with sugar and plums.
By Ruby Moukli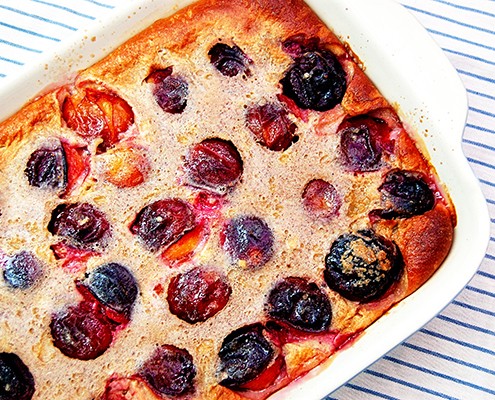 My three year-old is rehearsing for her ballet début, as a snowflake in The Nutcracker, which is ridiculously cute. However, hearing the iconic music repeatedly over the past weeks has driven me slightly insane, not to mention planting visions of sugar plums dancing in my head. Since we're at the end of British plum season, I bought a couple kilos of Marjorie's Seedling plums from a lovely old lady nearby who grows them, and decided to run with it. But, until recently, I had no idea what sugar plums actually are.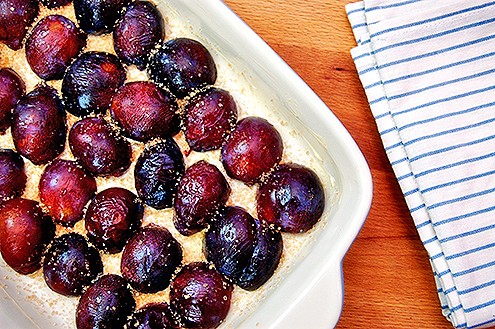 What I found online is a lot of conflicting information. Some say that sugar plum is a term that denotes a type of confectionery, made from dried fruits, typically served around Christmas time (and has nothing to do with plums at all). Others claim sugar plums are indeed real plums, dried, sugared and baked like a zillion times and then hung on Christmas trees.
Frankly none of it sounded like what I had in mind for these gorgeous, golden-fleshed beauties. We ate quite a few of them as is, but they were a bit too soft really, and were begging to be baked into something. But time was running short, as they were rapidly turning over-ripe in the bowl, so I had to act fast.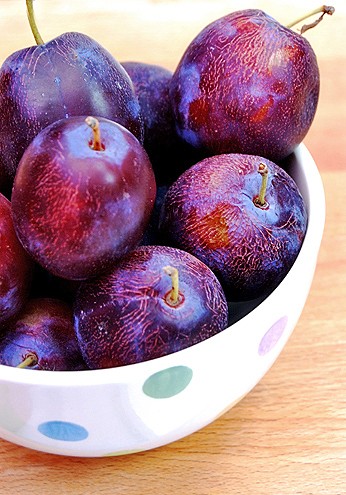 Rather fancying a puddingy-type dessert, I of course thought of Plum Pudding. But, again, not what I thought it would be. The plum pudding of fairy tale fame is actually more commonly known today as Christmas Pudding – that dense, dark domed cake we light on fire before enjoying with brandy-laced cream (YUM). But too, too much for today and it's certainly not Christmas yet.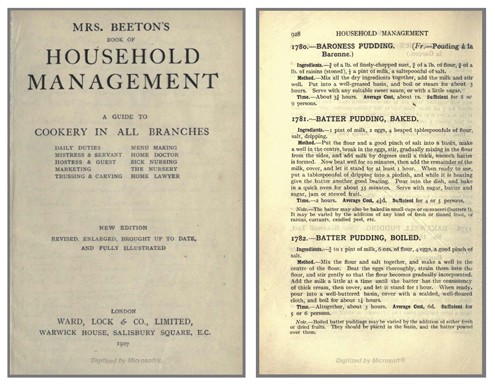 See Also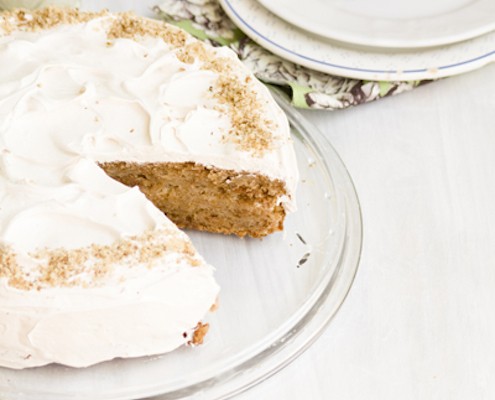 I finally settled on making a baked batter pudding, which some of you might recognize as being the British counterpart of a French clafoutis. It is a custardy dessert with a consistency rather like a cross between flan and bread pudding. The British version, especially Mrs. Beeton's (item 1781, p. 928)*, looks like a Yorkshire Pudding recipe, but the addition of stewed or fresh fruit renders the finished product a lot more moist and, of course, sweet.
After much reading and comparing, I made up my own, combining my idea of 'sugared plums' with a diplomatic trans-manche pudding and some cinnamon too (my go-to Autumn flavour). This is really easy to make and results in such spicy, syrupy gorgeousness that you'll be literally licking your plate clean (as I did).
*Isabella Beeton was the British 19th century 'Martha Stewart'. Her ground-breaking 'Book of Household Management', 1861 (scanned from the 1907 edition) is now freely available to browse and search online, or as a PDF download. It's entertaining, informative and beautiful – go get it!
Print
A Bite of Britain: Sugared Plum Pudding
---
Author:

Ruby Moukli

Total Time:

45 minutes

Yield:

8

1

x
Description
A traditional British batter pudding, made sweet with sugar and plums.
---
4

eggs

1/2 cup

(

125

ml) milk

1/2 cup

(

125

ml) double cream

1 tsp

vanilla extract

1/2 cup

(

100g

) sugar (I used brown) plus 2 extra Tbsp kept aside

1

rounded Tbsp flour

1 tsp

cinnamon

1/2 tsp

nutmeg
Small pinch ground clove (optional)
Knob of butter (about 1 Tbsp)
Approx. 12 ripe plums, stoned (pitted in US parlance but stoned is British and sounds funnier to my juvenile sense of humour) and halved. You need enough plums for the halves to cover the bottom of your baking dish. I actually used 14 since they were a small variety.
---
Instructions
Preheat the oven to 180C/350F/Gas 4.
Beat the eggs and then add the milk, cream and vanilla and mix together until blended.
Sift in dry ingredients and whisk for about a minute.
Use the butter to grease the bottom of your baking dish, then line it with the plum halves, cut-side down.
Sprinkle the plums with 1/2 of the leftover sugar.
Pour the batter over the plums and then sprinkle the rest of the sugar on top.
Bake uncovered for about 30 minutes, or until nicely puffy and golden-brown. (It will sink a few minutes after coming out of the oven and that's ok.)
Notes
1. Check this after 30 minutes and, if the middle is still runny, turn off the oven and leave the pudding in there with the door closed for another 10 or 15 minutes. The pudding should be puffy all over – slightly squidgy but still spring to the touch.
2. You can cut fat by making this with 1 cup of milk instead of 1/2 milk and 1/2 cream, but it will lose a bit of volume.
3. I list the ground clove as optional because many of my European friends don't care for it. It reminds them of visits to the dentist as, in Europe, many dentists use clove oil as a natural analgesic. I do like it and, when I've made this without it, felt it lacking. Try it and see what you think, but be careful – a little goes a long way and too much will be overpowering.
4. Try this batter pudding with other soft fruits, such as peaches or berries. I made it once with red currants from the garden and the tartness of the berries was a perfect fit. Of course if you make it with cherries, you're edging dangerously close to the other side of the Channel and a French clafoutis!
Prep Time:

15 mins

Cook Time:

30 mins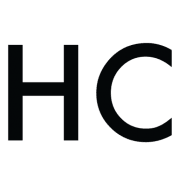 Ruby Rasa
Curious about her British mother's seemingly bizarre love of cheese & onion sandwiches, Ruby moved to England and discovered an island full of people eating them. She now lives among them, works as a freelance writer and photographer and yes, occasionally enjoys a good cheese & onion.