It's all about easy recipes here, especially when it's a recipe you can easily learn and memorize. This honey mustard chicken is a perfect candidate for that – only 3 main ingredients, plus a handful of (optional) added extras.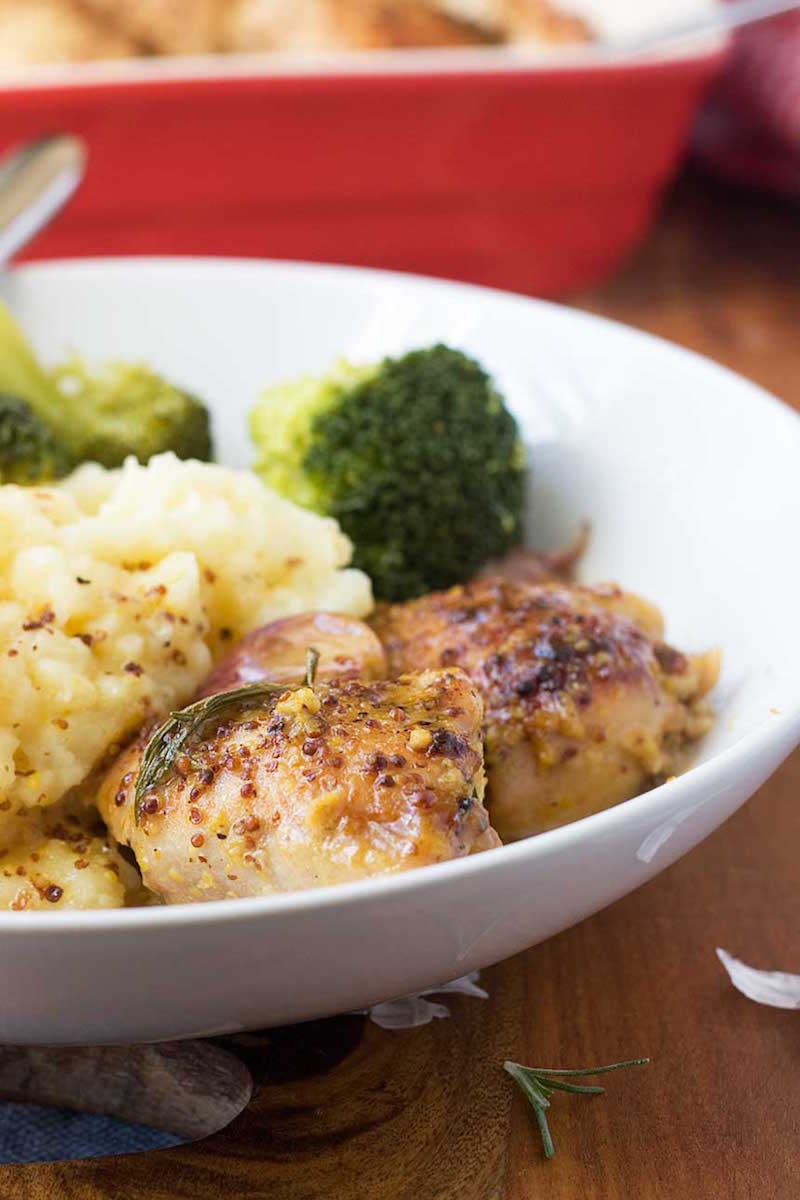 This is one of those recipes that's hardly even a recipe. After making it for the first time – second time tops – you've got the ingredients and amounts memorized. Which immediately makes it a quick meal to throw together. I don't know about you, but I don't really care for scrutinizing a recipe on a weeknight – I just want that food on the table as easily and as fast as I can!
It's one of those recipes that easily makes it to your list of weeknight fail safes. Because it's just so easy. And yet something that the whole family will love.
In fact, you're very likely to have the main ingredients already – chicken thighs, honey, and mustard. I did, apart from halving the chicken.
I also added garlic cloves (unpeeled, so you squeeze out the roasted deliciousness into the dish when it's on your plate!), rosemary sprigs and a bit of apple cider vinegar to the dish, but to be honest you could skip any or all of these additions if you didn't have them or wanted to keep things super simple.
I possibly wouldn't skip the herbs (add any you happen to have – rosemary, oregano, basil… ). Dried will work fine if you don't have fresh.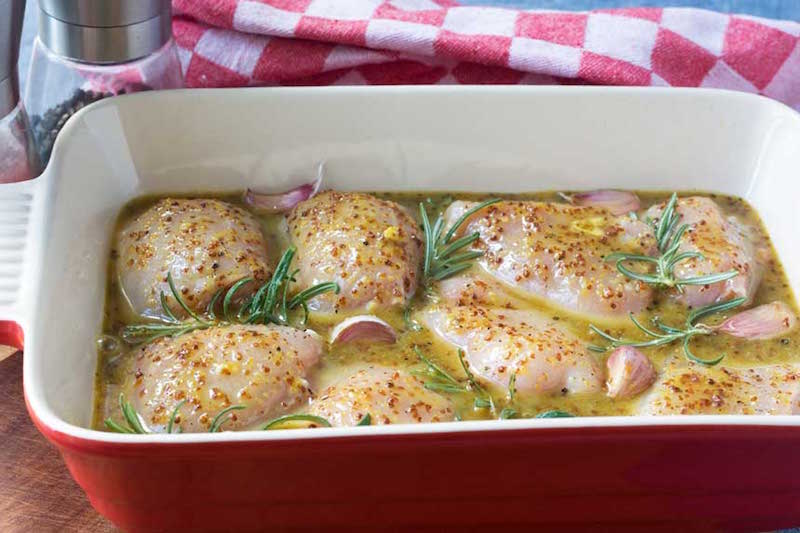 See Also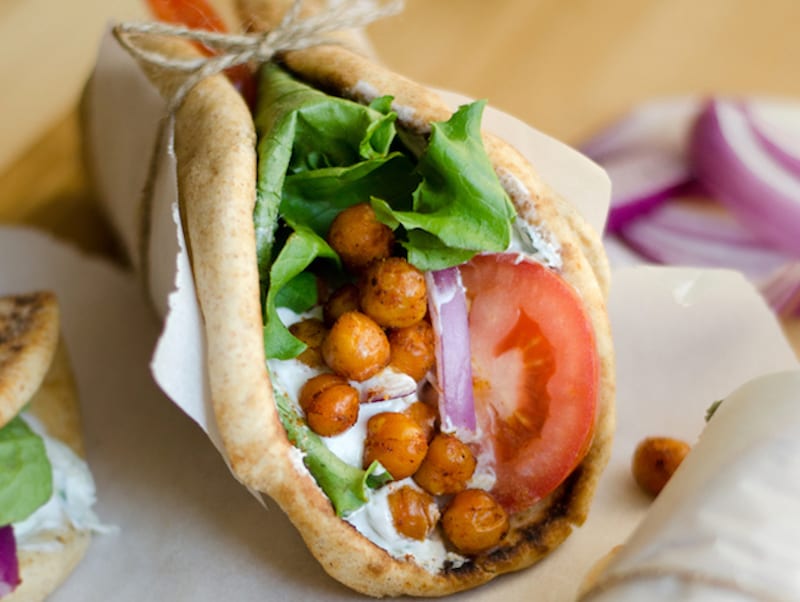 The apple cider vinegar was just to balance out the sweetness of the honey a bit, and because I happened to have some lying around. You could use lemon juice for this purpose if you prefer or, as I said, just skip this step.
If you've never tried honey mustard chicken before, you won't believe what a match made in heaven these ingredients are. After just over half an hour's oven time, you end up with tender, browned chicken drenched in an incredible tasting sauce. It's one of those recipes that ends up seeming quite posh. In fact, I even think I'd serve it to guests.
I served my 'no-recipe' honey mustard chicken with creamy mashed potatoes and broccoli, but serve it with any carb and veggies of your choice. Rice works really well, as does tagliatelle or crusty bread.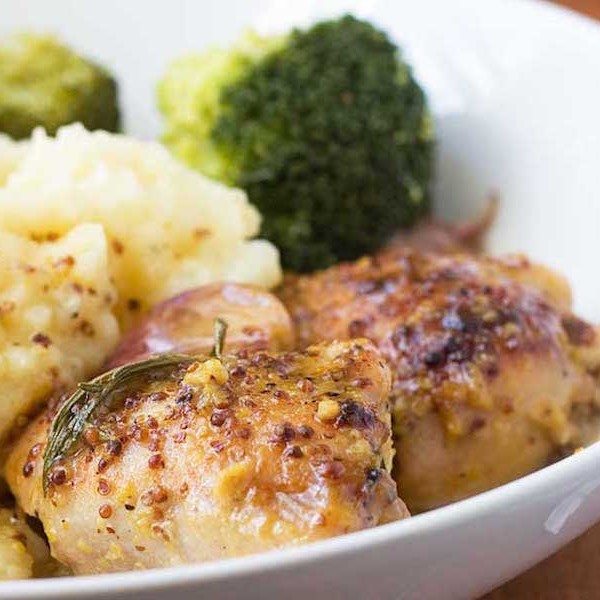 Helen Buxton
Ingredients
8

skinless

boneless chicken thighs

salt and pepper

8

cloves

of garlic

skin still on (optional)

¼

cup

Dijon mustard

¼

cup

wholegrain mustard

½

cup

runny honey

1

tablespoon

apple cider vinegar or lemon juice

optional

a few sprigs of fresh herbs e.g. rosemary

thyme, oregano (or ½ teaspoon dried)
Instructions
Pre-heat the oven to 180C / 355F. Arrange the chicken thighs in a baking dish and sprinkle generously with salt and pepper. Tuck the garlic cloves (if using) in between the chicken thighs.

Whisk the mustards, honey and vinegar / lemon juice (if using) together in a jug or bowl, then pour all over the chicken. Scatter the herb sprigs / dried herbs over the dish.

Bake for 35 to 40 minutes or until the chicken is golden and cooked through.

Serve with mashed potatoes, rice, pasta or bread, and a vegetable / vegetables of your choice.
Notes
This recipe is quite flexible in that you don't have to bother with some of the ingredients if you don't want to. Skip the garlic and vinegar / lemon juice if you like! Use any herbs you happen to have! The essential components of this are the chicken, honey and mustard. Delicious!

If you'd like to use chicken breasts instead of thighs, go ahead! Cooking time will depend on the thickness of the breasts, but check after about 30 minutes (20-25 for smaller breasts). You might also like to spoon some of the sauce over the chicken about half way through cooking to stop it drying out (as chicken breasts can tend to do!).
Helen Buxton
Hi, I'm Helen. I'm originally from the UK but currently live between the UK, Greece and Australia with my husband (it's a long story!) We'll get settled eventually! I love nothing better than to travel the world … and sample the local street food. I absolutely love (attempting to!) put together flavours and fresh ingredients from all over the world – just so long as the recipes are easy peasy to make!