Packing a lunch is less expensive and often more efficient than going out for lunch, but that doesn't mean you have to stick to a PB&J every single day. Advanced meal prep is the way to go, folks. Master your lunch hour with these delicious make-ahead recipes for easy packed lunches.
By Emily Barrett
This article has been posted with permission and originally appeared as 17 Ways to Turn Your Bagel Into a Thing of Beauty on Relish
www.thelondoner.me
Veggie Noodle Soup
Skip the depressing dried noodle cup, and opt for an easy DIY noodle pot. This recipe calls for cooked noodles, Asian veggies, pre-cooked chicken (or shrimp, or beef, or tofu…), crunchy bean sprouts and an easy sauce—all super easy to throw together the night before. Simply add hot water, and enjoy! Find the recipe here.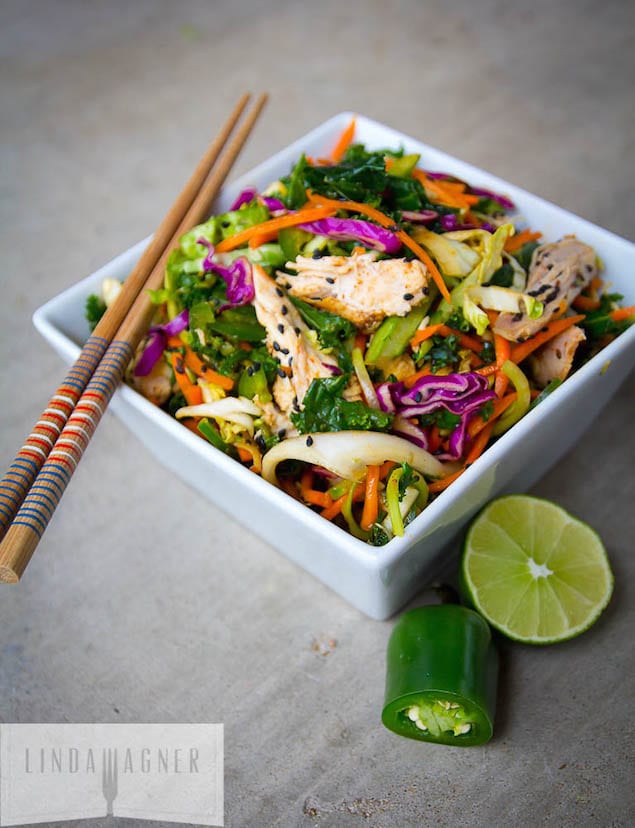 lindawagner.net
Spicy Asian Chicken Salad
This simple, healthy salad is paleo-friendly, not to mention insanely colorful and delicious. Start with shredded carrots, crunchy slaw mix, kale, shredded rotisserie chicken, lime juice, and jalapeño slices. Then mix in Sriracha, soy sauce, and a light drizzle of honey (or sugar free stevia)—or opt to use your own store-bought dressing instead. Find the recipe here.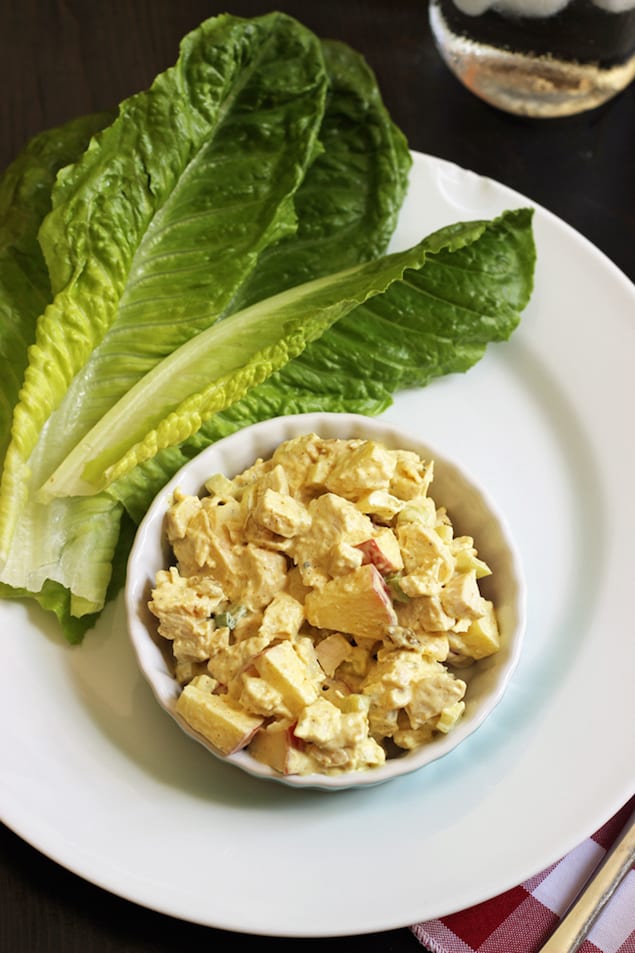 www.goodcheapeats.com
Chicken Curry Lettuce Wraps
Chicken salad is another go-to lunch that is perfect to make ahead and eat all week long. This variation calls for curry powder for an extra kick! With apples, chicken, celery, and golden raisins, this chicken salad fulfills all the major food groups and tastes great. Enjoy on crusty bread or crackers—or opt for crunchy lettuce wraps for an even healthier take. Find the recipe here.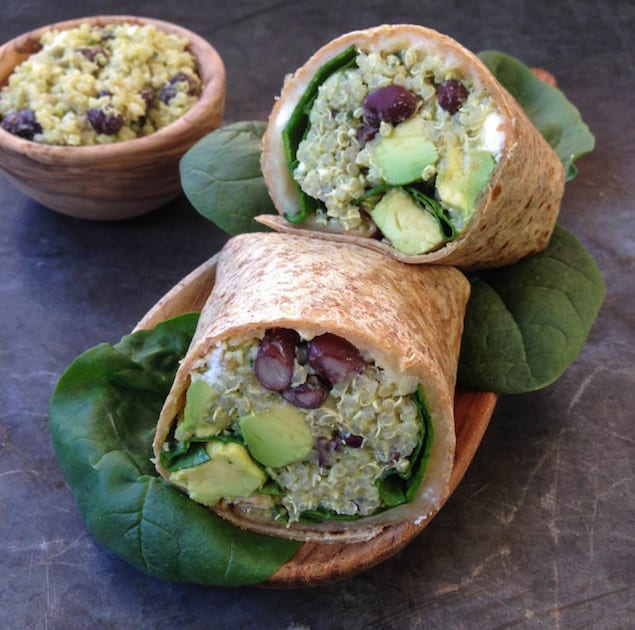 www.wendypolisi.com
Black Bean, Feta & Avocado Quinoa Wrap with Avocado Tahini Dip
Wraps are one of the easiest ways to amp up your sandwich game during lunchtime. Protein-packed quinoa and black beans perfectly complement creamy avocado and salty, crumbly feta cheese. This wrap is an easy go-to lunch that you can make the night before and enjoy just as much the following day. Find the recipe here.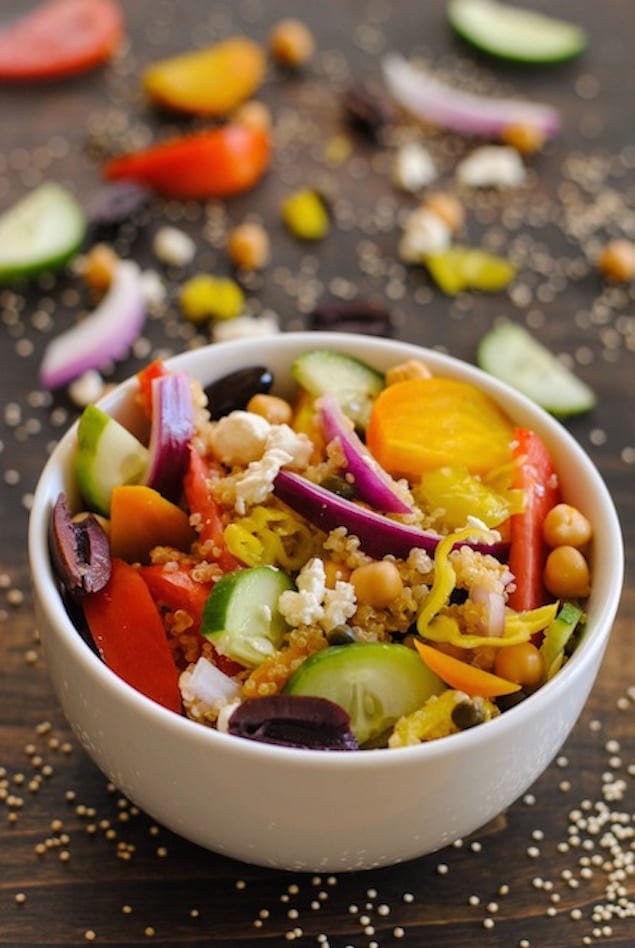 www.foxeslovelemons.com
Greek Quinoa Salad
If a regular salad doesn't fill you up or leaves you hungry in two hours, try mixing in a healthy grain or pasta like quinoa, brown rice, or couscous that will give you extra energy and keep you satisfied. This recipe harnesses all the flavors of classic Greek salad, with a few surprise additions. Find the recipe here.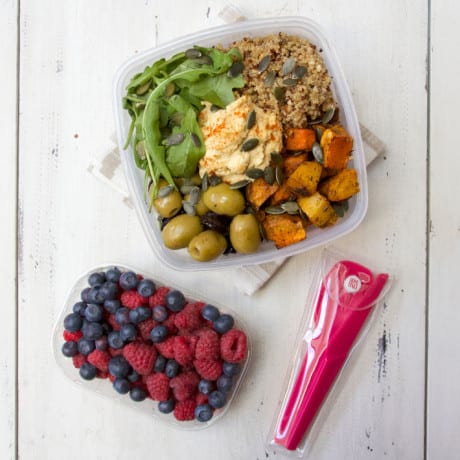 www.deliciouslyella.com
Sweet & Savory Bento Box
This on-the-go box starts off with a spiced, roasted mixture of sweet potatoes, carrots and butternut squash. Add plump olives, arugula, homemade hummus, and tricolored quinoa, and this salad-like smorgasbord becomes a vibrant, sweet and savory meal. Serve with a side of fresh fruit to complete your packed feast. Find the recipe here.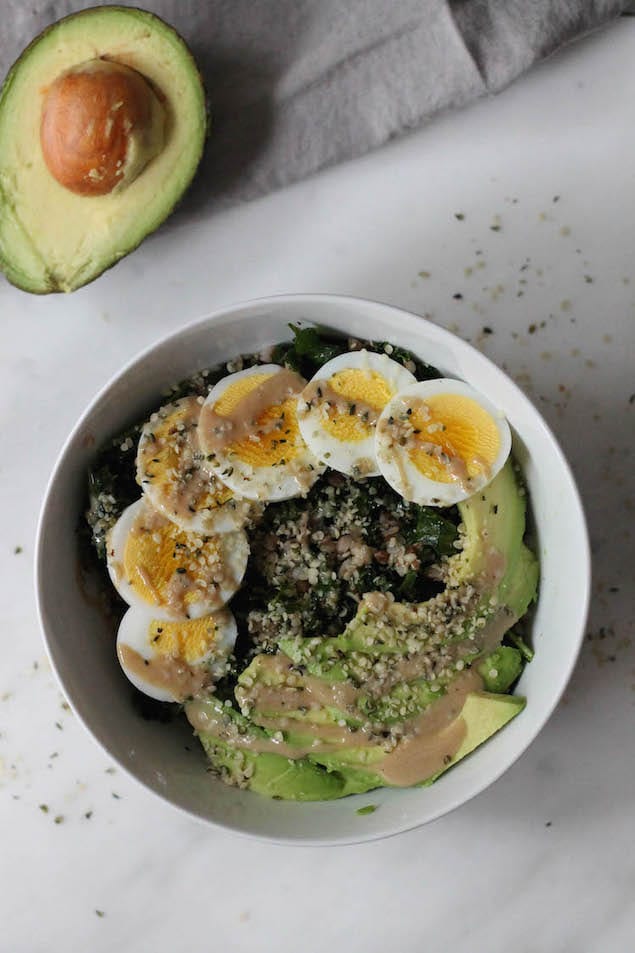 www.foodbymars.com
Massaged Kale and Buckwheat Bowl
Massaged kale, in case you didn't know, is exactly what it sounds like: it's simply rubbed down with olive oil. Start off with the kale and cooked buckwheat, add a sliced boiled egg and half of an avocado, and top with hemp seeds, tahini, and salt and pepper to taste. Packed with vitamins and protein! Find the recipe here.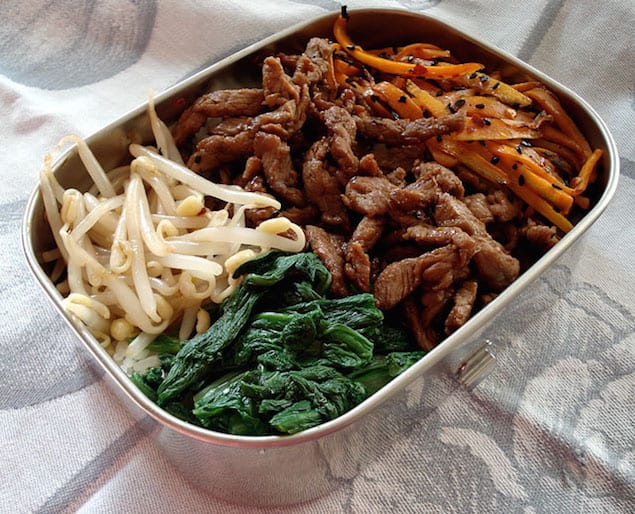 www.justbento.com
Sesame Beef and Vegetable Bento
Keep a close eye on leftovers, and you can throw together an easy bento box in under five minutes! This version is packed with steamed rice, savory sesame beef and plenty of veggies. Find the recipe here.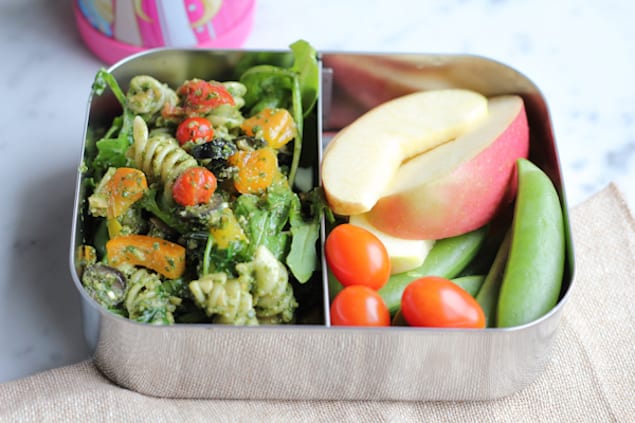 www.hipfoodiemom.com
Pesto Pasta Salad
Pasta salad is the ultimate in make-ahead lunch recipes. This version was designed with kiddos in mind, but that's not stopping us—two birds, one stone. This version is a vibrant combo of pasta, pesto and fresh veggies. Easy to store and travels beautifully! Find the recipe here.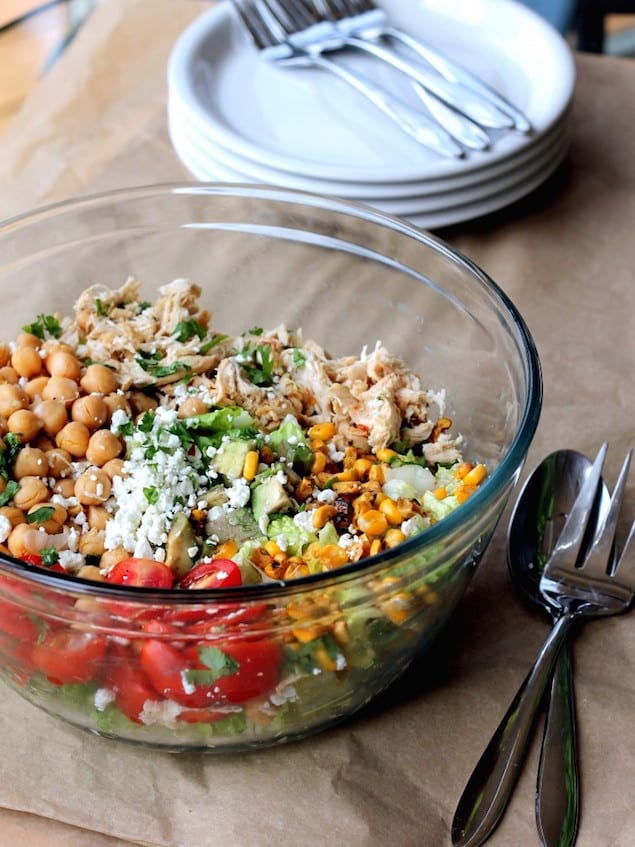 www.ambitiouskitchen.com
Healthy Chickpea Chopped Salad
Chopped salads like this one are a fun way to mix up your run-of-the-mill lunch salad. Fresh roasted corn, pulled chicken breast, goat cheese, avocado, tomatoes, and chick peas mingle atop romaine lettuce for a crunchy, southwestern-style salad that beats boring old lettuce-and-cucumbers any day. Find the recipe here.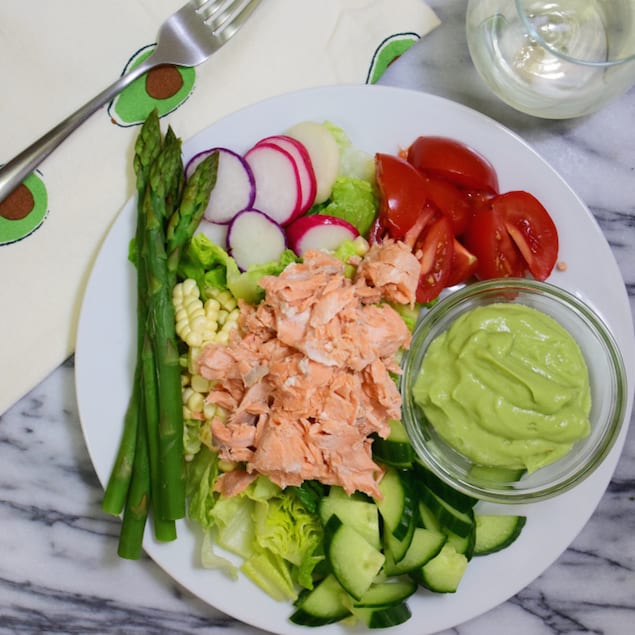 www.laircake.com
"The California Louie"
Lemon-soaked cooked salmon is a wonderful source of protein to add to your salad, wrap or bento lunch box. Top fresh lettuce with your favorite veggies—fresh or lightly steamed or blanched—and this creamy avocado dressing. Find the recipe here.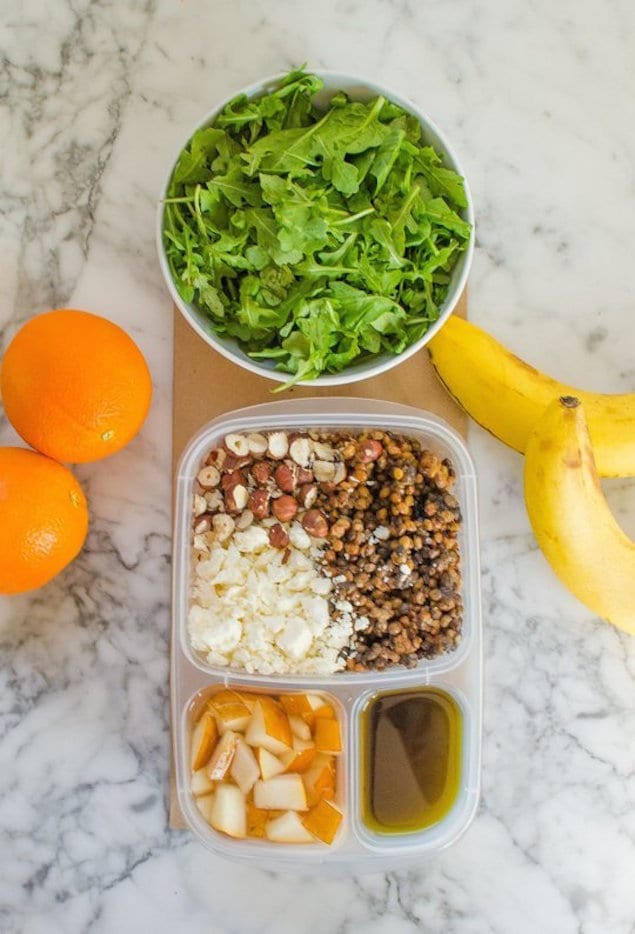 Faith Durand
"The Frenchie Lentil" Salad
Don't forget about lentils, guys! They're small, but they're packed with protein. Spruce up your salad game even further with this sweet-and-savory combo. Find the recipe here.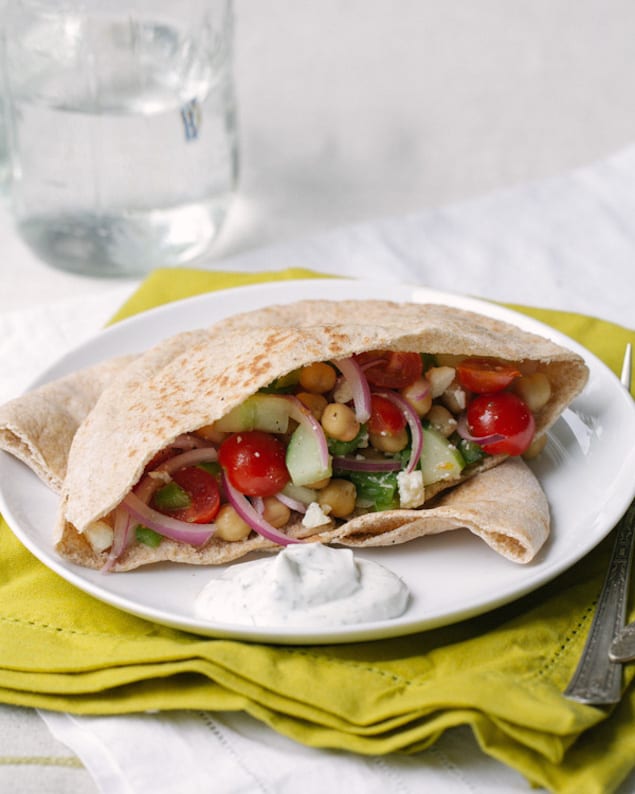 www.acouplecooks.com
Greek Pita Sandwiches
Here's another Mediterranean-style lunch to add to your list of go-to recipes. Prepare a Greek salad mixture the night before along with a quick homemade tzatziki sauce. Pack these, plus a fresh whole wheat pita pocket—and assemble right before you're ready to eat for optimum crunch. You could even throw in some chicken if you prefer that to chickpeas. Find the recipe here.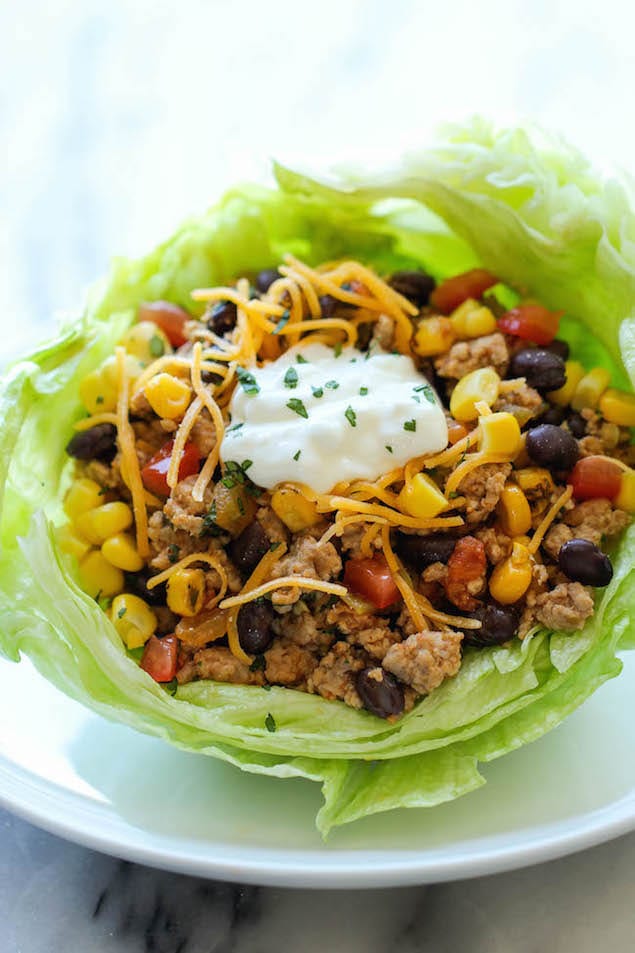 www.damndelicious.net
Taco Lettuce Wraps
Brown turkey, chicken or beef with veggies, beans and seasonings the night before, and all you have to do is reheat for lunch the next day! Prepare your lunchbox with the cooked mixture and all of your favorite taco toppings to assemble when you're ready to eat. For extra crunch, opt for lettuce wraps, or layer over chopped greens for a taco salad. Find the recipe here.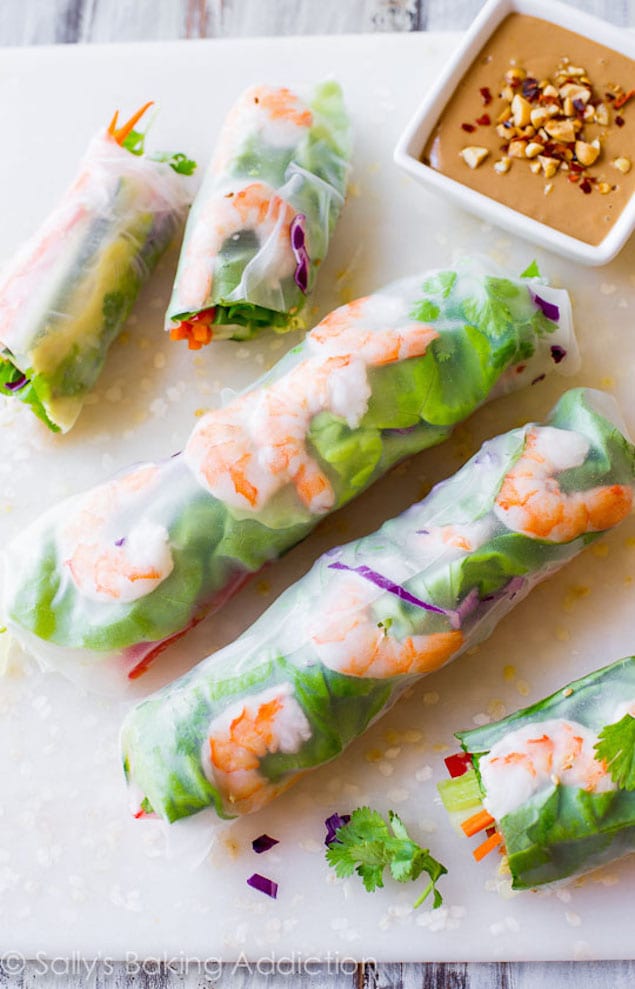 www.sallysbakingaddiction.com
Homemade Spring Rolls with Peanut Dipping Sauce
For spring rolls like these, slice vegetables vertically so you have long stalks of veggies to roll neatly into rice paper. Throw in some shrimp and avocado to fuel the rest of your day, and roll 'em up! Don't forget to make some peanut dipping sauce to add a boost of flavor. Trust us. These babies are much easier than they look. Find the recipe here.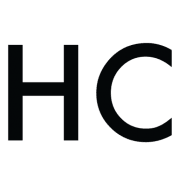 Relish
Offering more than 14,000 recipes plus features and DIYs on cooking, dining and entertaining, Relish celebrates America's love of food. Relish is about honoring cooking traditions while exploring new trends and ideas, which is why millions of people turn to both Relish.com and Relish Magazine for special occasion recipes, quick and easy weeknight suppers and culinary adventures.