Leek & potato soup can be made with as little as 4 ingredients. But do try this delicious twelve ingredient version.
By Mitch Weinstein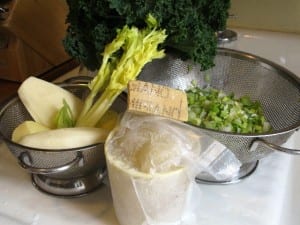 Leek and Potato Soup is one of the classic soups I enjoy making. But you know as well as I do that 2 ingredients do not make a soup. I mean, you can call it leek & potato soup, but there are gonna be some other ingredients in there – like water and salt, for instance.  As a matter of fact, that's how I used to make it, and that method came from one of my favorite Julia Child books: 1989's The Way to Cook (still a great gift for aspiring cooks, by the way). As Julia said:
Leeks and potatoes simmered in lightly salted water make a perfect soup in themselves even without the addition of a little cream (wink, wink)…

Now when I make leek and potato soup, I like to gussy it up with a few other ingredients that also taste good…
Pictured above are some of those other ingredients that taste good; there's homemade chicken stock, both russet and Yukon Gold potatoes, celery, kale, the cleaned leeks, a rind of Parmigiano-Reggiano (you save those, right?), and hidden somewhere under it all a couple of slices of good bacon and a clove or two of garlic.
Start by slowly cooking the bacon in a couple of tablespoons of olive oil until most of the fat has melted, then add the diced leeks, celery, potatoes and garlic, (minced, please) sweating all until translucent.
Now add your chicken stock/water and cheese rind, bring to a boil, taste the broth and add salt and pepper (trust me, potato soups need a shitload of salt), reduce heat, cover and simmer for 45 minutes to an hour.
See Also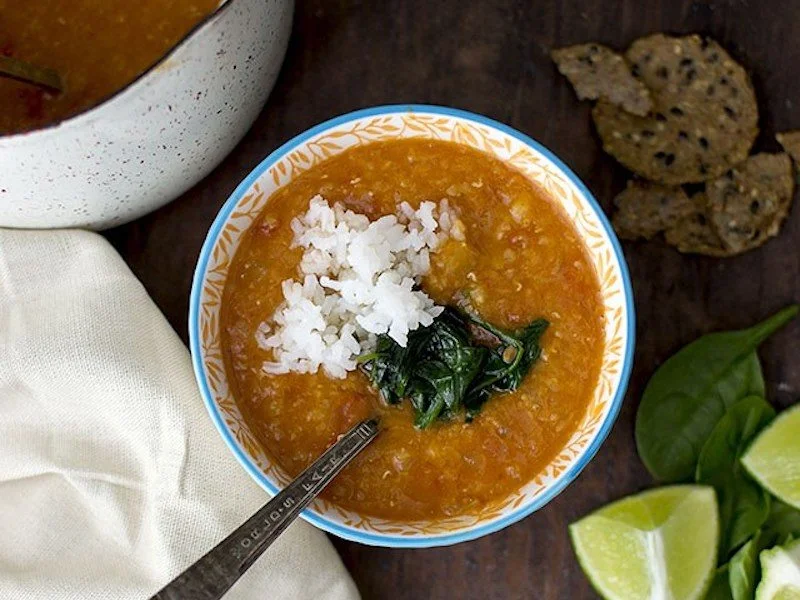 Now comes the fun part. First, remove that rind. Then, I like to smash the potatoes with the back of a big wooden spoon until the soup gets nice and thick.  If it's too thick, add some water. Taste. Does it need more salt? Pepper? Then add them! Also, dice the rind and add it back. If you're using kale or some other green (of course, you've already washed and shredded it, right?) add it to the pot and bring back to a simmer. Kale will take a good 20 minutes until it's tender. Taste again – you don't want your guests asking for salt, do you?
And it's as simple as that. Twelve Ingredient Leek and Potato Soup, With Kale, Bacon and Parmigiano…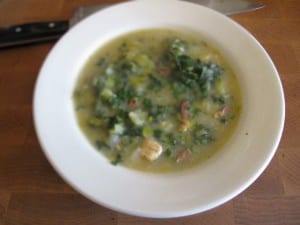 Print
12 Ingredient Leek & Potato Soup
---
Author:

Mitch Weinstein

Total Time:

1 hour 30 minutes

Yield:

4

-6

1

x
Description
Leek & potato soup can be made with as little as 4 ingredients. But do try this twelve ingredient version.
---
1

lb. baking potatoes, coarsely chopped (I use Yukon Golds and russets)

1

lb. leeks, sliced

2

stalks celery, sliced

2

cloves garlic, minced

2

slices bacon, diced

1

Parmigiano-Reggiano rind

1

small bunch kale, washed and cut up

2

T olive oil

1 qt

. chicken stock, more or less

1 qt

. water, more or less
Salt and pepper
---
Instructions
Cook bacon in olive oil till fat is rendered.
Add leeks, potatoes, garlic, celery, etc. Sweat till translucent.
Add stock/water and parm rind. Bring to boil. Taste. Salt.
After 45 minutes, remove and dice rind, smash potatoes with back of spoon till thick. Taste. Salt.
Add kale and diced rind and simmer for 20 minutes. Taste. Salt and pepper.
Serve.
Prep Time:

30 mins

Cook Time:

1 hour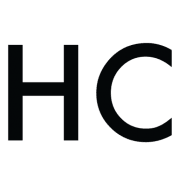 Mitch Weinstein
Mitch Weinstein is an avid seeker of good food, culinary school grad and writer of the blog Tasty Travails. When not cooking at home, he is on the hunt for that next delicious restaurant meal, great market or maybe even a cocktail. He regularly contributes to the food and drink forums on mouthfulsfood.com, eGullet.org, Chowhound.com and others.