March 25th is International Waffle Day and there's no other way to celebrate it than by eating waffles–but not any ordinary waffle covered in syrup and butter. The waffles below will have you rethinking how you prepare waffles forever in the future and we DARE you to try them.
By Mallory Davis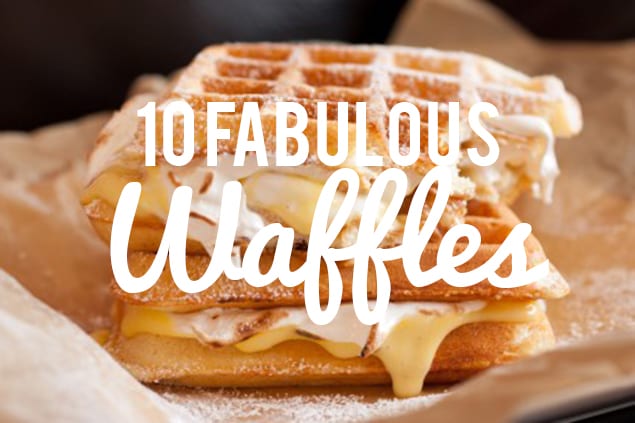 1. Champagne Waffles with Chocolate Butter and Blood Orange Syrup
The champagne bubbles in these decadent waffles make them oh so light and fluffy. So light that a rich topping of chocolate butter and blood orange syrup comes together perfectly. These waffles are the best for a weekend morning because since you don't need all of the champagne for the waffles you can use the rest for mimosas. Get the recipe here, we dare you.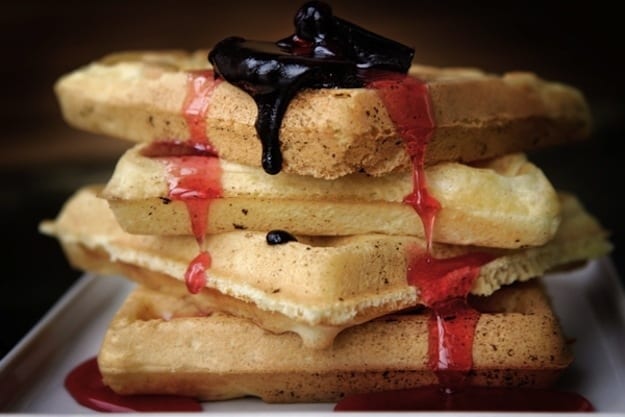 bravetart.com
2. Red Velvet Waffles with Cream Cheese Syrup
Calling all red velvet fans! Who knew this favorite dessert could come in a waffle form? The rich cream cheese syrup makes it so the cake is not overly sweet but balanced perfectly. Enjoy for breakfast or dessert! Get the recipe here, we dare you.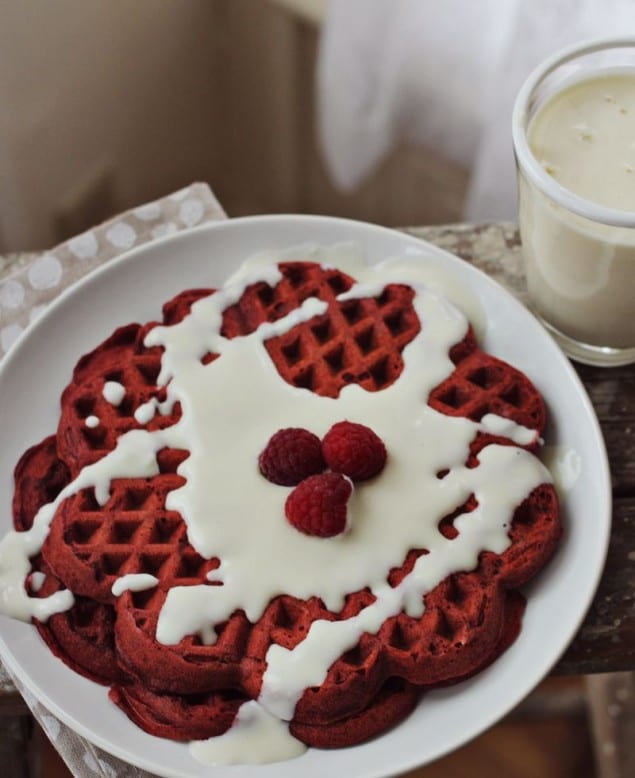 www.abeautifulmess.com
3. Waffle BLTs
These are a classic example of making breakfast for dinner. The flavors of a BLT cannot be improved so a waffle that contains a little pepper and rosemary work as perfect buffers. Add some garlic and basil aioli and you have an improved take on a classic sandwich. Get the recipe here, we dare you.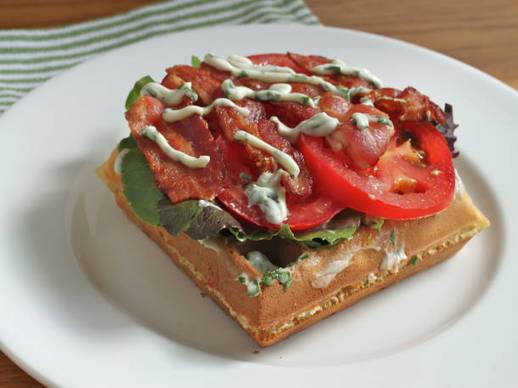 www.seriouseats.com
4. Nutella Waffles
Nutella is a very popular ingredient these days so there was at least one recipe in this article bound to include it. These easy to make treasures are perfect for breakfast covered in bananas and strawberries or dessert covered in even more Nutella. Get the recipe here, we dare you.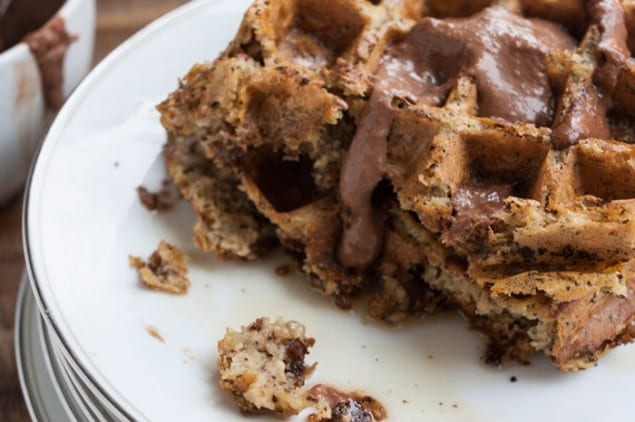 onepartplant.com
5. Cornmeal Waffles with Apples and Prosciutto
Gluten free eaters rejoice! This is a recipe made just for you that is a twist on the classic waffle recipe. Cornmeal is used instead of flour to shift the taste and texture in order to bring together unique and delicious toppings such as apples and prosciutto. Get the recipe here, we dare you.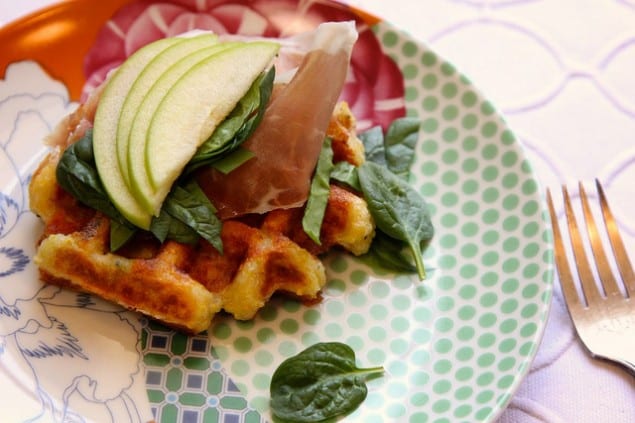 joythebaker.com
6. Cinnamon Roll Waffles with Cream Cheese Syrup
Combine two favorite breakfast meals into one and you've got these tasty treats. They also provide many options of how to make them depending on what you're mood is. You can make a plain buttermilk waffle and drizzle it with cinnamon and sweet cream cheese syrup or bake the cinnamon into the waffle and drizzle with hot cream cheese syrup. Both easy and delicious, but which will you choose? Get the recipe here, we dare you.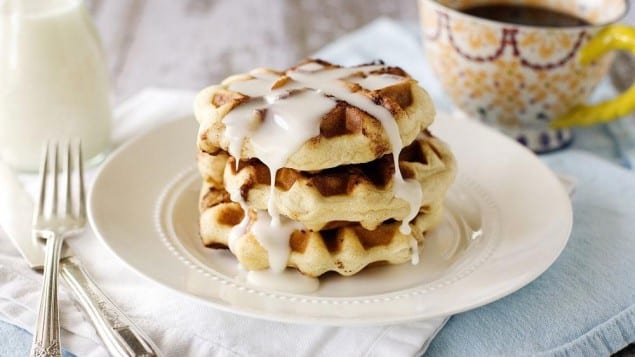 www.pillsbury.com
7. Carrot Cake Waffles with Cinnamon Maple Cream Cheese Spread
Another famous cake turned into waffle perfection. It's also a breakfast and dessert in one as well as being vegan. Added to this twist on a classic cake is the sweet taste of cinnamon and maple that adds  perfect warmth to a weekend morning. Get the recipe here, we dare you.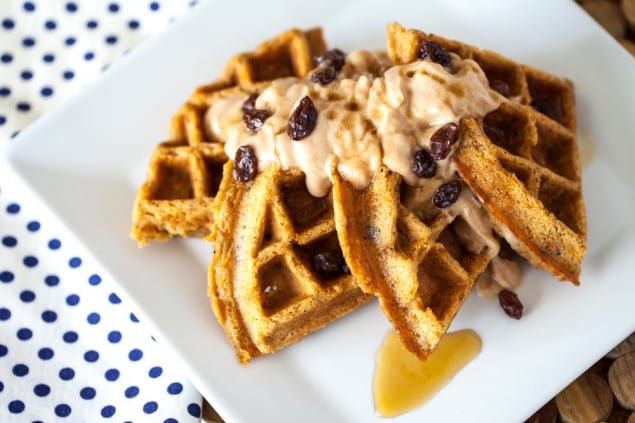 keepitkind.com
8. Falafel Waffles
I bet you never thought you would see these two words together. What is a falafel waffle you ask? It is a delicious mix of savory, sweet, and fluffy. Serve it up with some of your favorite hummus topped with fresh tomato and parsley and you have the tastiest lunch or dinner to enjoy. Get the recipe here, we dare you.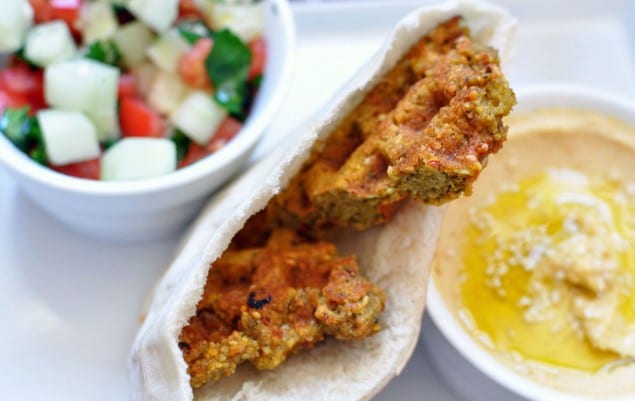 www.waffleeizer.com
9. Cheesy Herb Florentine Waffles
Cheeses and herbs combine in order to transform this popular breakfast into another popular breakfast. Biscuits are swapped out for fluffy, cheesy waffles and covered with an egg, spinach, and hollandaise. It's perfect for breakfast, brunch, and possibly even dinner. Get the recipe here, we dare you.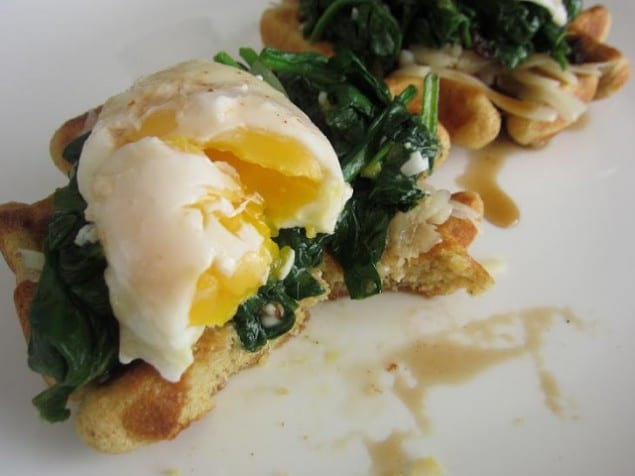 raspberry eggplant.blogspot.com
10. Lemon Meringue Pie Stuffed Waffles
No, you didn't read the title wrong–this recipe combines pie AND waffles. This is the ultimate upgraded waffle that packs a loaded flavorful punch with every bite. I dare you to combine two classic recipes into one that will definitely never be forgotten. Eat for breakfast and dessert (and possible even dinner!) Get the recipe here, we dare you.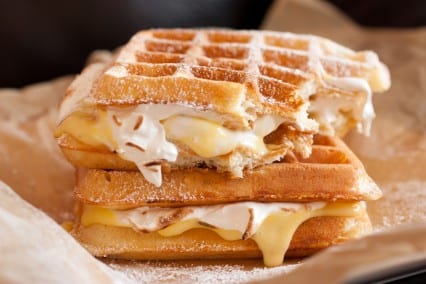 www.cookingclassy.com
Celebrate International Waffle Day with any (or all!) of these recipes and you are without a doubt going to become waffle royalty to all of those around you. Enjoy!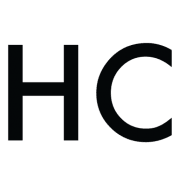 Mallory Davis
Mallory was born and raised in Monterey, California. She has a degree in Broadcast Journalism with an emphasis in sports broadcasting. Although baking and cooking were a favorite part of her childhood; a diagnosis of Celiac Disease is what really set off her passion for food. The diagnosis encouraged her to start cooking and experimenting a lot more. She enjoys making up new and unique recipes to fit her and others' diets (always making sure to include chocolate whenever possible).