Top these homemade zucchini burgers with spicy mayo for a vegetarian meal that's so much better than frozen patties.
By Katherine Sacks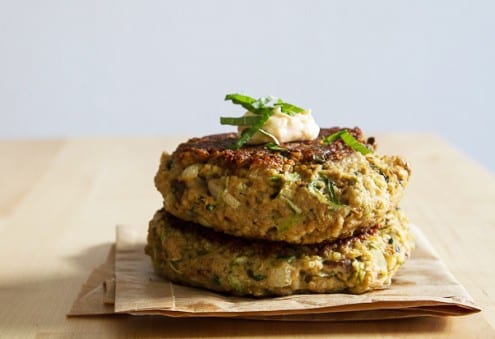 A few weeks ago I was shopping at the LPG Biomarkt, kind of like Berlin's version of Whole Foods, and I picked up a veggie burger mix, thinking it would make a great, healthy dinner with zucchini shredded in. The burgers were tasty, but I realized that they would be much better, and more fun to make, if I skipped the pre-packaged mix and made them from scratch. Homemade is always better in my book.
There's tons of takes on veggie burgers, and most use beans and some sort of grain as a base. I started with millet, which has become of favorite of mine since my friend Jacquie introduced it to me earlier this year. A whole grain, millet is rich in vitamins and has a slight popcorny flavor that I like. For beans, I chose white beans, but garbanzo work as well. Black and red beans have a more distinct taste, so use those if you want to add more "bean" flavor. But the main key is in working with the zucchini—squeeze as much water from the grated vegetable as possible to avoid a wet texture. You can save the excess zucchini water for zucchini soup or any zucchini recipe that calls for added water. I also added just a touch of baking soda and powder to help give the burgers a fluffy texture.
Zucchini Veggie Burgers
Top these homemade zucchini burgers with spicy mayo for a vegetarian meal that's so much better than frozen patties.
Ingredients
1 clove garlic
1 small onion, finely diced
2 cups grated zucchini, squeezed to remove excess water and packed tightly
½ cup large white beans or garbanzo beans
1 cup cooked millet
½ teaspoon baking soda
1 teaspoon baking powder
½ cup flax seed meal or garbanzo bean flour
1 tablespoon chopped basil, plus additional for garnish
1 teaspoon paprika
2 teaspoons salt
2-4 tablespoons vegetable oil
Instructions
In a medium sauté pan over medium heat, sweat the garlic and onion until translucent.
When the mixture is cooked through, turn the heat off and add the zucchini to just warm.
Place the beans in a large bowl and use a fork to mash until completely broken down. Add the millet and zucchini mixture and stir to combine.
Sprinkle the baking soda, powder, and flax seed meal or garbanzo flour over the mixture and stir in until well combined. Touch mixture with fingers; it should be wet to the touch and hold together.
If necessary, add a small amount of the excess zucchini water. When the mixture is the correct texture, stir in the basil, paprika, and salt and adjust seasonings as needed. Place mixture in the refrigerator for at least one hour or overnight.
When ready to cook burgers, preheat oven to 350°F.
Heat vegetable oil in a sauté pan over medium heat.
Form six patties with the zucchini mixture.
Cook the burgers for five minutes on each side, until medium brown and toasted. Place the pan in the oven and cook burgers for an additional 10 minutes, until heated completely through.
Serve with pita or on bread with chili-mayo, additional basil, and your favorite burger toppings
Katherine Sacks
Katherine Sacks is a Berlin-based freelance writer and recipe developer specializing in travel, food, lifestyle, and health topics. A graduate of Drexel University's culinary arts department and Northwestern University's Medill School of Journalism, Katherine combines seven years of restaurant experience with her reporting and editing background. Her work has appeared in Chicago magazine, the Chicago-Sun Times, and FoodandWine.com, among other publications. She also contributes to culinary trade publication StarChefs.com, Forbes Travel Guide, and Snooth Eats, and blogs at LaVitaCucinare.com.