Zucchini bread meets pancakes. These vegetable-packed pancakes are moist and super fluffy with brown sugar, cinnamon, and raisins.
By Claudia Hollings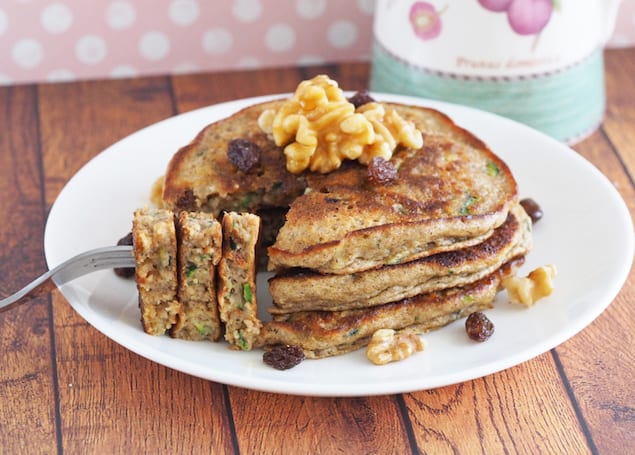 The zucchini in these pancakes add loads of moisture and nutritional goodness, but doesn't add much in the flavor department. It's like zucchini bread or a zucchini cake – the zucchini is there, but the real stars of the show are the cinnamon, nutmeg and brown sugar.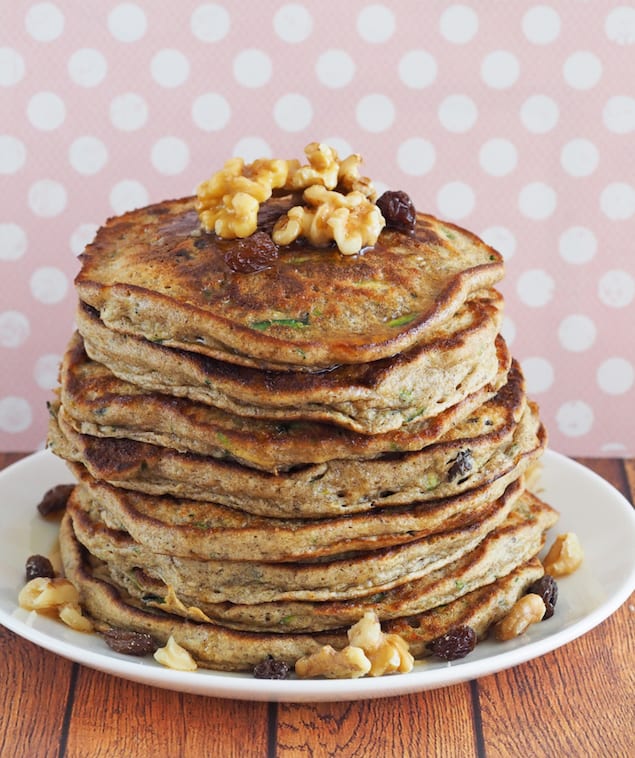 I added some blackstrap molasses as I was after that rich, brown sugar flavor without using too much, well, sugar. If you don't have blackstrap molasses, any darkish molasses should be fine (or, of course, just increase the brown sugar). Also, I imagine all-purpose flour would work instead the spelt (I used spelt flour because of my annoying digestive system).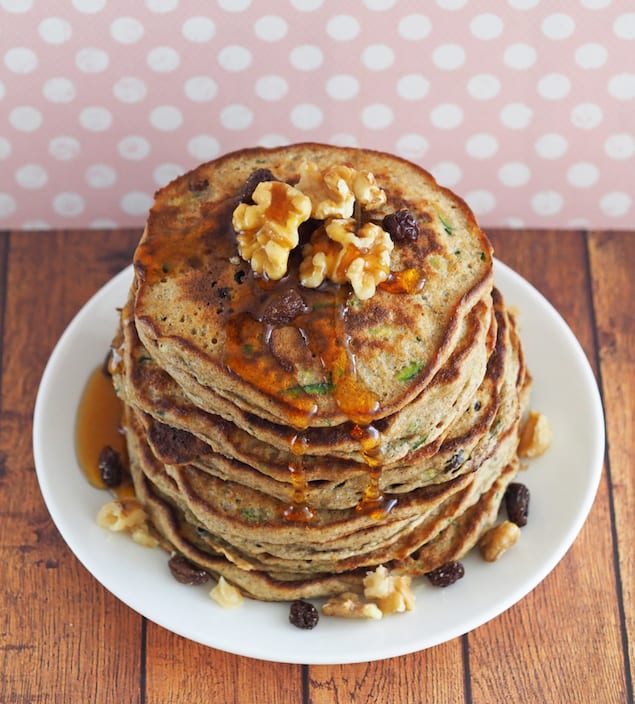 Zucchini Bread Turns into Pancakes
Zucchini bread meets pancakes. These vegetable-packed pancakes are moist and super fluffy with brown sugar, cinnamon, and raisins.
Ingredients
¾ cup rolled oats
¾ cup spelt flour
2 teaspoons baking powder
½ teaspoon baking soda
¼ teaspoon salt
1 teaspoon ground cinnamon
⅛ teaspoon ground nutmeg
2 eggs, separated
1 tablespoon brown sugar, packed
1 teaspoon blackstrap molasses
2 teaspoons vanilla extract
¼ cup vanilla-flavored yogurt
2 medium zucchini, grated
1 cup buttermilk
3 tablespoons chopped walnuts
2 tablespoons raisins
Maple syrup and walnuts, to serve
Instructions
Use a coffee grinder (or food processor or blender) to grind the oats into a flour. Transfer the oat flour to a medium-sized bowl.
Add the spelt flour, baking powder, baking soda, salt, cinnamon and nutmeg, and mix with a wooden spoon until well combined.
In a large bowl, whisk the egg yolks and brown sugar. Mix in the molasses, vanilla extract, yogurt and grated zucchini. Add the buttermilk, and mix until well combined.
In another bowl, use electric beaters to beat the egg whites into firm peaks.
Pour the dry ingredients (the flour/oats mixture) into the wet ingredients (the egg yolks/buttermilk mixture). Mix until just combined. If the batter is lumpy, use the electric beaters to briefly beat the mixture until smooth. Don't beat the mixture for longer than a minute.
Fold the egg whites into the batter. This is easiest if you fold in one tablespoon first, and then add the remainder of the egg whites.
Fold in the chopped walnuts and raisins.
Preheat a skillet over low heat. Grease with cooking oil spray, and then add ¼ cup of batter for each pancake (an ice-cream scoop is perfect for this). Shake the pan a little to spread the batter.
Cook the pancakes for 2 - 3 minutes on one side (or until bubbles appear on the surface). Flip, and cook for 1 - 2 minutes on the other. Adjust the stove heat as needed.
Serve with maple syrup and some extra walnuts. Enjoy!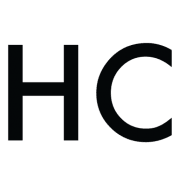 Claudia Hollings
Claudia is an avid breakfast enthusiast, economics student, vegetarian and honorary drama queen. Over at 'The Breakfast Drama Queen', Claudia aims to provide healthy and fun breakfast recipes that are worth waking up for.