Buffalo Turkey Stuffed Zucchini Boats. They are exactly where eating more vegetables meets my craving for comfort food.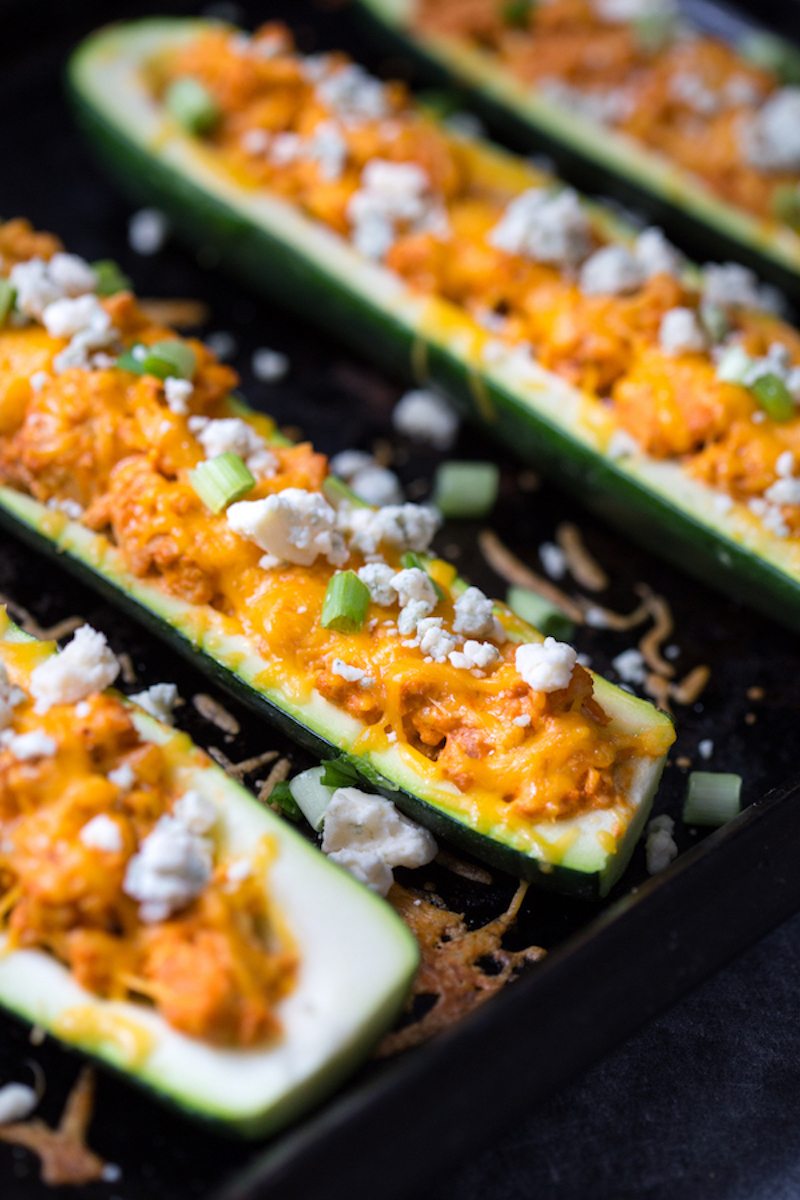 Did anyone set a New Year's resolution this year? I did not. Actually, I don't think I have set any resolutions for the past few years. They just seem so…..cliche. And just begging to be broken.
While I typically do feel an urge to start fresh at the beginning of the new year, what does that even mean? Start a diet? Clean out my closet? Take up a new hobby?
To be honest, I don't want to diet. I have lots of other things I'd rather do than clean my closet. And I don't need a new hobby. I have enough stuff to keep me busy. Thankyouverymuch.
HOWEVER. After a season of cookies, eggnog, and lots of heavy cream, I feel a natural need to eat more vegetables.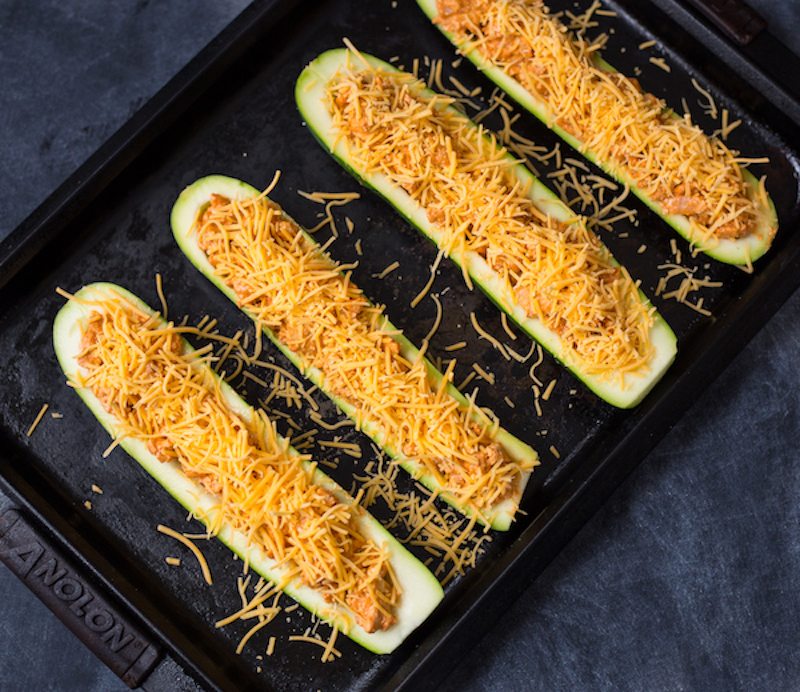 So not only are these Buffalo Turkey Stuffed Zucchini Boats low carb and generally good for ya, they're also SO easy to make! Like, I couldn't believe how quick they came together.
The filling is a super simple combo of the ground turkey, onion, and buffalo wing sauce. The filling is then loaded up into a couple of zucchini that have been sliced in half lengthwise and scooped out, top with cheese, and throw 'em in the oven!
After they're baked you just top it with some blue cheese, green onions, and a drizzle of more buffalo wing sauce. And a drizzle of some ranch or blue cheese dressing if you feel up for it.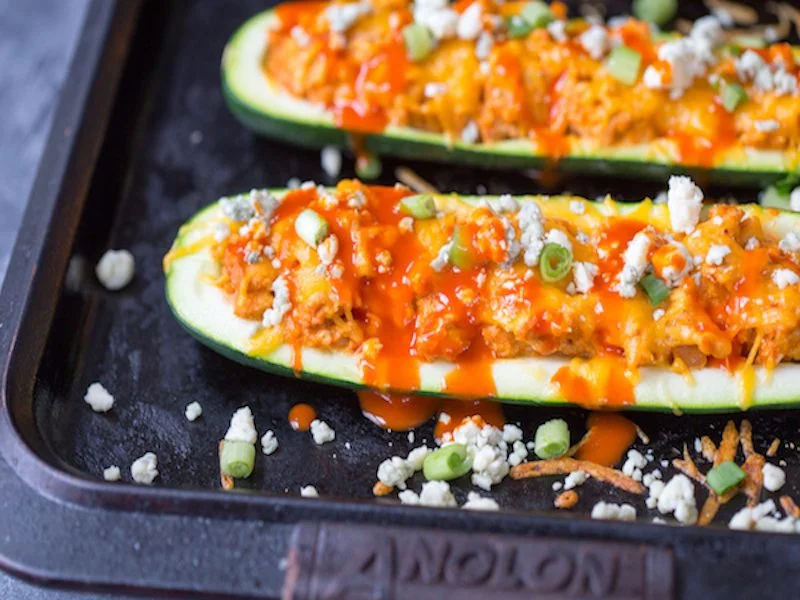 Then give yourself a big high five for getting in those veggies! Go you!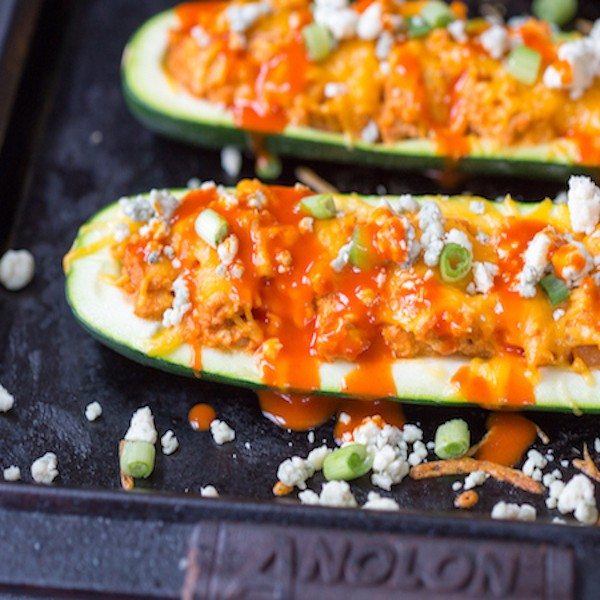 Taylor Kadlec
Ingredients
2

large or 3 small zucchini

2

tablespoons

olive oil

1

small white onion

finely diced

1

lb

Jennie-O Lean Ground Turkey

1/2

cup

buffalo wing sauce

~1 cup shredded cheddar cheese

Blue cheese

for topping

Chopped green onion

for topping

Additional buffalo wing sauce

for drizzling

Ranch or blue cheese dressing

for drizzling
Instructions
Preheat oven to 350 degrees F.

Cut each zucchini lengthwise down the middle. Using a spoon or melon baller, scoop out the middle to create your "boat."

Place face up onto a baking sheet.

In a large skillet, heat additional olive oil over medium heat.

Add onion and cook for 5 minutes, or until onion starts to soften.

Add turkey, cooking until cooked through, and breaking up into small pieces as it cooks.

Add buffalo wing sauce, stirring to combine.

Fill each zucchini boat with ~1/4 cup of buffalo turkey. You can definitely eyeball this, and it is very dependent on how large your zucchini is.

Top with shredded cheddar cheese.

Bake in preheated oven for 30 minutes.

Serve, topping with blue cheese and green onion.

Drizzle with additional buffalo wing sauce and/or ranch/blue cheese dressing if desired! It's definitely recommended!
Taylor Kadlec
Taylor Kadlec is a lover of all things food including baking, cooking, and of course, eating. She is a self-taught baker and cook, and she shares her kitchen adventures on her blog Greens & Chocolate, where healthy cooking meets sinful indulgence.