Winter Wheatberry, Beet, and Mint Salad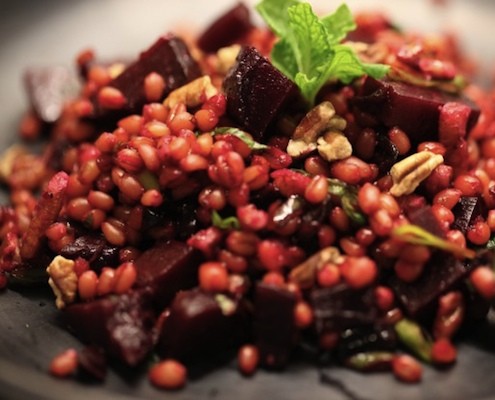 By tossing wheat berries with cranberries and pecans, this dish is a standout crowd pleaser for the holiday season.
By Pooja Mottl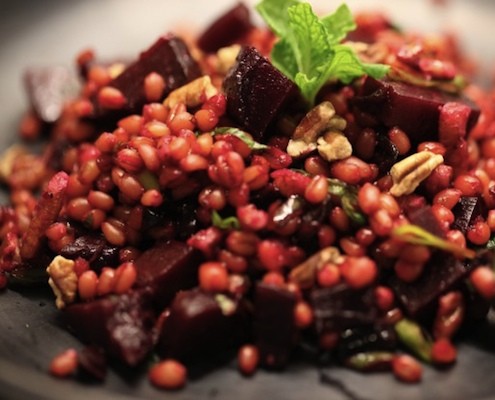 Skip the whole wheat bread and go straight to the real thing with wheat berries. Wheat berries are essentially the whole wheat kernels embedded within the head of wheat stalks, with only the hull removed (the inedible portion). This is wheat in its purest form. Usually, these berries are processed into flour, which later turns into bread. So by eating wheat berries, you're eating wheat in its least processed form, with the germ, brand, and endosperm all intacked, so you're getting the maximum amount of nutrients from this plant-based food source. Plus, you're getting some surprisingly rich and chewy flavors and textures.
By tossing these berries with cranberries and pecans, this dish is a standout crowd pleaser for the holiday season.
Winter Wheatberry, Beet, and Mint Salad
Skip the whole wheat bread and go straight to the real thing with wheat berries.
Recipe Type:
Appetizer, Main Course, Side Dish
Ingredients
For Salad:
⅔ cup red winter wheat berries, rinsed and drained
teaspoon sea salt
3 to 4 red beets, scrubbed clean and quartered (enough to yield 1 ½ cups, diced)
Drizzle of extra virgin olive oil
4 tablespoons chopped pecans
2 tablespoons dried cranberries (no sugar added), chopped
6 individual scallion stalks (not one multiple stem), sliced thinly on the bias
4 tablespoons fresh mint leaves, patted down, chiffonade (very finely sliced)
goats cheese (optional)
For Dressing:
2 tablespoons lemon juice
1 tablespoon raw honey
2 teaspoons balsamic vinegar
2 teaspoons red wine vinegar
teaspoon sea salt
teaspoon fresh ground pepper
2 teaspoons extra virgin olive oil
Instructions
Add wheat berries to heavy saucepot, add ¼ teaspoon salt, and add enough water to cover fully. Bring to a boil, then lower to a simmer, and cook, covered for 1 ½ hours, or until wheat berries begin to puff and slightly open. When done, drain, and allow to cool a few minutes.
At the same time, preheat oven to convection roast at 400 F. Add beets to a casserole dish, drizzle with olive oil, cover with foil, and roast for 1 hour or until fully cooked. Then allow to cool, peel, and dice into roughly ¾ inch pieces (approximately 1 ½ cups).
Add diced beets, warm wheat berries, and remaining salad ingredients into a bowl and mix to incorporate.
Add all dressing ingredients together into a mixing bowl and whisk. Pour over salad ingredients, mixing to incorporate.
Enjoy alone or next to fish, meats, or tempeh. Enjoy!
Notes
Wheat berries may be soaked overnight to reduce cooking time. I use Lucini brand extra virgin olive oil and vinegars in this recipe.
Pooja Mottl
Pooja Mottl is a Natural Foods Chef & Culinary Instructor, specializing in making healthy food delicious, quick, and simple to cook. Her creations, training, and food philosophy are based on the use of sustainable, organic, and unrefined ingredients to boost flavor and wholesomeness.