Sponsored Post: Check out these easy entertaining tips for all your winter holidays and dinner parties, complete with charcuterie and pâté. This is a sponsored post in collaboration with Les Trois Petits Cochons. 
Check out this perfect winter charcuterie spread for the cold weather. It can be packed up with charcuterie pinwheels if you're hitting the slopes or served by a cozy fire.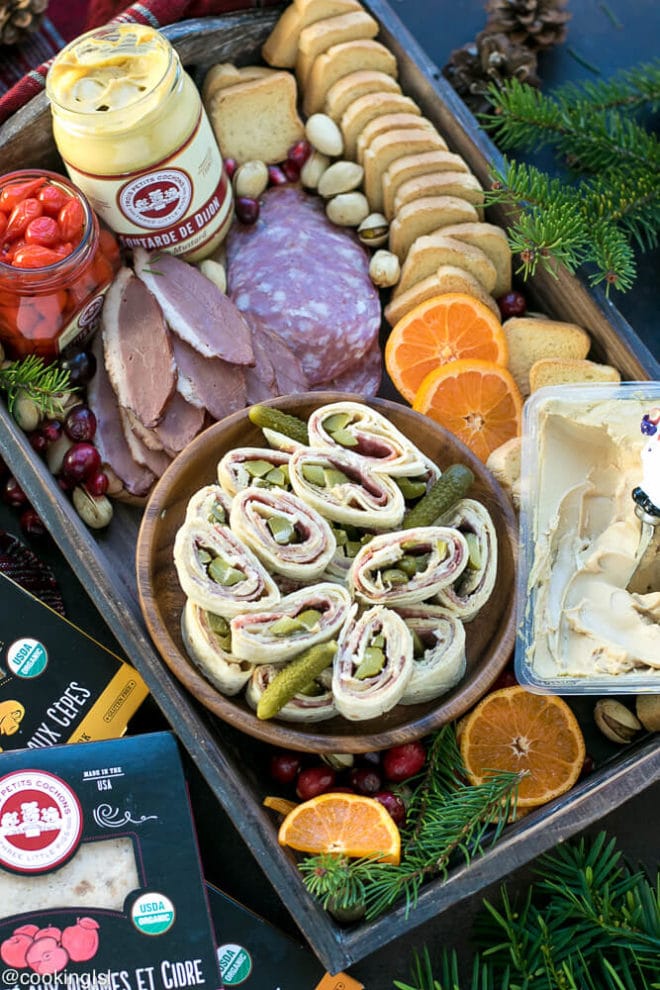 Charcuterie boards are perfect for entertaining. I'm very excited to share this special one with you today.
Of course you can enjoy this Winter Holiday Charcuterie Board With Tortilla Pinwheels in the comfort of your home. But keep in mind, that you can definitely take it away if you'd like.
This board features some amazing, excellent quality products from Les Trois Petits Cochons and also homemade tortilla pinwheels, made with the Mousse aux Champignons (Pork & Chicken Liver Mousse with Mushrooms), Cornichons Piquants (pickles) and Sliced Air Dried Sausage.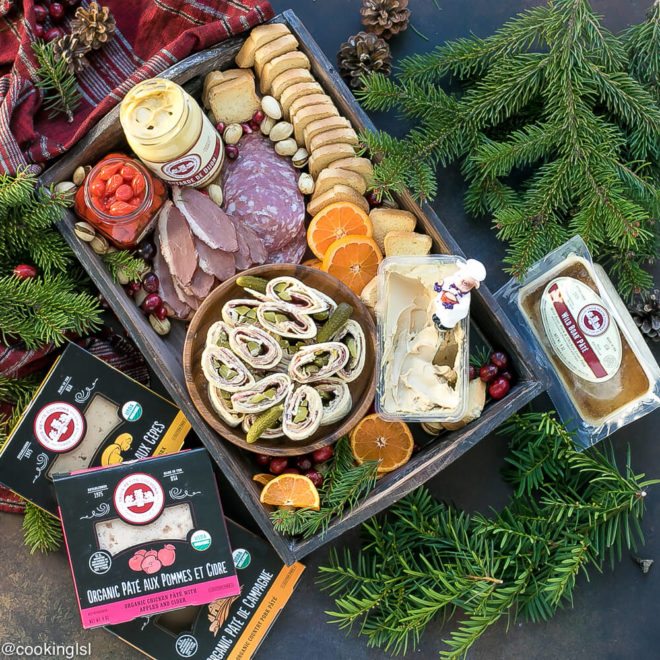 I decided to make these pinwheels, because they are super easy to prepare and can be made a day in advance. This way you can take them with you with the "mobile" holiday charcuterie board. They are also festive and a great way to take a break from the typical crostini and crackers, often served with boards like this.
A great charcuterie board starts with the meat. And Les Trois Petits Cochons offer the perfect meat products for it.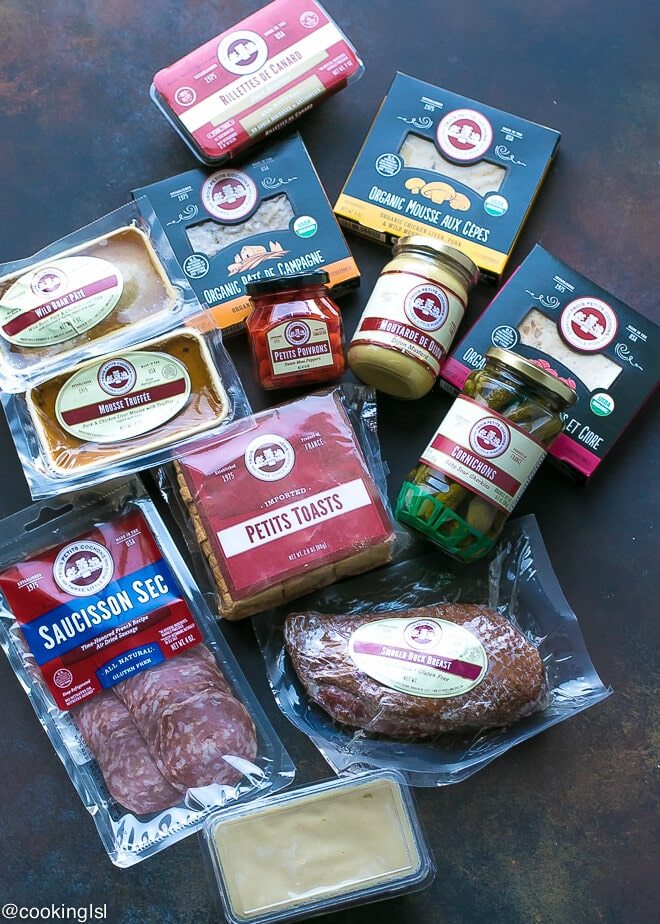 Making award-winning, all natural pâté and charcuterie since 1975, they are proud to be hands on with their small-batch products that use high-quality ingredients.
They began as a small charcuterie shop in Greenwich Village, New York and today provide specialty French meats far and wide.
Since I only chose three products for the recipe, but used pretty much all the other products I had in the board, I have to tell you a little more about them.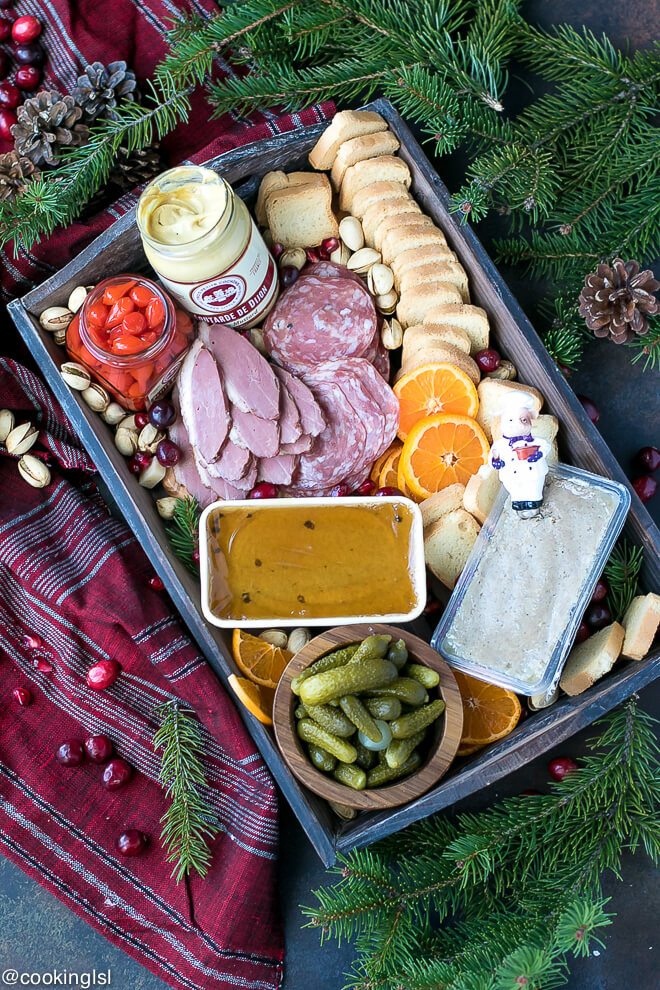 Their Smoked Duck Breast tastes amazing and everyone loved it!
Make sure you check their page out to see what products they offer and get more inspiration.
Why did I make a Charcuterie Board to take to the slopes? I go skiing once a year and it is usually around the holidays. The places we go to (around here), don't always offer options like a fancy charcuterie board. Since we are going to be celebrating the holidays and skiing at the same time, we do need some tasty appetizers. This is why I'm making a Winter Holiday Charcuterie Board With Tortilla Pinwheels to take to the slopes!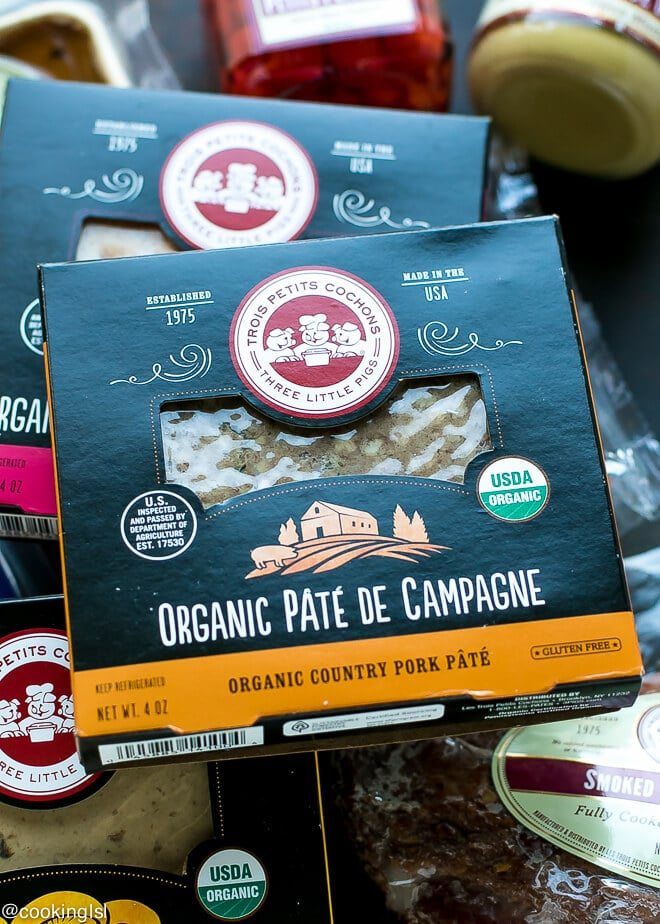 Winter Charcuterie Pinwheels
Recipe Type:
Appetizer, Lunch
Ingredients
4 flour tortillas 8-inches each
16 Cornichons Piquants
8 tbsp Mousse aux Champignons
plastic wrap
16 slices Saucisson Sec (salami)
Instructions
Cut cornichons into quarters lengthwise.
Place a tortilla on a flat surface over plastic wrap and spread 2 tbsp of the spread over it. Add 4 slices of salami on one end.Add about 4 sliced cornichons in one end and roll. Wrap in plastic wrap and refrigerate for 10 minutes, then slice into ½-inch thick slices. Refrigerate for up to 2 days.