The holidays might be long past, but if you're anything like us – you're still drinking sparkling wine. And with warmer weather on the horizon, now is definitely the time to stock up on some great bubbles to enjoy with food and friends.
There's no reason to stop drinking sparkling wines at any time during the year. Not only are sparklers the perfect way to celebrate any small or big victory in life – they are also more often than not fantastic food wines. So even though parts of the country is still deep in winter mode, it's always a good idea to keep an eye on which sparklers you should be drinking right now. Which is why we took it upon ourselves to sample over 100 different wines to get to a list of the 27 bubbly bottles you should be stocking up on.
Accompanied by notes from the winemakers, let's get into it:
Decoy
Brut Cuvee
California · United States
$25
Winemaker's notes:
The debut Decoy Brut Cuvée is an enticing sparkling wine that offers alluring layers of baked apple, white peach and orange zest, as well as aromatic hints of honeysuckle and vanilla. On the palate, a delicate sweetness is perfectly balanced by bright acidity, which adds poise and energy to the lush, pure fruit flavors.
Scharffenberger
Brut Excellence N.V.
Mendocino County · United States
$23
Winemaker's Notes:
After approximately two years on the lees, there are notes of freshly baked bread and pastry that enhances the more fruit forward style of the wine. Finally, after several months on the cork, the wine develops caramel and hazel complexors.
Louis Roederer
Collection 242 Champagne
Mendocino County · France
$60
Winemaker's Notes:
Created from the Perpetual Reserve and the oak-aged reserve wines, complemented by the finest wines from the most recent harvest, Collection is tied to our Champagne roots and the foundations of our Reims-based Champagne House. We therefore give ourselves the freedom to create the blend on the basis of whatever Nature gives us. Each Collection blend therefore has its own identity which will gradually and fully reveal itself over time. Collection 242 represents the Champagne House's 242nd blend since its foundation.
La Crema
Russian River Valley Brut Rose
Russian River Valley · United States
$40
Winemaker's Notes:
On the nose, aromas of white flowers, Braeburn apple and crushed oyster shell. Flavors of lemon meringue, wild strawberries and fresh ginger on the palate. A lively core of acidity is followed by a vibrant lingering finish.
Korbel
Brut
California · United States
$14
Winemaker's Notes:
All Korbel California wines are made using the traditional méthode champenoise bottle fermentation process. The méthode champenoise process actually begins in the vineyard. We harvest the grapes for Korbel Brut about two weeks earlier than is typical for still wines. The early harvest promotes the delicate, crisp, bright flavors of this varietal.
Sokol Blosser
Bluebird Cuvée Sparkling 2017
Oregon · United States
$28
Winemaker's Notes:
The Bluebird Cuvée Sparkling is designated as a Brut level of sweetness. Expressing aromatics of lychee and baguette. There are notes of spiced apple cider on the nose and on the palate, and the finish is crisp pear with bright acidity and fine bubbles.
MacRostie
Brut 2018
Sonoma · United States
$46
Winemaker's Notes:
The 2018 Sparkling Brut has expressive aromas of golden apple, lemon drop and hints of orange blossom. On the palate, the wine's crisp acidity balances beautifully with the mouth-filling, slow-forming bubbles.
Langlois-Chateau
Crémant de Loire Brut
Loire · France
$24
Winemaker's Notes:
Robe pale yellow. Nose complex with white flowers, linden, hawthorn… Mouth fresh, delicate and refined.
Graham Beck
Brut Blanc de Blancs 2015
Western Cape · South Africa
$30
Winemaker's Notes:
Graham Beck's Méthode Cap Classique wines are made with meticulous attention to detail using the traditional method. They have been served at the inauguration and nomination celebrations of Nelson Mandela and Barack Obama, two fathers with incredible class. Celebrate what matters with this sparkler.
J Vineyards
Cuvée 20 Brut N.V.
Russian River Valley · United States
$38
Winemaker's Notes:
Our J Cuvée 20 Brut opens with nuanced aromas of toasted almond, followed by notes of Braeburn apple, dried cranberry and ginger snap. A delicate dance of bubbles leads to a soft palate with flavors of lemon meringue pie, as the wine's creaminess is whisked away by a lively finish. Pair this versatile sparkler with Dungeness crab cake or lobster roll, fresh popped white cheddar popcorn or goat cheese rolled with herbes d'provence.
J Vineyards
Brut Rosé N.V.
Russian River Valley · United States
$45
Winemaker's Notes:
Our J Brut Rosé sparkles with a vibrant, pink salmon hue and inviting aromas of jasmine blossom, Kaffir lime leaf, tangerine and raspberry. The mouthfeel is creamy and delicate, with a fine, energetic mousse that tickles the tongue. The deeply nuanced palate features notes of ripe strawberry, Bing cherry, blood orange and lemon meringue, with hints of slivered almond and watermelon juice. Pair this lively sparkling Rosé with tuna poke or grilled prawns with Meyer lemon gastrique over basmati rice. Also try a cheese pairing of gruyere with strawberry mostarda or gouda with grilled peaches.
Black Elephant Vintners
Cap Classique Brut N.V.
Franschhoek · South Africa
$36
Winemaker's Notes:
Taking its inspiration from the design of the Ducati Monster, we stripped off all the bling so commonly associated with Champagnes, Cap Classique, Prosecco etc. Yes, you can't read the label which makes you pick it up and engage….now you just have to put it into your trolley and buy it. Well suited to the African palate, that prefers sweet, but wants to drink a dry style. With a sugar level of 8g/l, well below the Brut limit of 12g/l, combined with the Chardonnay/Pinot Noir blend we have a style that is far more accessible. A very Sociable style that is suited to large parties, weddings and groups of friends, you will need more than one bottle.
Argyle
Knudsen Vineyard Brut Vintage 2017
Willamette Valley · United States
$50
Winemaker's Notes:
Planted in 1974 and at 900 feet elevation is where you'll find this unique parcel of Pinot Noir for our Knudsen Vineyard Brut. Some of the few remaining vines in the Dundee Hills from that early pioneering era, this own-rooted Pommard at high elevation expresses incredible density, complexity, and elegance. Fermenting and aging in neutral wood barrel helps build layers of creamy complexity, exhibiting orange peel, nectarine and gingerbread while floating into a long, silky finish. 
Nyetimber
Classic Cuvee Brut
Sussex · United Kingdom
$69
Winemaker's Notes:
The pale-golden hue and fine bubbles make our flagship Classic Cuvee Multi-Vintage the ideal occasion-ready drink – whether it's toasting a big birthday or simply finishing a busy week. Following extensive ageing in our cellar (usually more than three years), our Classic Cuvee Multi-Vintage has distinctive toasty and spicy aromas. A palate of honey, almond, pastry and baked apples gives it a hint of decadence. Intense yet delicate, elegant yet complex – it's no wonder it's consistently crowned one of the best English sparkling wines.
Argyle
Brut Rose 2017
Willamette Valley · United States
$50
Winemaker's Notes:
Blended between our two high elevation vineyards, 2017 Brut Rosé displays the delicate refinement of the Dundee Hills and the energetic structure of the Eola-Amity Hills. The Pinot Noir and Pinot Meunier core of the blend was destemmed and cold-soaked on its skins for 24-48 hours to extract pure fruit flavors and silky, elegant texture. Direct-press Chardonnay was blended in to bring focus and mineral tension. Bright, medium salmon-pink hue in color and perfume of rose petal, orange peel, and clove lead to an elegant, supple structure, and ginger-laced finish. 
Nyetimber
Rose
Sussex · United Kingdom
$70
Winemaker's Notes:
This beautiful sunset-pink Multi-Vintage rosé has us dreaming of long, sunny days. Offering a unique combination of aromas, including British summer fruits and shortbread. Its creamy, round texture and refreshing redcurrant, raspberry and cherry flavours give it an elegant and silky finish.
Meadowcroft
Blanc de Blancs
Napa Valley · United States
$34
Winemaker's Notes:
Complex layers of Honeycrisp apple and pear mix with toasted brioche and honeycomb. A creamy and velvety palate shows stone fruits such a s ripe nectarine with delicate floral notes finishing with bright acidity. This wine is a great match for a variety of food pairings from oysters, calamari, shellfish, and fresh green salads. Also a playful match for Asian dishes and salty, deep-fried foods. 
Avaline
Sparkling
Penedès · Spain
$34
See Also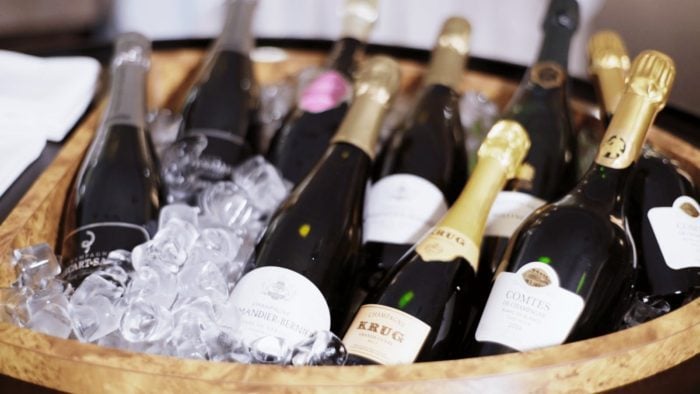 Winemaker's Notes:
Raventós i Blanc, located in Penedès, Spain, is one of the oldest wineries in the world and has been in the Raventos family since 1497. Pepe Raventós now carries on the longstanding tradition of producing beautiful sparkling wines from organically-farmed grapes. The family is committed to the natural and historic heritage of their estate, going to great lengths to promote biological diversity and improve sustainability.
Domaine de Broglie
Block H Pommard Clone Brut Rosé 2018
Dundee Hills · United States
$65
Winemaker's Notes:
The 2018 Brut Rosé has an expansive nose with dominant notes of tropical citrus, grapefruit, and lemon peel, coupled with a nice trace of nuttiness. Bright flavors on the palate include classic "Brut" notes, pomegranate, grapefruit, and a trace of red fruit and strawberry. There is a wonderful tension between sparkling mouthfeel and acidity, with nut and bread on the finish.
Raptor Ridge
2015 Sparkling Brut Rosé
Chehalem Mountains · United States
$50
Winemaker's Notes:
Since 1996, when we planted Harbinger Vineyard high in the Chehalem Mountains, we've watched the site struggle to produce a lean expression of Pinot noir in all but the warmest vintages. With over 2400 vines per acre, this single-guyot trellised site is densely planted by Oregon Standards. The top of the vineyard is about 800 feet above sea level, providing cool nights and slow ripening of the 100% Pinot noir plantings. In the particularly cool vintage of 2011, a switch went on in Scott's brain…sparkle it! Henceforth, our approach to this 21-year old vineyard has been to focus on classic Méthode Champenoise.  In 2015 we decided to increase the production by adding some of our Tuscowallame Estate Pinot Noir, which comes from our highest block and contains a mixture of clones.  Both vineyards are farmed identically.   The base wine ferments and rests en tirage for about 3 years, before disgorgement and dosage to complete the wine for final bottling.
Domaine Carneros
Brut Rosé (Cuvée de la Pompadour)
Los Carneros · United States
$40
Winemaker's Notes:
The wine's aroma, delivered on a delicate mousse, hints at wild strawberry, raspberry, peach, apricot, honeysuckle and exotic spices. Despite what its color may suggest, it is a true Brut – completely dry. And while Domaine Carneros Brut Rosé is enjoyable at a young age, it will also gain wonderful complexity with
Willamette Valley Vineyards
2018 Appellation Cuvée Pinot Noir
Willamette Valley · United States
$55
Winemaker's Notes:
On the Nose: Earthy red clay, cherries, rhubarb and violets.
On the Palate: Juicy and packed with red fruit and baking spices; Full-bodied and expansive, with fine-grained tannins and balancing acidity.
Food Pairings: Enjoy grilled meat dishes such as smothered filet mignon, smoked duck breast, savory braised pork roasts, caramelized onion tarts and white cheddar cheese.
Longboard Vineyards
Brut Rosé
Russian River Valley · United States
$50
Winemaker's Notes:
A Brut Rose Sparkler that is dry and complex, made in the traditional methode Champenoise method, except the base wines (all Pinot Noir and Chardonnay from the Russian River Valley) were barrel-fermented in neutral oak barrels to soften the wine and add complexity.
Goldeneye
Brut Rose 2017
Anderson Valley · United States
$65
Winemaker's Notes:
This dazzling sparkling wine begins with layered aromas of orange marmalade and freshly baked biscuits, as well as notes of summer strawberry and cherry. On the palate, an elegant balance between the wine's rich, supple texture and racy acidity provides a lovely framework for the vibrant citrus and berry flavors, with hints of brioche, baking spices and lemon zest lingering on the graceful finish.
Stoller Family Estate
Larue's Brut Rosé 2017
Dundee Hills · United States
$65
Winemaker's Notes:
Our Brut Rosé is comprised of 84% Pinot Noir and 16% Chardonnay from higher elevation sections of our estate. A vibrant rose gold color, aromatics of ripe white cherry, marzipan, and subtle hints of brioche jump out of the glass. The palate is mouthwatering with fine bubbles and an energetic tension that carries through an elongated finish. 
Breathless
Blanc de Blancs N.V.
North Coast · United States
$36
Winemaker's Notes:
Bubbles bring forth aromas and roundness before finishing with light tropical notes. 100% Chardonnay.
Domaine Carneros
Ultra Brut 2015
Los Carneros · United States
$45
Winemaker's Notes:
Ultra Brut is a rare style of Sparkling wine that relies on flawless balance. Our 2015 vintage is a serious, expressive wine with a focused freshness and exceptionally long finish. A mélange of toasted brioche, honeycomb and wild flower on the nose leads to a dry, brisk, beautifully balanced palate of roasted almond, golden apple and crisp pear. With a surprising, mouthwatering complexity, its bright, crisp fruit and dusty minerality ride on a serious structure, the persistent, palate-cleansing finish lingering on.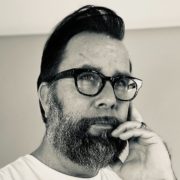 Kalle Bergman
Kalle Bergman is a food writer and media entrepreneur who is the founder of Honest Cooking and PAIR Magazine. As a food writer, his writing has been regularly featured in publications like Gourmet, Los Angeles Times, Huffington Post and Serious Eats. He is obsessed with simple food, more often than not from his native Scandinavia.