I've never been to Mexico, but in my 12+ years in New York, I have eaten quite a lot of Mexican cuisine. Also, I live in Corona, Queens, an area considered the epicenter to find authentic Latin American food, Mexican cuisine included. Think taquerias, restaurants, and carts serving tacos, empanadas, tostadas, breakfast burritos and more. However, despite my surmounting experience eating guacamole and fish tacos in NYC, I've never come across dishes inspired by the city of Leon, Guanajuato. I'd never heard of the town until I experienced Aldama located in South Williamsburg.
In Queens and most taquerias and restaurants across the country, the cuisine tends to pull from Oaxaca. Situated in the Southwest region of Mexico, the gastronomic city is infamous for its tamales, tacos, and seven varieties of mole. However, Mexico is filled with other colorful gastronomic towns like Leon Guanajuato. With influences from Spain, Aztec, and Lebanon cultures, Leon, Guanajuato's is built around the land's food. Its food culture encompasses "corn and plentiful interpretations, think tlacoyos, tamales, tacos, quesadillas, and street food." It is also the hometown of Chef Gerardo Alcaraz, the co-owner of Aldama and Christopher Reyes. Chef Alcaraz previously worked at three-Michelin-starred Martín Berasategui whereas, Christopher Reyes is a first-time restaurateur and vet bartender who previously worked at Cosme, the Nomad, and Ponyboy.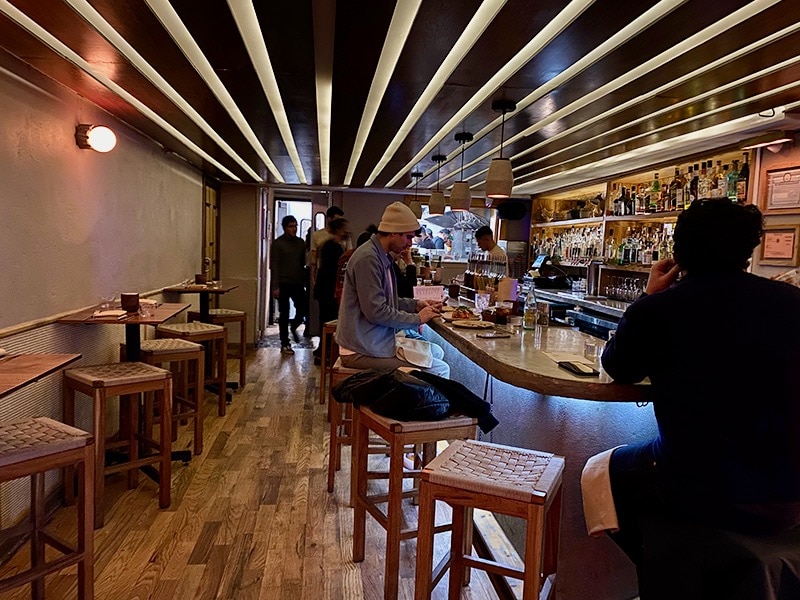 From looking at pictures via Google, Leon, Guanajuato appears to be colorful, has cobbled streets and winding back alleys like Italy's coastal town of Cinque Terre. The houses are set on the cobble streets splashed with bright colors. Small cafés, restaurants, and other shops are dispersed throughout the town and settle into small nooks–quintessential hidden gems. Like the small spots in Leon, Aldama gives a similar quaint, unique vibe. The restaurant is tucked away on S 6th Street between Berry Street and Bedford Ave. I wholeheartedly believe the restaurant is purposefully hidden because it offers diners a feeling of "this is my secret spot." Combining his childhood experience with those in Michelin-starred kitchens, Chef Gerardo Alcaraz offers something that seamlessly borders authentic Mexican yet new at Aldama.  
To share an experience of a restaurant, I think it's also essential to observe the people––those who work and dine at Aldama. For starters, the employees appear international, friendly, and beyond passionate about the cuisine. When presenting each dish at my table, the waiters spoke volumes of each dish in a beautiful accent. "I love the guacamole; here are extra chips for the table; the Daikon Tostada is a different take on the traditional Tostado but equally delicious; the Vegan Mole is a favorite." While all these dishes were fantastic( particularly the vegan mole, I'll get to them in a second), I'm convinced the waiter's accent made the dish sound even more enticing.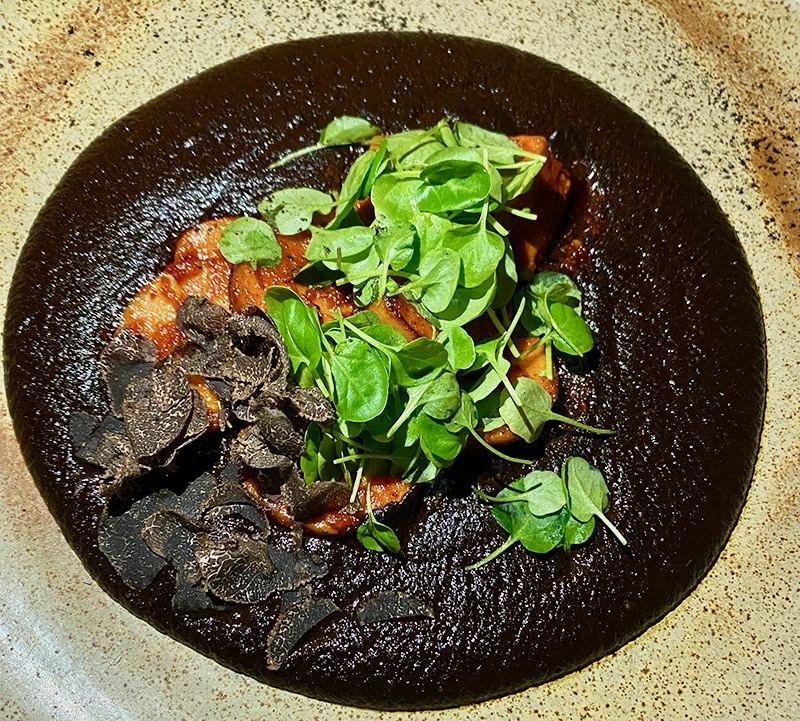 The people dining at Aldama differed as expected when you're a resident of Brooklyn and New York in general. The Big Apple constitutes all walks of people streaming from different parts of the world. The people also convey a unique sense of style and personality. Upon entering the restaurant, I saw someone wearing beanie hat and converse enjoying what I presume were tequila-based cocktails. He seemed to be a local, a cool kid who know what's trending like Aldama. However, hidden behind curtains, a small group of friends dressed in leather jackets and flared pants towards the back of the restaurant laughed over a bowl of guacamole. My table mixed some natives from New Jersey, Queens, and South Carolina.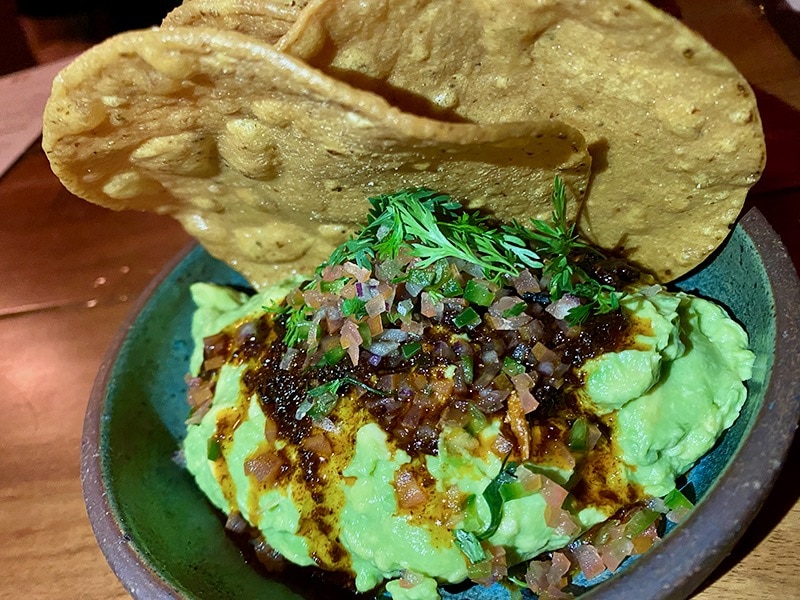 As for the food, my table started with a round of specialty cocktails, chips, and guacamole–of course. If you're at a Mexican restaurant, it would be a sin not to order guacamole and chips, for starters. Sometimes the simplest dishes like guacamole can be the hardest to nail. I found Aldama's was on point; I enjoyed the creamier texture than chunkier ones. I also loved how it included the salsa macha; this added nice touch of flavor to the creamy Mexican staple. I do not enjoy guacamole with salt and black pepper, I prefer a little boost of flavor, and the touch of salsa worked. As for my cocktail of choice, I chose La Trinidad, a gin-based cocktail mixed with citrusy flavors. My drink ran empty towards the end of dinner, and I also tried the Tiki-Taka. The complete cocktails menu has nine items, with drinks priced at $14 each. Between both drinks that I tried, I'd say La Trinidad was definitely on the sweeter side than the rum-based Tiki Taka.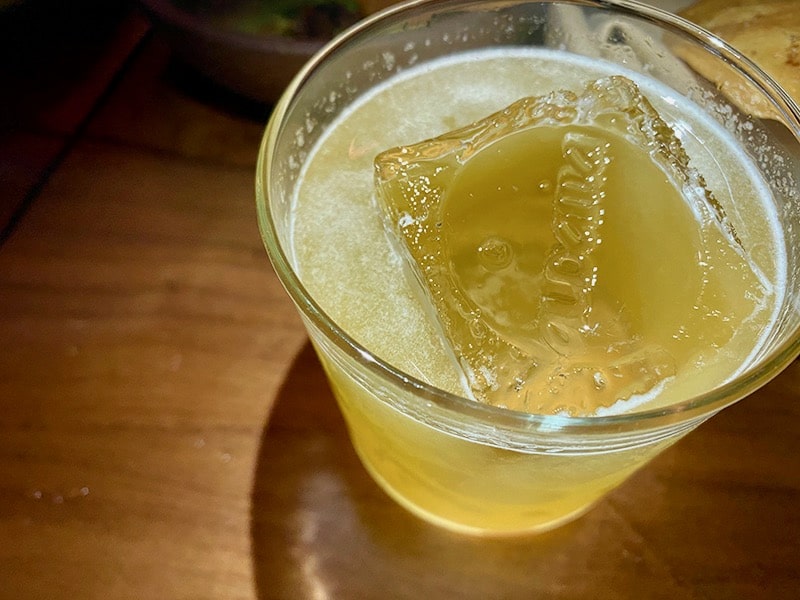 After the guac, I tried the Daikon Tostada. This dish was light, bright, tangy taste. I can anticipate vegans and vegetarians gravitating more towards this dish. Ironically the plate is based on a popular street food called tostada de pata, or pigs' feet. However, Chef mentioned he felt it was important to stay true to inspirations from the region and interpret them in a manner that spoke to the people of New York. In other words, some dishes are vegetarian and vegan to appeal to more diets that make up the city.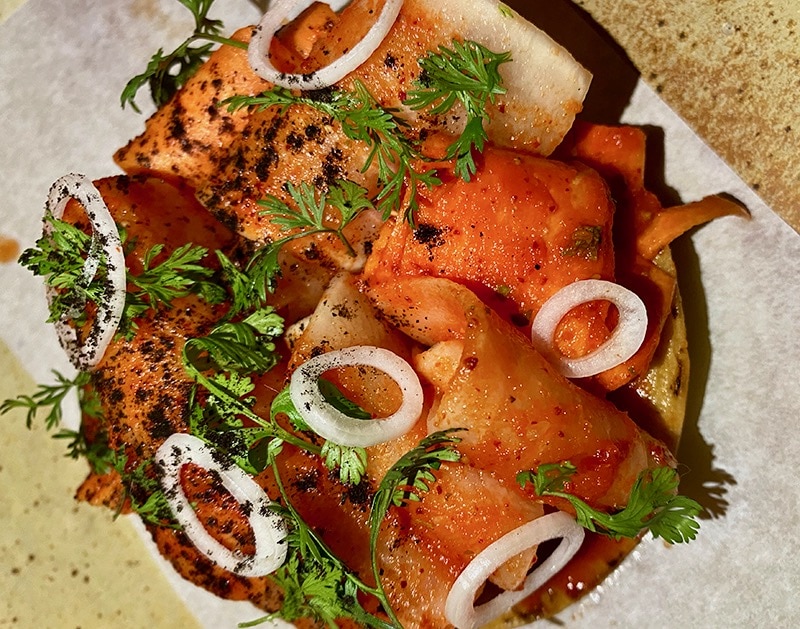 Other great dishes included the Sope De Costilla, an open-faced corn dough layered with refried frijoles charros and short rib. I also tried the Pulpo Zarandeado, a substantial portion of smoky grilled octopus, and the colossal buttery shrimp. While others on the table tackled the shrimp with their fork, I went all-in with my cleansed hands to devour the bottom feeder. I got hits of garlicky butter seeping from the shrimp with every bite.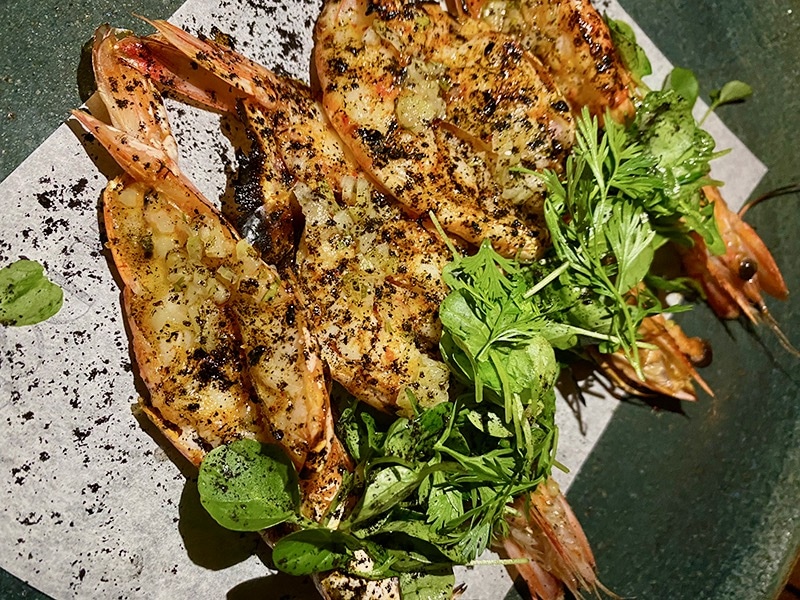 As for the showstoppers of the night, I highly recommend trying the complex vegan mole and the Buñelo with mousse de cajeta, the dessert. Unlike traditional mole, Aldama makes their version vegan. The flavor-packed dish comes with ajillo mushrooms, black truffles, quelites, chinos, and a serving of light corn tortillas. It's the perfect dish for sharing as each person can take a tortilla to scoop the luscious black puddle topped with chile mushrooms and intense truffles. On the other hand, think of the dessert as an air-fried funnel cake doused in a luscious whipped sweet cream. Chef Alcaraz says the dessert is inspired by one he ate on Sunday afternoons with his family in his hometown of León Guanajuato. "We'd often go out to dinner on the bustling street of San Juan de Dios. At Aldama, we decided to add the cajeta mousse, since this is an ingredient that's commonly found in Guanajuato."  I'd say if you order the mole and dessert, you will have nothing but sweet dreams for many nights to come.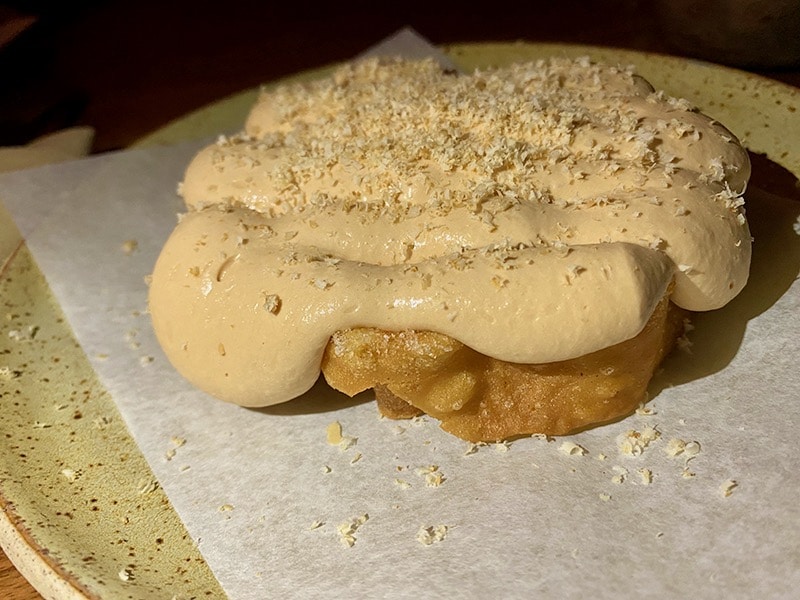 91 S, 6th Street Brooklyn, NY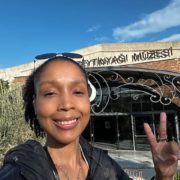 Alyssa Holder
Alyssa Holder is a writer specializing in food and travel topics since 2015.