I consider myself well read, well traveled, culturally fit. Yet for the life of me, I could not locate Armenia on a map, or understand why 1.5 million Armenians were killed by The Turks in 1915. Wasn't it buried under the ocean years ago? Is the country in The Middle East or Asia? I decided to venture East to Glendale, to Raffi's Place, to get answers to these questions, and consume mountains of brightly colored rice and kabobs simultaneously.
Glendale is a city that time forgot. Perched at the base of the San Gabriel mountains, it lives on hot Summer days in a deep mist of smog and heat. The parking meters on Glendale Blvd still eat only coins for their daily nourishment.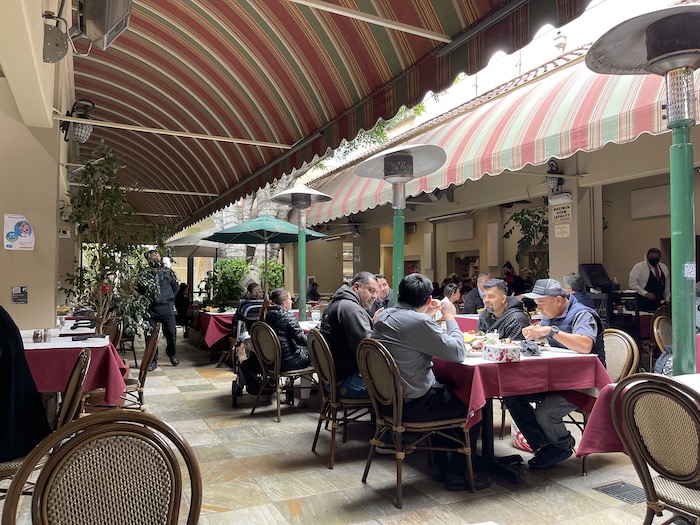 Raffi's is a Glendale institution, serving the cultural melting pot for over 28 years. Don't let the modern marble façade fool the uninitiated. Inside, a Syrian style courtyard of brick, fountains, feels biblical. An attentive young wait-staff circulates under striped awnings.
Armenia lies squeezed between Iran and The Middle East, and the bulk of Russia/Georgia to the North. The food skews towards sister Persia. The Clientele swathed in dark suits, negotiating the formidable menu and their own transactions. Fried eggplant levitated above creamed eggplant. Hungrily, I rolled both in hot pita; A perfect blend of crispy/ creamy, in a blanket of leavened bliss.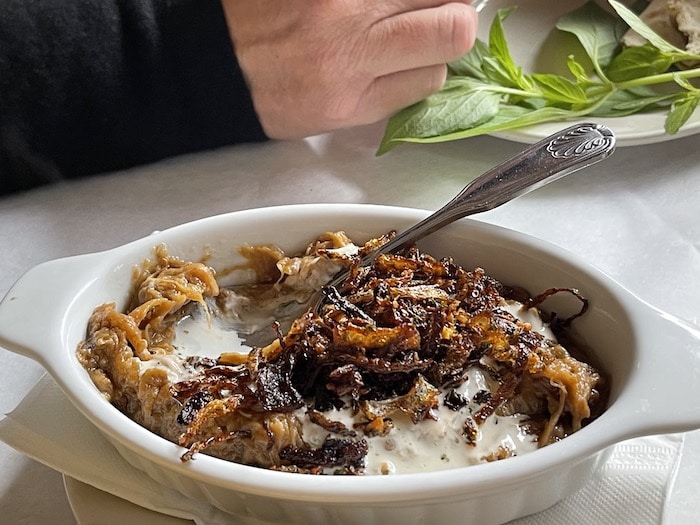 Great Hummus is as unattainable as the Grail Quest. Hummus is especially hard to do well, like a great pie- crust. The noble knight needs the secret ingredient of ice water whipped at high frequency over a long period of time.
Raffi's Hummus was ok- a bit clumpy; lacking the silky tahini ness of its Israeli cousins. The accompanying plate of mint, onion and radish, was too heartburn inducing for my palate -A blast of dragon fire too harsh to tame.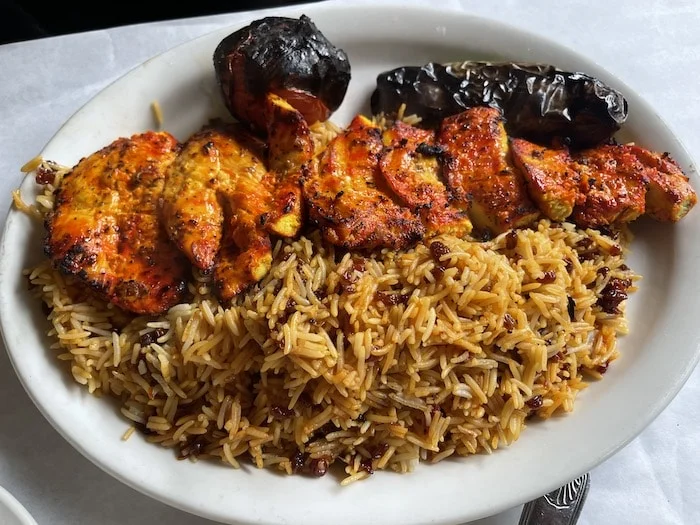 The main courses, were show-stopping. First, filet mignon slivered Asada style on Alice in Wonderland colored sour cherry rice, pink tinted and bursting with plump cherries. In Persian eateries the famous Saffron rice is termed Abaloo Polo. The chicken Barg Kabob also was teetering on a vast bed of saffron colored rice (Zereshk Polo) with barberries, the tastier little brother of the sour cherries.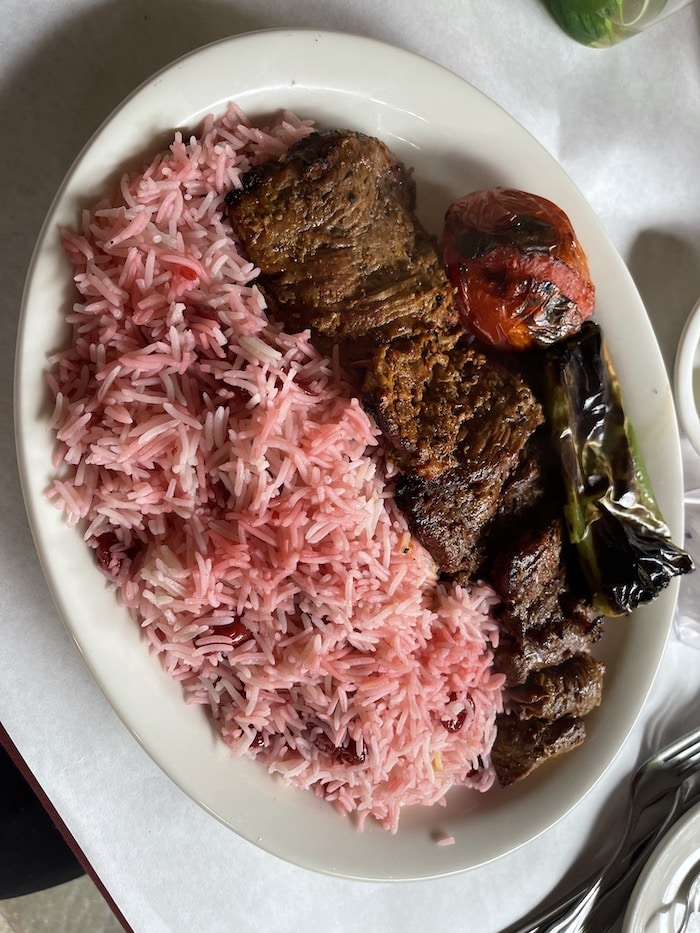 Very few humans can eat two full orders of Armenian/Persian rice. I sipped mint tea and wished I had a carpet to buy, or fly home on. With a fuller understanding of Armenia and appreciation for the allure of Raffi's Place, I shoveled the endless rice into two containers and then double wrapped them in plastic bags. Sacks bulging, I scurried off into the Glendale fog, feeling a bit of Bilbo Baggins in my bones.
Raffi's Place
211 E. Broadway, Glendale, CA, 91205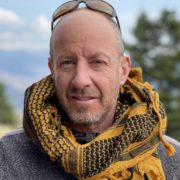 Dan Bercu
Dan Bercu travels to remote places in search of unusual food and adventure.