This wine quartet of gentlemen are the notable, sprouting buds of Napa Valley's wine country.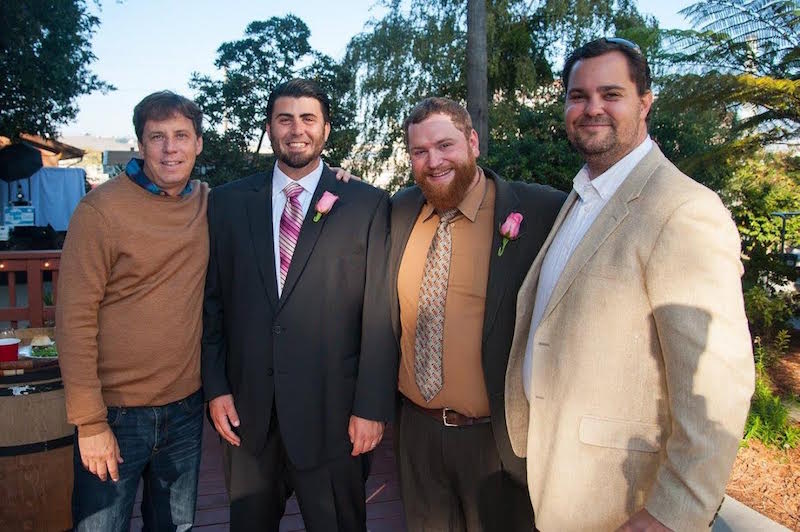 Left to right: Kevin Cadle, Nick Curry, John Lodge (Tasting Room Manager), Jason Holman, Brian Newberry (out of frame)
At Holman Cellars, niched in one of the premiere wine regions in the world, are five friends whose lives converged to form a collective and try their hand at winemaking. It's rare in such a place as Napa Valley to discover the sweet beginnings of a young microwinery, where each of these gents are consistently producing an impressive collection of small-batch wines alongside some of the oldest and dominating names in the industry. Read on to see how they got their start and the types of wines they make.
Uncharted Wines – Jason Holman
Jason Holman continues the young tradition of family winemaking having apprenticed with his esteemed winemaker and uncle, John Kongsgaard. The passion and intensity that his uncle exudes inspired Jason to delve further into wine. Since their first vintage together, Jason has brought back new winemaking techniques from South Africa, Burgundy, Bordeaux, Rhone, Languedoc, Priorat, Mosel and Champagne, and applies it at Holman Cellars. His brand, Uncharted, focuses on unique varietals, unconventional winemaking techniques, and innovative blends.
Notable: 2012 Red Blend
This blend is medium bodied is velvety, savory, with plum and tart notes.

Find the complete Uncharted collection here.
Primrose Wines – Nick Curry
Nick Curry was born in Montana, eventually moving to California, by way of Washington State, to grow up in in the sunset-cast shadow of Napa in Vacaville, CA.  He is an avid scuba diver from San Francisco. Nick has a great palette for wine and has his pulse timed with the wine market. He loves to immerse himself in the wine growing as much as the winemaking. His Primrose label is a dedication to his commitment to helping a friend reinvigorate his primitivo vineyard into an extremely high quality dryfarmed, organic vineyard.
Notable: Primitivo 2015
Medium bodied, juicy on the nose, ripe blackberries, dark cherry, jammy, with warm hints of nutmeg.
Find the here.
NEWBERRY Wines – Brian Newberry
Brian Newberry has always been fascinated by the natural order of biology.  Upon moving back to Napa and studying viticulture with Dr. Krebs at NVC, it became clear, the true star of the wine industry was the grapevine itself. An organic, repeatable process, made up of trillions of individual cellar compounds – a beautiful factory.  The illustration on our NEWBERRY label is by Napa artist/designer/flower-trucker Andrea Jalaty; an ink/watercolor interpretation of a grape stem cross-section viewed through a light micrograph.
Notable: 2014 Cabernet Franc
Energetic structure, framed by cranberry, olive tapenade, savory black tea, and ripe cherries. A stylish and elegant wine, aged in neutral oak, allows the varietal character and the volcanic terrain of the eastern Rutherford hillside to shine through. Bright acidity and smooth tannins on the finish.

Find the complete NEWBERRY collection here.
Cadle Family Wines – Kevin Cadle
Kevin Cadle is a former international school teacher, Kevin has lived in many different countries, but considers himself an East Bay Native. Kevin got his start in winemaking at a mid-sized pinot producer in Carneros. After his first harvest, Kevin moved to Ancien Wines to become their assistant winemaker. Intrigued by single varietal wines, Kevin's quest with Cadle Family Wine is to produce a small quantity of single vineyard, single varietal wines.
Notable: 2014 Chardonnay Musque
A creamy light golden hued wine with exquisite aromas of orange blossom, jasmine and fresh apricot. Lengthy finish lingers with vanilla and wet slate.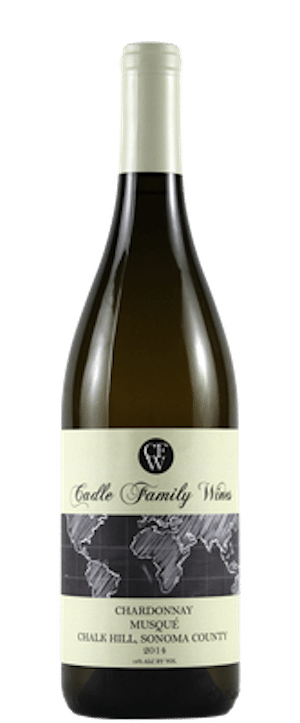 Find the complete Cadle Family Wine collection here.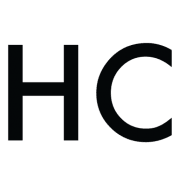 Reena Retuta
As a Culinary Adventurist, getting her hands into food before it gets onto the plate comes naturally to Reena. She spit-roasted her first whole pig at the age of eight, harvested hazelnuts in Italy, butchered a lamb at a ranch in Australia, spent a summer splitting open live lobsters at a traveling pop-up kitchen in Holland, and visits a small vineyard along the central California coast to make wine and olive oil each year. She's determined to find the elusive white truffle in her lifetime. A graduate from the University of Gastronomic Sciences in Italy, Reena holds a deep appreciation for cultural traditions in food, and her favorite simple pleasure is sharing a meal al fresco.