PARTNER POST: Get ready to serve a holiday crowd with cocktail recipes easily topped with sparkling Lunetta Prosecco.
Tart, citrus-y and effervescent, this pomegranate orange Prosecco cocktail is the perfect holiday sipper for all your gatherings.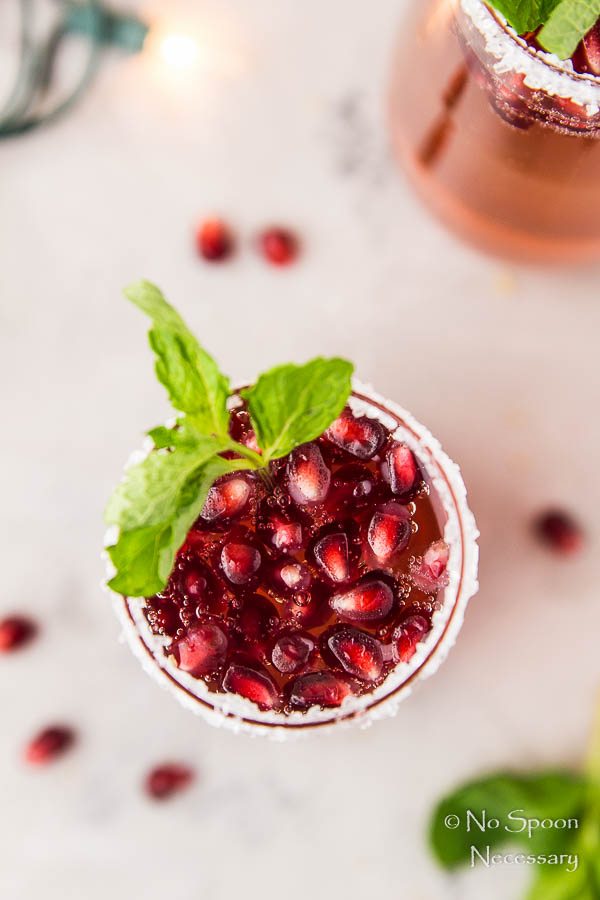 I have a festively fun cocktail to put a little holiday cheer in your step (and mine)!
Because, Tis the season to be jolly… and that is a heck of a lot easier to do with a cocktail in hand.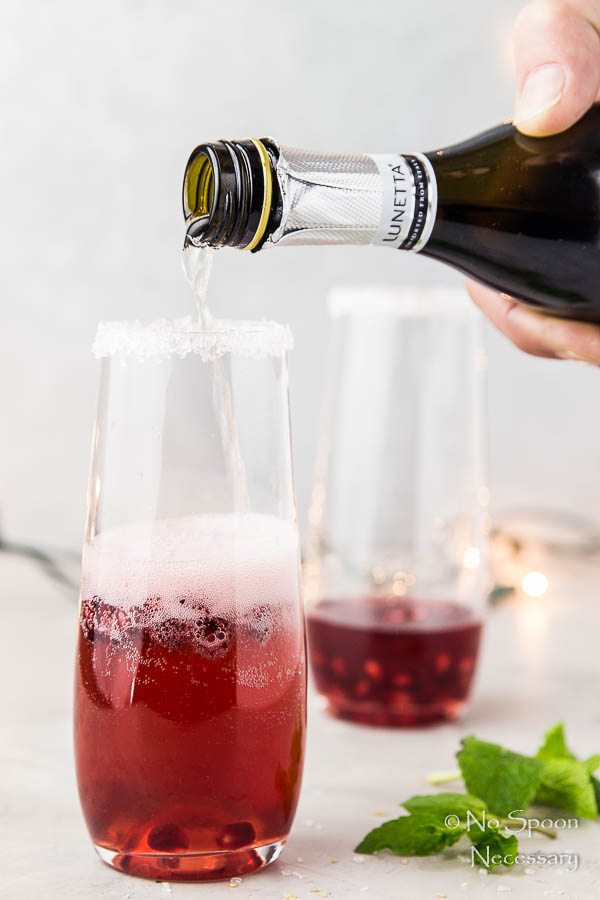 In my humble opinion the holidays just aren't THE HOLIDAYS without some serious sparkle. Tinsel covered trees, twinkly lights, decorative sugar covered desserts, glittery mistletoe, and metallic sequined party dresses… you get the picture.
But the sparkle should NOT stop there.
I mean, holidays = ALL the sparkle humanly possible.
Basically, it should look like Tinker Bell and her pixie dust threw your party and brought it back to the dazzling disco ball era. Think studio 54, glitz and glamour.
So, obviously your holiday cocktails also NEED to shine!! I've paired up with Lunetta Prosecco to bring you a cocktail that is light, fun, elegant and worthy of ALL your holiday celebrations.
But, before we get to the cocktail, let me give you a little 4-1-1 on Lunetta Prosecco. Lunetta is part of the Cavit Collection and their Prosecco makes the absolute BEST champagne alternative. With aromas of apple and peach, their sparkling wine is perfect for pouring and sipping.
But, since this IS the holidays, we are going to take that Lunetta Prosecco and jazz things up a bit…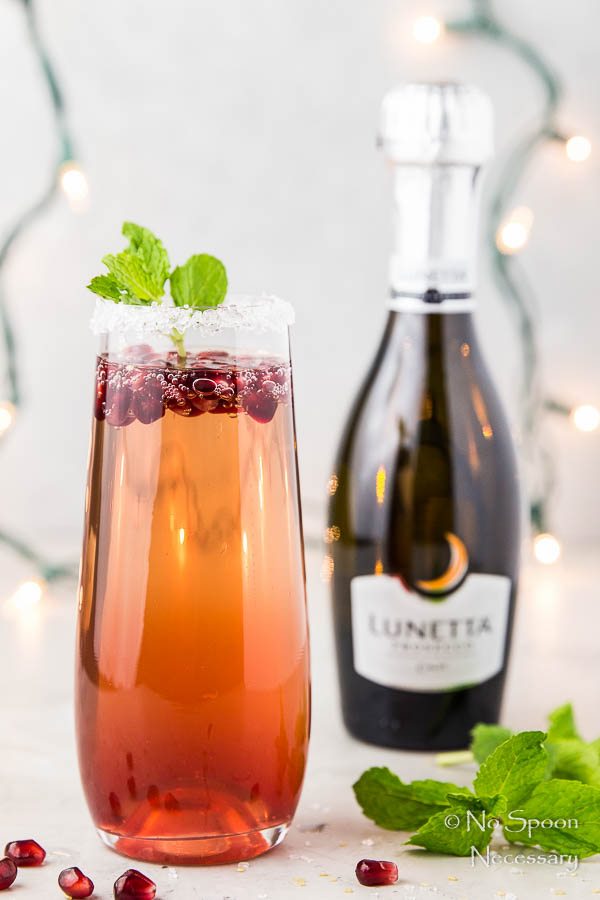 This cocktail is what I will be cheering with all holiday season… and probably well into the New Year.
This libation is tart from the pomegranate, citrusy from the blood orange liqueur and the Lunetta Prosecco adds a refreshing, effervescent crispness.
This sparkly sipper is garnished with fresh mint, pops of jeweled pomegranate arils and served with a glitzy, glittery sugared rim.
Festive, fizzy and fun, this holiday cocktail is sass in a glass.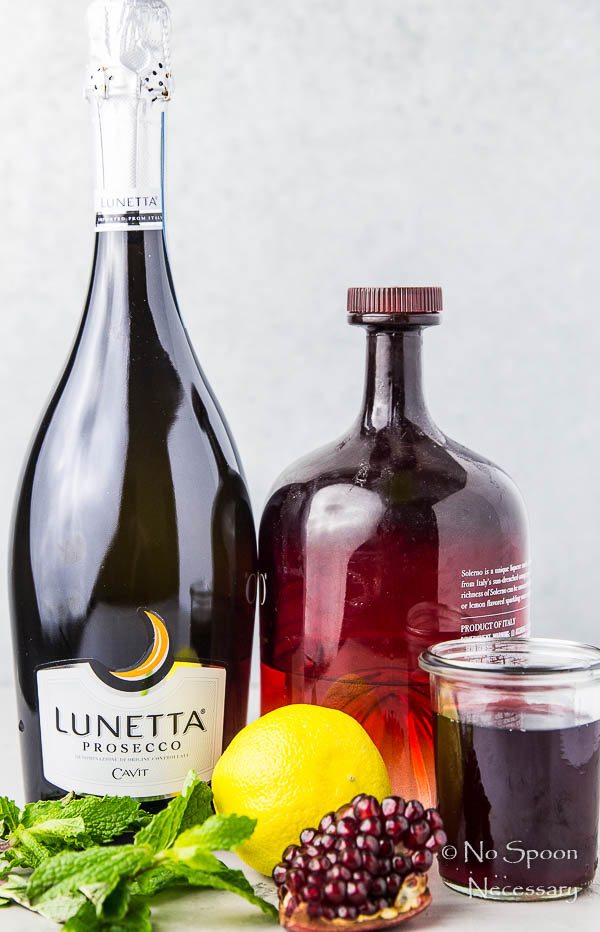 Tips
Do NOT skip the garnishes. Normally I say garnishes are completely optional, but since this IS the holidays, I firmly believe you should just go all out. The sweet, sugary rim perfectly balances the tartness of the cocktail, while the pomegranate arils add a touch of pizazz and the mint adds a nice freshness (along with some festive green color).
Instead of making this as individual cocktails, you could serve this out of a pitcher or as a party punch. To do so, simply add the liqueur, pomegranate juice, pomegranate arils and a few mint leaves to a pitcher or bowl and place it in the refrigerator. Line the rims of a few glasses with the sugar and set aside. When ready to serve add the prosecco and let your guest help themselves.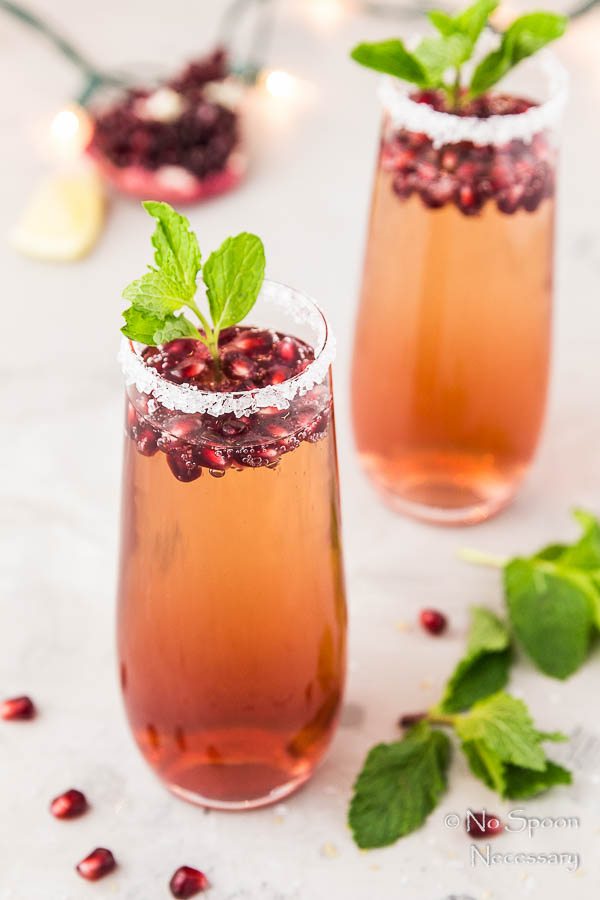 For another easy holiday cocktail, try this Prosecco Spiced Cocktail. Recipe here.
Pomegranate Orange Prosecco Cocktail
Tart, citrus-y and effervescent, this pomegranate orange Prosecco cocktail is the perfect holiday sipper for all your gatherings.
Author:
Cheyanne Holzworth
Recipe Type:
Drinks, Cocktail
Ingredients
1 ½ TBS Blood Orange Liqueur
2 TBS Pomegranate Juice
1 tsp Pomegranate Arils
Lunetta Prosecco
Mint Sprigs for garnish, optional
1 Lemon Wedge
Granulated Sugar
Instructions
Use the lemon wedge to moisten the rim of a champagne flute. Place sugar on a small plate and dip/roll the rim into the sugar.
Add the liqueur, pomegranate juice and arils to the champagne flute. Top with prosecco and garnish with mint.