The premise for the Wild degustation dinner at Bistro Dom in Adelaide was simple: they would hunt, forage, and make as much of the food and wine served as possible.
By Christina Soong-Kroeger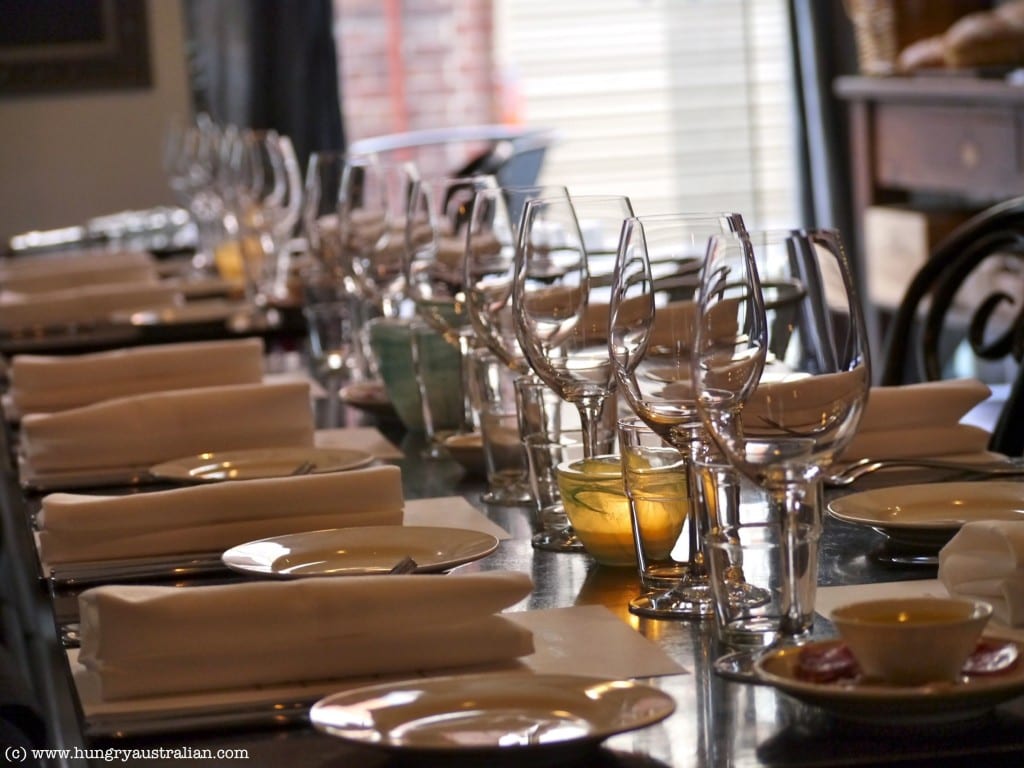 Designed to showcase the skill of the Chef and the kitchen, the degustation menu is as much about showmanship and spectacle as it is about the creativity of the Chef and the quality of the food. It's a chance for the Chef to take a few risks, knowing his diners want to be inspired and will (usually) go happily out onto the edge with him; part of the fun of a degustation is eating food you wouldn't normally eat, and of being challenged in your perception of how certain dishes should look, feel and taste.
Each course of a degustation menu is designed to fit with harmony into an overall experience centred around a particular theme, whether it be produce, region, cuisine or wine. At it's simplest, a degustation is a chance, for a brief moment in our busy lives, to really focus on the food and wine.
I thought about this a while ago when I attended Bistro Dom's Wild Degustation dinner, which saw Duncan Welgemoed from Bistro Dom teaming up with Quang Nguyen from Devour Dessert Bar and Sam Hughes, Anton Von Klopper, James Erskine and Tom Shobbrook from Natural Selection Theory.
The premise for the $110 Wild degustation dinner was simple: they would hunt, forage, and make as much of the food and wine served as possible. It was taking the paddock to plate movement one step further.
Any reservations that this would be a stiff and formal affair were dispelled from the start, when we were welcomed with an olive oil 'blessing', a 'communion' wafer and a theatrically poured glass of wine (one winemaker poured it from on high while another tried to catch it in a wine glass with varying success).
I sat at my designated table and was soon joined by a lovely couple in the food business and their son celebrating his university graduation, and two French friends, who'd travelled separately to Adelaide, and liked it so much they'd both decided to make it their home. We hadn't met before but that didn't matter. Everyone was in an expansive mood and we were soon chatting away happily.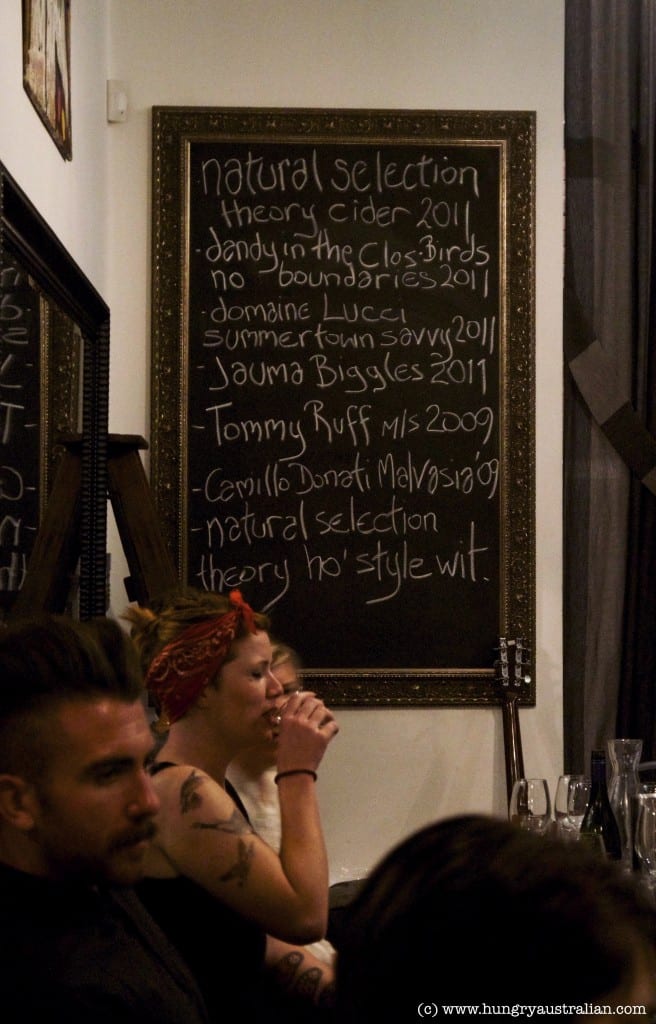 The Natural Selection Theory wines, ciders and beers served throughout the dinner are listed above. In between courses the boys jumped up on tables and introduced the next wine, cider or beer, explaining in detail how they made it. In one pause between courses they also led the restaurant in an impromptu musical performance – we were encouraged to rub our wine glass rims to make them 'sing', bang twigs on the tables and holler and shout. It should have felt silly but it felt damn good.
I'm a food lover, not an oenophile, so I'll concentrate my comments on the food. I will say, however, that these boys are passionate wine makers dedicated to producing interesting wines as naturally as possible (natural wines are generally made from sustainable vineyards using natural yeasts and acids and tannins only from the grapes). So if you're into artisanal wines you should check them out.
The first course was a cider jelly with a caramel marshmallow by Quang. The sweetness of the marshmallow was a perfect accompaniment to the cider jelly, which was made from Adelaide Hills' apples and displayed floral overtones.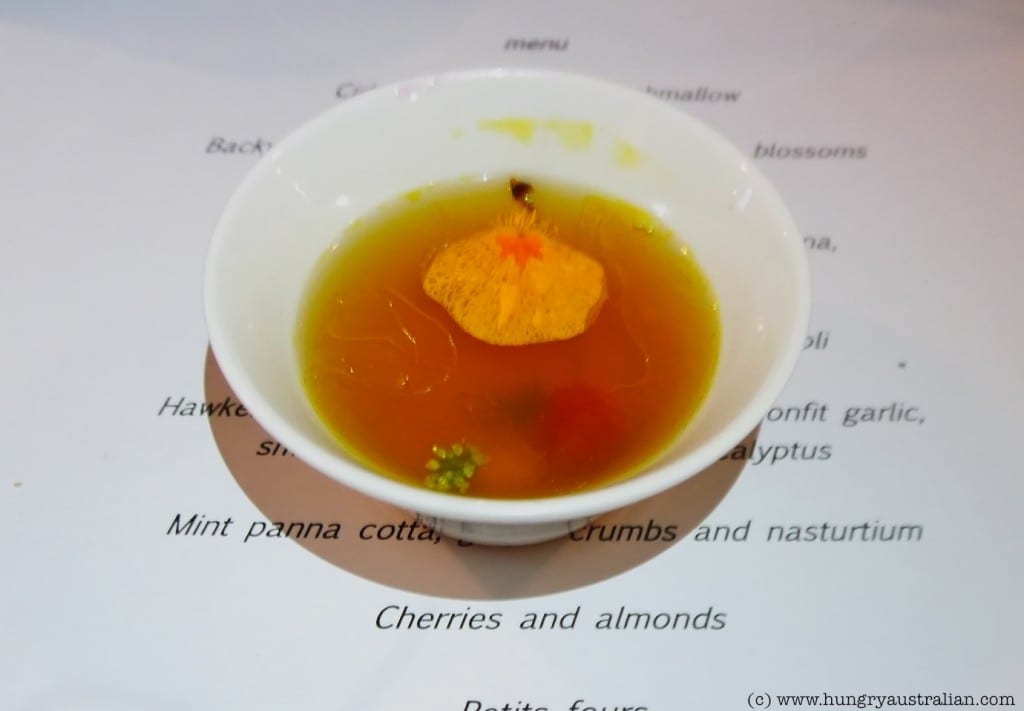 The next course was a backyard chicken soup with bantam egg yolks (both provided by a mate of Duncan's), blossoms (foraged in the Adelaide Hills) and cherry stalks (from a wild cherry tree in Ashton that they stumbled upon). All the salt used throughout the evening for seasoning was raked up in the Adelaide Hills by Anton and James. The soup was 'ho teem' as my Hong Kong born mother would say, meaning it had a lovely, sweet flavour.<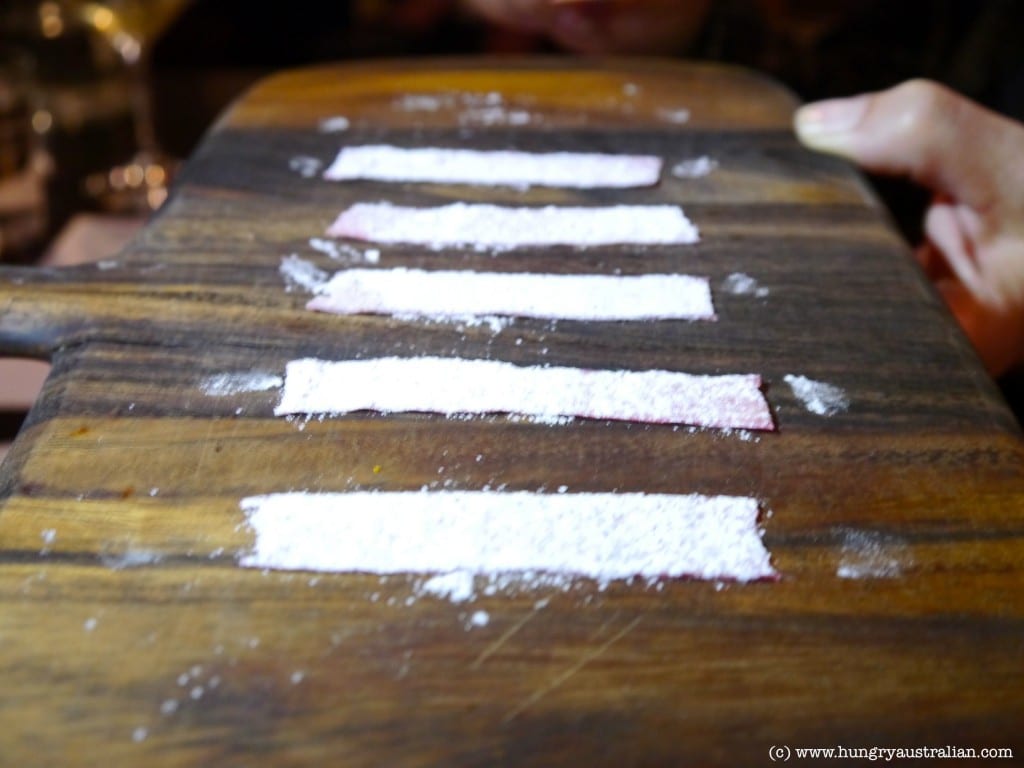 An amuse-bouche was next: rhubarb and basil, both picked from Anton's garden. Quang candied and dehydrated the rhubarb before dusting it with a sherbet made from basil. It felt grown up and whimsical all at once – a delightful and delicious morsel.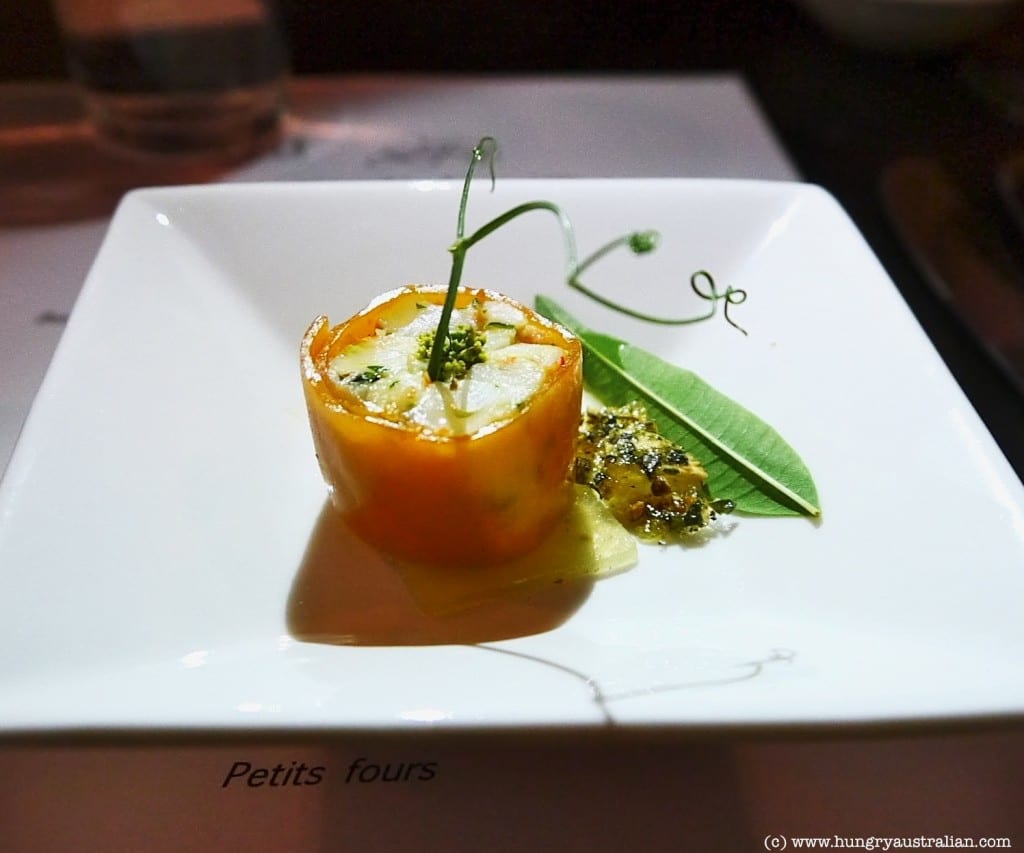 The next course was South Australian king prawns caught by James' brother in law with lemon verbena and crispy lardo. Dressed diced prawns sat on a square of lemon verbena jelly, enclosed in a wrapper made of reduced prawn bisque made solid and stretchy with gellan gum. The prawn flavour was rich and intense, and beautifully offset by the crispy pork and lemon.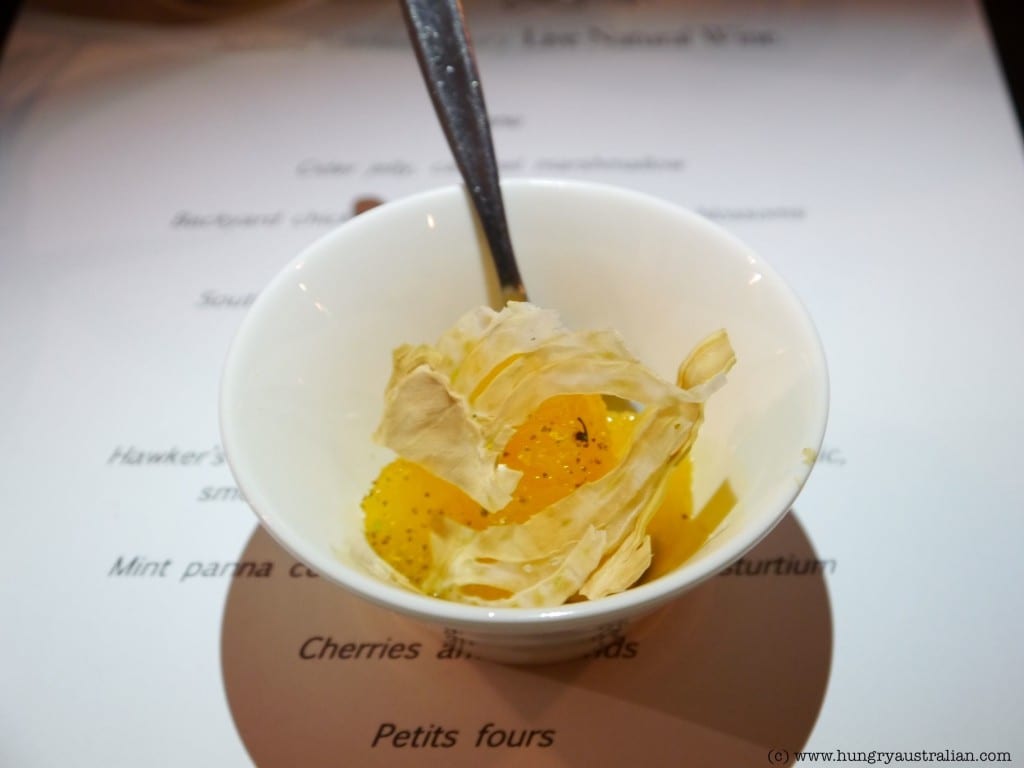 A delightful palate cleanser was next: oranges with fennel. The oranges were from Basket Range in the Adelaide Hills (the boys jumped over an electric fence to liberate these oranges from a 168 year old tree) and paired with candied and dehydrated fennel from Anton's garden.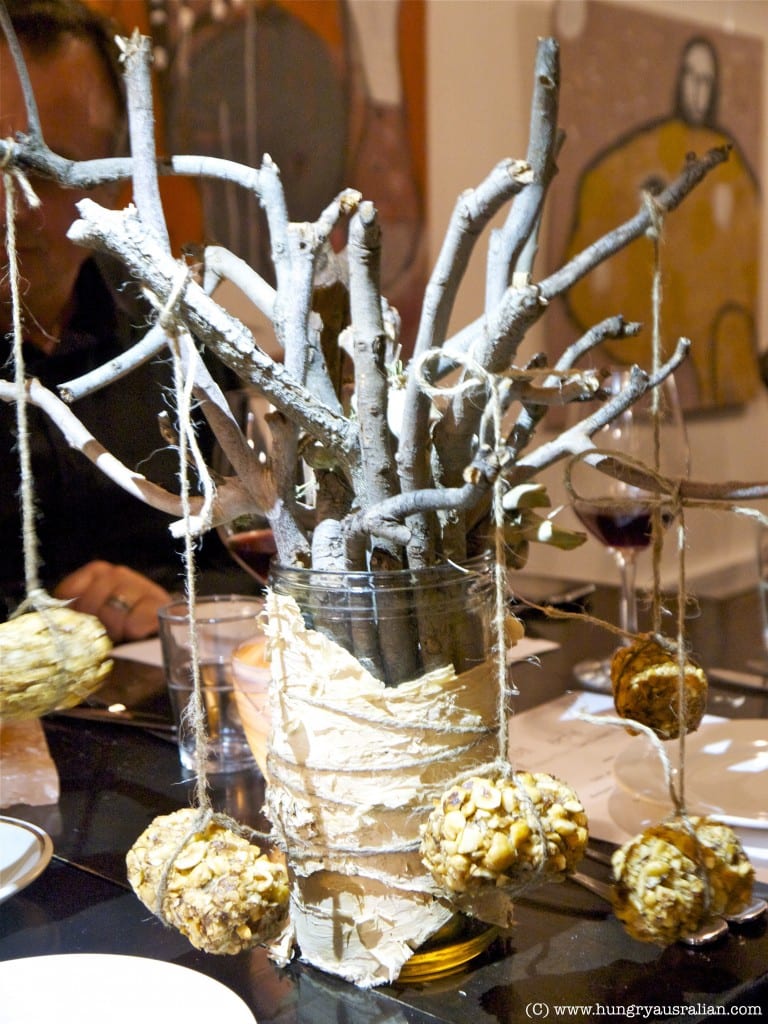 The next course was billed as 'Tree Rabbit, Lemon, Wild Artichoke Aioli' and prompted lots of 'oohs' and 'aahs' from delighted diners. Rabbit shot by Anton was braised, flavoured with lemon and rolled in hazelnuts before being oven-baked(?), trussed with twine and hung up a 'tree'. Texture wise, the rabbit was very moist and tender, almost resembling a salmon patty in its mousiness. It was accompanied by goats cheese and a very nice aioli made from wild artichokes.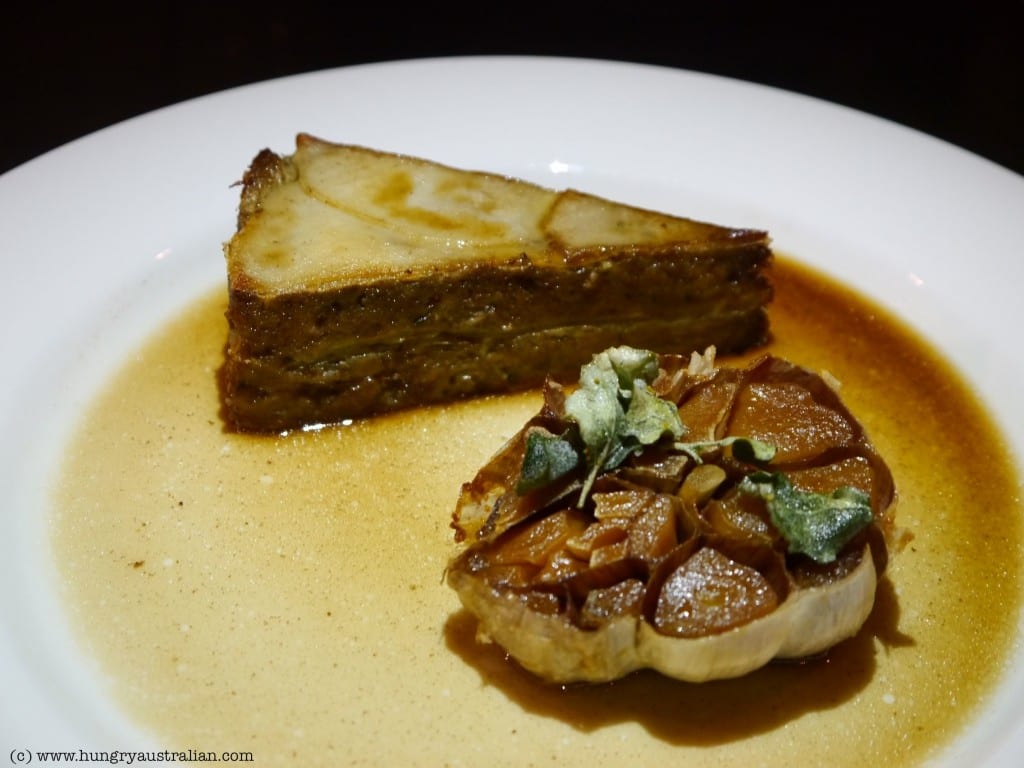 Up next was Hawkers Creek Farm lamb (owned by Duncan's wife's cousin) served two ways: Lamb Boulangere with Garlic Confit, and Smoked Lamb's Tongue and Eucalyptus. While a Potato Boulangere (baked thinly sliced potatoes in chicken stock) is one of the ultimate potato dishes, Duncan had gone a step further and incorporated braised lamb into the classic French dish. It was sensational – rich, aromatic and incredibly tasty. All around me people were chewing and nodding happily. The pungent garlic confit was also excellent.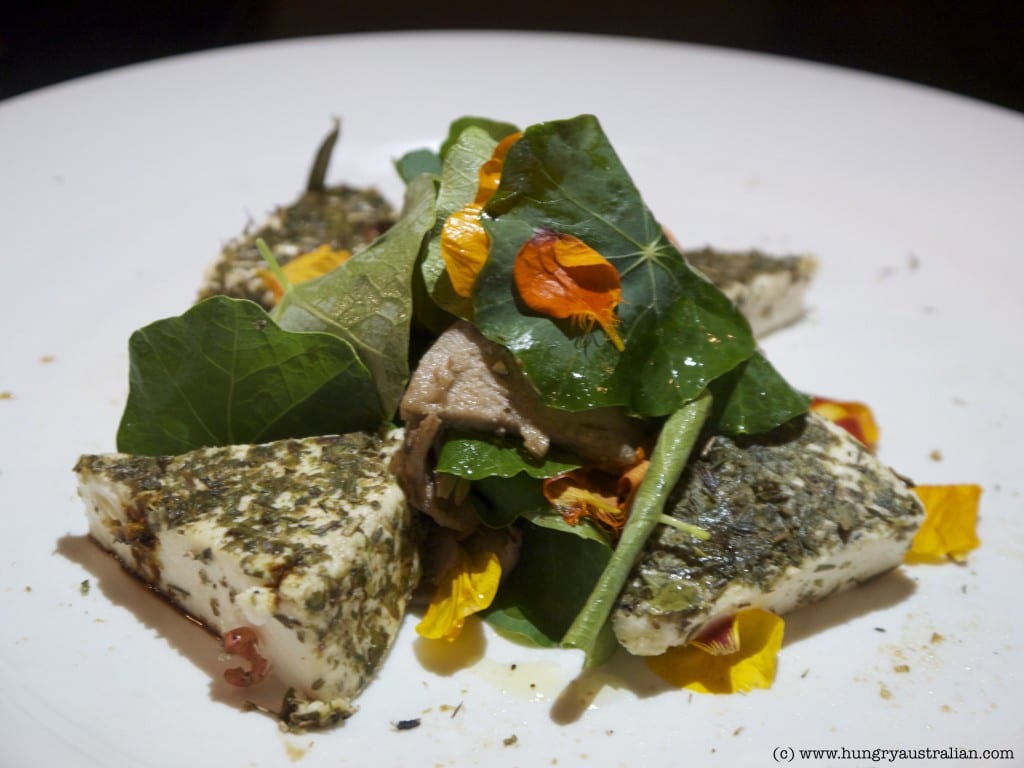 The second dish using lamb was an intriguing, elegant salad. The lambs' tongues had been braised and then cryovaced with lemon juice before being compressed for a few days. Served with fresh nasturtium leaves and flowers, and goat's cheese encrusted with fresh oregano made by one of Duncan's mates, it was presented under a glass dome lid filled with eucalyptus smoke that gave it a distinctly Australian aroma. I couldn't work out how they got the smoke under the glass dome until I googled it and came up with the sexy Polyscience Smoking Gun. I now want one of these for Christmas (along with a red Kitchen Aid, a Olympus macro lens, a Panasonic flash and a new camera bag please Santa).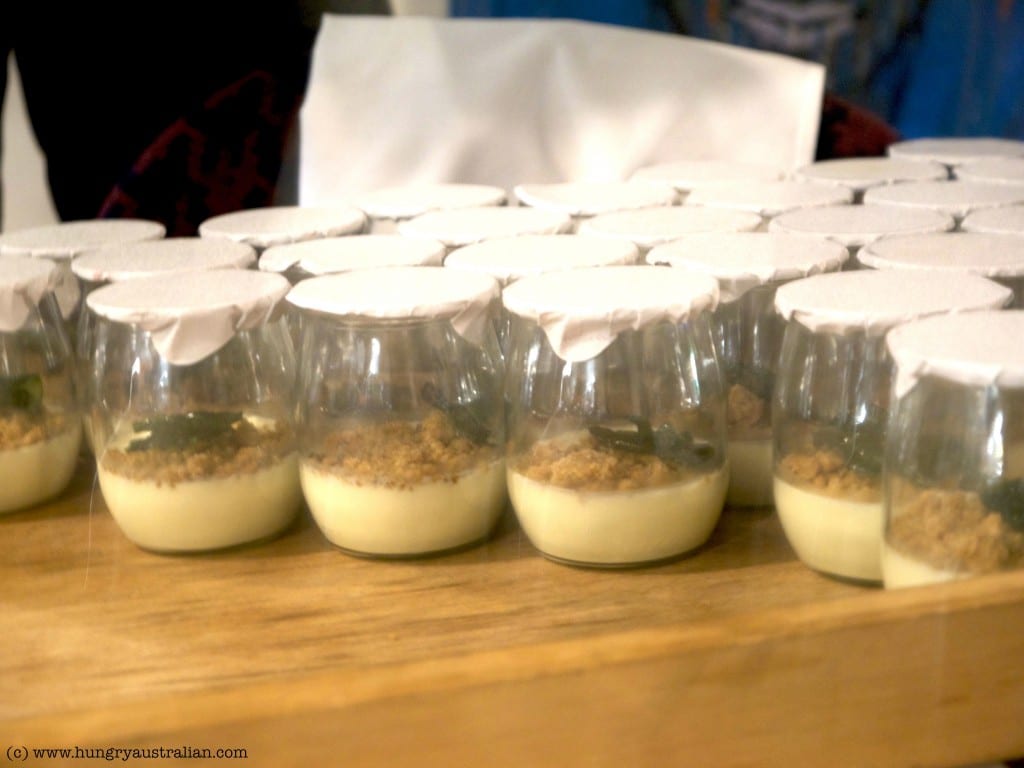 The next course, Mint Panna Cotta with Ginger Crumbs and Nasturtiums by Quang, was just gorgeous. As a girl I loved dunking gingerbread biscuits into a cold glass of milk and this dish seemed like a very elegant, adult version of that favourite childhood snack. The panna cotta was more liquidy than set, like runny yoghurt really, and infused with the beautiful, clean flavours of mint picked from Quang's garden. Quang's dad also helped out, providing the ginger for the gingerbread crumbs from his garden, while the nasturtiums were picked in the Adelaide Hills.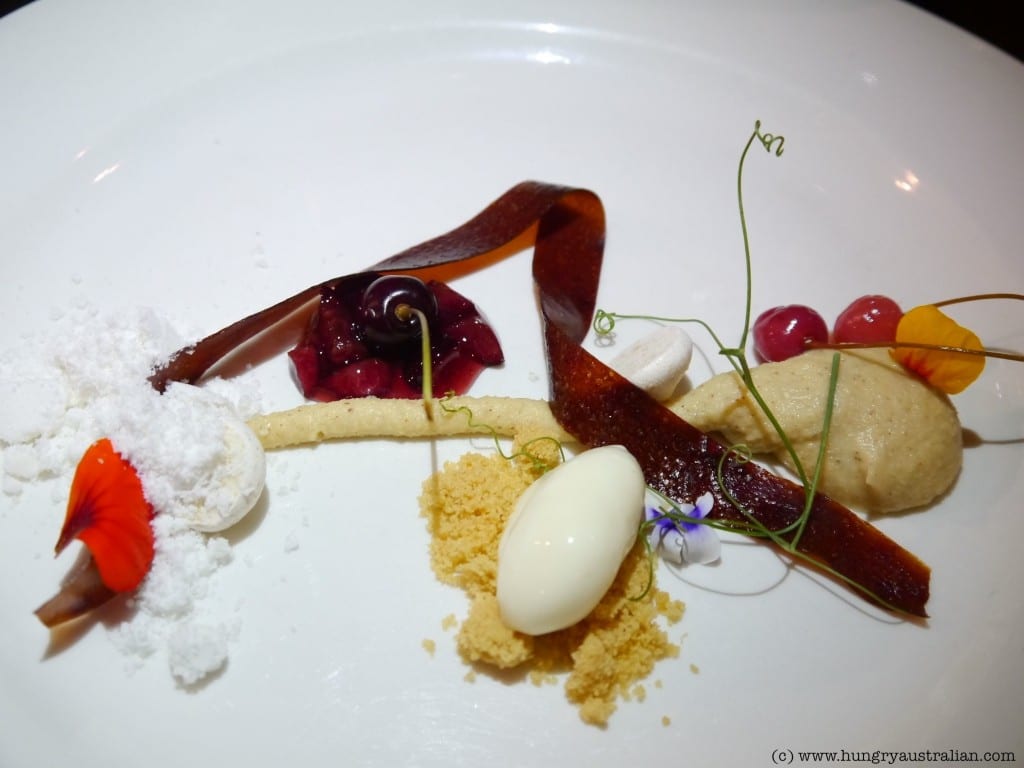 Cherry and Almonds, the next course by Quang, comprised a ribbon of cherry leather, picked and sous vide cherries, meringue, almond cream, almond snow, almond crumbs and yoghurt ice cream. The almond cream was stunning, with voluptuous, caramel overtones – Quang tells me he simply infused cream with toasted and blitzed almonds – while the almond snow was an intriguing concoction that felt like gritty dust in your mouth, before rapidly melting away into nothingness. The mildly tangy yoghurt ice cream and the various cherry concoctions provided tart relief against the sweetness and richness of the various almond offerings.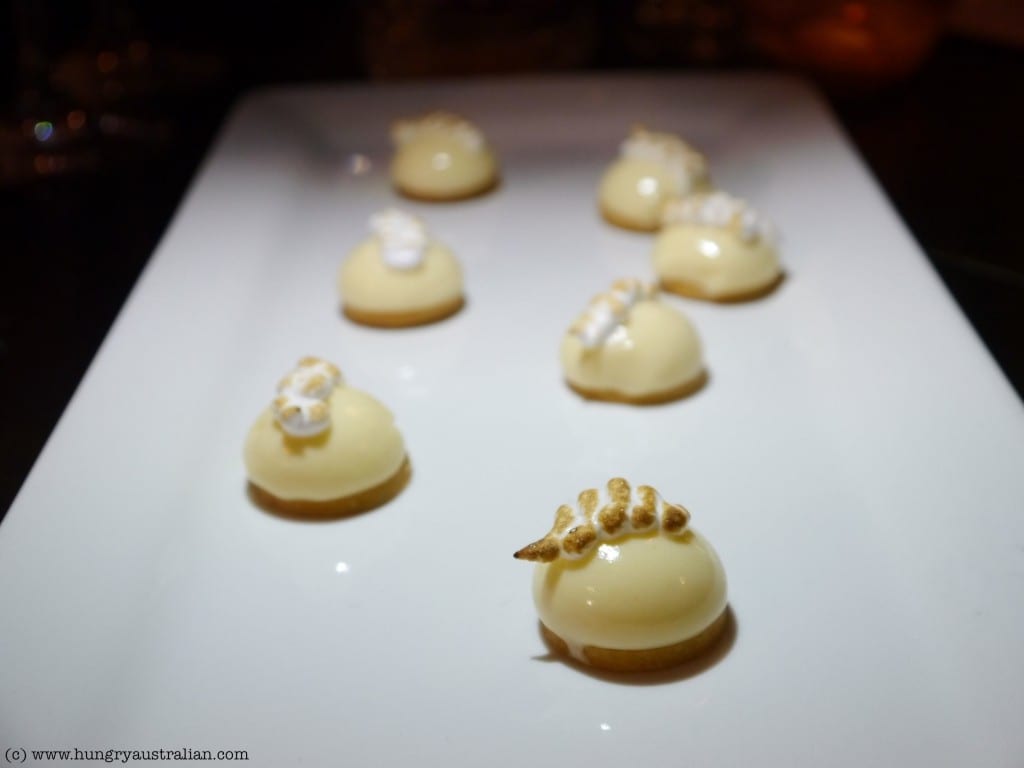 Lastly, lemon curd mousse was presented on a tiny biscuit crumb base and topped with the teensiest swirl of meringue, in a very Cheffy version of lemon meringue pie. I could have eaten the whole tray but had to be satisfied with just one.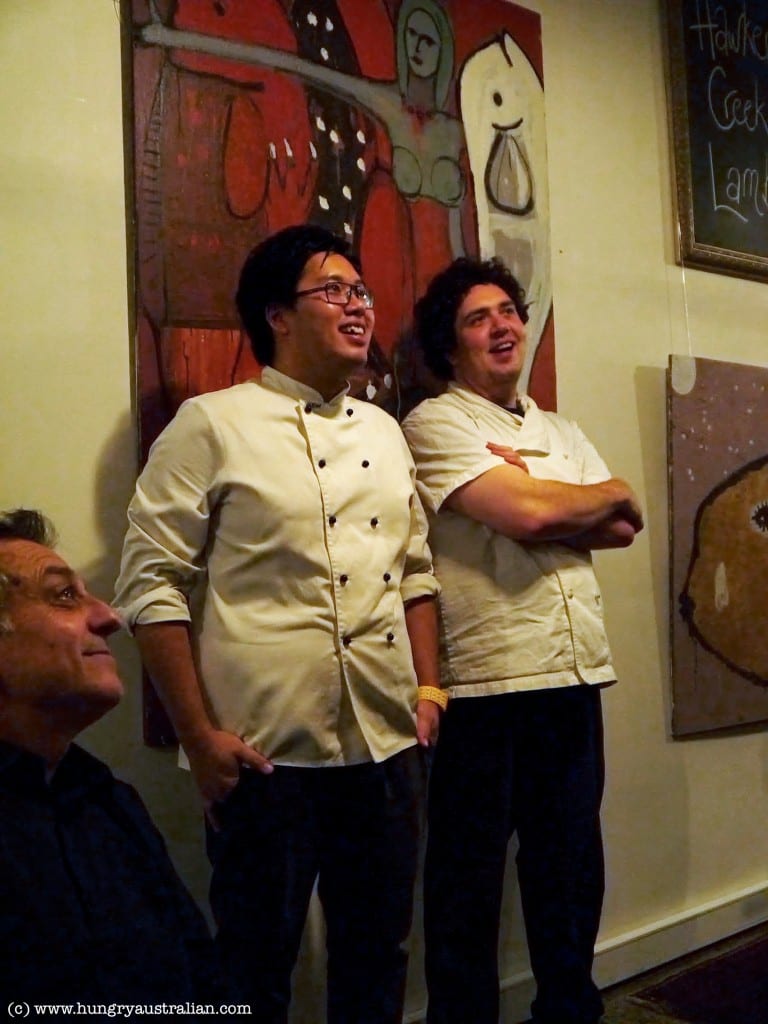 At the end of the dinner Duncan and Quang joined the Natural Selection Theory boys in the dining room. Their intermittent presence throughout the night has been a welcome reminder of the relationship between the kitchen and the dining room. In fact, the whole evening has felt almost like a family affair; it's been nothing like the rather serious Parisian restaurants I've dined in.
One by one, the diners depart. I leave, too, buoyed up by the knowledge that I have just been part of something extraordinary. A good meal leaves you feeing satisfied. A great meal, on the other hand, leaves you feeling simultaneously inspired, humble and grateful.
Duncan agrees. "It was like one of those informal lunches at a friend's house that gets a bit wild with people that you didn't know before but you all leave having shared this singular experience," he says. "In the beginning people were a bit reserved but they were soon unbuttoning their shirts, hollering, and banging on sticks, and by the end of the evening, people were exchanging numbers. It was just one of those beautiful experiences."
So what was Duncan hoping to achieve with the Wild degustation dinner?
"There's a world beyond Adelaide's city centre we wanted people to think about," he says. "There's a world beyond ordering from suppliers and safe food and safe wines. Wine dinners tend to be very formal, sit-down affairs. You're not challenging anyone – you're not making anyone think outside the box or taking them out of their comfort zone. We wanted ours to be different."
Similarly, Quang encourages people to be adventurous with food. "Be open minded and be willing to try something different," he says. "There's more to (dessert) than your sticky date pudding and your waffles."
With these boys at the helm, I'd be happy to sail into uncharted waters any night of the week.

Bistro Dom
24 Waymouth Street, Adelaide, South Australia 5000
Tel +618 (0) 8231 7000
Devour Dessert Bar
96 Prospect Road, Prospect, South Australia 5082
Mobile +61 (0)411 536 343
Natural Selection Theory
Mobile +61 (0)414 936 501
Email info@naturalselectiontheory.com
Christina Soong-Kroeger
Christina publishes The Hungry Australian - a collection of recipes, reviews and stories about food - and is a regular contributor to Sumptuous. Her writing has appeared in the China Daily and That's Shanghai while her photography regularly appears on Foodgawker, Tasteologie and Photograzing. After eating her way around Shanghai, London, Hong Kong, Leeds and Melbourne, she now calls Adelaide, South Australia, home again.