White Chocolate, Lemon and Orange Blossom Hotcakes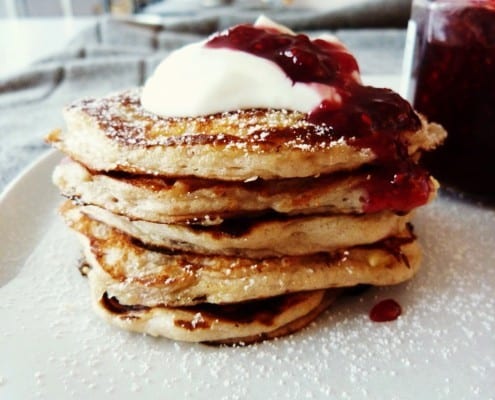 These orange blossom-scented hotcakes are the ideal breakfast fare on a lazy weekend. The kind of weekend where you sleep until late morning, and the biggest decision of the day is whether to start it with tea or coffee.
By Kate Olson
The yoghurt gives the hotcakes a light, fluffy texture and creates the perfect base for the indulgent surprise enveloped in the batter. As white chocolate is best friends with raspberries, their complimentary flavours give high-fives all the way from the tip of your tongue to your tummy. Served in a stack and dusted with icing sugar and a generous dollop of yoghurt and jam these hotcakes will make you smile.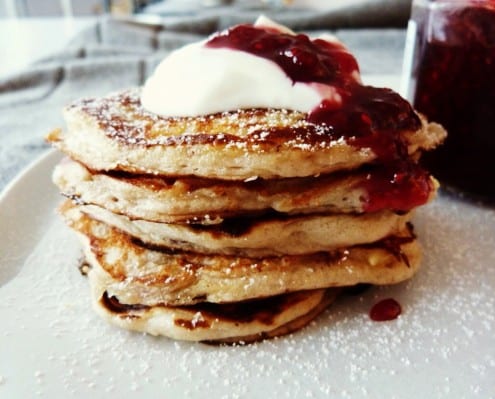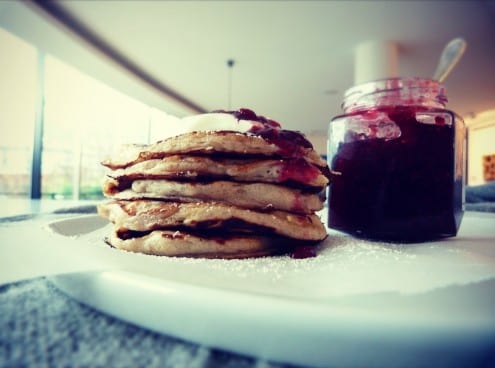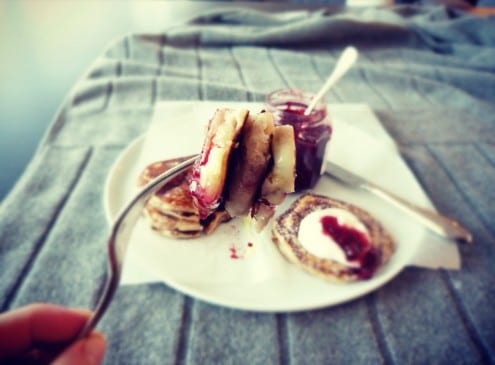 White Chocolate, Lemon and Orange Blossom Hotcakes with Jammy Raspberries and Yoghurt
These orange blossom-scented hotcakes are the ideal breakfast fare on a lazy weekend. The kind of weekend where you sleep until late morning, and the biggest decision of the day is whether to start it with tea or coffee.
Ingredients
1 large egg, organic and free range
½ cup plain flour
Scant ¼ cup buckwheat flour
½ tbsp baking powder
½ cup plain yoghurt
1½ tbsp safflower oil
¼ tsp vanilla extract
½ tsp lemon zest
1 tsp orange blossom water
¼ tsp ground cardamom
¼ tsp ground cinnamon
¼ tsp sea salt
1 tbsp honey
½ cup white chocolate, roughly chopped
1 tbsp good quality raspberry jam
3 tbsp organic butter, for buttering the pan
Icing sugar, to dust
Extra yoghurt and jam, to serve
Instructions
In a bowl, whisk together the egg and the yoghurt. If you are using a thicker, Greek-style yoghurt you might need to add a tablespoon or two of milk. Whisk in the oil, lemon zest, honey, blossom water and vanilla extract.
In a separate bowl, combine the flours, baking powder, spices and salt. Stir dry ingredients into the wet ingredients until just combined. Add the white chocolate and raspberry jam and stir gently to incorporate into the batter. If you notice a few lumps don't be tempted to over work the batter – trust me.
Place a fry-pan over medium heat. Melt a touch of butter in the bottom of the pan and ladle a scant ¼ cup of batter at a time, making sure to leave space between each pancake. When the pancakes are dry around the edges and you can see bubbles forming on the top – usually takes about 3-4 minutes – flip them and cook for another 2-3 minutes, until their bottoms are lovely and golden.
If you find that your pancakes are cooking too quickly and burning, lower the heat.
Serve simple in a big stack with a dusting of icing sugar and extra yoghurt and jam. Fresh berries would also be lovely to offset the sweetness of the white chocolate.
Kate Olsson
Kate Olsson is a writer, stylist and photographer specialising in food and lifestyle subjects. She has lived and worked in Sydney, London, Beijing and Hong Kong and is now based in Australia's food and culture capital, Melbourne. She is the creator of food blog Finger, Fork & Knife which focuses on natural, wholefoods and ingredients, health and well being.