Weeknight Curry Aioli Chicken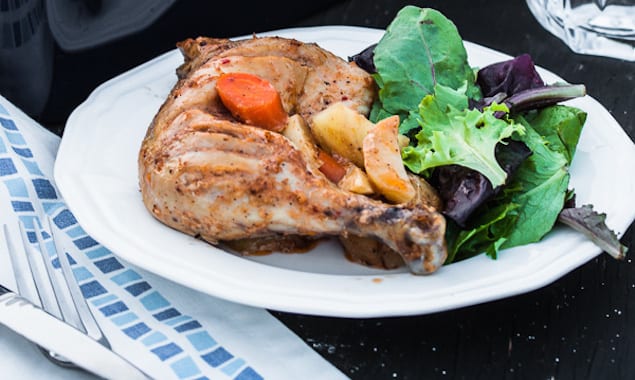 A one-pot dinner is a beautiful thing on a weeknight. Adjust the spices to your liking and enjoy the delicious, moist chicken.
By Lail Hossain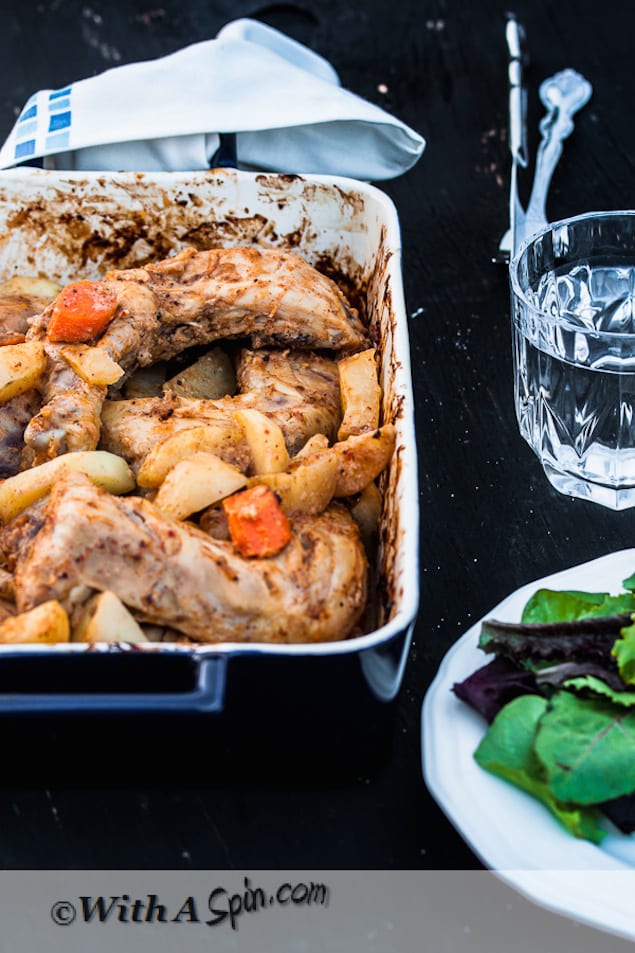 Busy weeknights? Looking for a quick, easy yet delicious weeknight dinner? No problem. I know how easy it is to panic as you think about weeknight dinnertime. Simplify mealtime with this one pot, easy chicken dinner with curry aioli that comes together in a flash. This is one of my go-to recipes when I just don't have the time or the inclination to cook.
If you want to add more chili powder, go ahead and add. My husband's favorite part is the creamy gravy of this delicious curry. My friends raved about this chicken dinner as well and they are surprised at how quickly the recipe comes together.

Weeknight Curry Aioli Chicken
A one-pot dinner is a beautiful thing on a weeknight. Adjust the spices to your liking and enjoy the delicious, moist chicken.
Ingredients
5 pieces medium size chicken leg quarters (about 2 lbs)
¾ cup curry aioli
1 ½ teaspoon garam masala
¼ cup store bought or homemade ketchup
Salt, according to taste
3 medium potato, sliced
2 medium carrots, sliced
Curry Aioli
½ cup mayonnaise
Dash of cumin powder
Dash of turmeric
Dash of red chili powder
¼ teaspoon fresh ginger, chopped
1 garlic clove, minced
Salt, according to taste
Instructions
Curry Aioli
Mix in all the ingredients.
Season aioli to taste with salt.
Cover and chill in the refrigerator for an hour or so to let flavors blend.
Chicken
Pre-heat oven to 350 degrees Fahrenheit.
Clean and drain chicken pieces.
Mix curry aioli, garam masala, ketchup and salt. Add the marinade in the leg quarters and marinate in the refrigerator for 15 minutes to few hours.
Mix in the potato and carrot slices.
Bake covered for 20 minutes. Rotate the pieces and bake uncovered for additional 15-20 minutes or until chicken is cooked and form a golden color on the outer skin.
Lail Hossain
Lail Hossain finds cooking to be an explosion of creativity. She is enthusiastic about modifying a laborious step of an old recipe, and experimenting with different ethnic recipes by adding her own spin to it yet keeping the recipes simple, healthy, and delicious. Originally from Bangladesh, Lail shares her journey of food, creativity and family in her blog "With A Spin". She is also very passionate about highlighting Bangladeshi cooking to the international culinary space.