Watermelon Peach and Feta Salad with Lemon Allspice Dressing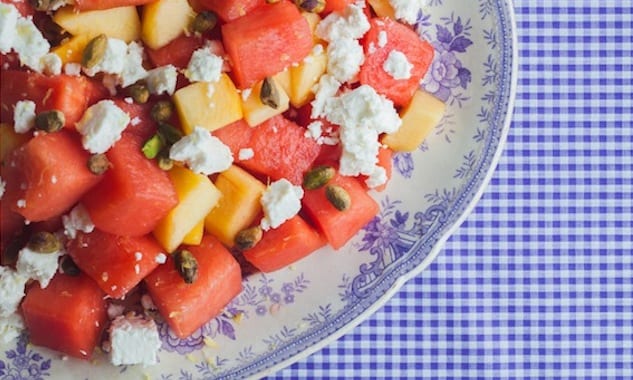 Bite sized pieces of watermelon and peaches are marinated in sweet and tangy Lemon Allspice Marinade. The salad is served with the marinated fruit, crumbled feta, and pistachios. It is perfect for tailgating, back yard entertaining, or any other summer meal where watermelon lovers will be dining.
By Taylor Mathis and Sally James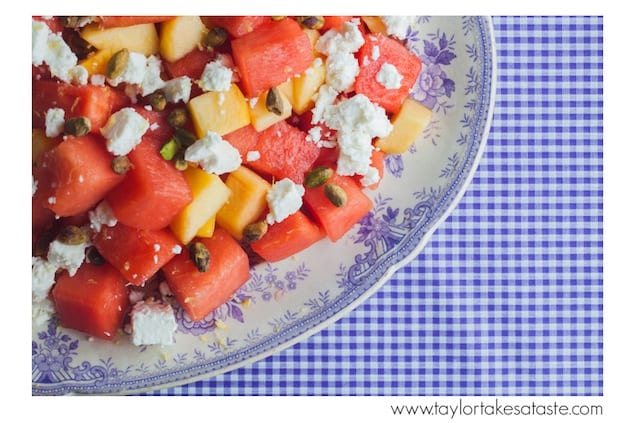 Bite sized pieces of watermelon and peaches are marinated sweet and tangy Lemon Allspice Marinade. The salad is served with the marinated fruit, crumbled feta, and pistachios. It is perfect for tailgating, back yard entertaining, or any other summer meal where watermelon lovers will be dining. If I'm eating this salad with you, be careful, I will pick all the watermelon out of the bowl.

Watermelon Peach and Feta Salad with Lemon Allspice Dressing
Watermelon and peaches are marinated in sweet and tangy dressing, and served with feta and pistachios. Perfect for tailgating, backyards, or a summer meal.
Author:
Taylor Mathis and Sally James
Ingredients
Lemon Allspice Syrup: makes one cup
1 cup granulated sugar
1 cup water
zest of 1 lemon
1 teaspoon whole allspice
¼ crushed red pepper flakes
Watermelon Peach and Feta Salad:
10 cups bite sized watermelon pieces
3 cups peeled, bite sized fresh peaches
8 ounces feta cheese, crumbled
½ cup pistachios 1 teaspoon grated lemon zest
Lemon Allspice Dressing:
½ cup lemon allspice syrup** (see above)
1 Tablespoon white vinegar
1 Tablespoon fresh lemon juice
¼ teaspoon salt
Instructions
To make the lemon allspice syrup put the sugar, water, lemon zest, allspice and red pepper flakes into a small saucepan. Cook the syrup over Medium High heat until the sugar is dissolved, stirring occasionally. Reduce the heat to medium and cook the syrup until it is reduced by half (about 30 minutes), stirring occasionally. Remove the syrup from heat and let cool for 10 minutes. Strain the syrup and set aside.
In a large bowl add the watermelon and peaches. Make the Lemon Allspice Dressing by putting ½ cup of the allspice syrup, vinegar, lemon juice and salt into a small bowl. Stir the dressing until well mixed. Pour the dressing over the watermelon and peaches. Toss the fruit until it is well covered with the dressing. Chill the fruit until ready to serve the salad. (up to 12 hours)
To assemble the salad toss the watermelon and peaches with the dressing. Put the fruit onto a serving platter. Cover the fruit with feta and pistachios. Garnish with 1 teaspoon grated lemon zest. Serve.
Taylor Mathis and Sally James
Sally James and Taylor Mathis are a mother and son duo from Charlotte, NC. Sally, a professional recipe developer, and Taylor, a professional Food and Lifestyle photographer, work together to create beautiful and delicious recipes designed to be eaten anywhere! Together they are the creators and authors of the food Blog Taylor Takes A Taste and worked together on The Southern Tailgating Cookbook.