A delicious dish for brunch, this quiche is hearty, but balanced by sweet apple and onion.
By Andrea Janssen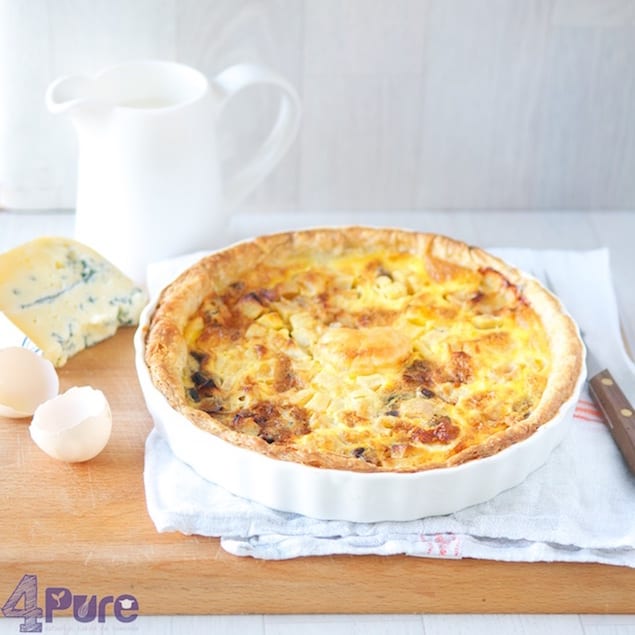 Inspired by Dorie Greenspan, this dish is great for a buffet at any time of the day
Don't have any gorgonzola on hand? Another blue cheese can be used for this dish. You can also use half a red onion instead of a regular onion for a nice color effect.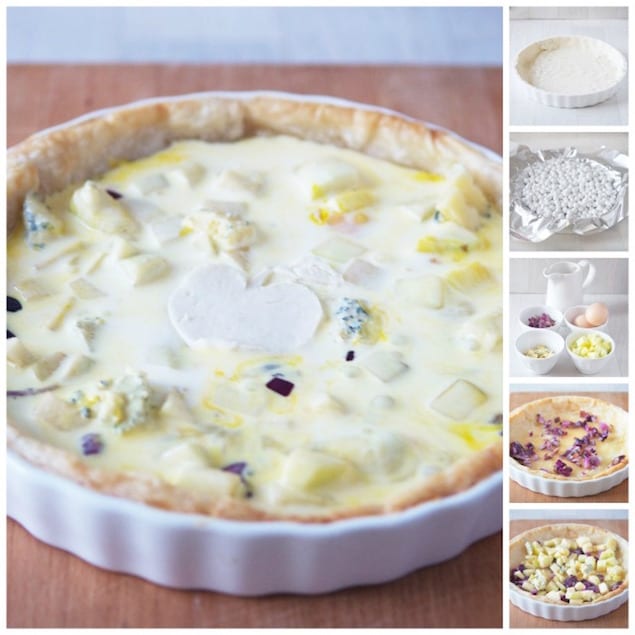 This apple gorgonzola quiche can be made the day before serving. Bake 25 minutes (with stuffing) and allow to cool to room temperature. Store in the refrigerator. Warm the next day in a preheated oven by baking 15 to 20 minutes at 200 degrees Celsius.
The half-baked quiche (baking the quiche with filling for 25 minutes, allow to cool to room temperature and store in the refrigerator). This can be stored up to 2 days; You can freeze the half-baked quiche, allow to cool to room temperature and wrap it well and freeze up to 1 month.

Warm Gorgonzola and Apple Quiche
A delicious dish for brunch, this quiche is hearty, but balanced by sweet apple and onion. This recipe is adapted from Around my French kitchen from Dorie Greenspan.
Ingredients
Pie Dough
130 grams (4.5 ounces) of flour
pinch of salt
60 mL (2 ounces) of olive oil
60 mL (2 ounces) of ice water
apple gorgonzola quiche
tablespoon butter, unsalted;
1 small onion;
Salt and pepper;
Pie Dough, chilled;
1 small apple;
60 grams (2 ounces) gorgonzola;
160 mL (5.4 ounces) cream;
2 eggs.
Instructions
Pie Dough
Mix the flour and salt in a blender. Add the olive oil. Pulse and then add the ice-water. Pulse again and put the dough in the quiche dish.
Gorgonzola apple quiche
Cut the onion finely. Melt the butter in the pan and fry the onion for 10 minutes. Stir occasionally.
Peel the Appel and cut into small cubes. Also, divided the cheese into small pieces.
In a bowl mix the eggs with the cream.
Cover the bottom with the onion. Spread the apple over it. The cheese can be divided over the quiche bottom.
Pour this the cream / egg mixture on top and put the quiche in the oven. Bake the quiche 30 to 40 minutes, until it is well solidified and slightly brown.
Andrea Janssen
Andrea is a wife, mom of three boys and a passionate cook. She loves to make everything from scratch and loves to entertain. She shares her recipes on her blog: http://www.4pure.nl/en