A traditional dish in Lombardia, this is a hearty stew of cabbage to warm you up after a day in the cold. Serve over soft, creamy polenta for ultimate satisfaction.
By Kathy Bechtel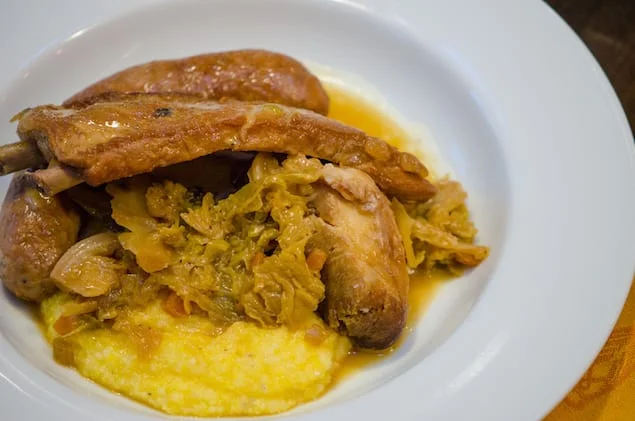 Cassoeula is a traditional dish in Lombardia. Also known as cazzoeula, it takes its name from the word cazza, or pan, in which it is prepared. A great Sunday afternoon dinner, or a nice way of warming up after a ski day, cassoeula is a hearty stew of cabbage and pork, served with polenta.
Local lore associates cassoeula with the feast of St. Anthony Abbot, the 17th of January, which also was the end of the pig slaughtering period. For the poorest farmers with only one pig to see them through the year, nothing would go to waste – their version of this dish would include the poorest parts of the pig; the feet, the head, the 'pins' or bony parts of the ribs (not the chops), the pork rinds, or crackling, and the favorite local sausage. Wealthier families would make a 'richer' version, and use the leg; nowadays, depending upon where you are in Lombardia, you may find versions using beef, lamb, even goose.
The single common element between these versions today is cabbage. Traditionally, this would be cabbage that has seen the first frost, which softens it and shortens the cooking time. Combine all this with the classic braising ingredients – carrots, celery, onions, wine and broth, and serve with a soft polenta .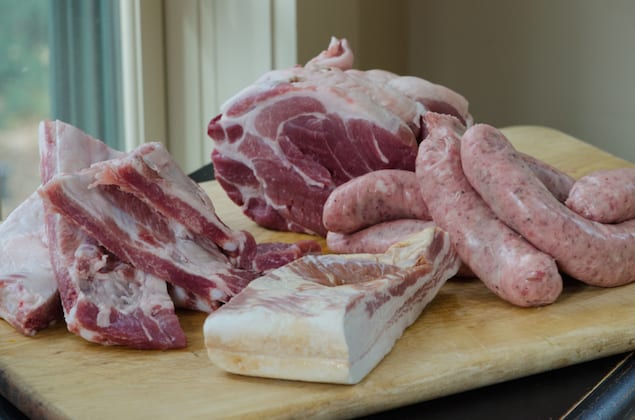 My version below is one of these richer versions, as pig's head and feet are not easily found in modern markets. But this is simple to adapt to accommodate any cuts you can find. I used a pork butt, pork ribs, a locally made sausage, and a bacon end. I liked the idea of some crackling to add texture, so I cut the bacon end into strips and cooked them until crisp, adding them at the end so they remain crisp. This is a great dish for a winter dinner with friends, make it the day before as it improves with time.
Serve with a hearty Nebbiolo wine from the Valtellina region in Lombardia, the only area outside of Piedmont to produce a Nebbiolo based wine.

Cassoeula: Italian Braised Pork and Cabbage
A traditional dish in Lombardia, this is a hearty stew of cabbage to warm you from the cold. Serve over soft, creamy polenta for ultimate satisfaction.
Ingredients
2 tablespoons olive oil
1 rack pork ribs
2 lbs. pork butt
4 pork sausages
1 bacon end, coarsely chopped
1 carrot, cut into ¼" dice
1 celery stalk, peeled and cut into ¼" dice
1 small onion, cut into ¼" dice
Kosher salt and freshly ground pepper
½ cup white wine
2 heads cabbage, coarsley chopped
2 cups beef broth
Instructions
Heat the olive oil in a large dutch oven or other large saucepan over medium high heat. Add the pork ribs and sear all sides. Set aside. Repeat, searing the pork butt and then the pork sausages until all are nicely browned on all sides, using more olive oil if needed. Set aside.
Add the chopped bacon ends and saute until the fat is rendered and the bacon is slightly crisp. Add the carrot, celery and onion, and cook until soft and just beginning to brown. Season with salt and pepper.
Add the white wine to the hot pan to deglaze. Cook until the wine is almost evaporated.
Add the chopped cabbage in a layer, stirring to combine with the vegetables. Place the meats on top of the cabbage. Add the beef broth. Bring to a boil, then reduce heat to a simmer and cover. Cook over low heat for 2-3 hours, until all the meat is tender and falling apart.
Serve with soft polenta.
#mc_embed_signup{background:#fff; border: 3px double black; clear:left; font:14px Georgia,serif;  width:635px;}
/* Add your own MailChimp form style overrides in your site stylesheet or in this style block.
  We recommend moving this block and the preceding CSS link to the HEAD of your HTML file. */