For a special morning treat or coffee break snack enjoy these moist scones with an incredible glaze and toasted walnuts.
By Abbe Odenwalder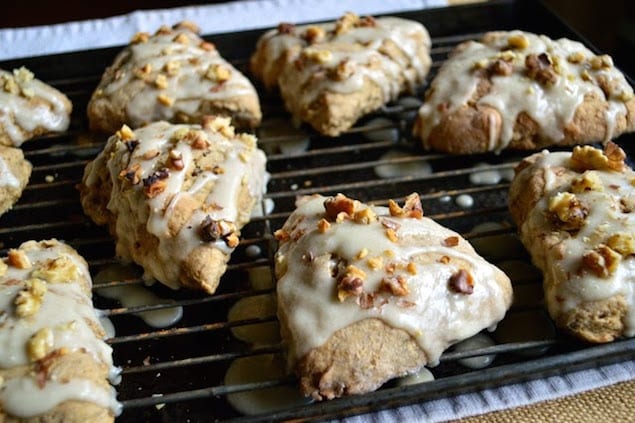 There are so many recipes out there that it is hard to sort through them all. Last year I found this recipe for maple scones on "The View from Great Island". Sue's maple scones are everything I would want in a scone. They are moist, but not too moist. They are light, but not too light. And they are easy to make. The glaze is incredible and the toasted walnuts give these scones a fabulous texture! Plus they taste unbearably good. These are huge and it is hard to stop with just one.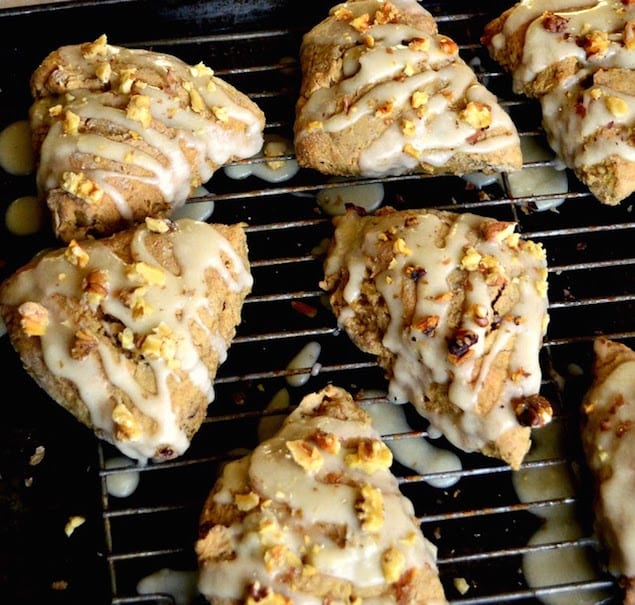 Walnut Cones with Maple Drizzle
For a special morning treat or coffee break snack enjoy these moist scones with an incredible glaze and toasted walnuts. (Adapted from The View From Great Island)
Recipe Type:
Breakfast, Baking
Ingredients
1¼ c flour
½ c whole wheat flour
½ c oats
½ t salt
2 t baking powder
1 t baking soda
⅓ c sugar
¼ c brown
1 stick cold butter, cut into chunks
1 large egg
⅔ c buttermilk
2 T maple syrup
1 t real maple extract (Target has this and it is good)
1 c toasted walnuts
Glaze:
1 largish cup of powdered sugar
2 T maple syrup
½ t maple extract
A few tablespoons of milk or cream
Instructions
Using a food processor, place flour, oats, salt, baking powder, baking soda and sugars into bowl of processor. Pulse to combine. While motor is running, drop in chunks of cold butter. Now throw in the toasted, but cooled walnuts, and briefly pulse. In a measuring cup, lightly beat the egg, then add the maple syrup and extracts. Then add enough cold buttermilk to bring the liquid to one cup. With motor running, pour the liquid slowly into the bowl of the processor until mixture starts to form a wet, moist ball.
On a well floured counter, scrape out the wet dough and bring together with floured hands into a large round or square, flouring both sides well. Divide in two and using your hands pat each into a 6-8" disc. These should be thick. Cut each round into 6 triangles. Place on a baking sheet lined with parchment or a Silpat and chill dough for about 20 minutes.
Preheat oven to 400. Place baking sheet in oven and bake for about 18-20 minutes until scones are lightly browned and firm on top.
While scones are baking, prepare glaze. Combine powdered sugar, maple extract and syrup and mix together with a whisk. Stir in 1 T of milk or cream at a time, until glaze is of a drizzling or spreadable consistency. Let scones cool and drizzle away! Garnish with a few extra walnuts if you'd like.