Amrita Chowdhury performs her Food-Oscar thank you speech. And serves cake. How's that for a treat?
By Amrita Chowdhury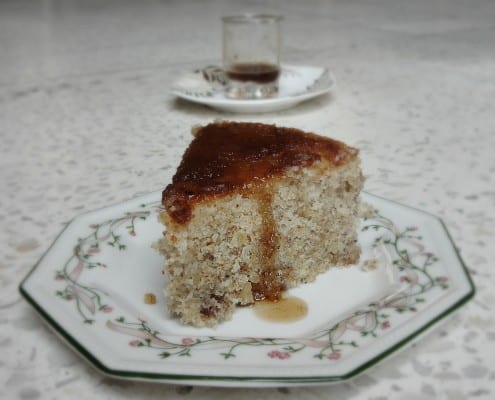 Like most members of my species, I have spent quite a bit of time speaking into my shampoo bottle delivering what one day would be known as my Oscar speech. I know exactly who to thank, who to mention and who to point and wink at. I've even rehearsed my ecstatic-but-embarrassed-but-grateful laugh.
So far, the possibility of me getting up on that stage for real might be near non-existent. But I've got a platform right here at Honest Cooking. And I'm going to take full advantage of it. Here are all the thank yous to a star-studded cast and crew:
I'd like to thank Anthony Bourdain. If I hadn't watched you stuffing your face with Chinese food somewhere in Hong Kong sometime vaguely in 2007, I would have never pressed my cable provider into providing food and travel channels on my telly, even when he kept telling me that they were inaccessible in my country at the time. The face you make while eating on television reminds me of the faces my family members have been making for a long time and that piqued my interest. You also made me notice chefs.
I'd like to thank the producers of Top Chef. Because of your show, I doubted my decision to become an architect. It was for a very very brief time, but it happened and it was a big deal that led to lot of eye-rolling from my family.
I'd like to thank James Martin. As a blundering newbie who rolled cluelessly into the kitchen, with an empty stomach and an equally empty frying pan, I've spent countless Saturdays inhaling your advice on omelettes to seafood to roasting to braising.
I'd like to thank Jamie Oliver and Gordon Ramsay. I don't know if you guys are friends but I sure hope so. I also don't know if you know what people say about you, but I don't really care. All I know is that both of you kept me well-fed through very difficult days, kept me entertained and drilled the words 'fresh', 'simple' and 'f***' into my head almost daily.
I'd like to thank Nigella Lawson. You saw me through chocolate and frozen peas. You also assured me that its okay tonot know how to poach an egg expertly.
I'd also like to thank Dan Lepard. I know that we haven't been very close, but I would be completely baking-impaired if it hadn't been for your cakes. And especially a certain walnut cake which has made me scour more than a score of similar recipes throughout the foodosphere since I spotted it.
And last, but in no means the least, Clotilde Dusoulier. Thank you. You helped me eat through Paris. Undoubtedly, one of the best things I ever did. [This is where I point at her and say:] You rock dah-ling.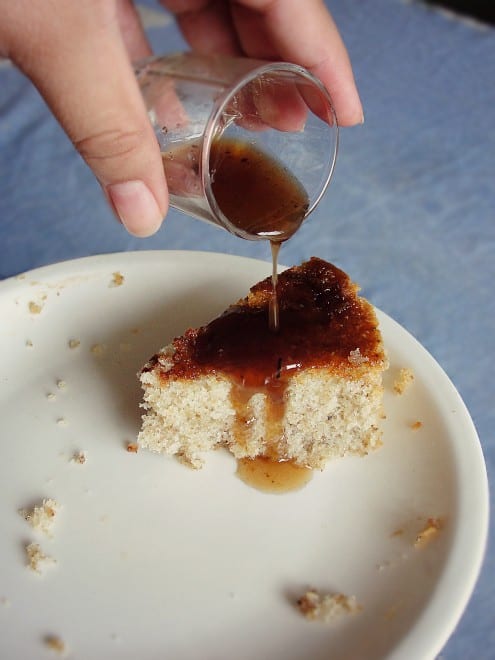 The cake in question is not runway-worthy. But after serious doses of chocolate, caramel and fried food a girl needs to take a breather and go all unsexy. But that's the thing about this walnut cake. It's deceptively sexy. Deceptively.
It doesn't try hard. It doesn't have to. Its fragrant with walnuts, fruity with oil, earthy with coconut and tangy with lemon juice. It comes with a caramelized top and crumbles beautifully like a cake should. And then as if to taunt you, it presents itself drenched in a tart tamarind sauce. Will the games never end.
But the best part of the cake is that it goes with everything – tea, coffee, dessert spoons, breakfast plates, sweltering spring afternoons et al.

Walnut and Coconut Cake with Tamarind Sauce
A walnut cake and coconut cake with a very delicate crumb, a caramelized top and soaked in a sweet-tart tamarind sauce. The cake was inspired by an Orange-Walnut Cake from Bon Appétit Desserts.
Ingredients
For the Cake
1 cup of chopped walnuts
½ cup of freshly grated coconut
1 cup all-purpose flour
A pinch of salt
1 tbsp of baking powder
4 eggs
1⅓ cup of granulated sugar, powdered
½ cup of lemon juice
½ cup of milk
½ cup of sunflower oil
For the tamarind sauce
2 tbsp tamarind pulp
½ cup water
2 cardamom pods with seeds, crushed
¼ cup honey
Instructions
For the Cake
Pre-heat oven to 175 °C.
Grease a 8-9? round tin and line with parchment paper. Grease the paper as well.
Toast the walnuts and coconut dry in a non-stick skillet till the coconut is light brown in colour.
Blitz the mixture up in a blender till it resembles a coarse meal. Lumps and hard bits are OK, the mixture doesn't have to be too fine.
Cool the mixture and in a medium bowl mix it with flour, salt and baking powder. Lightly mix with a fork.
In a larger bowl, whisk the eggs with electric beaters till frothy (for about a minute or two).
Gradually add the sugar while whisking till fully incorporated.
Dump in the walnut-flour mixture and stir a couple of times with a whisk.
Pour in the lemon juice, milk and oil and gently fold with the whisk till just combined. Do not overwork the batter.
Pour it into the tin and bake for 50 minutes to 1 hour till the center is springy to the touch and the toothpick inserted comes out clean.
Cool completely in tin on rack before taking it out.
For the tamarind sauce
Heat the tamarind pulp, water, cardamom and honey till the mixture comes to a boil.
Lower the heat and let it simmer for 5-10 minutes.
Strain the mixture into another bowl and let it rest in the refrigerator till it thickens into a syrup.
Pour on top of cooled cake and serve.
Notes
Use olive oil in place of sunflower oil for a fruitier flavour. Tamarind is very tart and the cake already contains lemon juice which adds a slight tang to it. I like my tamarind sauce to be slightly on the tart side, but if you prefer it sweeter add a couple more tablespoonfuls of honey to the sauce. It's important that the sauce and cake both be cool before you pour the sauce on top, because you don't want the sauce to soak through the cake really. I've also noticed that the top of the cake colours up quicker than the rest of it, so if you notice the top turning colour too quickly, loosely rest a piece of aluminum foil on top of the cake tin to cover the top. This prevents the top from burning.
Amrita Chowdhury
Amrita Chowdhury is a self-confessed chocoholic, a compulsive picture taker and a food-obsessed British-Indian. She loves to travel and her food is a manifestation of every city she has lived in. An architect by profession, Amrita is the author behind the food blog The Subjectivist. She loves to write, enjoys oak-matured Scotch and is inexplicably addicted to collecting stationery.